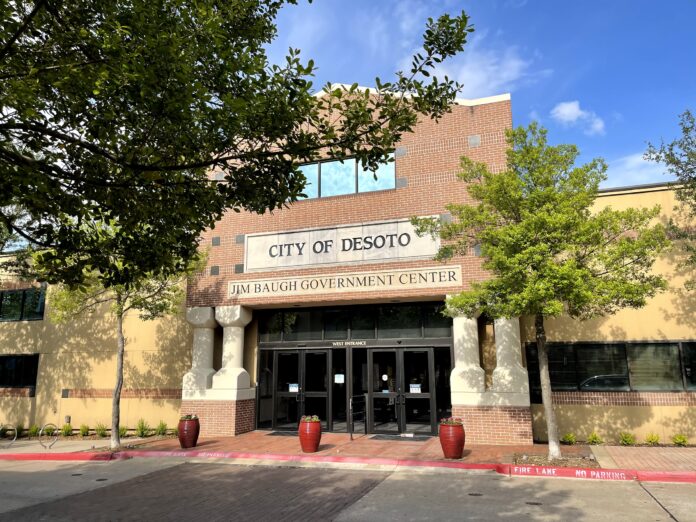 DeSoto City Council Reviews How To Spend Funds From American Rescue Plan Act of 2021
DESOTO – Tuesday night's DeSoto City Council meeting saw a discussion about $7.3 million dollars recently received by the city. The money is a direct allocation from the US Treasury based on an allotment formula for cities with a population over 50,000.
The amount is part of a $1.9 trillion act, American Rescue Plan Act of 2021, signed into law on March 11, 2021. That amount designated an allocation of $360 billion, which has been reserved for state and local aid to mitigate the fiscal effects stemming from the public health emergency known as COVID-19.
After a brief presentation council, discussed the various options staff had highlighted for possible monetary use.
The American Rescue Plan Act of 2021 funds are being distributed half in 2021 and the remaining half in 2022. Funds must be committed by December 31, 2024 and completely spent by December 31, 2026.
Spending Must be Related To COVID-19  Response & Economic Impacts
The guidance issued for eligible uses by the Treasury fit within a framework requiring the dollars be spent on appropriate related items specific to Covid-19 response and economic impacts. Funds can be used to replace revenue lost due to COVID-19, to provide premium pay for eligible essential workers and to invest in water, sewer and broadband infrastructure.
City staff met last month with an adhoc committee to discuss the options for funding. Several ideas included additional funding for the city's CARE team, a formal study of mental health in DeSoto and/or domestic violence with targeted recommendations, incentives to increase vaccination rates. Also included: addressing educational disparity and improving infrastructure.
The feedback from the steering committee included its priorities that ranged from retroactive premium pay, cyber security, education disparities, homelessness resources, water power supply infrastructure, creek maintenance to address erosion, customer service programs for targeted industries and a domestic violence study/assessment.
Council listened to the options and moved forward with a variety of questions.
Mayor Pro Tem Andre Byrd, Place 4 asked about the homelessness issue. He said, "I believe Mayor you had a plan" regarding the homeless resources. He wanted to know if this plan encompassed a strategy for DeSoto residents. Could the plan include a program with an emphasis on being responsive to needs for seniors and others who might need additional help?
Another question asked, "How can we use these funds to address the grid program in relation to the weather?"
DeSoto Mayor Rachel Proctor said council did look into these funds for items that in several cases did not fall into the immediate scope of what the money is required to be used for. She added, "We are looking at ways to address the gaps the city had when the winter storm hit. We want to make sure we are continuously being better so that was one of the areas we did talk about. However, when I mentioned it to City Manager Wright these funds have to be some direct connection to the impact of COVID-19."
City Manager Brandon Wright responded that the law does allow certain things that are automatically linked to COVID-19. Unfortunately, not having an air conditioner in your home is not deemed COVID-19 related.
Addressing Creek Erosion
Wright said, "This one eligible for water, sewer and broadband so that is how this fits in for the reimbursement eligibility."
Several creeks in the DeSoto community have erosion issues. City council commented that sometimes it is the homeowner's responsibility and sometimes it is the city's responsibility. However, "There is no targeted plan in place yet."
After a 45-mintue discussion and council feedback the next step will be staff drafting ideas. Afterwards they'll return to a future council meeting with a full layout of the budget needed.
Place Two Councilmember Kay Brown Patrick said it best regarding the American Rescue Plan Act of 2021 allocation of money. "Direct people impact," she emphasized.