2019 Shop Texas Gifts Guide It's time to start, or finish, your holiday shopping. While it can be easy to do everything online, we love...
Bodies of 2 men found after shooting in Wintergreen Road apartment DeSoto Police are investigating the circumstances surrounding a fatal shooting on Sunday that left...
Dallas — Veteran healthcare executive Jim Scoggin has been named chief executive officer of Dallas-based Methodist Health System. In announcing its decision, the board of...
Grand Prairie Names New Police Chief There's a new Chief in town! Assistant Chief Daniel Scesney has been promoted to police chief by Grand Prairie...
"Once on this Island" opens at Winspear Opera House Dec. 17-22. The Tony-award winning revival of the hit musical is on a national tour,...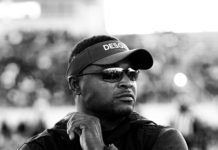 Coach Mathis Enjoys Being Back In DeSoto Sometimes the heart just wants to go home. And home, to Coach Claude Mathis, is DeSoto. "It's been very...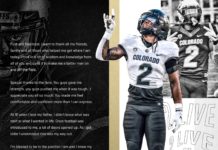 Former DeSoto Football Player, LAviska Shenault Jr. Enters 2020 NFL Draft BOULDER—University of Colorado junior wide receiver Laviska Shenault Jr. has announced that he will...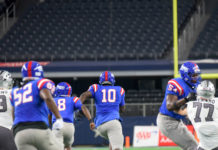 Duncanville Marches On Towards State The game began with the Duncanville Panthers (13-0) in a bit of a struggle with Arlington Martin (11-2) at AT&T...