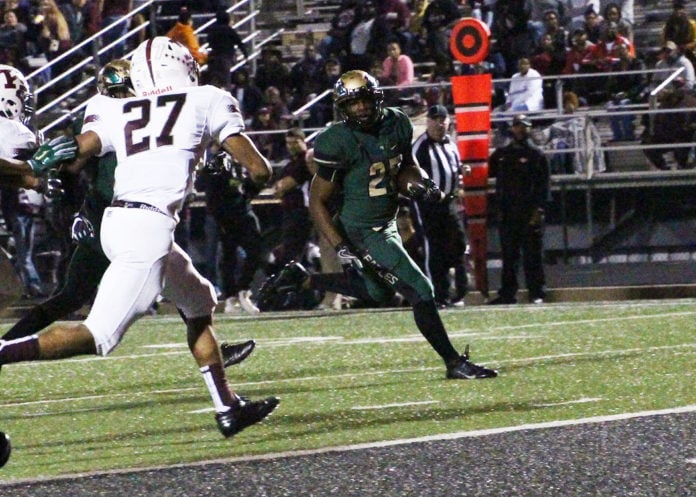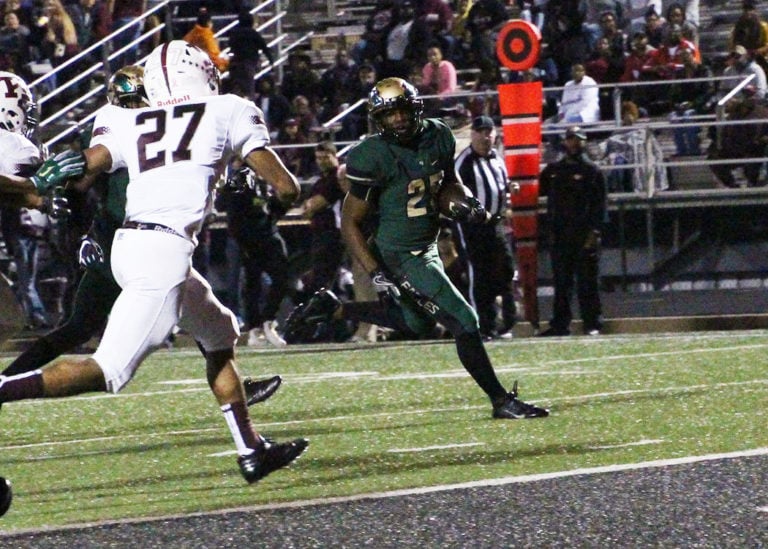 DeSoto vs. Southlake Carroll Playoff Game To Be Televised Live
MURPHY, Texas—DeSoto won't face Allen in the playoffs, but by no means does it mean there's an easy road ahead. Friday, the Week 2 playoffs matchup is DeSoto vs. Southlake Carroll (10-1) at Kimbrough Stadium.
After four straight years of falling to the Allen Eagles, DeSoto's 11-0 season finish made them #2 ranked in the state and there for the top seed for Division II. Allen (9-0) remains #1 ranked in the state and leads Class 6A-Division I.
Friday the Desoto Eagles travel to Kimbrough Stadium (Plano ISD) in Murphy. The game is going to be televised live as opposed to a recorded replay later that night.
"Our kids have had a great week of practice and are looking forward to a great challenge this week." Said DeSoto Head Coach Todd Peterman.
So don't worry if you can't make it out to Collin County, the game will be on TXA Channel 21.
Bi-District Playoff Domination
Last week DeSoto blasted the Killeen Kangaroos, 51-7 in the bi-district playoffs.
DeSoto dominated as soon as they took the field. Starting at their own 37 yard line, they marched down the field with the deliberate run game to the Killeen 9 yard line.
Then they began to stall out. First there was an incomplete pass, a hand off to Kelan Walker for no gain. Followed by Quarterback Shawn Robinson getting sacked 6 yards in the backfield.
Determined not to waste such good field position, Coach Peterman called Kicker Christian Gonzalez to make the 32-yard field goal.
When the DeSoto Eagles defense took the field it was no holds barred. Forcing off sides by the Killeen offensive line and intense pass blocking the Kangaroos were forced to punt after only three plays.
"Our defense just swarmed the ball all night long," said Peterman. "They just had a great game."
The Kangaroos were held to a single touchdown in the fourth quarter.
"The defensive effort was just incredible. I'm really proud of those guys," said Peterman.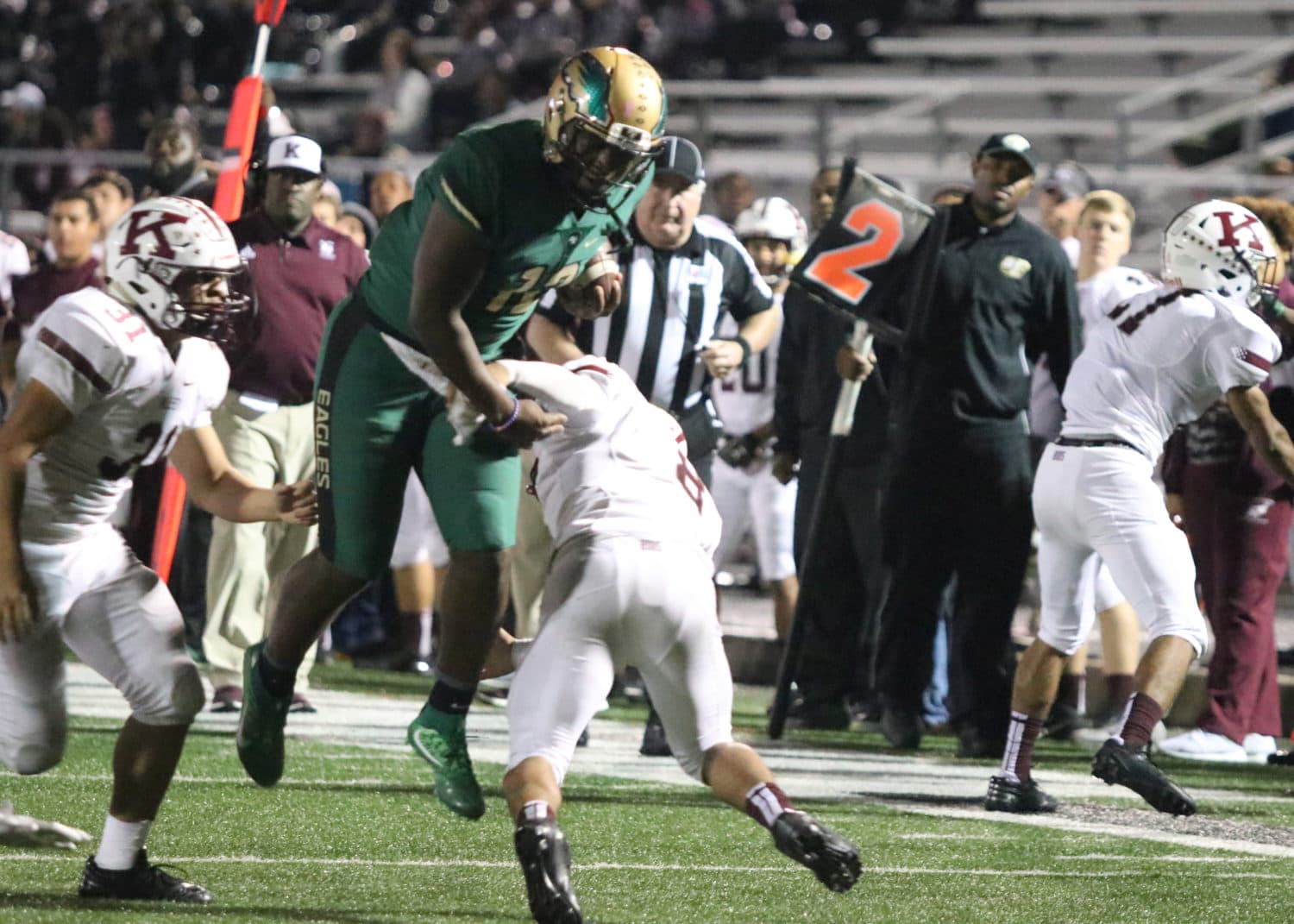 Changing The Game Plan-DeSoto vs. Southlake Carroll
Wide Receiver KD Nixon also had an outstanding game against Killeen. During the first half Nixon scored on two consecutive offensive plays. At the end of the first quarter, Nixon scored on a 65-yard touchdown run.
And after another Killeen turnover courtesy of the Eagles defense, Nixon scored again. This time on a 60-yard pass from Robinson. When asked whether he was concerned that defenders would be gunning for Nixon in the postseason, Peterman simply said no.
Because it was already happening.
"He's always a target. So we are moving him around a little bit more to other positions. And we continue to get him the ball," Peterman explained.
This isn't the first time DeSoto ball carriers have had to make such moves. During the 2012-13 season Running Back Dontre Wilson (now a wide receiver at Ohio State) had a similar problem.
His senior year, Wilson amassed 1895 rushing yards on 294 carries. By the end of the regular season, defensive lines were on the lookout for him. After transitioning into a wide receiver he continued to do well. Wilson had 37 catches and 750 receiving yards.
"Essentially it's the same scenario," said Peterman.
When it comes to other ball handlers Coach Peterman says balance is key.
TCU pledge Shawn Robinson continues to leads his deep receiving corps, including four running backs and three wide receivers.
"We're looking to be balanced," said Peterman. "Balanced for us is more 60/40 with the heavy run is usually where we like to be."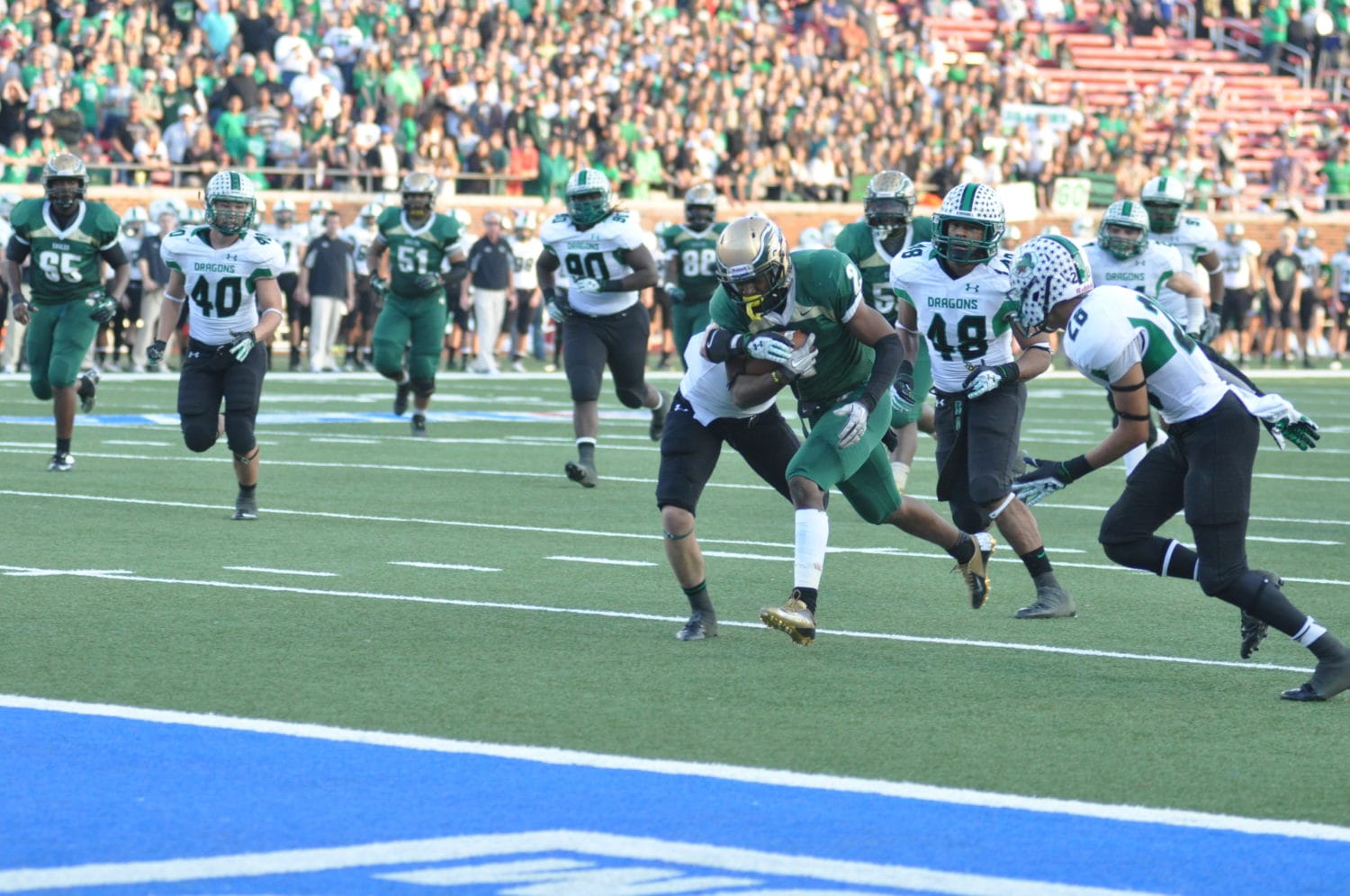 Southlake Carroll Dragons Are On Fire
On a ten game winning streak Carroll (10-1) is fresh off a 28-3 win over Wylie last week.
The Eagles are looking forward to a battle of the defenses. The Dragons' defense intercepted two passes against Wylie, and it has forced seven turnovers in the last three games.
"They have a great defense. Very disciplined. Well coached and very talented," said Peterman. "Both offense and defense lines are good. Big strong kids. That's going to be the battle of the game."
The last time there was a DeSoto vs. Soutlake Carroll match-up was during the 2012 playoffs. During Wilson's senior year., when the injured Wilson, sat out the first half of the game. It was a third quarter 76 yard touchdown pass from Desmon White that put DeSoto back in the game. The Eagles went on to win 49-45.
Peterman expects another great Texas shootout of a game.
"It's going to be a great game against two very good football teams."