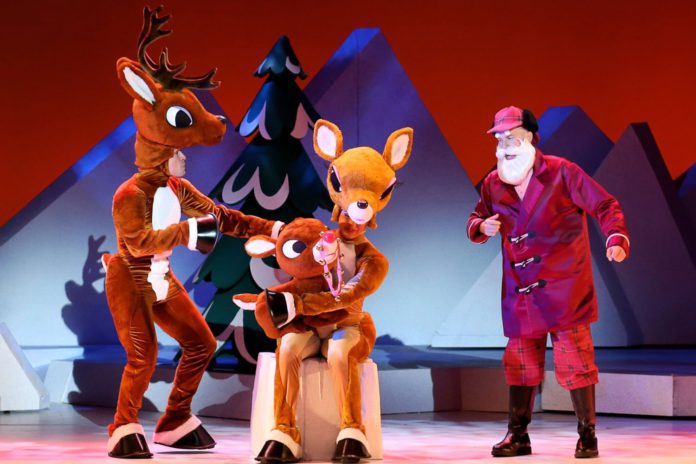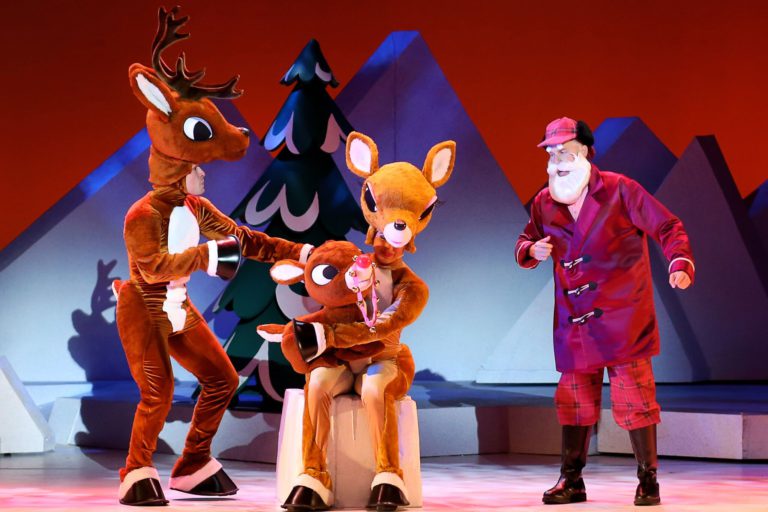 Sarah Errington, a young actress from California, has been tapped to star as the "most famous reindeer of all." She is touring with Rudolph the Red Nosed Reindeer the Musical, coming to North Texas later this month. The family favorite show will be presented at Bass Performance Hall in Fort Worth Nov. 22-23. Rudolph the Red Nosed Reindeer the Musical then comes to the Music Hall at Fair Park, where it will run Nov. 25-27.
Along with Rudolph, the cast includes Hermey the Elf, Yukon Cornelius and the Abominable Snow Monster as they try to help Santa save Christmas once again. Rudolph made its TV debut in 1964. "Rudolph is rapidly becoming a tradition for generations of children and adults, and we are so excited to bring the live show to fans in the Dallas-Fort Worth area," says producing partner Jonathan Flom.
Projections, costumes and characters will be faithfully brought to the stage against a backdrop of nostalgic set designs. Rudolph the Red-Nosed Reindeer the Musical cast members bring high energy to classic songs and dialogue, while loveable puppets highlight the stop-motion effects like those seen in the TV special. The show has added new flying elements, an enhanced set and scenic design for an even more enjoyable experience for fans.
Flom says, "We address all of the familiar story elements from the television special with a talented cast and puppeteers who help recreate the magic on stage. Since the special itself is a classic musical, the stage show does not feel at all like an adaptation and audiences are surprised and delighted when they hear full performances of additional iconic songs associated with the TV special, such as "Fame and Fortune" and "Rockin' around the Christmas Tree."
The story is about young Rudolph, a reindeer who, because of his bright shining nose, is excluded from the Reindeer Games. He flees Christmas town and meets up with new friends Hermey the Elf and Yukon Cornelius. After finding The Island of Misfit Toys, Rudolph journeys home where a snowstorm of epic proportions is threatening Christmas. Rudolph is tapped to help Santa save the holiday.
Rudolph's partnership with PACER's National Bullying Prevention Center continues this year. A new illustrated storybook, T.E.A.M. Rudolph and the Reindeer Games, will be available this year only at the stage show performances and other locations where Rudolph is appearing, such as at theme parks, zoos, aquariums and science centers. A portion of the proceeds from all sales of the books will be donated to PACER.
Focus Daily News recently asked the new Rudolph (Sarah Errington) a few questions about her experience with the show.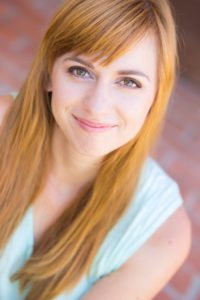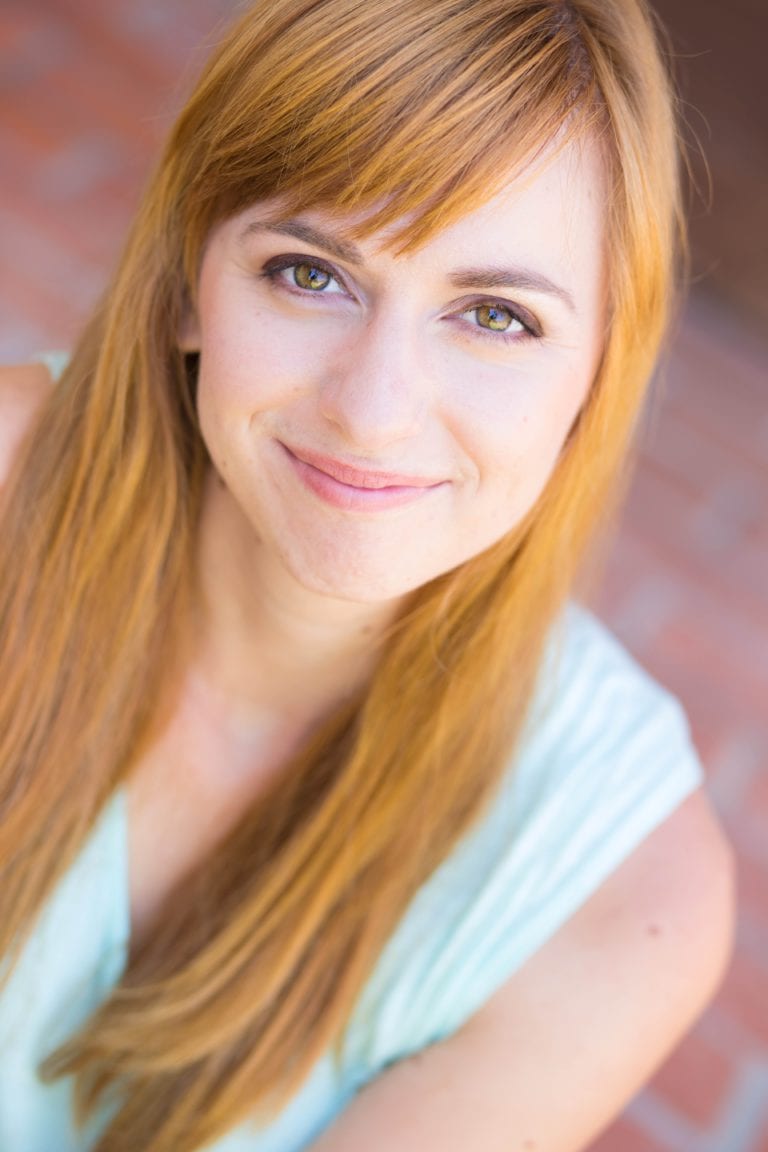 FDN: How long have you been playing Rudolph?
Rudolph: This is actually my first year in the role. We just finished rehearsals in NY and we are leaving tomorrow for Chicago.
FDN: How long is the tour, will it end before Christmas?
Rudolph: The Rudolph the Red Nosed Reindeer the Musical tour ends December 18th at the Theatre at Madison Square Gardens.
FDN: What's your favorite part of the show?
Rudolph: At the moment it's the Island of Misfit Toys. Everything about this production stays true to the movie, but with the thrill of these characters coming to life. It's pretty magical.
FDN: How old were you when you decided to pursue an acting career?
Rudolph: I was 12 or 13 at the time. I had just done "Oliver!"– my first production with the local community theatre. Then I saw "The Secret Garden" on stage. Stories have a beautiful way of touching your soul and to see one come alive in front of you is a thrill like no other. I wanted that. I wanted to tell stories. It's how I learn and grow and understand the world.
FDN: What's next for you, or what would you most like to do next?
Rudolph: Right now I'm enjoying the gift of having the job of Rudolph! As an actor it's a gift to have anything lined up. My next project is back in San Diego at Cygnet Theatre, which is where I am based out of. It's a show called Shockheaded Peter. Very thankful.
FDN: Which of the many regional shows you were in was your favorite?
Rudolph: I love Spelling Bee and I just recently did Sister Act as Sister Mary Robert with Moonlight Stage Productions. Both shows hold a special place in my heart.
FDN: What are some of the shows you've written or directed in your position with the LEGOLAND resort in California?
Rudolph: I choreograph the LEGO Friends to the Rescue and then numerous seasonal shows. But the most current is their holiday show.
FDN: Had you been to Dallas or to Texas before this tour?
Rudolph: Never! Can't wait to experience it!
Single tickets for the Fort Worth Performing Arts presentation of Rudolph the Red Nosed Reindeer the Musical start at $27.50. Tickets for "Rudolph," presented by Dallas Summer Musicals at the Music Hall at Fair Park, start at $20.
The 2017 BROADWAY AT THE BASS SEASON will feature eight shows: Annie January 17-22; An American in Paris; Let It Be March 21-26; Matilda June 13-18; The Bodyguard Aug 1-6;Beautiful: The Carole King Musical Sept. 12-17; Rent Oct. 17-22; and the return of Irving Berlin's White Christmas Nov. 14-19. Season tickets are on sale now at the Bass Performance Hall box office or online.
Dallas Summer Musicals' 2016-2017 season will feature 10 shows starting with Rudolph the Red Nosed Reindeer The Musical. These include Broadway Christmas Wonderland, Dec. 6-18; An American in Paris, Jan. 31– Feb. 12, 2017; Stomp, Feb. 14-19; The Illusionists, Feb. 28 – Mar. 5; Let It Be, Mar. 7-19; Kinky Boots, Mar. 28 – Apr. 9; Circus 1903 – The Golden Age of Circus, May 23 – June 4; and closing the season will be The Bodyguard, July 18-30.
In addition, Disney's The Lion King will roar back to the Music Hall in DSM's 2017-2018 Season. Subscribing for the 2016-2017 Season is the only way to guarantee priority access to tickets now for this highly anticipated return. Dallas Summer Musicals' six-show season tickets, starting at $112, are on sale online or in person at The Box Office, 5959 Royal Lane, Suite 542 in Dallas or by phone at 214-346-3300.