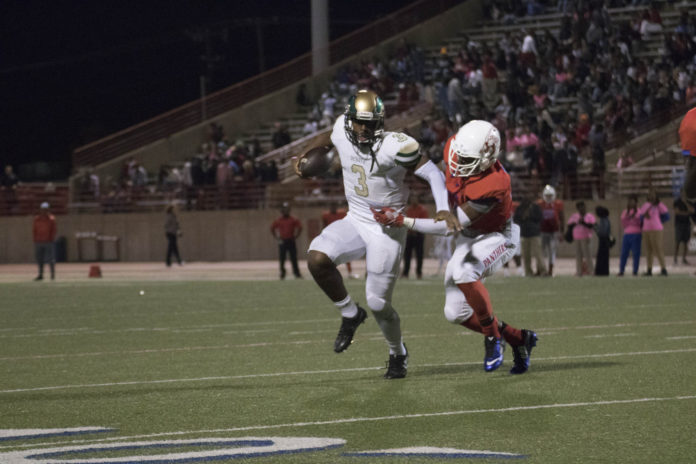 DeSoto's Shawn Robinson Is On Fire
DESOTO—Elite quarterback stuff comes natural for DeSoto's Shawn Robinson. As a dual threat, there's a very good chance that Robinson can beat blitzing defenses with his strong right arm, his sprinter's speed—or both.
In his latest effort, Robinson was at the top of his game, keeping the nationally ranked Eagles undefeated (8-0) following a 41-17 district victory over Duncanville Friday, October 23, 2016. On the first two drives, Robinson had in hand a pair of touchdowns as DeSoto took a 14-3 lead.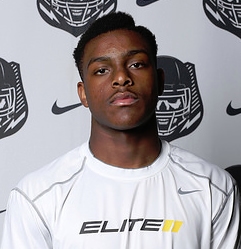 For the game, the 6-3, 220-pounder hit on 16 of 29 passes for 265 yards and two TDs (38 and 17 yards) and rushed for 86 yards and two more scores. "Shawn gets better every day; he's natural leader," says DeSoto Head Football Coach Todd Peterman. To date Robinson has accumulated over 2,300 yards and 26 touchdowns.
Making Gains In DeSoto
"He's getting better and better every week as we put in more offense. He is a very poised and confident young man," he said.
In its eleventh consecutive year, Ford Motor Company's Player of the Week program is again honoring six outstanding student-athletes each week of the 2016 regular season, recognizing one player in each of the state's six athletic classifications.
Winners are chosen for athletic achievements, outstanding scholarship as well as community involvement. These players are the embodiment of Ford's Go Further commitment.
"I think his knowledge of the game is a great strength, as well as his arm strength, accuracy and his ability to make plays."
But more than anything, Coach Peterman notes that Robinson's commitment is the strongest attribute that will take him places.
"You can always get bigger, faster, stronger and learn more. That's what Shawn does on a daily basis. The sky is the limit for him. He is going to get better and better (at the game) until he no longer plays football."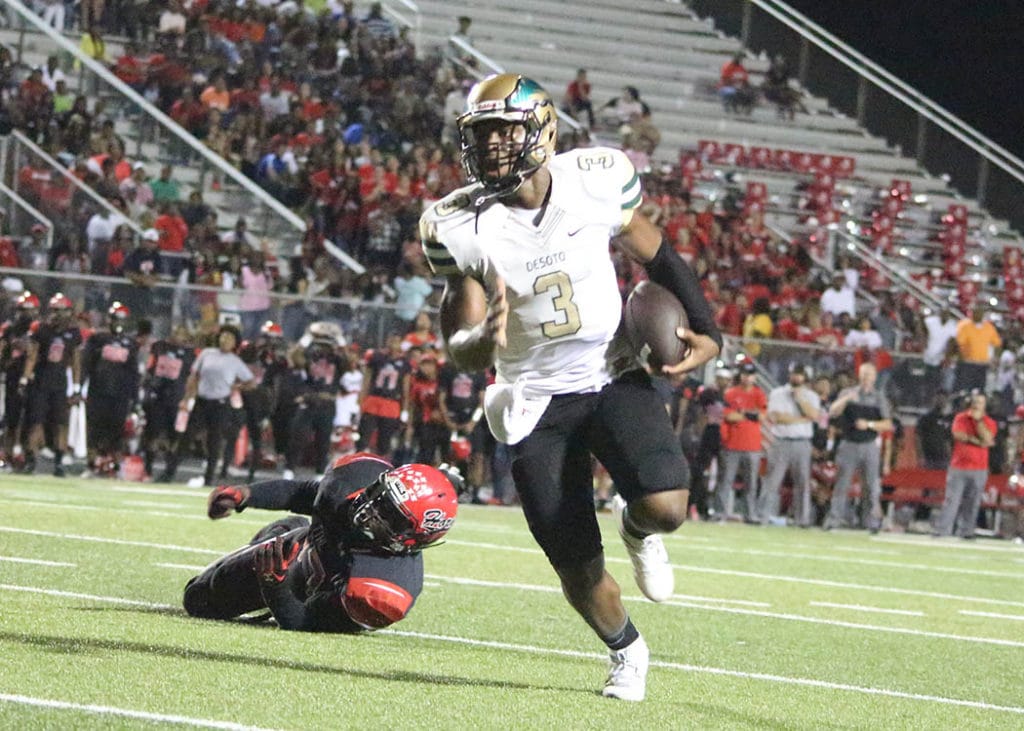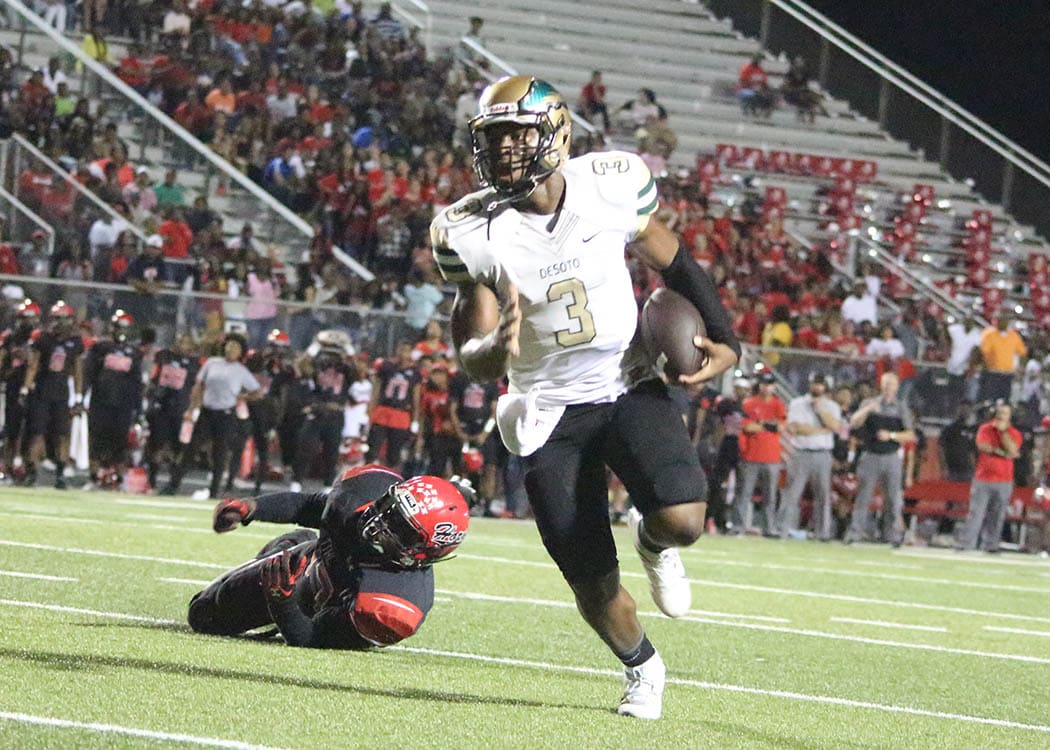 Robinson Is A Transfer
Robinson, who attended both Fort Worth Chisholm Trail and Denton Guyer before enrolling at DeSoto, has finally found a home, and he did the same when committing to TCU, where he will enroll in January. The holder of an A/B average, Robinson is well grounded with coaching parents—mom was recently hired as the DeSoto girls' basketball coach and dad is on the football staff. A member of FCA, Robinson participated in the Feed the Children program and is a fan favorite in the elementary schools.
"It's tough and unfair for Shawn," Andrea Robinson told said in a interview before their Spring 2015 move. "He can't help the fact he has two coaches for parents. If there's a move for advancement, he gets the backlash. He doesn't wake up and say, 'It's my senior year. I want to move now.' I hate he gets penalized for that. He loves where he is. Guyer's been good to Shawn, and Shawn loves Guyer."
In 2014, Othell Robinson was a member of the Coaching Staff at Fort Worth Chisholm Trail High School where Shawn played on the Freshman team. In 2015, Othell and Andrea got job offers to play at Denton Guyer. Both jumped at the chance after working at different schools most of their coaching careers.
Now they both are at DeSoto High School, so once again the TCU commit had to come along for the ride.
"Being together as a family unit is important," said Andrea.