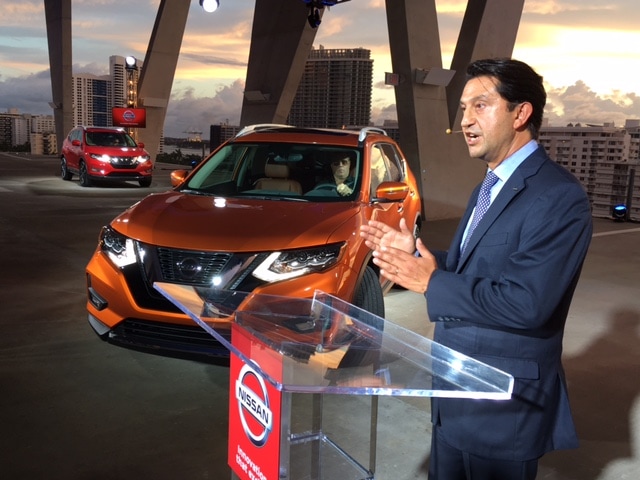 2017 Nissan Rogue Debuts in Miami
The evening could not have been more perfect. South Beach. A beautiful rainbow. Good food. Great friends. Weather in the 70 degree range. Could there be more?
There certainly could! Jose Munoz, Chairman of Nissan North America, introduced the new 2017 Nissan Rogue. The 2016 Nissan Rogue was already an award winner, (2016 Auto Judge Compact SUV of the Year), but Munoz predicts the 2017 Rogue will be even better!
Phil O'Connor, Director and Chief Marketing Manager, had a lot more to say. "I would say that by the end of the month, the Rogue will be the best selling Nissan in our portfolio," he told me in a private interview. "The Rogue is "the" total package. We've got EZ flex seating and a unique divide-n-hide cargo system (Divide-N-Hide provides 18 adjustable variations between the cargo and occupant areas). It handles really well. It's fun to drive. Besides being so versatile you get a lot of driving enjoyment out of the Rogue."
"The Rogue is riding the wave of this consumer shift from cars to trucks. In fact, it is so competitive versus our primary competitors we hit at exactly the right time with the right product. That's what is driving the Rogue growth."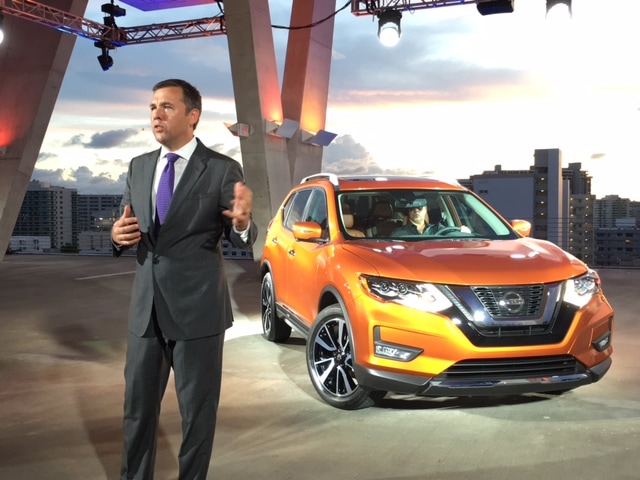 Nissan's DNA 'Fun to Drive'
I spoke with O'Connor about a special event coming up soon, when journalists will be afforded the opportunity to actually drive the new 2017 Nissan Rogue before it arrives in showrooms. "You will love the drive," O'Connor stated. "Nissan's DNA has always been Fun to Drive. The compact SUV segment has been kind of an appliance segment. Until the Rogue, consumers had to choose between a number of vehicles that didn't have a lot of personality. The Rogue changed that. This SUV is the best of both worlds. You get the emotional upside along with checking all the boxes compact SUV customers need."
It's great in terms of performance, O'Connor continued but also added: "It doesn't stop there. We've taken the interior design up several notches. It's not only about acceleration, it's about how you feel when you are sitting in the vehicle."
Robin Moreo, Rogue Product Planner had even more insights into the newest Nissan introduction. "We've spent over $100 million dollars in design and other improvements in this new Rogue," she began. "We are adding a new hybrid Rogue for the 2017 model year as well. This will be a full hybrid, rather than the quasi-hybrid some others offer." She said she expects the hybrid model to be available for journalists to drive by month's end and to be offered for sale to the general public later this year.
"This vehicle will get up to 35 miles per gallon and will be available in both a two-wheel drive and four-wheel drive configurations. "The vehicle will rocket up to 75 miles per hour in EV mode – twice what other hybrids will do," Moreo continued. "We were listening to consumers and accomplished our goal in delivering it with this model."
Everything I saw and heard at the world-wide reveal is exciting, but it will be even more exciting to get behind the wheel. I expect to be providing full details about that experience in early October.