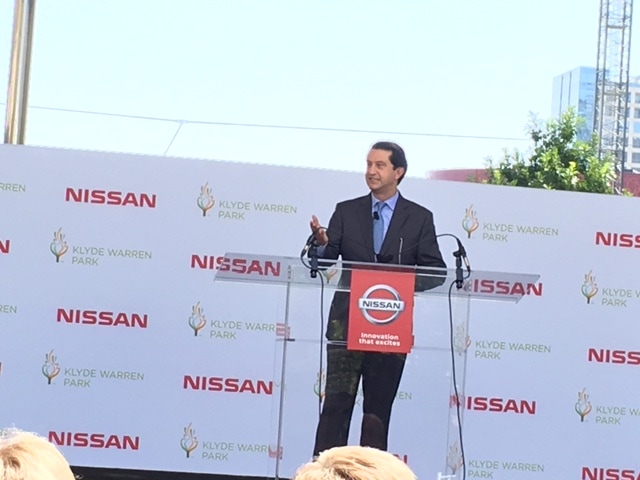 It's not often that I get an opportunity to attend a national unveiling of a new vehicle near home in Dallas, Texas, but such was the case with the new 2017 Nissan Pathfinder. This July Nissan management, local dealer management and journalists from around the country gathered at Klyde Warren Park in downtown Dallas to listen to details about, and witness the physical reveal of the 2017 Nissan Pathfinder.
The Pathfinder was first introduced in the United States in 1986 as a 1987 model. Back then Crossovers (an SUV built on a car frame), didn't exist. So the two-door Pathfinder, essentially entered the market as a tough truck with hard top over the truck bed, joining the few other SUVs already on the market. It began in what today would be considered as an anemic 140 horses. In 1990, two more doors and eight more horses were added, making it more versatile and slightly more powerful for consumers.
The Crossover remained a pickup under the guise of a SUV until 1996, when it emerged with a uni-body platform and 20 more horses nestled under the hood. Nissan took another giant leap forward in 2001 when power jumped to 240 horsepower (automatic) and 250 hp (manual). Additional improvements in the second generation included new technology and styling features.
In 2004, the next generation was introduced as a 2005 model, with a return to body-on-frame construction and another increase in power, up to 266 horses and the availability of a V8 engine for the first time. It was touted as the first model capable of towing up to 7,000 pounds.
The last model I drove, was introduced in 2013 and is still on the road. I remember driving it in Napa Valley on both the highway and off-road up steep grades. I recall trailer towing exercises and spending a great deal of time with Mike Betts, a fantastic Nissan engineer who knows everything one wants to learn about the Pathfinder and Nissan.
The pièces de résistance- the new Pathfinder they just revealed! The 2017 Nissan Pathfinder will be available in both two-wheel and four-wheel drive configurations in at four different trims.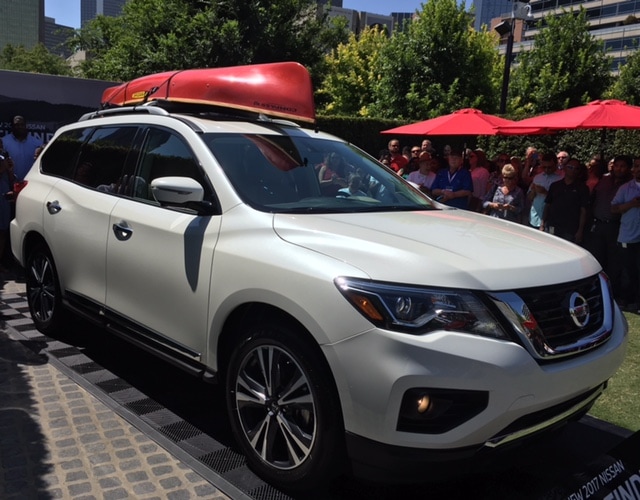 Those familiar with the new Maxima and Murano design elements will find the new V-Motion grill, boomerang-shaped headlights and other "family features" now available on the new Pathfinder. Changes were not implemented for beauty alone but for function as well, with an active grille shutter, a new spoiler design to help optimize air flow and reduce drag. Those who love the "sweep of the foot" system for opening lift-gates will love this added feature on the new Pathfinder. Those loving a moon-roof will be pleased that it is now available.
Something I have had trouble with in the past but it never occurred to me to address it with a manufacturer is the shape of the cup holders. Those who know me well, know that I like coffee – perhaps a bit more than I should. I will often leave home in the morning touting a regular coffee cup on my way to the office. Lo and be hold, cup holders have been reshaped to accommodate mug handles.
There are now two USB ports inside the console versus the previous single port.
Next generation information technology is incorporated into the Pathfinder, with a new more advanced driver assist display in the center of the instrument cluster. Engineers say voice recognition has been enhanced with a new high-def microphone, and two USB ports are now in the console to enhance connectivity.
Those with children and rear-seat passengers will love the new EZ Flex Seating System with latch and glide, a second row tilt and glide seat for easy entrance and exit. Affixing child seats permanently is also a snap, since they can put be put in the third row on the passenger side because of the latch and glide system (leaving the second row free for "full-size" passengers).
Stay tuned for drive impressions later this month.