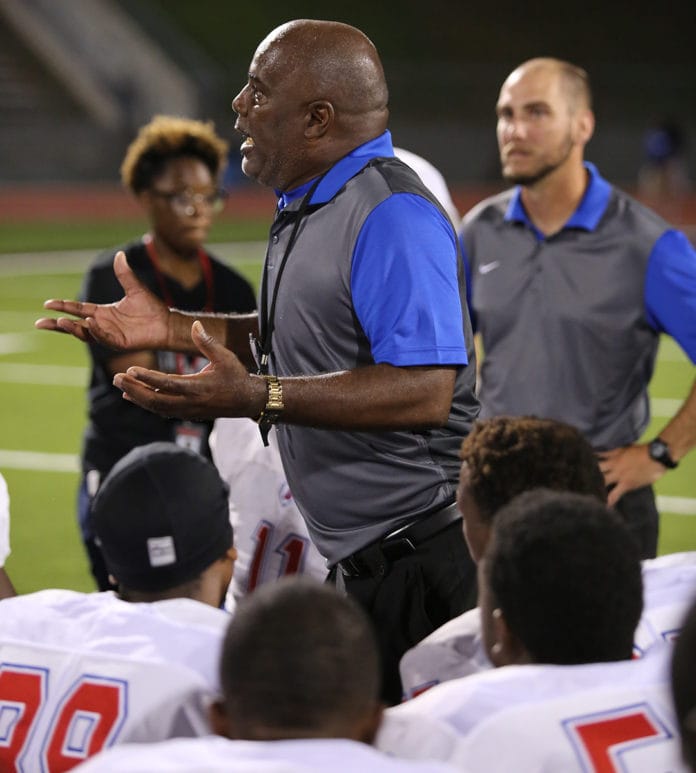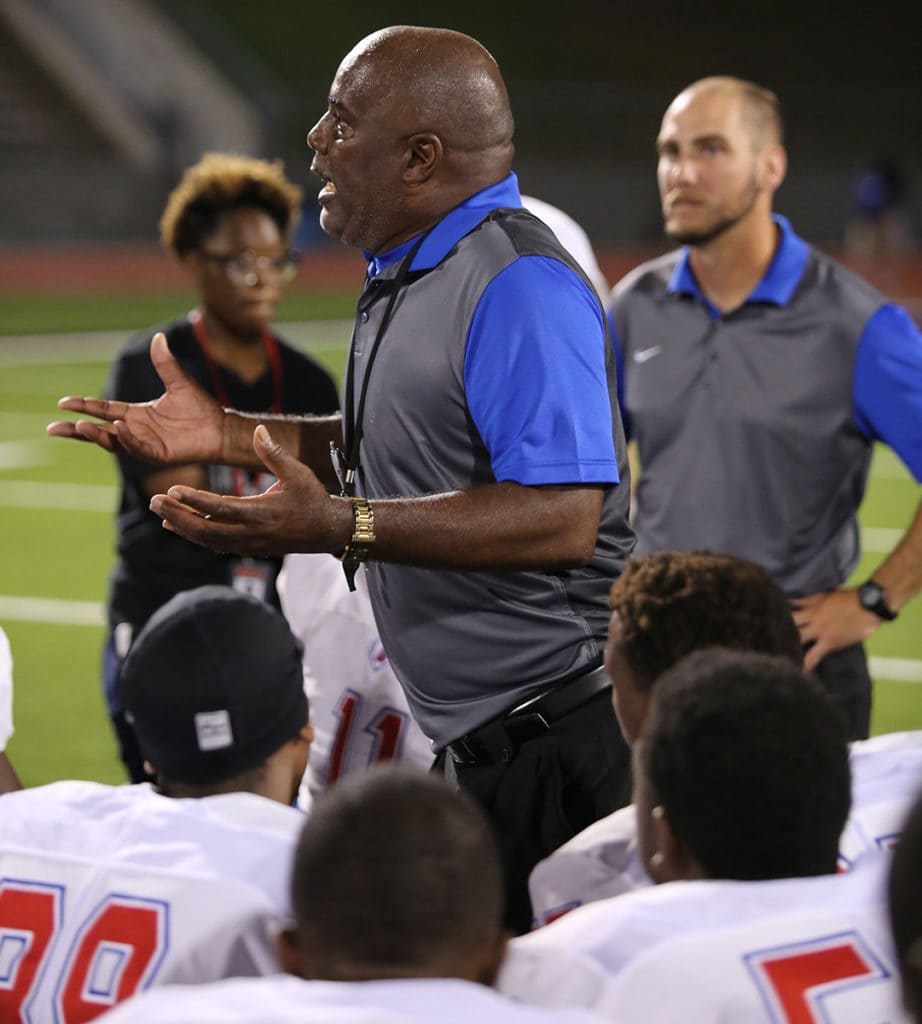 The Duncanville Panthers scored first and often Friday night, but could not hear the fast approaching Cedar Hill Longhorn hoofbeats during the game's final minutes.
Duncanville scored their first TD with 10:40 left on the first period clock. Panther quarterback Jaylin Nelson connected on a 55-yard pass to Isaiah Upshaw with Blake Thomas adding the PAT putting Duncanville in the lead, 7-0.
Their second TD came with 5:40 left in the quarter on a Nelson two-yard dive. Thomas added another point after. Nelson plunged over the goal again with only seconds to go in the first quarter, putting the tally at Panthers 20, Longhorns, 0. Duncanville would hold onto a significant lead up until the final minutes of the game, when a Longhorn stampede turned the game around.
"We are not scared of Cedar Hill," said Duncanville Head Coach Reginald Samples before the game. "We are glad to take them on because whether we win or lose, we are going to grow. We had a good practice this week and intend to hit them head on and hard."
Samples went on to say that Cedar Hill is well coached and has a lot of talented players. "Our goal is to get where they are right now."
In a foreshadowing of what would come late in the fourth, Cedar Hill retaliated with their own 20 points in the second quarter on a couple of Avery Davis passes and one on the ground. The first pass was completed to Kylan Richie for four yards and the second was a 16-yard pass to Charleston Rambo. Cameron Fleming rushed eleven yards for the rushing touchdown. Maverick Montiel added two points after but an attempt at a two-point conversion failed.
Cedar Hill quarterback Avery Davis would throw for 242 yards on 29 attempts for the game. Davis, a Notre Dame commit, would also rush for 19 yards.
Duncanville's Nelson ran for another TD in the second period and Eli Jones had a 92-yard PAT return for two, giving the Panthers nine points for the second quarter. The half ended with Duncanville at 29 and Cedar Hill at 20.
Both teams were plagued by costly penalties, losing tactical field position and drive momentum.
Cedar Hill had 17 penalties for 175 yards and Duncanville had 14 costly penalties for 160 yards.
Duncanville came roaring back in the third quarter, scoring twice. Nelson threw a nine-yard pass to Odell Smith and another 29-yard strike to Isaiah Upshaw.
Cedar Hill's Josh Fleming returned a kick- off 92-yards TD for the only score the Longhorns got the third quarter. It ended with Duncanville at 43 and Cedar Hill 27.
Duncanville would score only once during the final period on a Nelson pass to Tre Siggers. After that Duncanville score, Cedar Hill would go on to score 20 unanswered points.
Two of the remaining touchdowns were on passes from Davis to Rambo and the third came on a Davis-Fleeks pass.
An onside kick recovery and a fumble on their final drive left Duncanville struggling against an unfriendly clock.
Duncanville (4-1) plays Irving Nimitz at home Friday, October 7 at 7:30 p.m. Cedar Hill (3-2) will travel to Irving MacArthur this coming Thursday, October 6.
In other area games, the DeSoto Eagles remain undefeated, devouring Irving MacArther, 48-7. Mansfield (3-2) bested Arlington by 43-14. Both Waxahachie and Lancaster had byes this week.