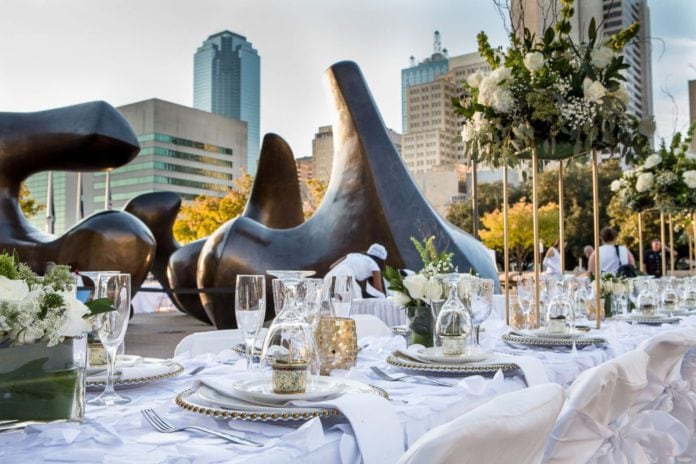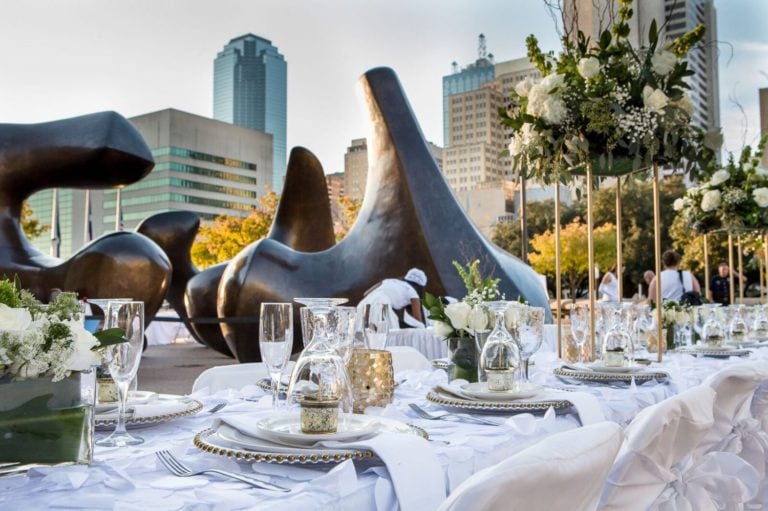 A white tide rolled over City Hall plaza Friday night. Some 2,300 white-clad guests flowed gracefully onto the grounds for diner en blanc, Dallas style. This was the second year Dallasites joined in the international phenomenon that began 30 years ago in Paris, France.
When Parisian Francois Pasquier invited friends to join him for an elegant picnic in a public park in 1988, he suggested they all wear white in order to find each other. The evening was such a success that the 25th anniversary of Pasquier's picnic brought over 15,000 people to the Paris event.
The "secret" social events have now spread to 70 cities on 5 continents, with close to 120,000 guests attending each year. Pasquier's son leads the international organization, which sets fairly complicated membership rules. Only members or their guest can attend the diner en blanc, always held in a public location, kept a closely guarded secret until moments before the crowds appear.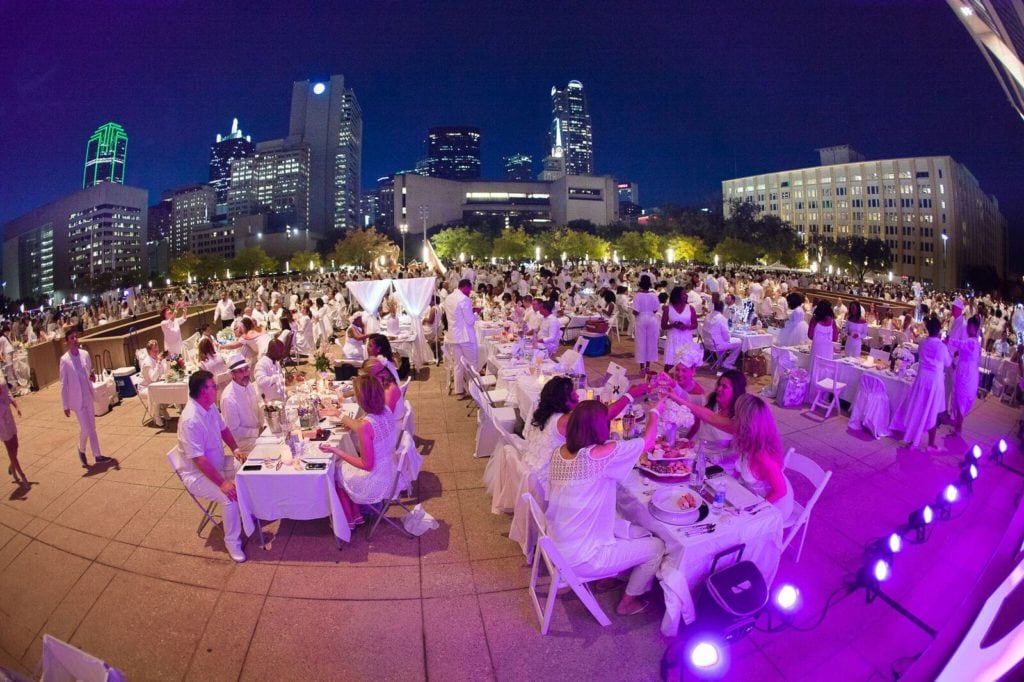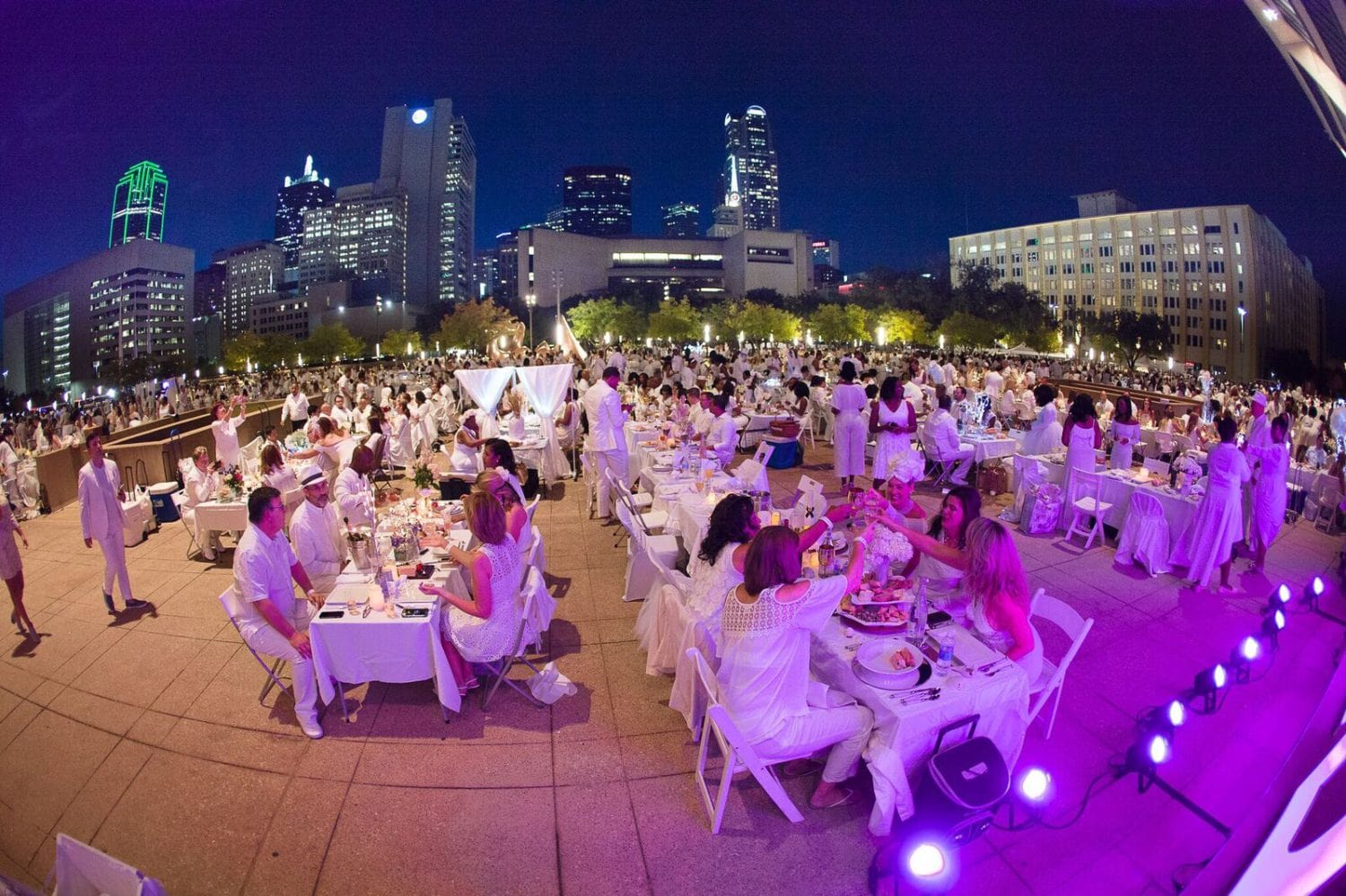 Members who attended the previous year are sent an invitation for themselves and a guest. If they do not attend again, they are dropped the following year. Each city has a waiting list so anyone who doesn't receive an invitation can sign up, but these events usually sell out. For the Dallas event, organizers said over 10,000 people were left on the waiting list.
Last year's introductory diner en blanc in Dallas was held September 16 on the Continental Avenue pedestrian bridge, with 1,200 attending. So when an invitation came to attend as media for this year's event, we were anxious to see what transpired at these secret social events. The only caveat, media were required to follow the same strict dress code as the guests–elegant white attire only, and no tennis shoes or flip flops.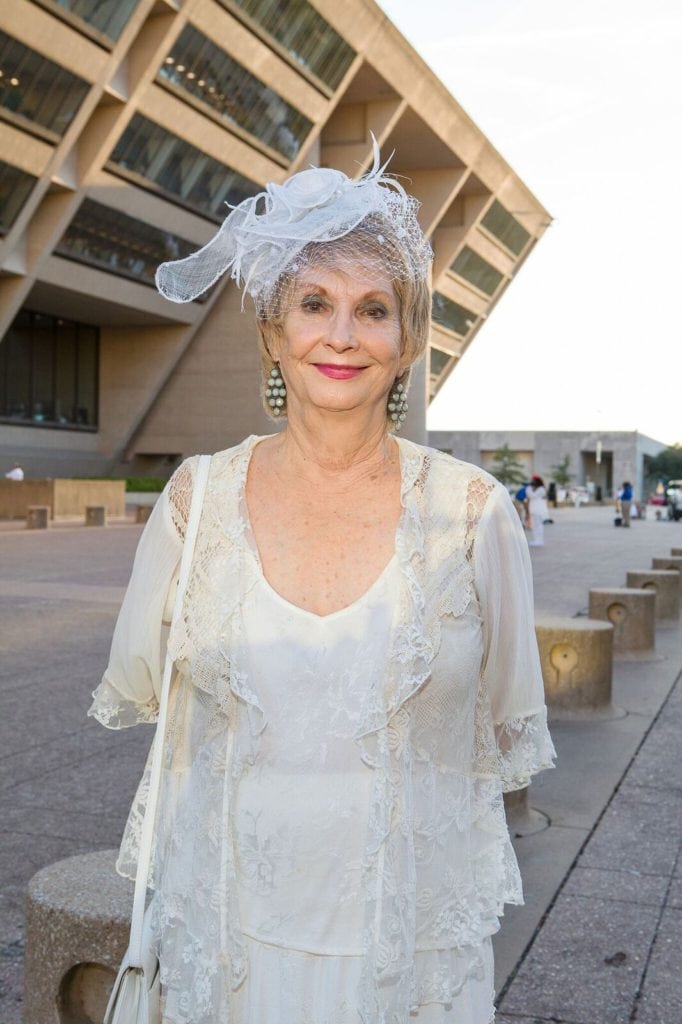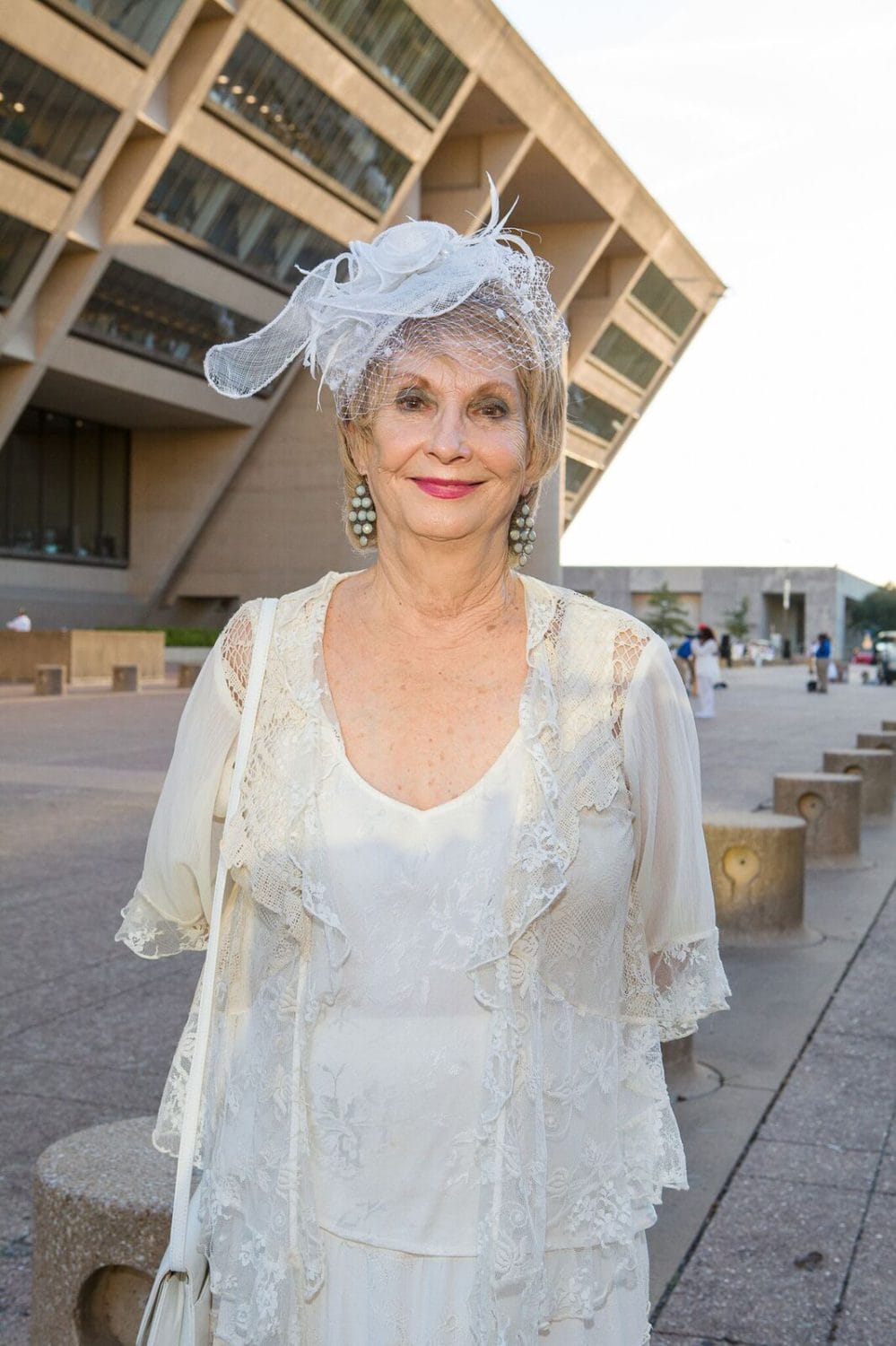 Unsure how many white accessories were available in local stores late in September, I borrowed a white fascinator and a white handbag from friends. That meant I only had to buy a pair of white high-heeled sandals. Luckily  the Uptown Village Dillard's in Cedar Hill had one pair in my size, left over from the summer. Photographer Chris Waits had to buy a pair of white pants to accompany me to the event.
Thirty minutes after the PR lady texted us the location, we checked into the media lounge on City Hall Plaza. There we watched the arrival of the invited guests, most of them by bus. We learned more of the rules as we watched. Not only did they pay to register and dress in head-to-toe white, they brought their own picnics.
They toted food/beverages/tables/chairs/linens/china/silverware/decorations with them.The guests worked diligently to set up their tables. At the end of the event, they would take them down again (after cleaning up all trash). Trash bags were taken away, so the grounds were left just as pristine as they were prior to the event.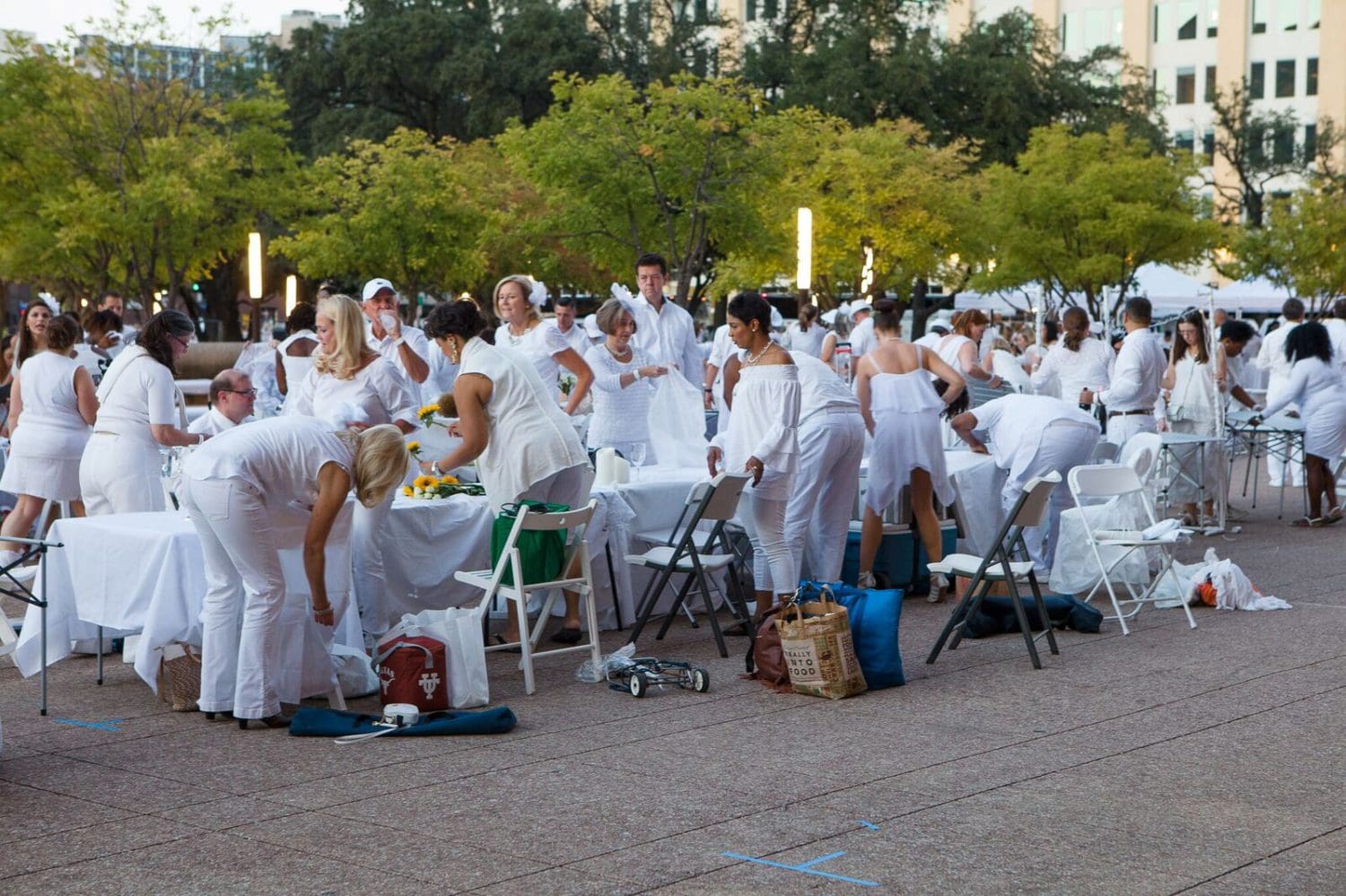 For those who didn't want to carry quite so much baggage, online orders for food and beverages were available until a week before the September 30 event. Those who ordered through Food Glorious Food or other vendors could pick up their orders after the tables were set up and decorated. This year the famous napkin wave to signal "time to eat" was delayed almost an hour while late-comers set up stations.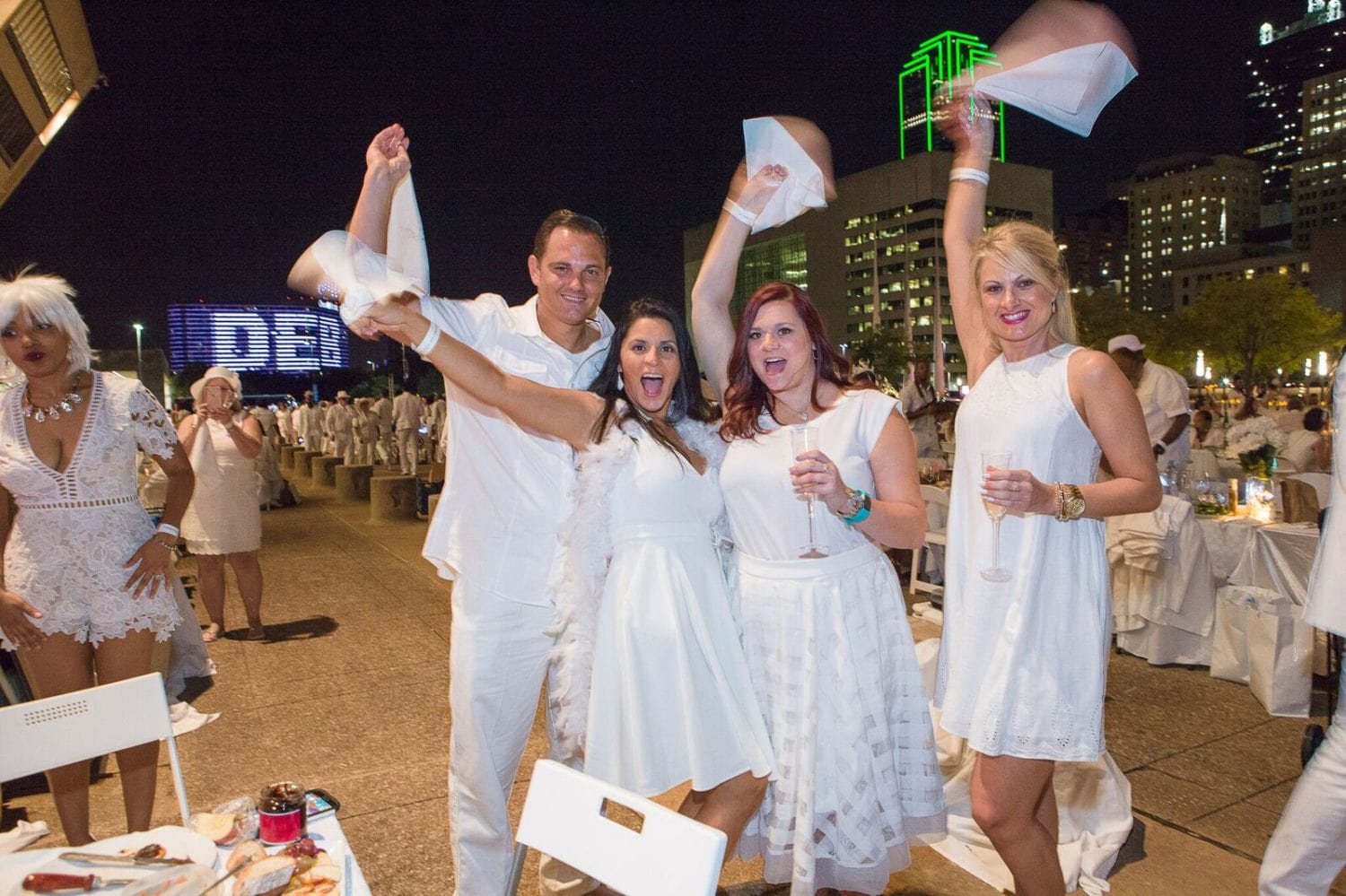 Surprisingly, despite working for their supper, everyone seemed thrilled and excited to be there. Dinner music by the Hip van Winkles started playing right after the napkin wave. After dinner, an energetic crowd of white-garbed dancers took to the floor.
Bottles of Apothic White wine were poured as Moet and Chandon champagne corks popped throughout the evening. The festivities continued with an after party at the Omni Dallas, the hotel sponsor. Other event sponsors included Southwest Airlines and Mercedes.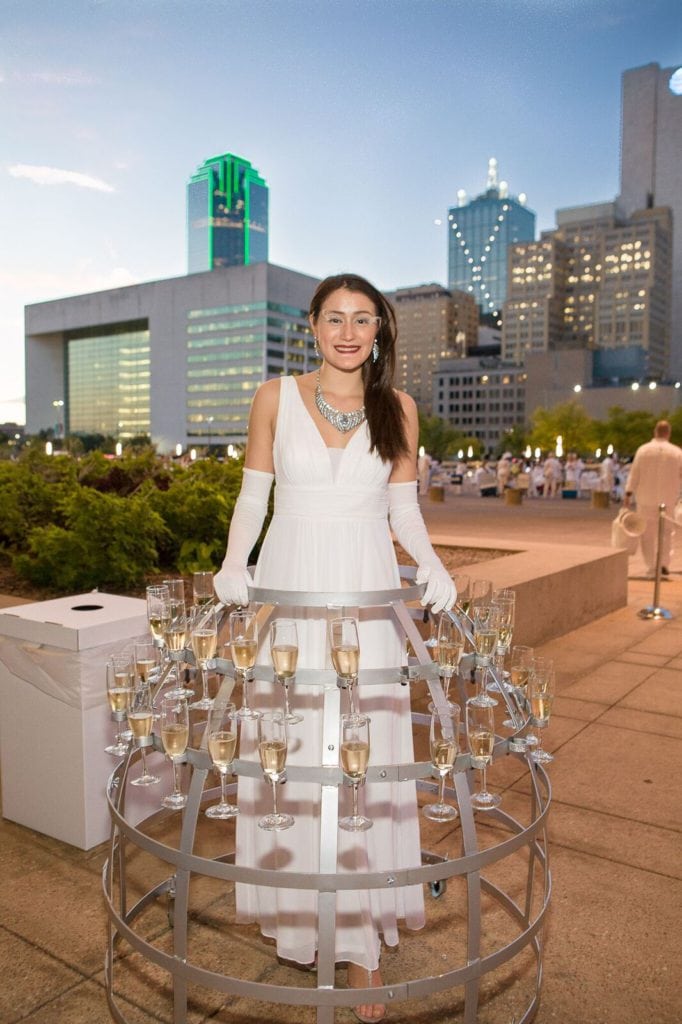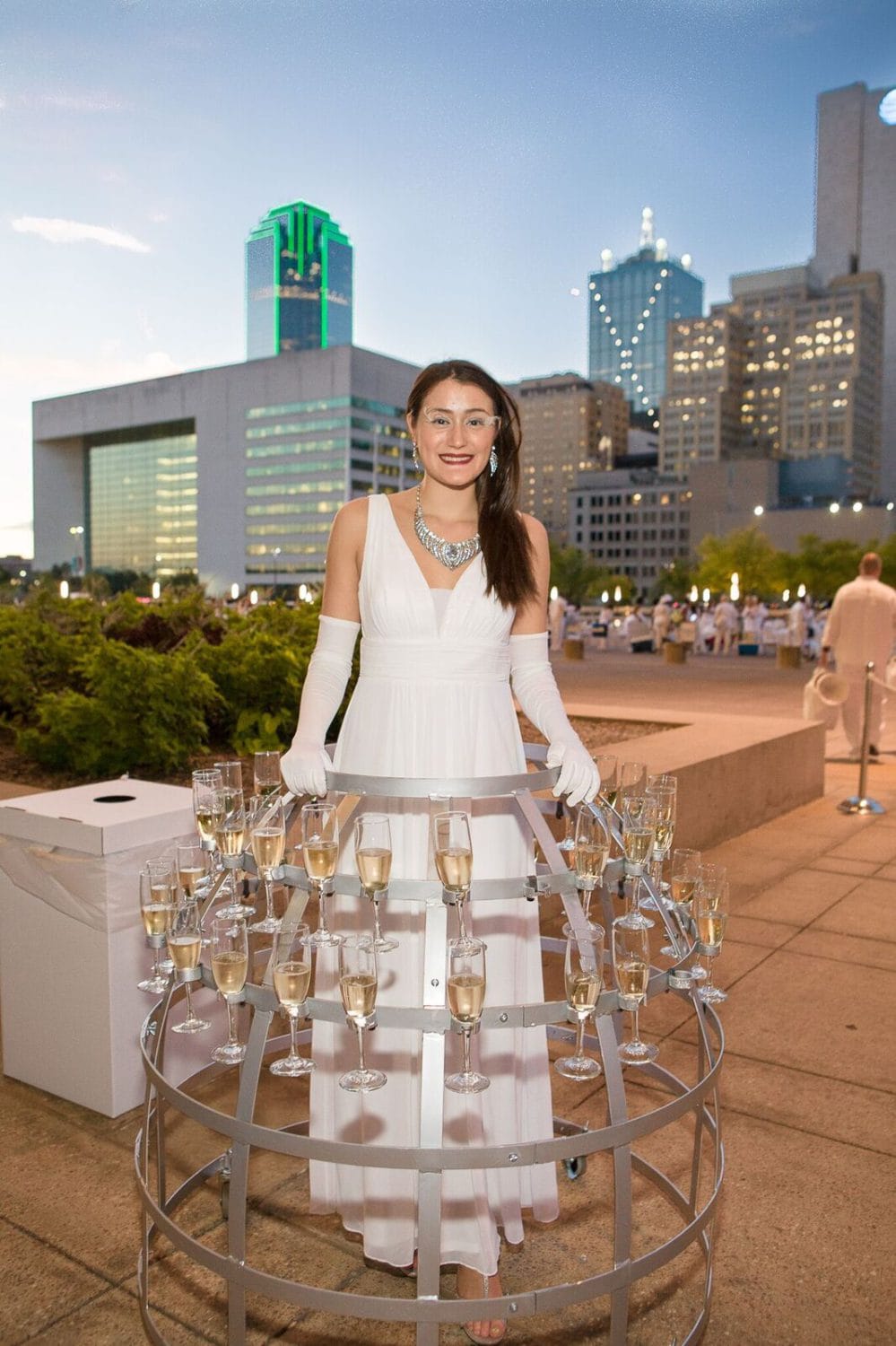 Total cost of the evening for participants varied depending on the quality of the food, beverages and table decorations. How stylish you looked also added to participants expenses. Elaborate fashions were displayed, ranging from long gowns to top hats.
After paying a fee of around $35 each to attend, the rest of the tab could easily run into hundreds of dollars for those who could afford to be that extravagant.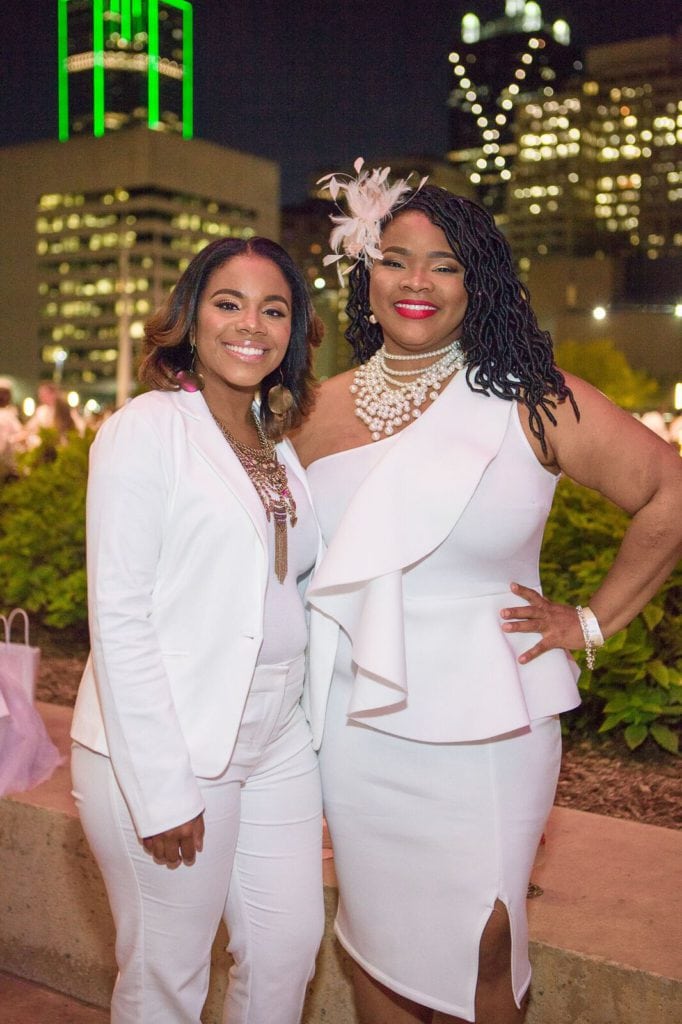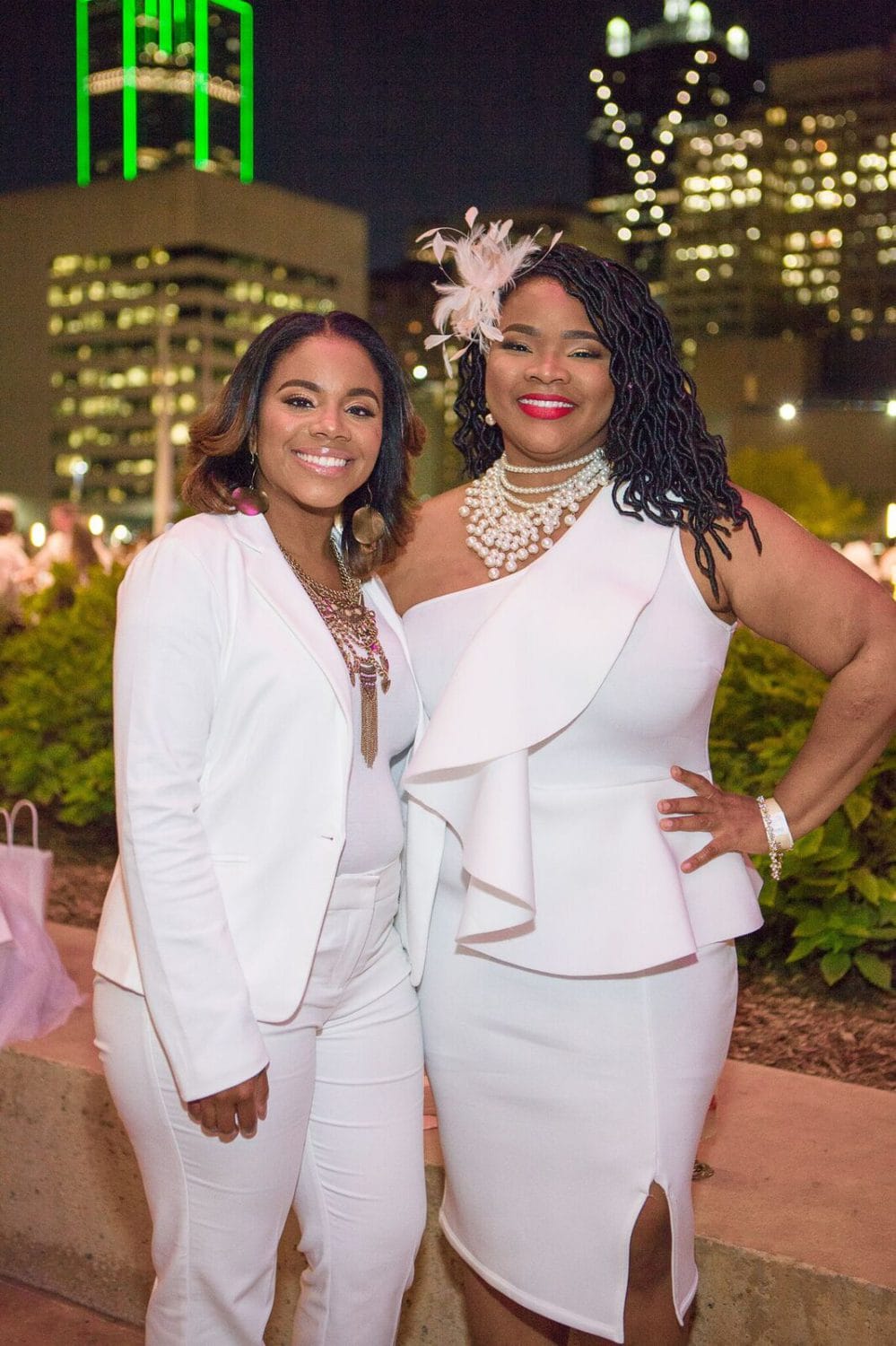 Whatever the cost, everyone we talked with seemed to think it was definitely worth it. One happy party-goer described the evening as a "magical, priceless experience."
To find out how to get on the waiting list for the 2017 diner en blanc in Dallas, click on http://dallas.dinerenblanc.info/.