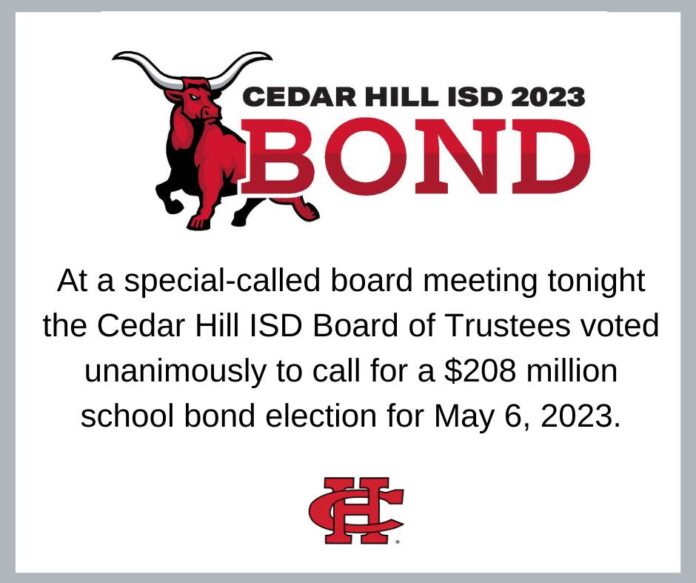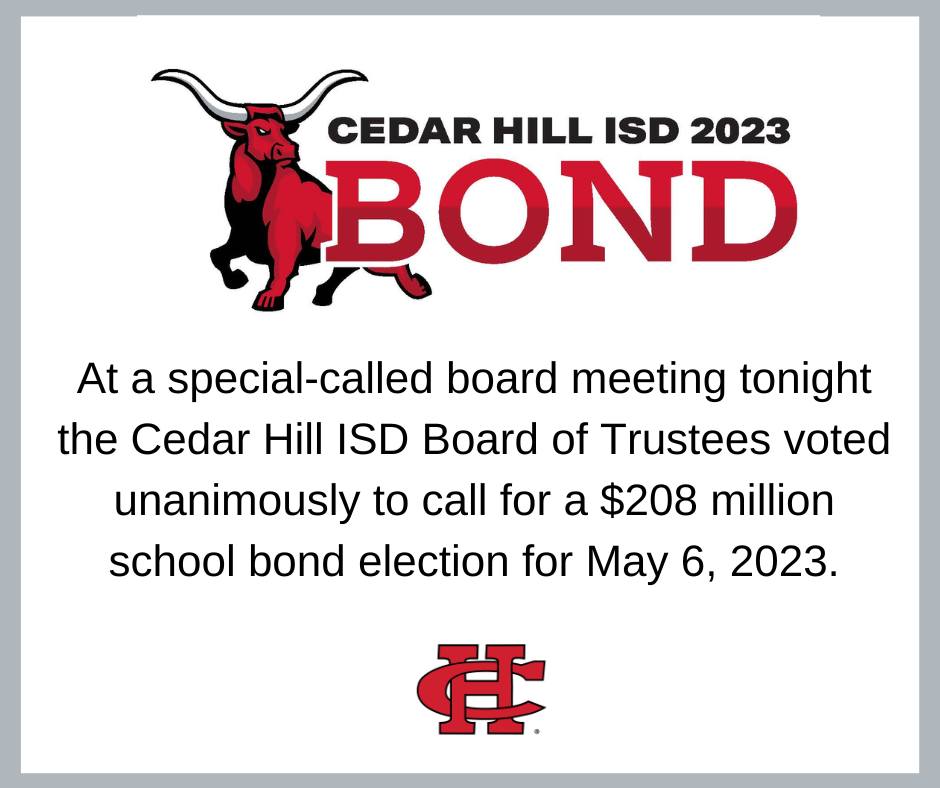 Proposal Includes Additional Safety & Security Measures, Campus Updates, Technology Infrastructure, New Playgrounds
At a special-called school board meeting on February 9, the Cedar Hill ISD Board of Trustees voted 6-0 to include a $208 million bond proposal on the May 6, 2023 ballot.
When residents consider the CHISD bond election this spring, they'll be choosing whether to fund projects for safety and security, capital improvements, technology network upgrades, new elementary playgrounds, and renovations for Career & Technical Education (CTE), Science, Technology, Engineering & Math (STEM), fine arts, and more.
We listened, and we made adjustments.
Following a series of community meetings and listening sessions, the Cedar Hill ISD administration recommended a May bond package that was reduced from the bond propositions defeated by voters in November 2022. The May 2023 bond election has many (but not all) of the same projects that were included on Proposition B in November, which had 15,890 votes cast in the election. Approximately 49.6 percent of voters were in favor of Proposition B in November, with 50.2 percent voting against it.
What was proposed in November 2022 that is not a part of the May 2023 bond election?
Funds to build a new elementary fine arts academy (CHISD will utilize existing spaces for student programs)
Funds to demolish Bray Elementary
Funds for capital improvements at Lacy Enrollment Center
Funds for technology devices
Funds to replace turf and track at Longhorn Stadium
What is included in the May 2023 bond proposal?
Safety & Security Updates at All Schools in CHISD
Cameras
Access Control Monitoring System
Bullet Resistant Film
Communications and Mass Notification Systems
Alarm Systems
Campus Renovations for Fine Arts, STEM and CTE
High Pointe Elementary Renovations for Elementary Fine Arts Academy and Exterior Facelift
Plummer Elementary Renovations for Biomedical Sciences Lab
Waterford Oaks Renovations for STEM Programs
Bessie Coleman Addition for Middle School Fine Arts Academy
Permenter Middle School Renovations for Biomedical Sciences Pathway
Collegiate High School/STEM Center New Stage + Renovations for CTE and STEM Programs
Cedar Hill High School Renovations for Performing Arts Center Seating, Cafeteria, Life Skills, Culinary and Graphic Design Areas
Capital Improvements at 13 Facilities
These include roof replacements, HVAC system updates, flooring replacements, paving improvements, etc. that have reached the end of their useful life.
A complete list of capital improvements will be posted, by campus, at chisd.net/Bond2023
New, Accessible Playgrounds at 6 Elementary Schools
Technology Infrastructure Updates for All Schools in CHISD
New Transportation Center and New Buses
How many propositions will be on the ballot?
One. This bond election will be presented to voters as Cedar Hill ISD Proposition A on the May 6 ballot.
What is the impact to taxpayers?
The district does not anticipate a change to the school district tax rate as a result of this bond election.
According to analysis from the district's financial advisor and chief financial officer, CHISD can pay for these bonds at the current Interest and Sinking tax rate of $0.336 (per $100 of property valuation).
Bonds are paid over time with funds generated by property taxes.
Property owners are encouraged to learn more about the school district's tax rates at chisd.net/Bond2023. In addition, district financial documents can be found on the Business Services page of chisd.net.
Does this proposal include funds for additional teacher pay or pay increases?
No. By law, bond funds may only be used for school buildings, district facilities and grounds, transportation and equipment.
CHISD is still discussing the possibility of asking voters to consider a Voter Approval Tax Rate Election (VATRE) in November 2023. State law stipulates that VATREs can only be held in November. (Bond elections can be held in May or November.)
Where can residents learn more?
CHISD will be adding project details and costs to the website in the coming days: chisd.net/Bond2023
CHISD will be scheduling campus and community meetings to present factual information and answer questions.
Residents may submit questions through Thoughtexchange.