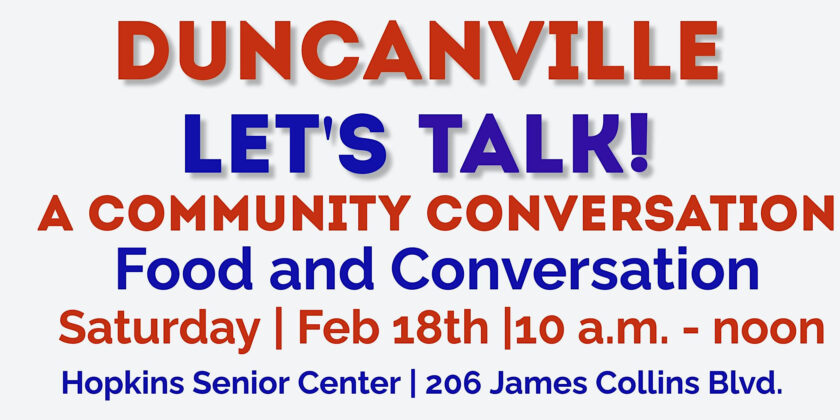 Duncanville Let's Talk! Is a free community event hosted by former Mayor Pro Tem/City Councilwoman Dorothy Burton and Renee McNeely, former Duncanville School Board Trustee. They will facilitate the discussion with a panel of five, including former Mayors Cliff Boyd and David Green, and former school board trustee Marshal Wesley. Financial Advisor David Sykes and Bryan Kaeser, owner of Mudhook, Kim & Jenny's, and Black & Bitter Coffee, are also panelists.
Burton now serves as President of CIPS, Inc., (formerly Christians in Public Service) a non-denominational and non-partisan nonprofit she helped found in 2013 "to provide a faith-based forum to teach, encourage and inspire those who serve, lead and govern. And to provide a safe space for networking without regard to political affiliations."
Event organizers hope to spur a conversation about the need for our cities and governments to work together "to find our way back to respectful governing." The conversation will focus on "Where we've been, where we are, and how to move forward together as a diverse city in transition."
"We believe this community conversation is going to be a great event for the city," Burton said. "Prayerfully, it will open up dialogue, eyes, and hearts and will help our leaders as they plan for the future."
Duncanville Let's Talk!
The community event features food and conversation and will be held from 10 a.m. to 12 noon at Hopkins Senior Center, 206 James Collins Blvd. Duncanville, Let's Talk! Is free to attend, but reservations are requested at https://www.eventbrite.com/e/duncanville-lets-talk-a-community-conversation-tickets-527230991087?aff=ebdssbcitybrowse.
CIPS, Inc. uses a "practical application of Kingdom principles to inspire transformative change within ourselves and within our spheres of influence. While servant leadership is central to every Christ follower because Jesus was a servant leader, Jesus was also a transformational leader," excerpted from the website cipsinc.org.
"Challenging status quo, while challenging ourselves and others to re-think long-held assumptions and think about things in different ways because neither our lives nor ways of serving, leading and how we relate to one another will return as they were pre-pandemic."
CIPS, Inc. Board Members
Current board members of CIPS, Inc. are Founder/President Dorothy Burton; and Founder/Chairman Dr. Ronald E. Jones, former Mayor of Garland and Pastor Emeritus, New Hope Baptist Church in Dallas. Vice Chair Dr. Darrell L. Bock is Executive Director Cultural Engagement, Hendricks Center for Christian Leadership, Dallas Theological Seminary.
Hon. Remeko Tranisha Edwards, Judge Dallas County Criminal Court #7, is treasurer; and Hon. Staci Williams, Presiding Judge 101st District Court is secretary of the board. Carla Bean, Assistant District Attorney Dallas County, is a director, and Vicky Gunning, Partner and Director of Employee & Alumni Engagement for Locke Lord LLP, is the immediate past chairwoman and inaugural chair CIPS, Inc. Advisory Board.
For more information about CIPS, Inc., please visit their website at cipsinc.org.