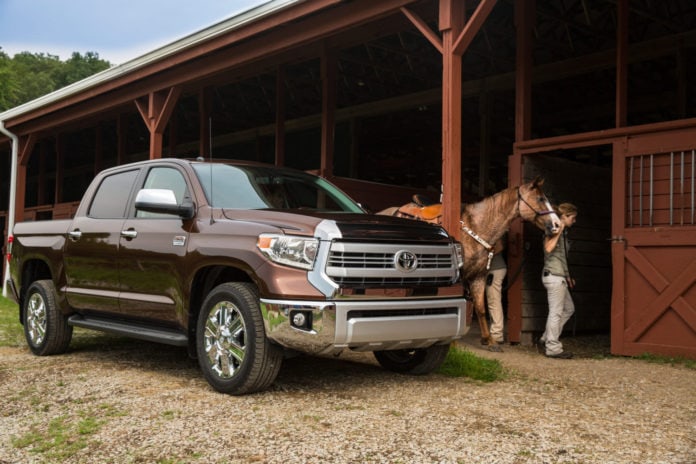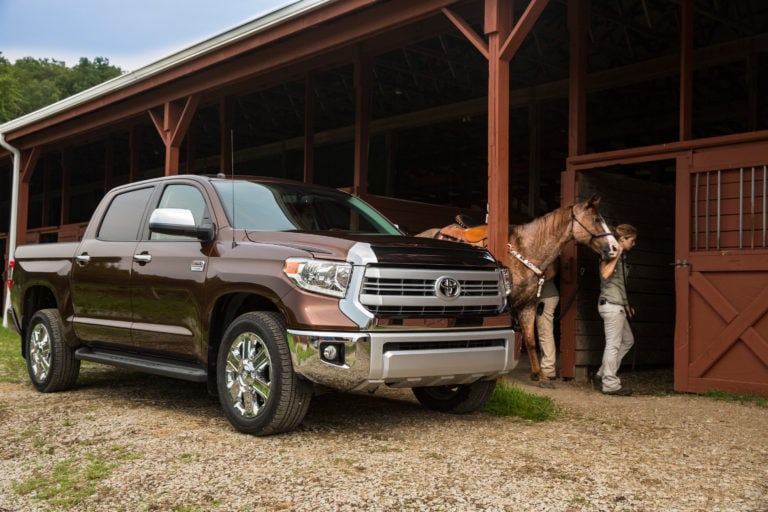 2017 Toyota Tundra 1794 Model Excites The Senses
As a millennial, I know EVERYTHING. And what I don't know, I'll spend hours researching online. One thing I simply cannot abide is a pushy sales person. Anyone that is so busy spouting one-liners I can't get a word in edgewise is not my kind of person. Especially if I have spent the last three days becoming a veritable online expert.
There is one thing that you can't always get online … the look. It's Christmas time. I don't have to tell you things online are not always what they appear to be. My heartstrings were pulled by the this season's interfaith Amazon television advertisement. That, coupled with a hectic work schedule, lead to a decision to do 90-percent of my Christmas shopping online. Needless to say, some gifts are getting sent back after the new year.
Back to car shopping. No matter how much you glare at photos, there is something to the experience of being inches away from the truck of your dreams; seeing the curves of the chassis; falling in love with your reflection in the headlights; being intoxicated by that new car smell. These are just some things that you cannot feel while online shopping.
This is what happened as I walked out of the doors of Focus Daily News to see the latest offering from Toyota.
The first thing that caught my eye was it was big! It may be some leftover subconscious programming from my Tonka Truck days. The Blazing Blue Pearl 2017 Toyota Tundra 1794 Crewmax Edition sitting 11 inches off the ground was exciting.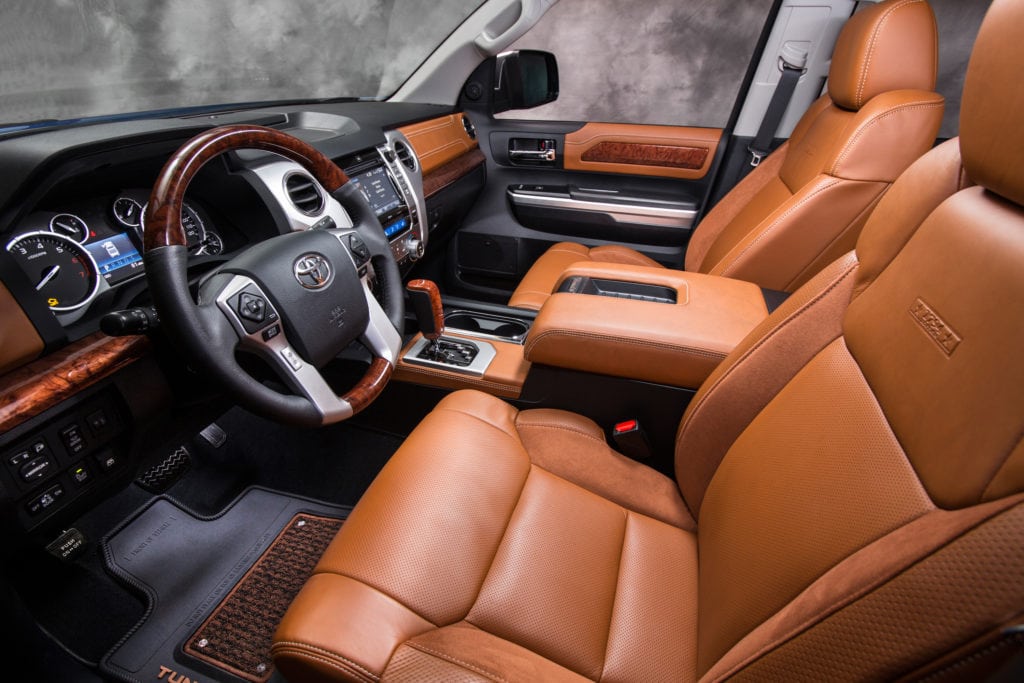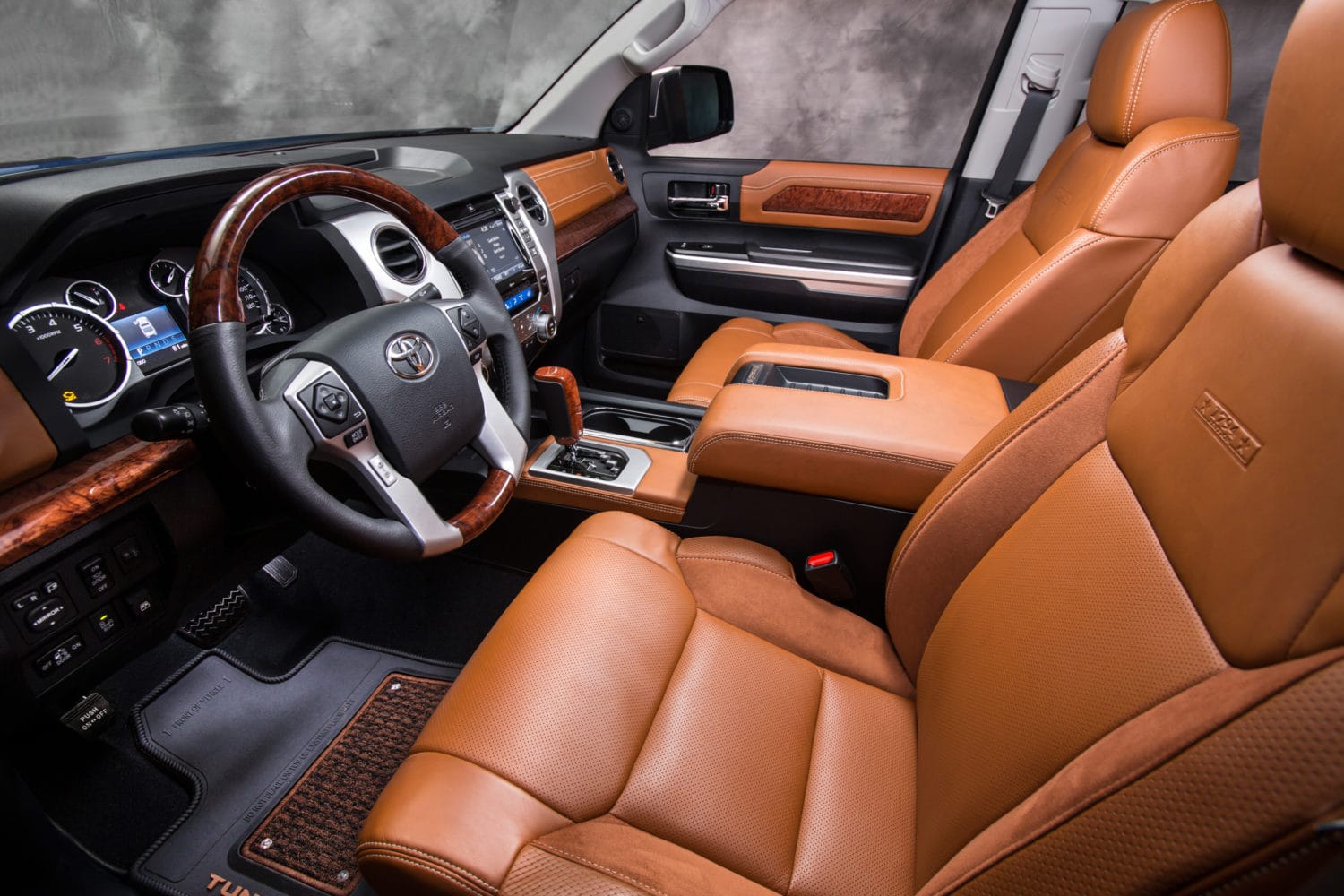 Big Boy Status
After you find the vehicle that sparks your visual desires you have to make sure you can fit in it. For 35-percent of Americans, obesity is a real issue. So a comfortable riding experience is at the top of the list of requirements for a new car or truck.
Sometimes for those who have more defined weight issues, it's the number one necessity.
For the other 65-percent of the country who has never dealt with this issue, it could be seen as trivial. I have even had one salesperson suggest a minivan for my transportation needs.
To which my response was, "HECK NO!" I know, I've been 'Uncle of the Year' five years running. I've even been a foster parent. But I have no biological children to this date. I am much too vain to drive a minivan!
Upon first getting into the 2017 Toyota Tundra 1794, I released a big sigh. With 62 inches of hip room and 65 inches in shoulder I had plenty of room to get in and out without issue. But the measurement that sold me was the comfort-ability factor of the Tundra 1794 model. It was 10.6 inches off the ground and provided 42.5 inches of legroom. I was in heaven.
When you are 6'3″, legroom becomes a part of the luxury package. Without it, I find myself doing this awkward genie in a small bottle dance when I get in and out.
Even in the clothing business, for some reason the powers that be expect you to be either big or tall. Who knows? Maybe census takers make appearance notes when they go door to door. Perhaps in the last decade, everyone was either short and fat or tall and slender.
Or am I just a handsome hybrid?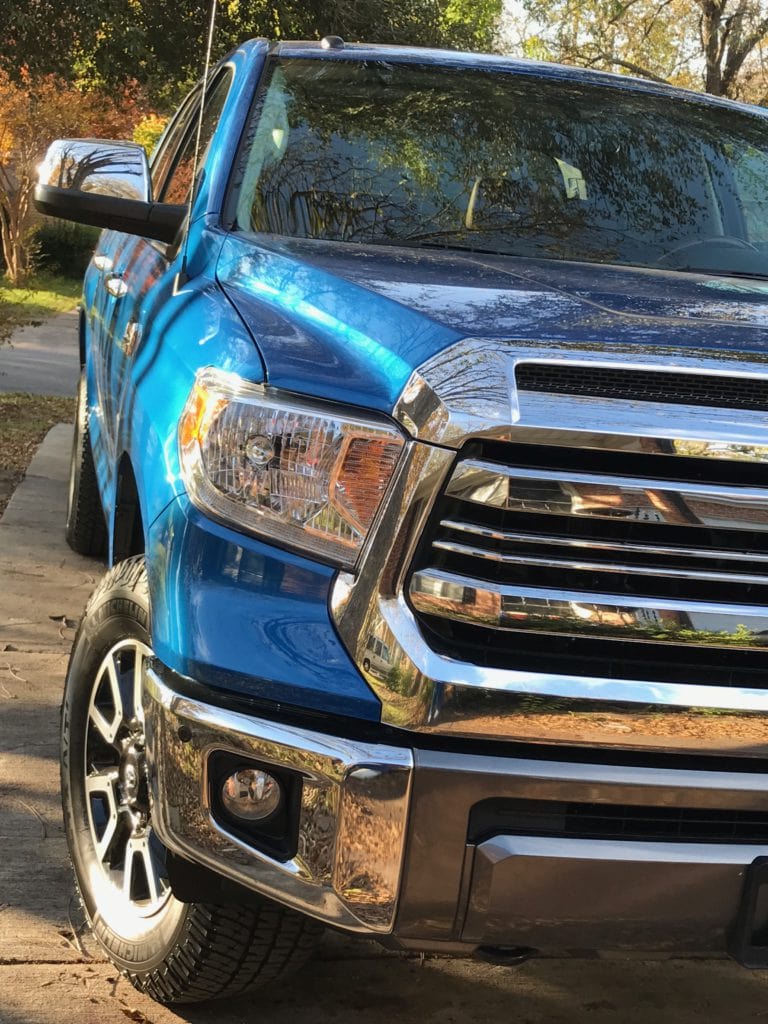 Tough When Needed, Soft Where It Counts
Keeping in mind that I was born in the 80s, our toys were insanely gender specific. Not saying that anything is right or wrong with that. But it definitely has an impact on my adult desires. I imagined I would grow up to be He-Man(TM). As a child I had every die cast truck and farm equipment toy on the market. I dreamed that those trucks turned into Transformers(TM) and walked around the house as I slept.
And the common characteristic of my trucks and transformers were that they were loud. How else would anyone know they were powerful?
In the age of super quiet engines, the Tundra finds the middle ground between almost indeterminable operation and HeMan's Battlecat. The 5.7 liter-V8 engine wasn't deafening, but it did let you know that there was some power under the hood.
Inside, leather-trimmed and heated front bucket seats were just a couple of the many subtle 2017 Toyota Tundra 1794 features that had big impact.
Even with all of its inherent toughness, Tundra treats its occupants with the sort of smooth ride and quiet cabin that is most often associated with luxury sedans, not full-size pickup trucks.
Wherever I went, the Toyota Tundra was a hit. From picking up lattes at Starbucks to loading up on Christmas trees at Home Depot, it was a head turner.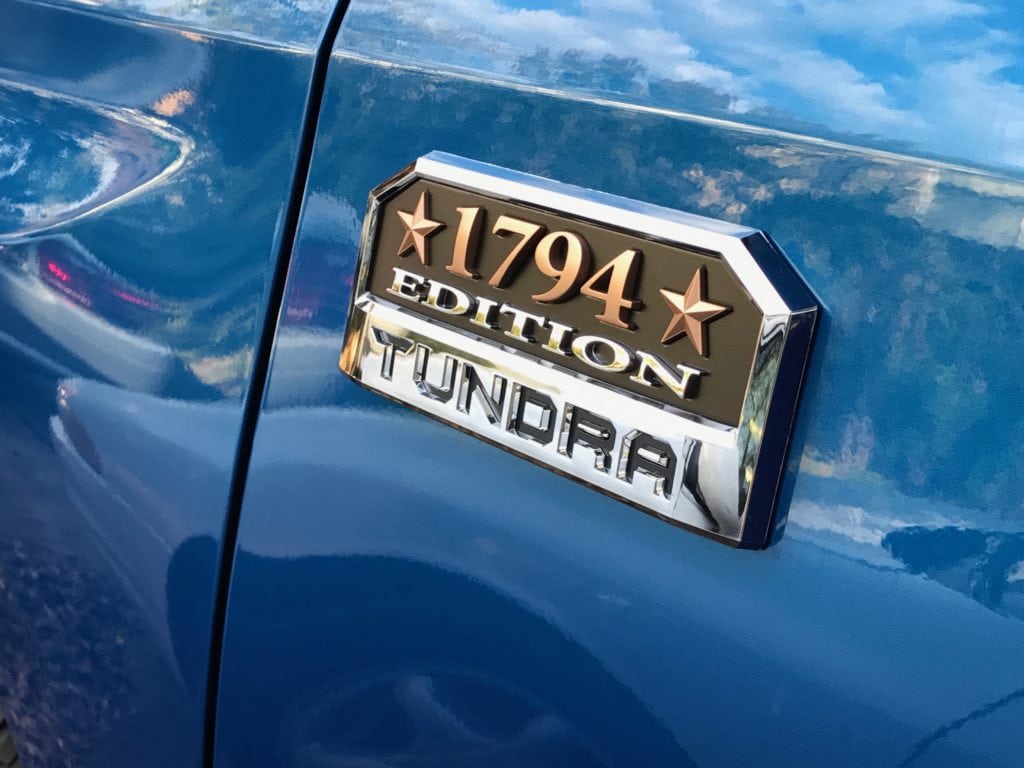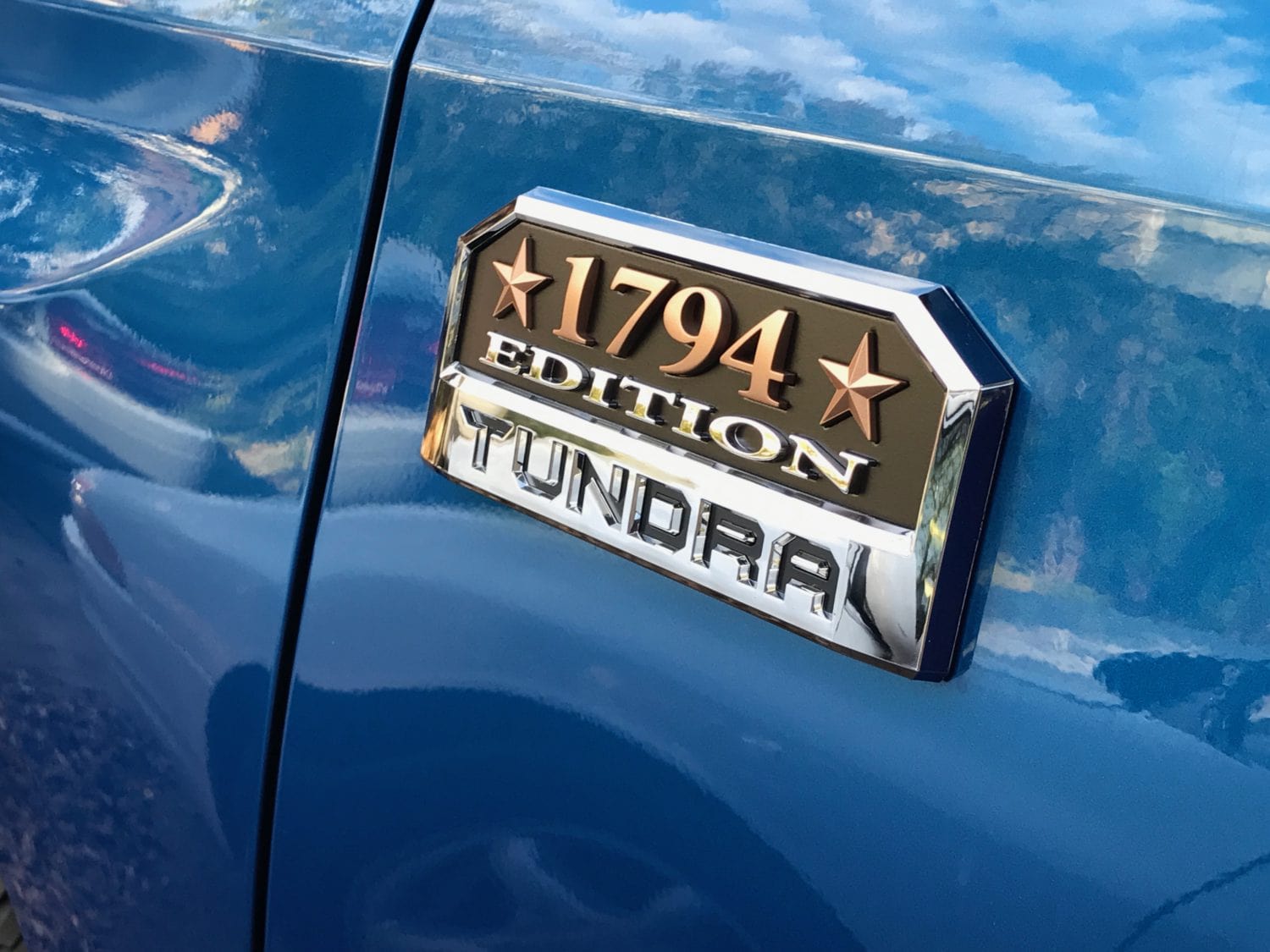 1794 Edition: Celebrating Texas Heritage
The 1794 Edition pays homage to an 1800s San Antonio Ranch where Toyota's Tundra plant now sits.
Mixing new and old Texas, the 1794 Edition reflects a western lifestyle with its exclusive saddle brown premium leather-trimmed seating. It features embossed leather and ultra-suede accents. Matching soft-touch materials also accents the shift console, the front/rear door trim and the instrument panel. LED daytime running lights add a touch of elegance to the 1794 Edition.
The Limited and Platinum grades add leather-trimmed seating surfaces in Black, Sand Beige, or Graphite, with matching soft-touch door and console surfaces and wood-style interior trim. Amenities include dual zone air conditioning, a 10-way power driver seat and, new for 2017, 4-way power passenger seat, and available power tilt/slide moon-roof with sliding sunshade (CrewMax only).
Finally, for my guys with a little extra to love, this truck has the looks, feel and power for any occasion. On my Big Boy Swag meter, I'm giving the 2017 Toyota Tundra 1794 4X4 Crewmax: Four Steaks well done!