Smokey D'Z BBQ & Catering, a popular Duncanville restaurant, has dramatically expanded their space at 215 W. Camp Wisdom Road. Duncanville Chamber of Commerce members turned out for a July 9th ribbon-cutting for the family-owned restaurant.
Derrick Harris and wife, Katrina Harris, own and operate the restaurant, and are ably assisted by his parents, Malvis and Marjorie Harris. An AT&T employee for 18 years, Harris first started selling barbecue from a Grand Prairie trailer to make extra cash on weekends. When a small take-out space became available in Duncanville, the Harris family all pitched in to renovate it.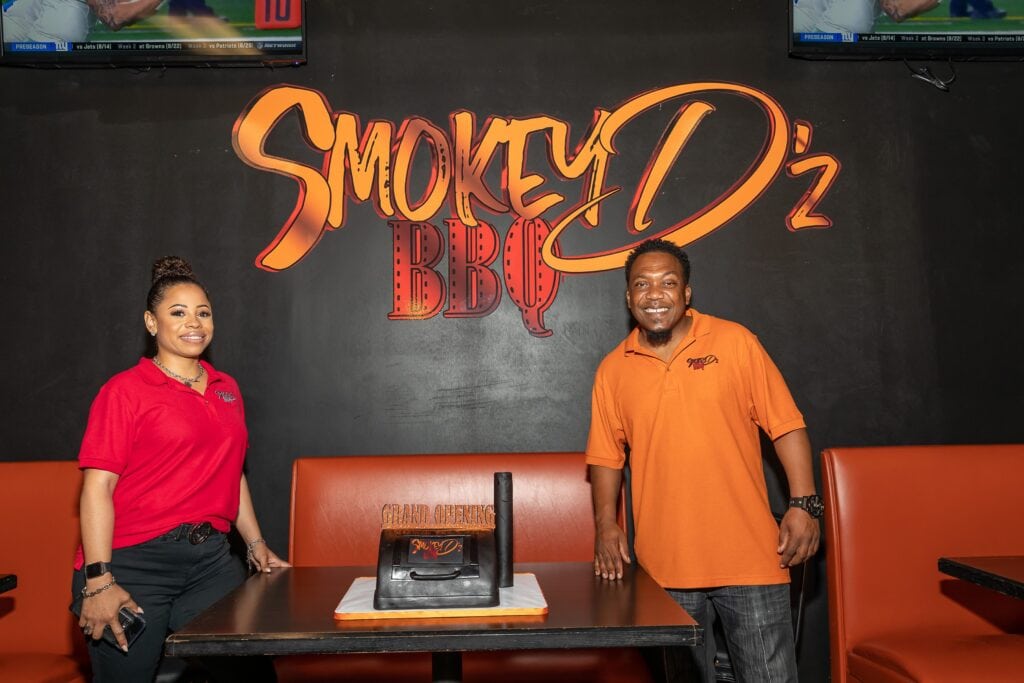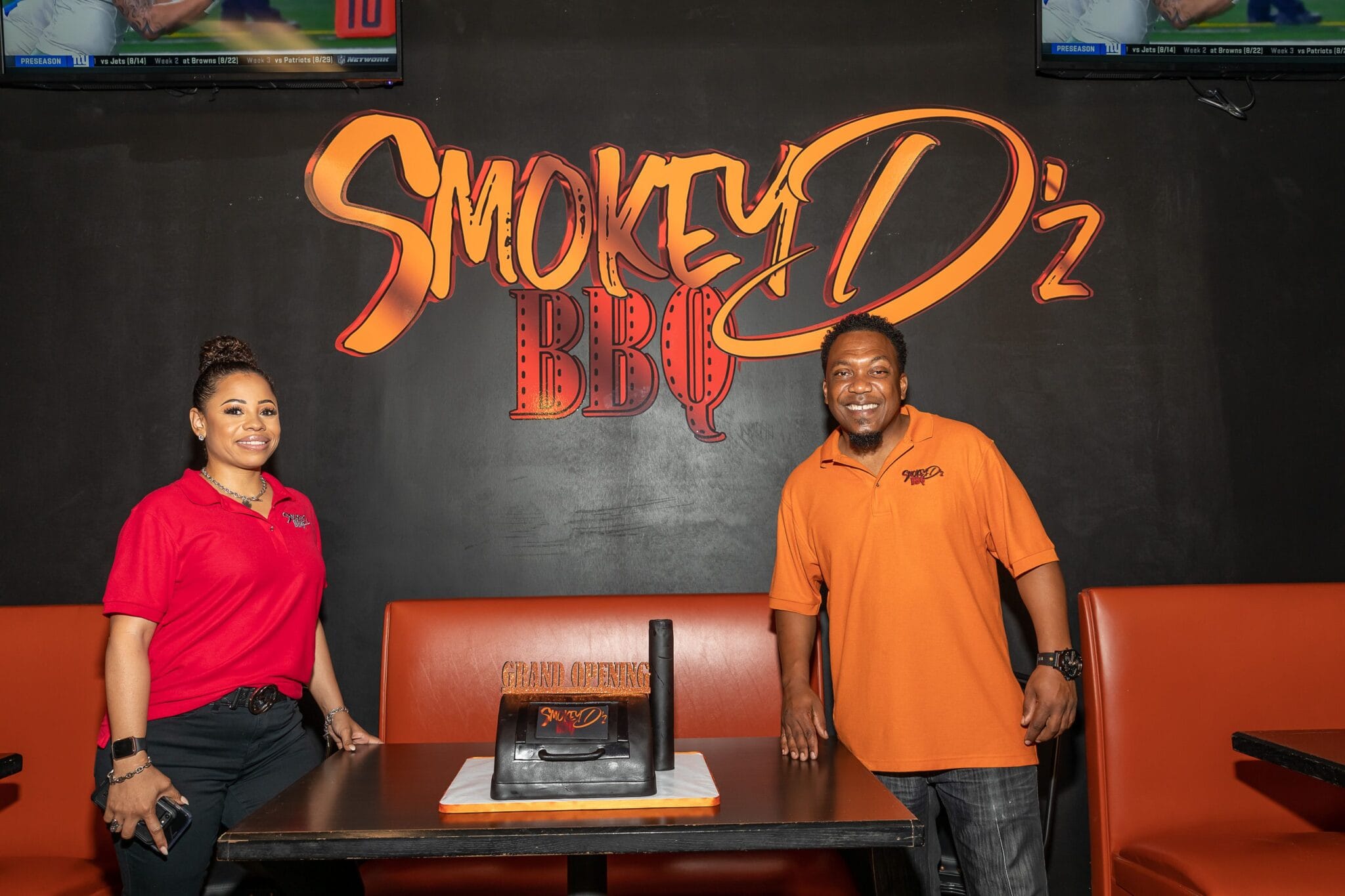 Home of The Backyard BBQ
Smokey D'Z., Home of the Backyard BBQ, is still very much a family operation. Derrick's dad, Malvis Harris, is a self-taught pitmaster. He started smoking meats in his Oak Cliff backyard, and still handles the meat preparation for Smokey D'Z juicy, hickory wood-smoked barbecue. Marjorie Harris helps to make from scratch potato salad, peach cobbler, and other fixin's. A partnership with CakeDaddy Cake Bowls provides additional, delicious dessert offerings.
With the expansion, Smokey D'Z now has room to seat their customers in comfort in the large new dining room. The new performance stage features concerts by local musicians on weekends and special occasions.
Their all-time best-seller is the Smokey D'Z Loaded Sloppy Mess Potato, filled with all their meats plus homemade barbecue sauce with famous baked beans and a rib on top, priced at $21.99. Running a close second is another unusual offering, Suicide Fries. The aptly named dish features freshly cooked fries topped with chopped beef, chicken, and links with a rib on top, chopped jalapenos and spicy BBQ sauce for $21.99.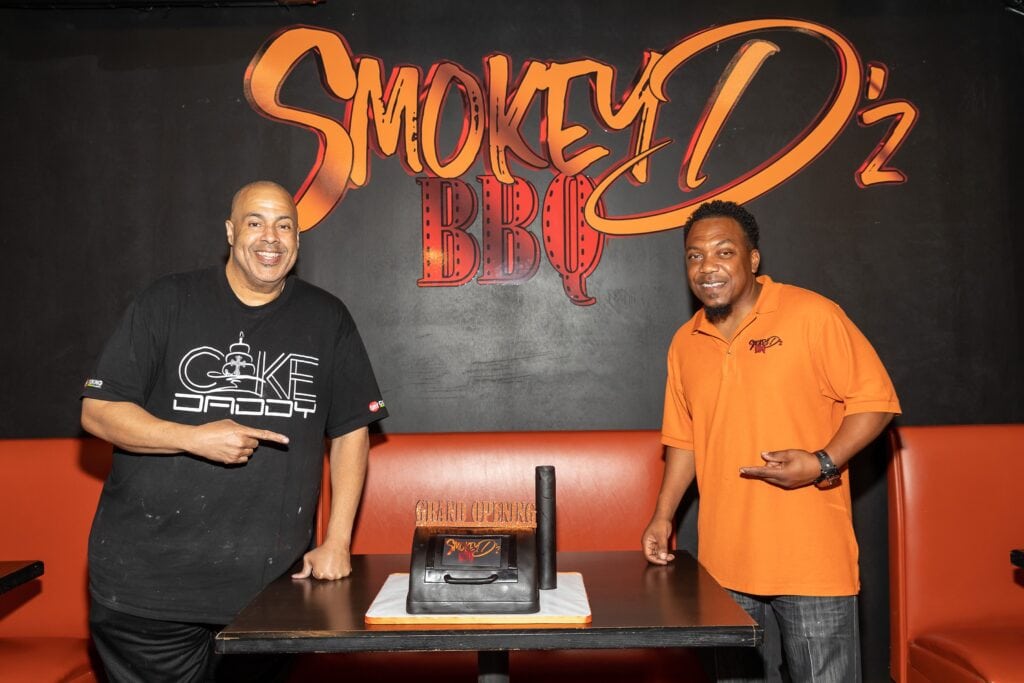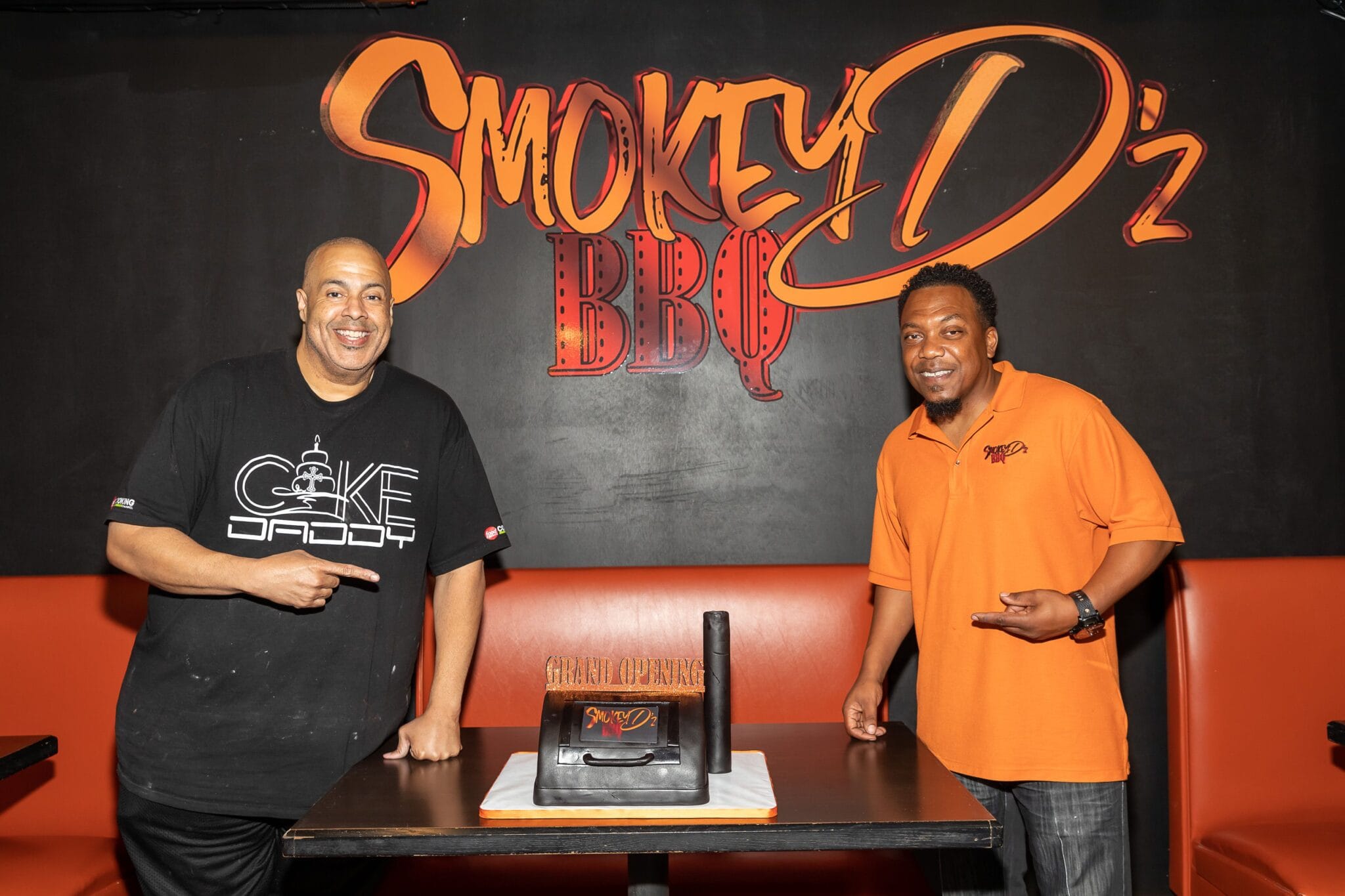 Sloppy Mess Sandwich
Another menu item designed for heartier appetites is their Sloppy Mess Sandwich, piling all their meats into a sandwich with coleslaw on Texas toast and a rib on top ($18.95). Lighter menu items include sandwich plates with choice of one meat: chicken, sausage, link, pulled pork or brisket, with prices that start at $8.49. Meat plates with one, two, or three meats and sides are available for $14.99 to $18.99.
Sides includes potato salad, cole slaw, famous baked beans, green beans, Mac 'n Cheese, fries, smokey chips, sweet potato fries, onion rings and collard greens. Also on the menu smoked chicken salad in 8 oz or 16 oz sizes, and grilled Chicken Cobb salad ($12.99). Meats are available to purchase by the pound with prices ranging from $17.99-$19.99.
Smokey D'Z BBQ at 215 W. Camp Wisdom Road in Duncanville is open Tuesday-Saturday from 11 a.m. to 8 p.m. For more information phone 469-802-6288 or visit their website at smokeydzbbq.com.