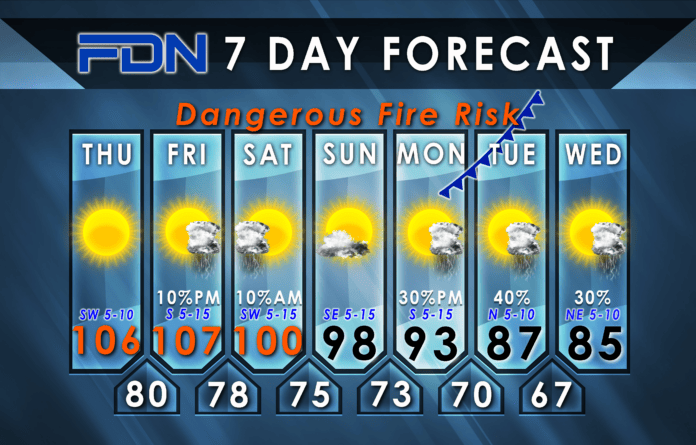 We're ending the work week with insane heat for early September – but it won't last long before a couple of cold fronts and a big pattern shift finally bring us back to 'normal'.
Today it's just hot as the stationary front from yesterday lifts north as a warm front and the sun beats down. We'll reach 106°-108° today. Tomorrow will be similar with temperatures right around the same range, though tomorrow evening a few showers/storms will be possible. Some of those could be strong/severe – mostly with strong winds.
Late Friday/early Saturday a front moves in, and a few showers storms will be possible Saturday morning – though it looks like most of that activity (if not all of it) will be east of us. We should still reach 100° Saturday, or close to it. Sunday we're dry with highs in the upper 90's to around 100°.
Monday the cooling trend begins with scattered shower/storms possible and highs in the low 90's. It looks like the big front arrives late Monday/early Tuesday with a few showers/storms possible.
Tuesday will be a combination of the two things we really, really need: Cooler and wetter! Temperatures will be in the mid-upper 80's, and rain chances are increasing. Right now I have us at a 40% chance, but that may increase as we get closer and confidence improves. Wednesday looks cooler with more rain possible, though a lower rain chance overall. Highs will be in the mid 80's.