Oak Cliff Film Festival Returns June 14-17
Oak Cliff Film Festival announces the Feature Program lineup for the seventh annual edition of the festival, taking place June 14-17 at the historic Texas Theatre, Bishop Arts Theatre Center, Kessler Theater, and numerous other venues around Oak Cliff. The schedule is comprised of 25 feature-length films, with 10 of the films having their Texas premiere at this year's festival. The festival also includes 40 short films, as well as filmmaking workshops, live music and parties.
"On behalf of the programming and organizational team behind the Oak Cliff Film Festival, I think we have our best lineup yet," said Barak Epstein, Oak Cliff Film Festival Co-Founder and Festival Director. "It's an honor to highlight great works from Texas Filmmakers as well as filmmakers across the globe and continuously bring their films to the great Dallas neighborhood of Oak Cliff."
Kicking off proceedings with this year's opening night film are director Kevin Kerslake and writer/editor Joel Marcus in attendance to present the Texas Premiere of BAD REPUTATION, their hard-rocking documentary on legendary rock-n-roll icon Joan Jett. The screening will be followed by a karaoke party behind the screen. The festival closes with NEVER GOIN' BACK, a raunchy party comedy filmed and set in DFW, from Dallas filmmaker Augustine Frizzell and produced by Sailor Bear.
Additional festival highlights include: MEOW WOLF: ORIGIN STORY, a documentary on the Santa Fe based artist collective famous for their unique and immersive multimedia art installations; a screening of the newly restored 1928 silent film classic THE PASSION OF JOAN OF ARC, featuring a live score accompaniment composed by indie electronic artist George Sarah and performed by Curtis Heath and his Orchestra; The Zellner Bros' new comedy western DAMSEL with the film's composers, Austin-based indietronica band The Octopus Project, playing a live concert at The Texas Theatre; and director Penelope Spheer attending for a new digital theatrical presentation of her rescued-from-obscurity and newly-restored 1987 punk rock western DUDES.
See below for the Oak Cliff Film Festival 2018 Feature Program lineup. The full schedule, including the Shorts Program, is available online.
OPENING NIGHT SELECTION: BAD REPUTATION (USA, 95 min. Dir. Kevin Kerslake TEXAS PREMIERE – Director Kevin Kerslake and writer/editor Joel Marcus in attendance.
Joan Jett is so much more than "I Love Rock 'n' Roll." It's true, she became mega-famous from the number-one hit, and that fame intensified with its endless play on MTV. But that staple of popularity can't properly define a musician. Jett put her hard work in long before the fame, ripping it up onstage as the backbone of the hard-rock legends The Runaways, influencing many musicians—both her cohort of punk rockers and generations of younger bands—with her no-nonsense style.
CLOSING NIGHT SELECTION: NEVER GOIN' BACK USA, 85 min. Dir. Augustine Frizzell DFW PREMIERE – Producers Toby Halbrooks, James M. Johnston, Liz Cardenas in attendance w/ a special Skype-in from director Frizzell.
BFFs Angela (Maia Mitchell) and Jessie (Cami Morrone) are high school dropouts working dead-end waitressing jobs in the same shitty diner. Their dream vacation to sunny Galveston, Texas, is only a few shifts away. But after a drug deal goes bad and their home is invaded—and they have to serve a short stint in juvenile detention—their beach trip is in serious jeopardy. They'll have to use every bit of guile their perpetually buzzed teenage brains can muster as they try to get (relatively) rich quick while wandering suburban Dallas.
NARRATIVE FEATURE COMPETITION: BIRDS WITHOUT FEATHERS U.S.A. 84 min. Dir. Wendy McColm DFW PREMIERE – Director Wendy McColm in attendance.
Desperate for human interaction, six emotionally damaged individuals put self respect on the line, shedding their disillusionment in a last grasp for happiness. Birds Without Feathers is a cruel-world dark comedy populated by struggling Instagram stars, Russian cowboys, Self-help gurus and more, as their lives crash and collide in astounding and awkward ways.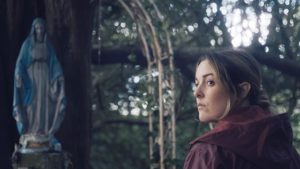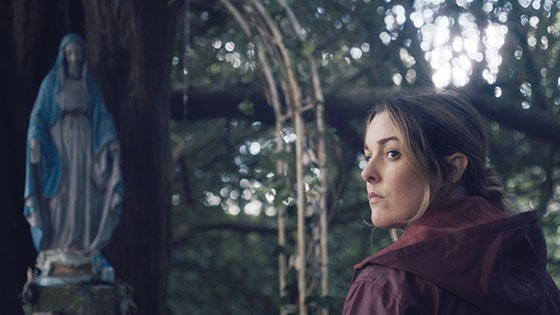 DON'T LEAVE HOME (USA, 86 mins) Dir. Michael Tully DFW PREMIERE – Director Michael Tully in attendance.
Melanie Thomas is an American artist whose latest show recounts the infamous Irish urban legend of Father Alistair Burke, who painted a portrait of 8-year-old Siobhan Callahan in 1986. Days later, Siobhan went missing on the very morning that her figure miraculously vanished from the painting as well. Though absolved of any wrongdoing, Burke abandoned the priesthood and went into self-exile. After receiving a bad review before her opening, Melanie is contacted by the reclusive Burke, who offers to fly her to Ireland to create a new sculpture that he will help her to sell while she's there. Telling no one where she's going, Melanie never stops to consider that some urban legends are real.
I AM NOT A WITCH (UK, ZAMBIA, 93 mins)Dir. Rungano Nyoni TEXAS PREMIERE
When eight-year-old Shula turns up alone and unannounced in a rural Zambian village, the locals are suspicious. A minor incident escalates to a full-blown witch trial, where she is found guilty and sentenced to life on a state-run witch camp. There, she is tethered to a long white ribbon and told that if she ever tries to run away, she will be transformed into a goat. As the days pass, Shula begins to settle into her new community, but a threat looms on the horizon. Soon she is forced to make a difficult decision – whether to resign herself to life on the camp, or take a risk for freedom.
TIGERS ARE NOT AFRAID (Mexico, 83 mins) Dir. Issa López DFW PREMIERE
Estrella (Paola Lara), a ten-year-old girl living in Mexico, finds herself the owner of three wishes soon after her mother disappears. After her wish first – the bring her mother back wish – has some unexpectedly frightening repercussions, she finds herself on the streets. Before too long, Estrella partners up with a young boy, El Shine (Juan Ramón López), and his band of orphaned boys. The newly formed group find themselves at war with the local cartel, witnessing and enduring things that no child should ever have to.
VIRUS TROPICAL (Colombia, 96 mins) Dir. Santiago Caicedo DFW PREMIERE
Born in a not-so-conventional family, Paola grows up between Ecuador and Colombia and finds herself unable to fit in any mold. With a unique feminine vision of the world, she will have to fight against prejudice and struggle for her independence while her universe is struck by a series of crises. Based on the graphic novel by Powerpaola.
WINTER BROTHERS (Denmark, Iceland, 94 mins) Dir. Hlynur Pálmason TEXAS PREMIERE
We follow two brothers working in the harsh environment of a rural chalk-mining community during a cold winter. Younger brother Emil, who distills moonshine made from stolen chemicals from the factory, is an outsider, an oddball, who made a conscious choice for loneliness and is only accepted by the mining community due to his older brother Johan. When a fellow worker becomes sick, the moonshine and Emil are prime suspects. Gradually a violent feud erupts between him and the tightly-knit mining community. Revenge, loneliness, and lack of love pervade this modern brother odyssey.
For information about the Oak Cliff Film Festival including an updated schedule of events, visit filmoakcliff.com.