Midlothian – The City of Midlothian's new Public Library and City Hall building on North 8th
Street and the new Public Safety building at North 8th Street and Highway 67 are now officially underway.
While the ice storm pushed the date from Groundhog Day to this Monday, there was still a good turnout for the groundbreaking ceremonies.
Midlothian Mayor Pro Tem Justin Coffman was in attendance at the groundbreaking along with other city council members, additional public officials from Ellis County, and City staff said "The City Hall/Library project will serve all of Midlothian's citizens in a multitude of ways. This building that includes a cutting edge public library is in the heart of downtown Midlothian and will also be a catalyst project for the downtown masterplan/revitalization."
Midlothian City Manager Chris Dick made a point to remind residents  "While the buildings will serve as a beautiful centerpiece for this community, it's how they will be used that will bring them to life.
Library Is More Than A Home For Books
City officials and staff seemed especially excited about the new library, which will be not only a home for books, but as Midlothian Assistant City Manager Clyde Melick pointed out, it will also be a home for so much more.
"One of the neat things about libraries, it's not just about books anymore," Melick said. "I went to a library in Fayetteville, Arkansas a couple of months ago where they check out fishing rods. You can go to libraries where they check out ties, they check out jackets, and all sorts of stuff so, this will be a true cultural landmark."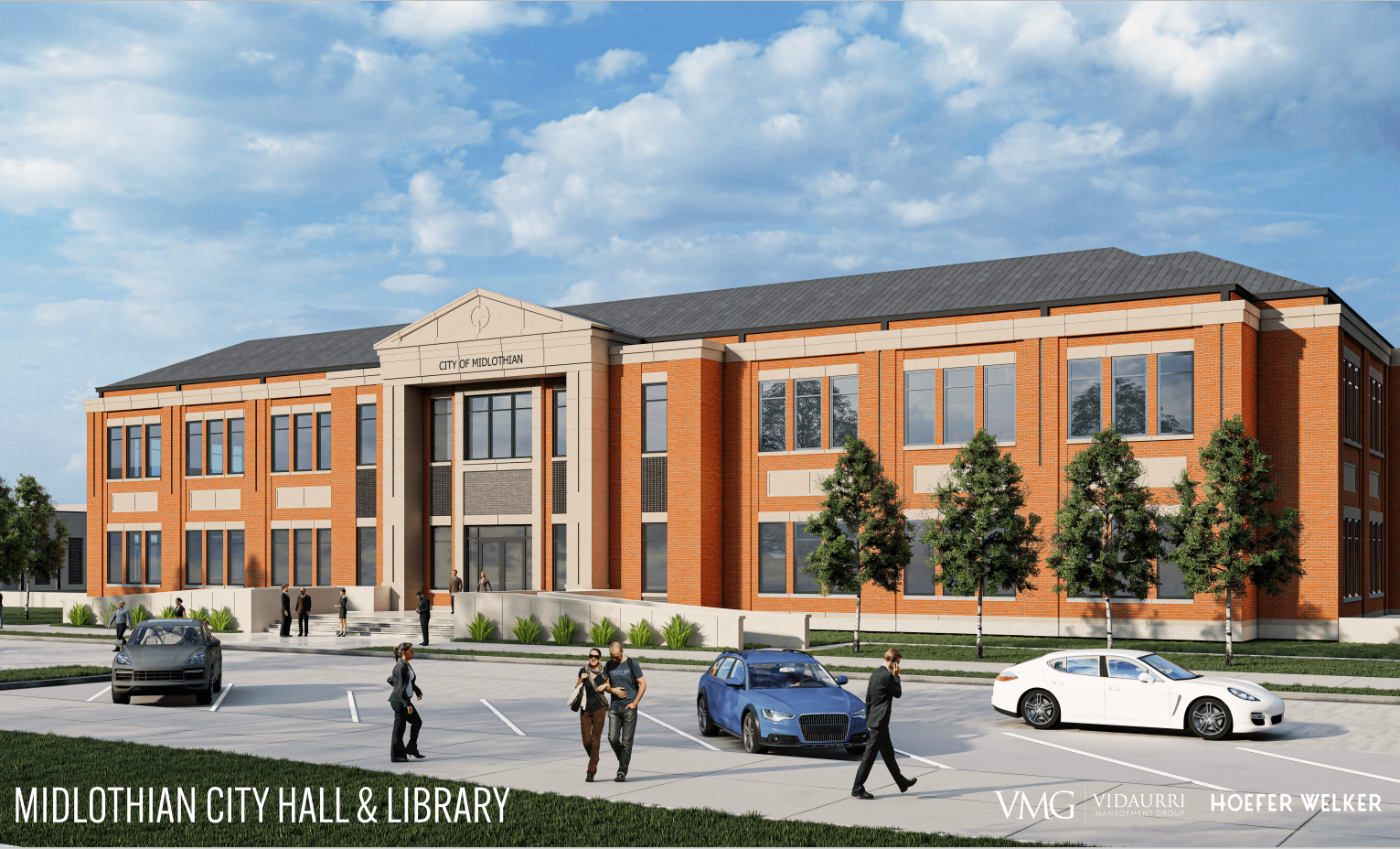 The library will be comprised of 16,000 square feet of book rooms, technology areas, and a
maker space for children and adults.
Equally as exciting will be the 37,000-square-foot City Hall. The new City Hall is earmarked to make it much more convenient to do business with the city by offering easy access to city services. It also promises the opportunity for greater participation in government with more space for attendees at City Hall and other government meetings.
Both facilities will energize the downtown area and reestablish the location as the city center of Midlothian.
"Today Midlothian's population is pushing about 40,000, but at this point, it's time for the city to maybe grow up and have its own library," Melick reflected. "The new City Hall/library facility promises to create a true center for cultural and civic life in Midlothian. The improved access and convenience to those seeking city and library services will be exponential. In addition, both the library and City Hall will provide gathering spaces for the community."
And, while there has been some conversation regarding parking when the new facilities are
completed, Coffman explained "There has been many conversations and concerns expressed over parking limitations. It's true that the roughly 18-month construction phase will present challenges to the downtown area, but when the project is complete, we will have more parking than we did before."
New Public Safety Facility Will Address Needs Of Multiple Agencies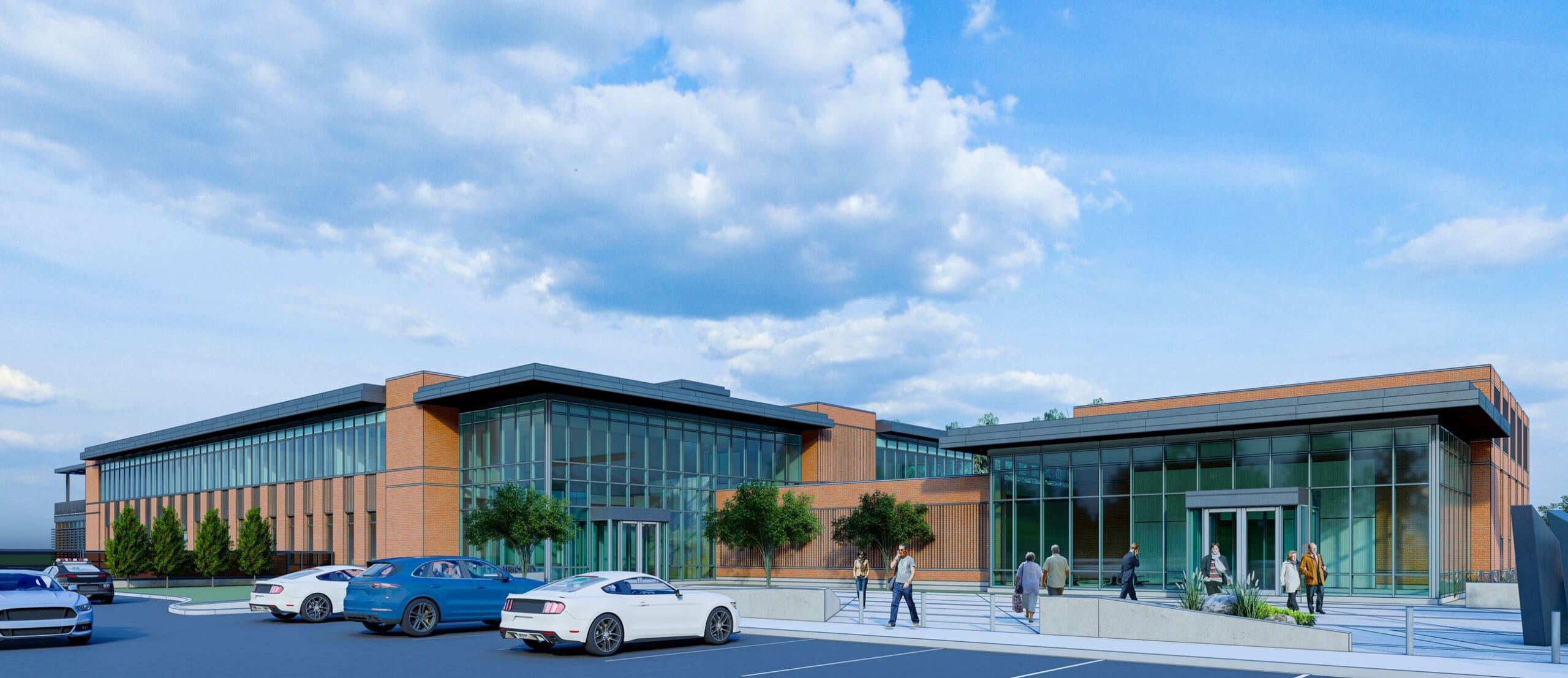 The city's new Public Safety Facility, also underway is yet another exciting move as the city
continues to grow.
Midlothian Police Chief Carl Smith, recognized during the groundbreaking for the new Public
Safety Facility, Midlothian City Council members, State Representative Brian Harrison's
District Manager Maurice Osborn, Ellis County Judge Todd Little, and Ellis County
Commissioners were all in attendance that day. Members of the MISD Administration and School Board of Trustees; Bobby Frizzell, President of Midlothian Economic Development and other members of the Type A board, Alyn Nix, President of Midlothian Community Development, and members of the Type B board were also at the groundbreaking.
Chief Smith explained how the city's current Justice Facility was purchased from First Baptist Midlothian, which had occupied the site since the early 1970s. The PD began its operations in the facility in March of 2007. Since that time Smith said, "the facility continued to go through minor renovations for the past 13 years."
However, after a series of intense weather events, it became obvious to Court and Police Staff, City Management, and City Council that the old Baptist Church had run its course.
Now, with the incoming new facility, the majority of emergency services will finally be on one campus; telecommunications (911), Emergency Management, Radio Management, Fire
Administration [including Arson Investigations], Police Services, and a variety of services
designed to serve the victims of crime in the city including Crime Victims' Advocacy, Code
Enforcement and others.
"The Facility's Emergency Operations Center will be an advanced and secure environment,
designed to survive and continue operations during the most intense weather the State of Texas experiences," Smith explained. "The City of Midlothian IT primary infrastructure site will be protected in the same weather-rated environment."
Smith said he believes the new Public Safety facility is also a confirmation to the community that city officials are taking public safety seriously.
Overall, he added "The new facility is designed to accommodate the safety of both staffs and those who come to seek assistance from MPD or other police services. It will boost the morale, confidence, and professionalism of our staff."
Indeed, a landmark day for Midlothian, Melick expressed "It will be up to the imagination of our community to take full advantage of the possibilities it presents."
Coffman concluded "We broke ground on two major projects that will impact generations of
future Midlothian citizens."