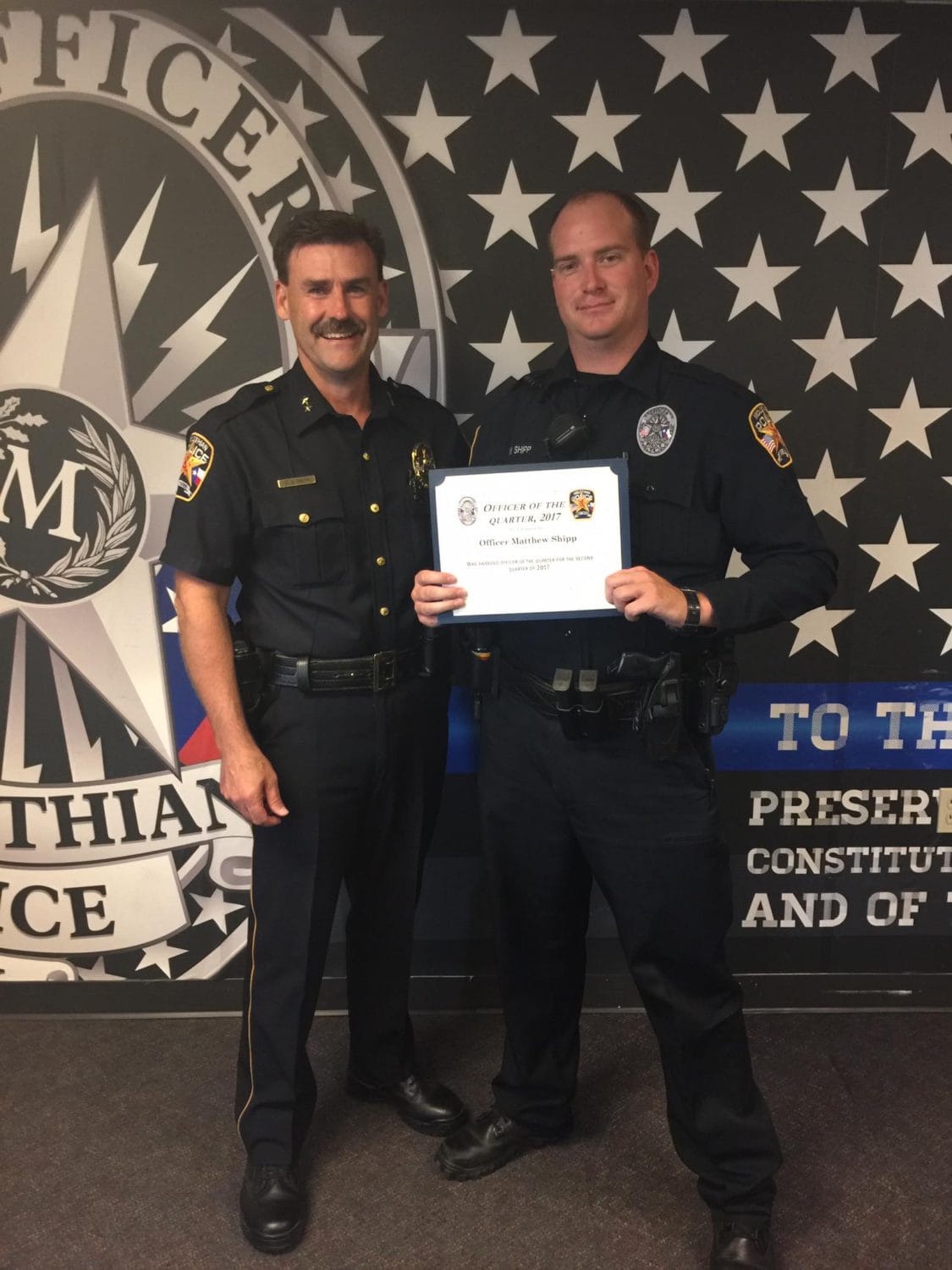 MIDLOTHIAN—Last month the Midlothian City Council presented a Lifesaving Award to a Midlothian Police Officer. Matthew Shipp was recognized for his service on June 5, 2017. Around 11:00 p.m. dispatch advised officers of a shooting that had just occurred at the local Wal-Mart.
According to the recommendation letter written by Sergeant Kyle Boyd suggesting Shipp be given this award, "Officer Shipp and I were on a call very near and immediately responded, arriving within one minute of receiving the call. In fact, we arrived so quickly we had no other details about the shooting, other than the approximate location in the parking lot. After locating the victim, I started getting suspect information from witnesses and Officer Shipp helped the injured person."
Boyd said Officer Shipp quickly retrieved his "Go Bag" and ran to the victim. He assessed the victim's injury, a single gunshot to the upper abdomen. Without hesitation, Officer Shipp then applied combat gauze to the wound and held pressure as he checked for an exit wound. The victim complained of struggling to breathe and began to lose consciousness. Based on the location of the wound, Officer Shipp knew the likelihood of an open pneumothorax, or "sucking chest wound."
At that point Officer Shipp rolled the victim onto his side into the recovery position to aid in comfort and ability to breathe. He continued talking to the victim to keep him conscious while awaiting medical personnel. When Midlothian FD Medic 1 arrived on scene Officer Shipp advised medics of the injury and continued to hold pressure as he assisted in lifting the victim onto a stretcher and into the ambulance. Officer Shipp then handed over care of the victim to the medical personnel.
"Officer Shipp did just as officers are trained to do in such a situation and I believe the actions taken by Officer Shipp were absolutely life-saving measures," Boyd said. "Officer Shipp served this community well on June 5, 2017. I am proud to work with him and it makes feel safe knowing he is on my shift. For these reasons I would like recommend Officer Matt Shipp him for the Life Saving Bar."
Midlothian Police Chief Carl Smith who has been with the Midlothian Police Department for 10 years said he too believes Shipp deserved the Lifesaving Award.
"Matt Shipp is an exemplary officer who works diligently to serve our community," Chief Smith said. "He has established himself as an officer who arrives at work well prepared physically, mentally as well as tactically for what he may encounter during his tour of duty. I am very proud of his efforts; he is well deserving of this recognition."
Shipp already has 19 commendations including Officer of the Quarter in both the 1st and 2nd Quarter of 2017.
The Midlothian Police Department has 48 full-time officers with seven part-time officers. There are also 15 full-time Public Safety Telecommunicators.
Additionally the Community Services Division, consisting of animal control, code enforcement and animal shelter, has five full-time and two part-time staff as well as five full-time support staff for the department.