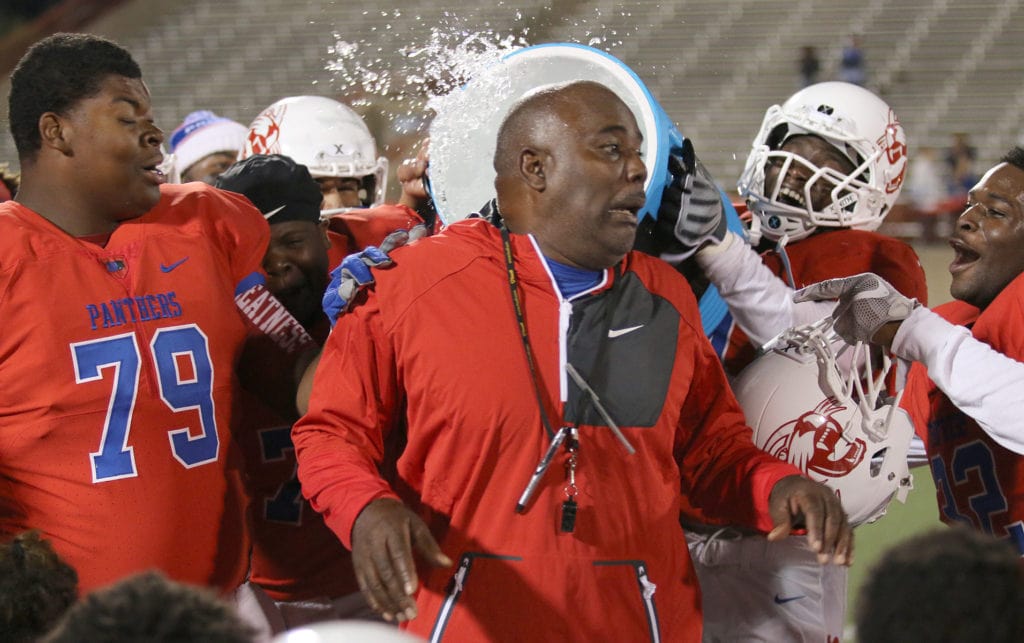 The following opening remarks were made by Duncanville High School Head Football Coach Reginald Samples in an August 23, 2017 interview with this writer.
"As coaches, our job is to train and educate the whole student. It does little good if the athlete is a good player, but fails his studies. To help insure he passes, all his courses are paramount for our staff. He either passes his school work or he won't play on the football team," Coach Samples said.
"Character building is the next focus. Character inspires confidence which makes you fearless, allowing for belief in self by sacrificing for the good of the whole. The whole is our football family. Once we accomplish erecting these building blocks of character, we start teaching the art of football techniques."
When Coach Samples was asked what his goals for the team were this year, he answered quickly, "To win state!" I chuckled, he didn't. We glared across the table at each other like two gunfighters facing each other on the main street of Dodge City. Then I blinked.
"I am dead serious," he said. "This may be one of the best teams I have ever coached."
What about DeSoto and Cedar Hill, I asked?
Coach Samples said, "Both are great teams, well coached and have long traditions. But this may be team that Duncanville has waited for since the 1990s."
Duncanville Panthers Players To Watch
Eli Jones, Kenshawn Johnson and defensive back Marcus Mosley will play key roles in stopping the run and breaking up the pass. While nose guard Terrance Newman will shut the center of the line. Quarterback Trezan Connley, experienced from last year, will return to lead the team. Running back Mackendrick Jackson will provide the offensive spark for the run and across the middle pass. Sophomore sensation Ja'Quinden Jackson will add tremendous stability and other possibilities for the Panthers.
All the players mentioned have already caught the eye of several Division I college coaches.
"Call me crazy–Call me dumb, but I think Duncanville will win district, beating both DeSoto and Cedar Hills in district play," Coach Samples said.
Samples is a football coach. Who knows! He may turn out to be a prophet as well.
Duncanville will have two preseason scrimmages. The next one will be at Plano East at 7:30 PM on September 1, at Tom Kimbrough Stadium. The season opener is at home (Panther Stadium) against Arlington Sam Houston at 7:30 p.m. September 8.