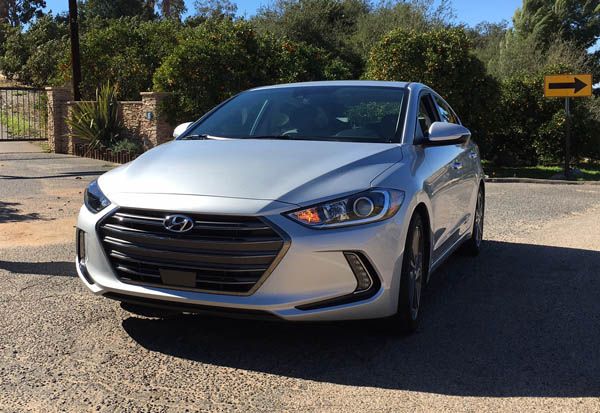 2016 Hyundai Elantra First Drive
The week couldn't have begun more perfectly. The fantastic Pier South Resort-Hotel situated in the beautiful Imperial Beach – a short jaunt from one of my favorite California cities, San Diego. It could hardly get any better than this, could it?
Well, actually it could! The windows to the door on my luxurious suite had line art renderings of the sexy silhouette of the 2016 Hyundai Elantra (as did the windows on all the doors) since Hyundai had taken over the entire hotel. Even the outside of Pier One, the elevator doors, the restaurant doors, the bar – the entire property screamed Hyundai Elantra!
So, was that it? No, not even close. The next morning the presentations by Hyundai illustrated why the company is so proud of its new Elantra. North American President Dave Zukowski discussed the phenomenal growth record of the company in North America. Zukowski noted growth would continue with six more new vehicle launches in 2016. He pointed out growth in the CUV/SUV market was not lost on the company. As Hyundai has seen sales of its popular Tucson more than double in the last three years. Was that a hint of more great things to come in this market segment ? I'd bet on it but … onward with the Elantra for today.
Hyundai Defines Objectives
Scott Morgason, Director of Product Planning, discussed the objectives the company was achieving with the new Elantra. He noted that it comprises 30% of Hyundai sales in America. A full 34% of compact car buyers remain loyal, so it is important that buyers of the Elantra are not just satisfied, but ecstatic with their purchase and the vehicle's performance. Enter, the newest Elantra.
All the stops were pulled out in designing and building the new Elantra. Morgason reported high strength steel is more than doubled in the new Elantra – from 21% to 53% in this generation with greatly improved body rigidity. Torsion is nearly double (26.8%) that of previous Toyota Corollas (15.1 in 2014) and Ford Focus (17.3 in 2012). Even the previous 2016 Elantra was a superior 20.7.
It's important to drive the new Elantra. This is really the only way to know if this makes a difference. Hyundai could have chosen a few city streets and a freeway for our first drive, but they had so much confidence they set us free on some very twisty mountain roads. Switchbacks were the rule of the day. I could hardly contain myself I was so happy sailing into each curve and accelerating through it as I felt the Elantra hugging the pavement. There is real power under the hood and it's powered by a real transmission!
Hyundai Elantra Powertrain Options
Consumers can choose from two powertrains. The standard engine is a two-liter-cylinder gob with 147 horses and 132 lb ft of torque at 4,500 rpm. Buyers can choose from a six-speed manual transmission for $17,150 or a six-speed automatic for a grand more.
Those wanting to add more zip to their lives can go the turbo route with a 1.4 liter GDI Four (available this spring). It will churn 128 horses at 5,500 rpm with 156 lb ft of torque from 1,400 rpm. It will be mated to an EcoShift seven-speed dual-clutch transmission. Hyundai projects it will deliver a fantastic 35 mpg overall with combined city and highway driving.
The things that turned my head most during the presentation and the actual drive of the Elantra were the many features that are available on the Elantra. I had to check Hyundai files to make sure so many features were available and to look really carefully to insure I was reading correctly when a slide said the most I would pay for a fully decked out Elantra with every bell and whistle was only $26,750 when was chose their Loaded Ultimate model.
Features, Tons of Available Features
The list of attributes is long, so you may want to pour yourself another cup of coffee before continuing in this paragraph. You've heard of many of these features, but you were not able to get them all on a compact at this price level. Lane Departure Warning, Lane Keep Assist, Blind Spot Detection, Rear Cross-Traffic Alert, Lane Change Assist and a Rearview Camera with Dynamic Guidance.
That's still not all. Elantra sports a hands-free Smart Trunk, a Dynamic Bending Light and Smart Cruise Control. Dynamic Bending Light works with the headlights. They turn with the direction of the steering wheel for better nighttime visibility and safety. Another added touch is automatic high beam/low beam switching when oncoming traffic is detected. Smart Cruise Control uses radar to maintain your distance from vehicles ahead by adjusting vehicle speed according to other traffic.
Hyundai Keeps You Connected
Smart people instantly recognize the importance of all the above safety features but everyone will enjoy the extensive connectivity and other technological convenience and safety features one finds in the new Elantra.
All 2016 Hyundai Elantra models come standard with iPhone USB and auxiliary input jacks. Or course, my "can't live without feature" Sirius XM radio is on board with two infotainment systems available. Depending on the model there's  a 7 inch display audio touchscreen or an 8 inch navigation touchscreen system. Both have Apple CarPlay and Android Auto Support using app-based navigation, streaming audio, voice controlled search, etc.
Blue Link enhances these systems even more with remote start and climate control, destination search, remote door lock and unlock, car finder, enhanced roadside assistance and even stolen vehicle recovery.
Regardless of what vehicle you may be shopping for or the price you are willing to pay; regardless of any and all previous prejudices you may have … when you visit your car dealer I would ask if the vehicle you are being offered has all these attributes and if its "Ultimate" model boasts an MSRP of $26,750.