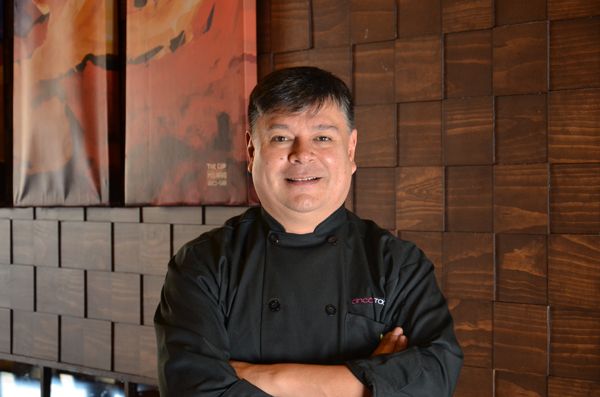 Cinco Tacos Cocina & Tequila Addison Walk's Restaurant Row
I recently took my Mexican-food loving husband with me to a relaunch celebration for Cinco Tacos Cocina & Tequila in North Dallas. It's always good to have him drive me to events like this one, in case I'm tempted to sample a free Margarita. Since he's strictly a Dr. Pepper man, I have the perfect chauffeur.
The celebration was open to the public for a happy hour event, hosted by Chef Antonio Marquez (pictured) and GM Mario Letay.
Judging from the quality of the food we tried, and the throngs of people who turned out to mingle and chat, Cinco Tacos will be a very popular addition to Addison Walk's restaurant row.
Of course, free beer and margaritas are always big draws, but the quality of the appetizers convinced many first-timers to stay over and make dinner reservations.
Chef Antonio Marquez proved his mastery with a dinner menu featuring such delicious and authentic dishes as Duck Barbacoa sope with Ancho pepper mole.
Since I'm such a sucker for a good mole sauce, I was especially impressed with the dense, lovely Ancho pepper mole. The presentation of each dish was so artistic and picturesque that cameras were flashing as each course was served.
I remember the first time I had lunch with a food-writer friend who took photos of her food and beverages before tasting them, I was quite taken aback. But now, everyone does it!
Other dishes we sampled included rib eye tacos that were exceptionally tender, and a Durango beef tenderloin with mushroom sauce.
A vegan friend at our table shared some of the specially prepared dishes the Chef brought out for her to try since she didn't eat meat or fish dishes. My husband (who is definitely a committed carnivore) discovered such a liking for her pinto beans with cauliflower, the waiter brought him an extra plate of the vegetarian special.
My personal favorite was Bolo's Mahi Mahi with hot avocado salsa. The salsa made a piquant relish that brought out the delicate flavor of the grilled fish.
A dessert trio consisting of grilled corncake, cajeta crepe and Cinco vanilla flan put the finishing touches on a fine meal. My husband and I share a weakness for flan, and agreed this tiny but tasty morsel was one of the most mouth-watering examples of flan we'd ever tasted.
Although the restaurant is a little far to travel for people who live downtown or south of Dallas, this kind of sublime dining experience is well worth the drive. And for those of you who live in the area, what are you waiting for?
For reservations or more information call 972-866-8900.