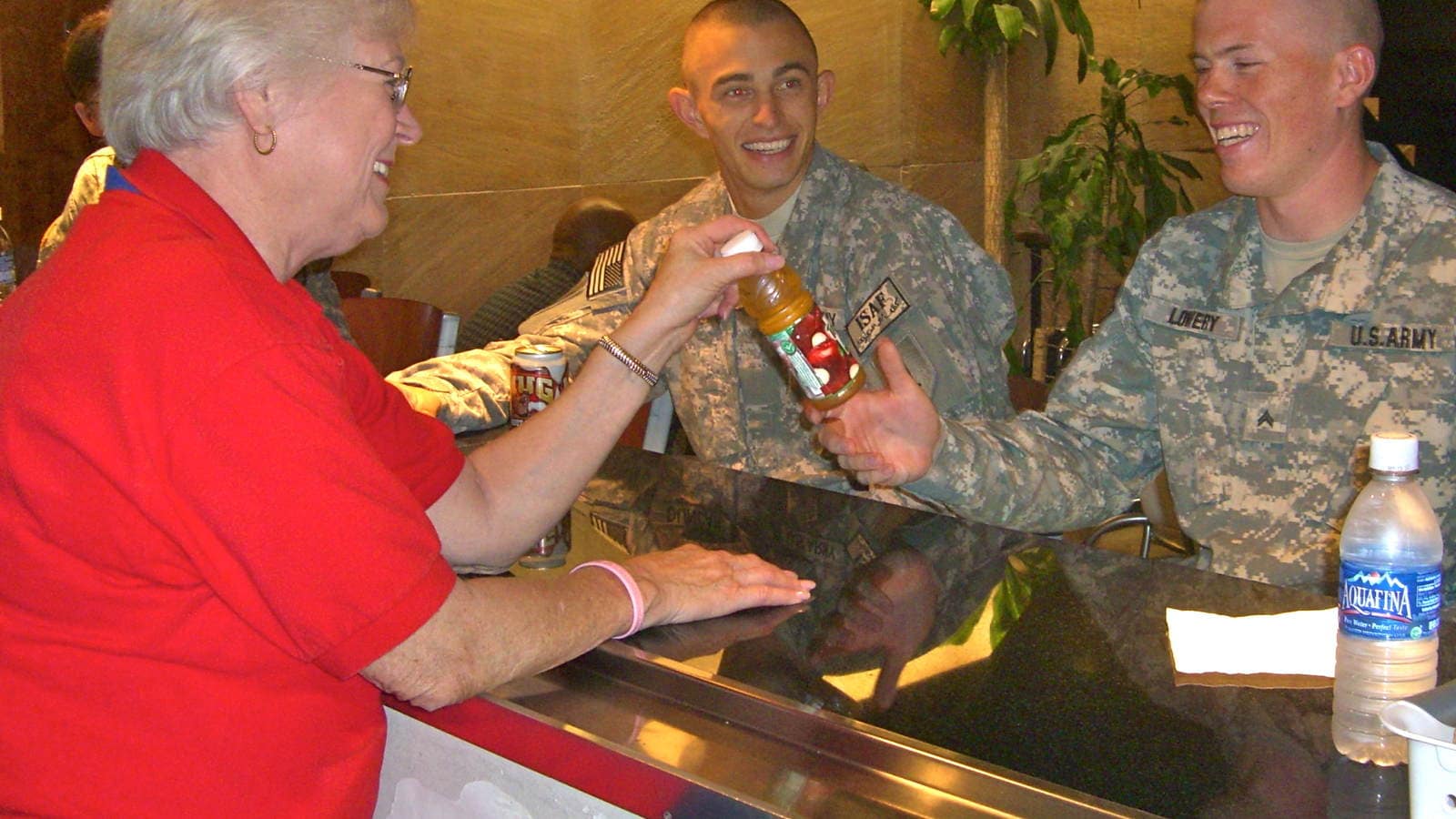 Friends & Family Meeting Troops at DFW Airport Experience Happy Reunions
They originated from all over our country, and other countries such as Mexico, Poland, and Tonga. Some are short and small. Others are tall, strong, and broad with deep-set muscles. Some are female, others are male, and they vary in ages from 18 to 50. But they all have something in common. They are coming home from a war zone for a brief two weeks' respite. These are the troops of the U.S. Military fighting in Iraq, Afghanistan and Kuwait.
It had taken many of them four days to reach Kuwait, where they wait to board the 18 plus hours flight that will arrive in Dallas and several other ports of entry for returning servicemen. The flight is long and anxious, with only a few hours stop over in Scotland or Ireland breaking the monotonous sounds of jet engines sprinkled with quiet conversations. All are tired, dirty, and glad to be going home alive. At least for a brief period!
They were living and fighting near the Syrian Desert in western Iraq or guarding the Iranian border near the steps of the Zagros Mountains that extend eastward into Iran and then northward toward Turkey and the Caspian Sea. Most had fellow brothers and sisters that had been killed there and in between the cities of Baghdad, Kirkuk, Mosul and An Najaf.
In the lowlands in southeastern Iraq lie the majestic Tigris and Euphrates Rivers. Where the great rivers join are marshes and the Shan al Arab waterways. The Bible tells us that this river valley is where civilization for western mankind originated. The Babylonian, Chaldaeans, Assyrian, Hittites, and Medes-Persia were world powers a few thousand years ago. From this region their great power flourished. Their armies fought here, and their soldiers died–just as ours are dying today.
This land has a history for ruthlessness and for law. The Hanging Gardens built by Nebuchadnezzar and the Tower of Babel were destroyed here. Abraham was at Ur in present day Iraq when his name was changed from Abram, and God and Abraham made a covenant. Centuries would pass before Hammurabi wrote his code to govern his empire, not unlike the Law of Moses, which would come later. Alexander the Great slew Persians by the tens of thousands under Darius III, only to succumb to a fever, dying near present day Baghdad in 330 BC. This land has a history, and American soldiers are paying for our pages in this horrid book written in the blood of the fallen.
Greeting the Troops Left Unforgettable Memories
Until a few years ago, 100 to 200 troops arrived from the battlefields of the Middle East for "R&R" through DFW Airport. From there they would fly to places all over the U.S. and home. Upon landing at the airport, the plane was met with a celebration of water cannons that christens the plane with jets of water as it passes underneath. This baptism of celebration welcomed the troops and the crew to Texas.
The plane would come to rest at Terminal D, which is the international terminal. Once the soldiers disembark from the plane, they walk through a door and into a human pathway lined on both sides with family and well-wishers. There are shouts of joy and celebration. Children break away from an escorting parent and race toward the open arms of a returning parent. Tears flow with tenderness and thanksgiving. It is such a moving experience that even "old salts" have been know to tear up, while attempting to hold back from crying. Sometimes there are bands to welcome the troops.
On one visit, there was a bagpipe played by an Explorer scout that heralded the welcoming through military and patriotic songs. Scores carried American flags and shouted in congratulatory voices, "Good job, soldier," "You are the man," "God bless you and this country," and "Welcome home."
On our last visit, over 100 folks welcomed the troops at DFW airport home. The flight arrived at 8:30 that morning to a crowd of police and firemen, family, military organizations, community groups and local businesses. Troopers were given goodie bags sponsored by Dick's Last Resort, a local restaurant who welcomed the troops once a month. Scores of businesses fill in on a monthly basis, and DAR and other ladies groups and auxiliary make homemade cookies and brownies.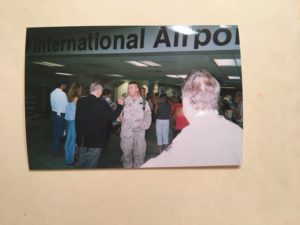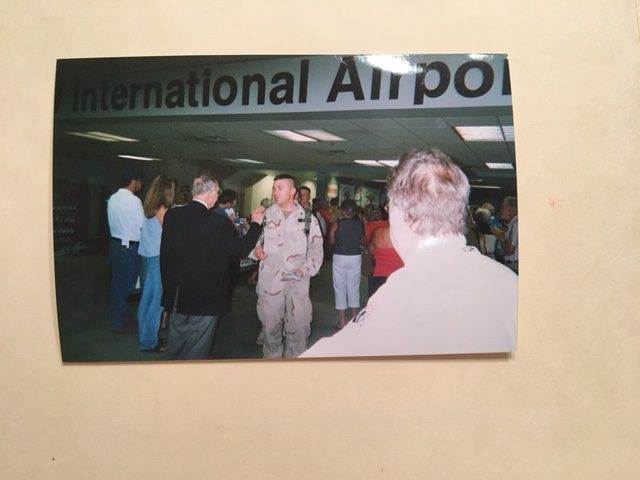 One lieutenant was whisked away immediately upon his arrival to a hospital in Flower Mound to see the delivery of his new son. "Hurry Daddy, hurry, he is on the way," said the pleading voice of his four-year-old daughter.
One beautiful lady in white slacks and pink blouse waited patiently for the arrival. She had long blonde hair and long sun-browned limbs. When her fiancé arrived, she ran and flung herself into his arms. The old Korean veteran standing next to me elbowed me and winked, saying, "Well, tonight that boy is going to get some home cooking." Imagine that, I thought, gone all this time and all the man can think about is steak, gravy, and a peach cobbler.
I walked out to where the troops were loading to get to their next terminal for the flight home and listened to their conversation. I told them I was going to write a story and did they have anything to tell the folks back home. One corporal from West Virginia told me not to believe everything that CNN reported. He had told his mother to quit watching the news because they rarely got it right, and were usually weeks behind in reporting only parts of the story. A soldier from Oklahoma blurted out that "we are kicking butt in Iraq so don't give up." I asked him what he missed most about his home town of Lawton and he said, "The Wichita Mountains and Burger King."
One guy told me he was coming home after his third tour. The first two were pretty tough, he said. But the last nine months he had been building schools and playgrounds. He confessed the only injury he had sustained was several months ago when he had fallen off the roof of a clinic the engineers were building, and broke an arm.
It's been several years since the troop planes came back to the country through DFW. But the people we met and the unforgettable stories they shared remain with those of us who were fortunate enough to welcome them home.