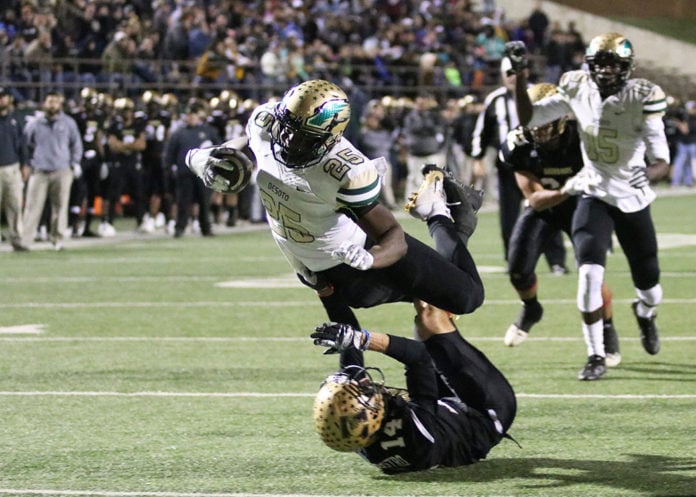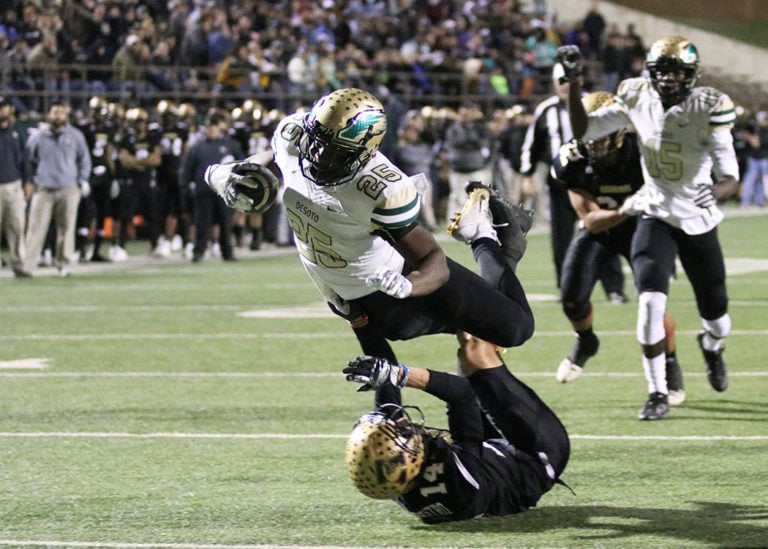 WICHITA FALLS—Consider the blinding lights and the deafening crowd of 6,000 fans at Memorial Stadium. Couple it with the dreams of a state title just minutes from slipping away. What pressure!
With three minutes left in the game, DeSoto amazingly rallied from a ten point deficit to hoisting the semifinals trophy.
"These kids never quit. Never in the 10 years that I've been here. They are resilient," said DeSoto Head Football Coach Todd Peterman. "We've lost games, I get that. But these kids never quit."
After uncharacteristically lagging behind the entire first half, the Abilene Eagles seemed to have the game in the proverbial bag. At the beginning of the fourth quarter Abilene (11-2) led DeSoto (13-0) by a score of 45-35.
With 3:17 remaining in the fourth quarter, something spectacular happened. Quarterback Shawn Robinson connected with Laviska Shenault Jr. for a 55-yard touchdown pass closing the gap 42-45.
Two minutes left in the game and predictably DeSoto goes for the onside kick. Abilene recovers it at their own 50 yard line, only to fumble it one play later.
On DeSoto's first drive, KD Nixon breaks for a rush of 34 yards. The Eagles are now energized, and Nixon is handed the ball again, gaining five more yards closer to another touchdown.
Since the wide receiver's re-positioning to running back, Nixon has continued to make big plays for the Eagles.
"He's always a target. So we are moving him around a little bit more to other positions. And we continue to get him the ball," Peterman explained in a previous interview.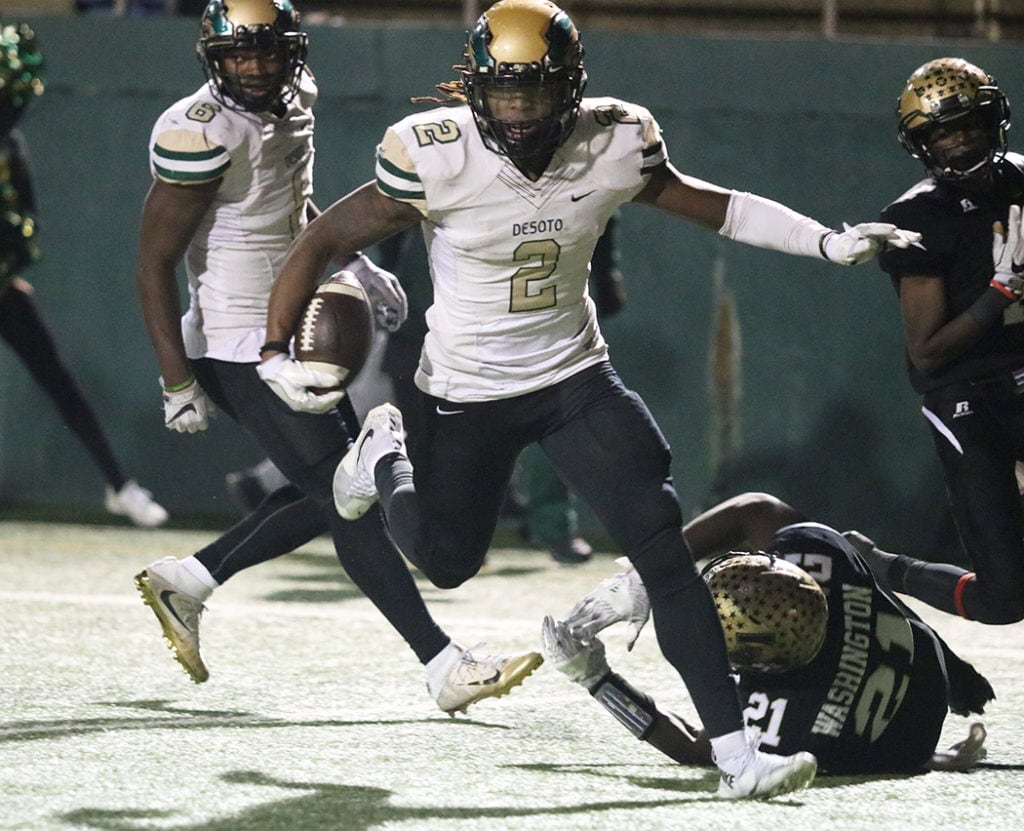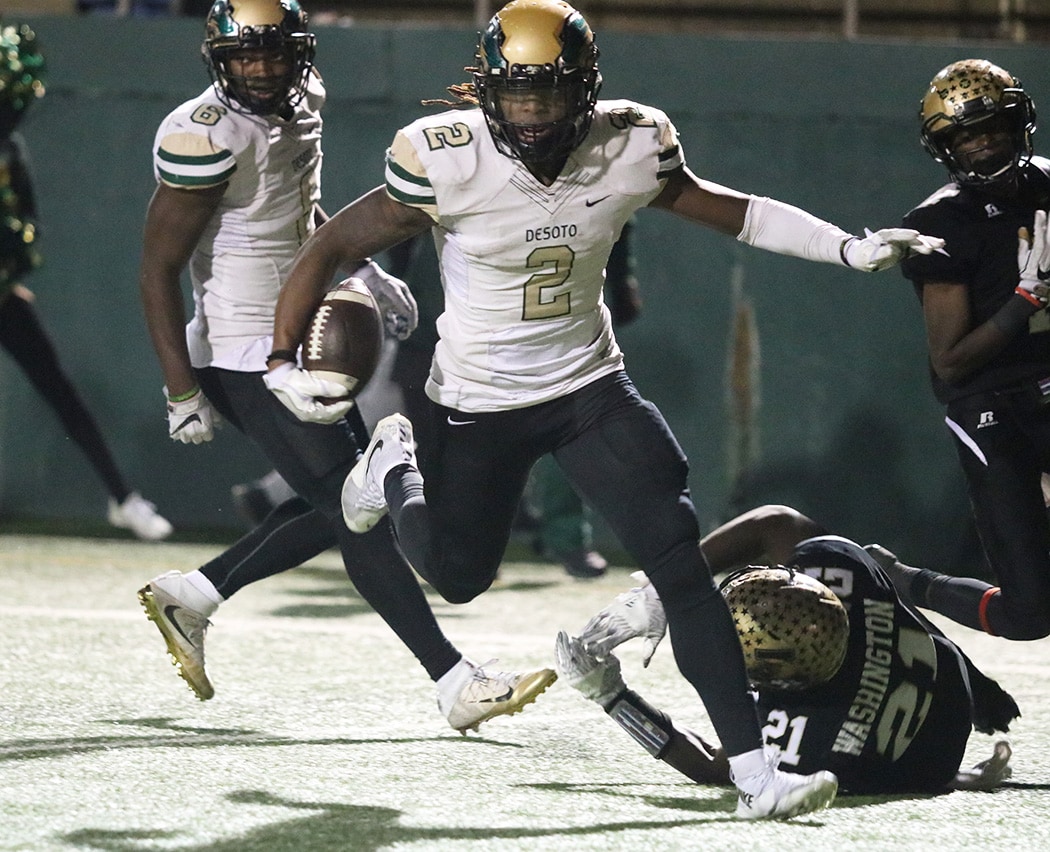 Nixon/Robinson Duo Cement Eagles Win
Friday, Nixon tallied up 80 rushing yards on 6 carries. Receiving he gained 111 yards/7 catches. Robinson put up his usual impressive numbers with 341 yards passing with three touchdowns. The TCU commit had 119 yards rushing with a touchdown.
Next, Robinson made his way into the end zone on a 13 yard rush, giving DeSoto its first lead.
While DeSoto's first lead of the game only lasted 49 seconds, it was the lead that counted. The DeSoto Eagles walked away with a 49-45 win.
Saturday the Eagles advance to the 6A Division 2 Quarterfinal Round of the Playoffs. They will once again face neighboring Cedar Hill (11-2) Saturday at AT&T Stadium. The second round of the Battle of Belt Line will be the second half of a Saturday Playoff double header. At 2:00 p.m. Duncanville (11-2) will face undefeated Allen.