The Dallas Arboretum held its Corporate Dinner on March 22 to thank more than 200 people whose companies and businesses support the garden at a high level. Guests enjoyed cocktails and passed hors d'oeuvres. Trams gave tours throughout the garden to see the Japanese cherry trees and the 500,000 spring flowers—tulips, hyacinths, daffodils and more—that were in full bloom in every color palette.
Dallas Arboretum Board Chairman Jim Ryan welcomed guests to springtime's tulip festival and thanked the dinner sponsor, Caruth Protection Services. Robin Norcross, Dallas Arboretum contributed revenue committee chair, gave a state of the garden update including a recent accolade from Travel+Leisure that said this "Texas Flower Festival May be the Most Beautiful Springtime Destination in the U.S."
Rosser Newton, Dallas Arboretum corporate advisory committee chair, thanked the 2021 major donors, committee and staff for their contributions. Then visitors enjoyed a lovely dinner with the sounds of a jazz trio. Ryan concluded the evening with final thanks to everyone for the continued support of this Dallas jewel.
Easter at the Arboretum
Easter is celebrated April 15-17 at the Dallas Arboretum, with activities for everyone in the family all weekend long. Events include hands-on activities for learning about science and nature in the Rory Meyers Children's Adventure Garden. A petting zoo and face painting will be from 10 a.m. to 2 p.m. Friday at DeGolyer Crossroads. Historical tours of the DeGolyer house are from 10 a.m. to 4 p.m. Families are invited to bring their own picnics or purchase food throughout the garden.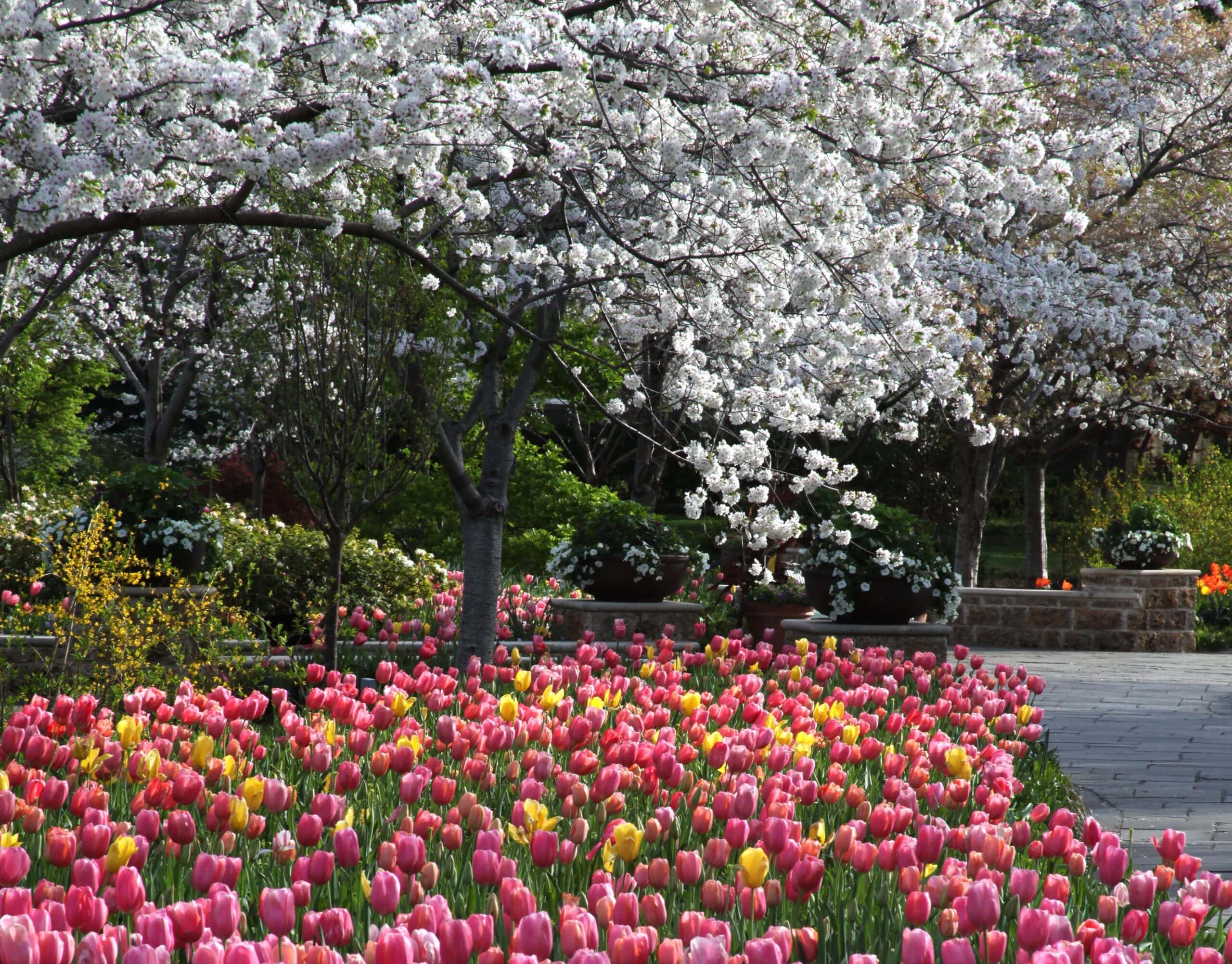 A piano concert is held on Jeanne's Pavilion from noon to 2 p.m. Friday. From 1-4 p.m. monkey Love brings their classic rock performance to martin Rutchik Concert Stage and lawn. On Saturday from 10:30 a.m. and 12:30 p.m. Easter Brunch will be at the DeGolyer house. Prices are $69 for adults and $45 children, with reservations required at dallasarboretum.org. Visitors must make their ticket reservations online at DallasArboretum.org for admission to the garden.
Johnny Romo & The Rembrandts perform hits from the '70's to today (Martin Rutchik Concert Stage & Lawn) from 2-4 p.m.; and Jess the Wine Lady from WineWithMe presents "Mother's Day mimosa bar and preview of limited-edition Mother's Day wines" from 2-4 p.m.
Easter Brunch at DeGolyer House
Brunch returns Sunday with seating at 10:30 a.m. and 12:30 p.m. at DeGolyor House.
Family keepsake pictures with special guest the Easter Bunny are from 11 a.m. to 1 p.m. and 2-4 .m. at the Jonsson Color Garden Wishing Well. From 12-5 p.m. Chocolate Secrets sommelier sells chocolates at A Tasteful Place, and from 2-4 p.m., Sammy Fox & The Intervention perform country hits at the Martin Rutchik Concert Stage & Lawn.
For more information and an updated schedule of Easter weekend events, please visit DallasArboretum.org.