Don't Forget Mazda When Shopping For A CUV
Readers will not remember seeing many articles by me recounting experiences with Mazda's over the years. Every time I do drive one, like the 2018 Mazda CX-5, I leave my week with it impressed with its features and understated elegance. Sometimes it is little things, like the push button lift-back closing, which another more expensive Crossover vehicle I drove a different week did not have. Other times, it's something more important, like the way child seats snap into place easily and without extra effort.
Looking at the new 2018 Mazda CX-5, there are a number of features one finds as standard. One I often mention and could not live without is a blind spot monitoring system. This is often an added cost option. I found that it as well as another very important safety feature, rear-cross traffic alert is standard as is radar-based cruise control so your vehicle automatically speeds up or slows down with the traffic flow. There are so many safety features that the CX-5 has earned the IIHS Top Safety Pick Award. Also standard is a leather-wrapped steering wheel and shift knob (I remember the metallic knob on another vehicle actually burning my hand when I touched it – ugh!).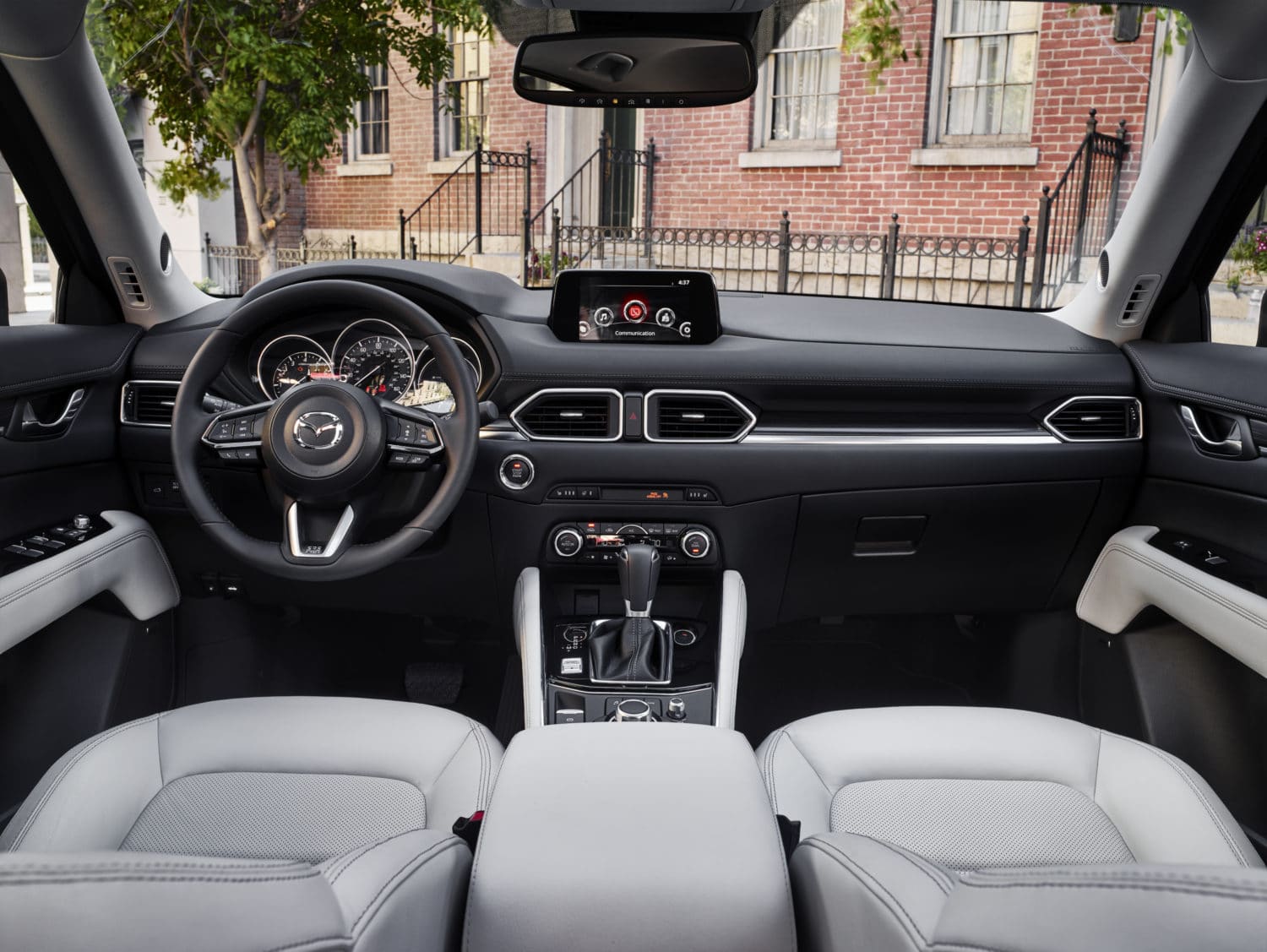 Standard Features Make The 2018 Mazda CX-5 Impressive
Automatic on/off headlights are also very important to me. I actually sit in complete confusion in any vehicle not so-equipped when I turn on the engine at night and there are no headlights beaming onto the roadway in front of me. Silly I know, but I don't think its complete senility that causes me to wonder where the switch for the lights is and which way to turn it. Yes, they are standard on the CX-5.
Rain sensing wipers are a great feature to have when it's not really raining continuously but  the sky seems to give you a splash every few seconds. Light intermittent rain would tend to "drive" anyone nuts if they had to hit the wiper knob every few seconds. Not so with the standard sensing system on the CX-5.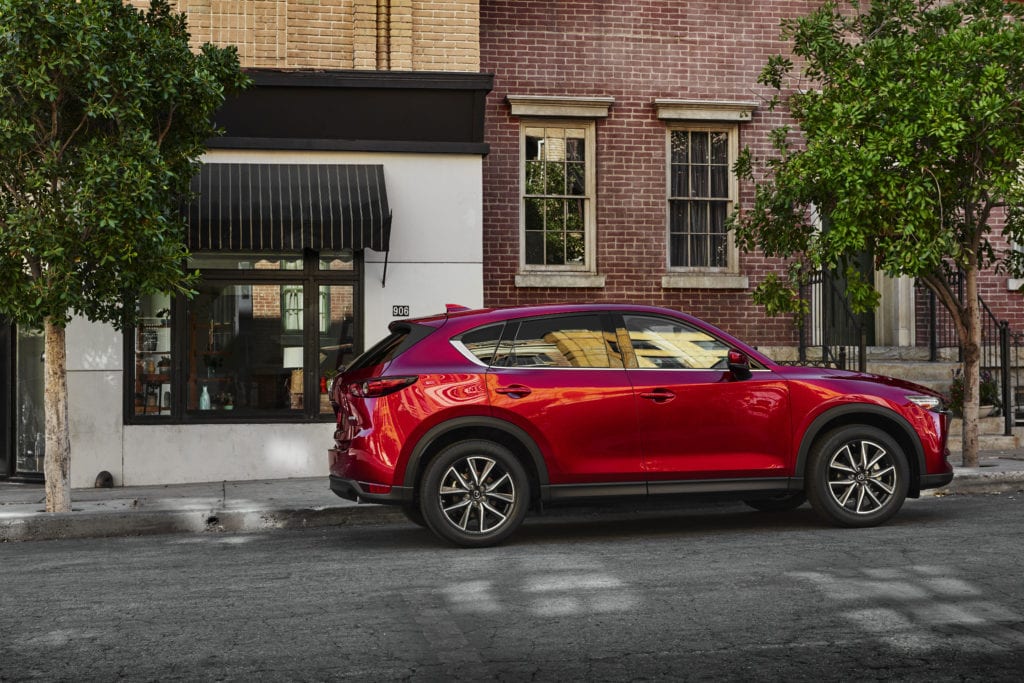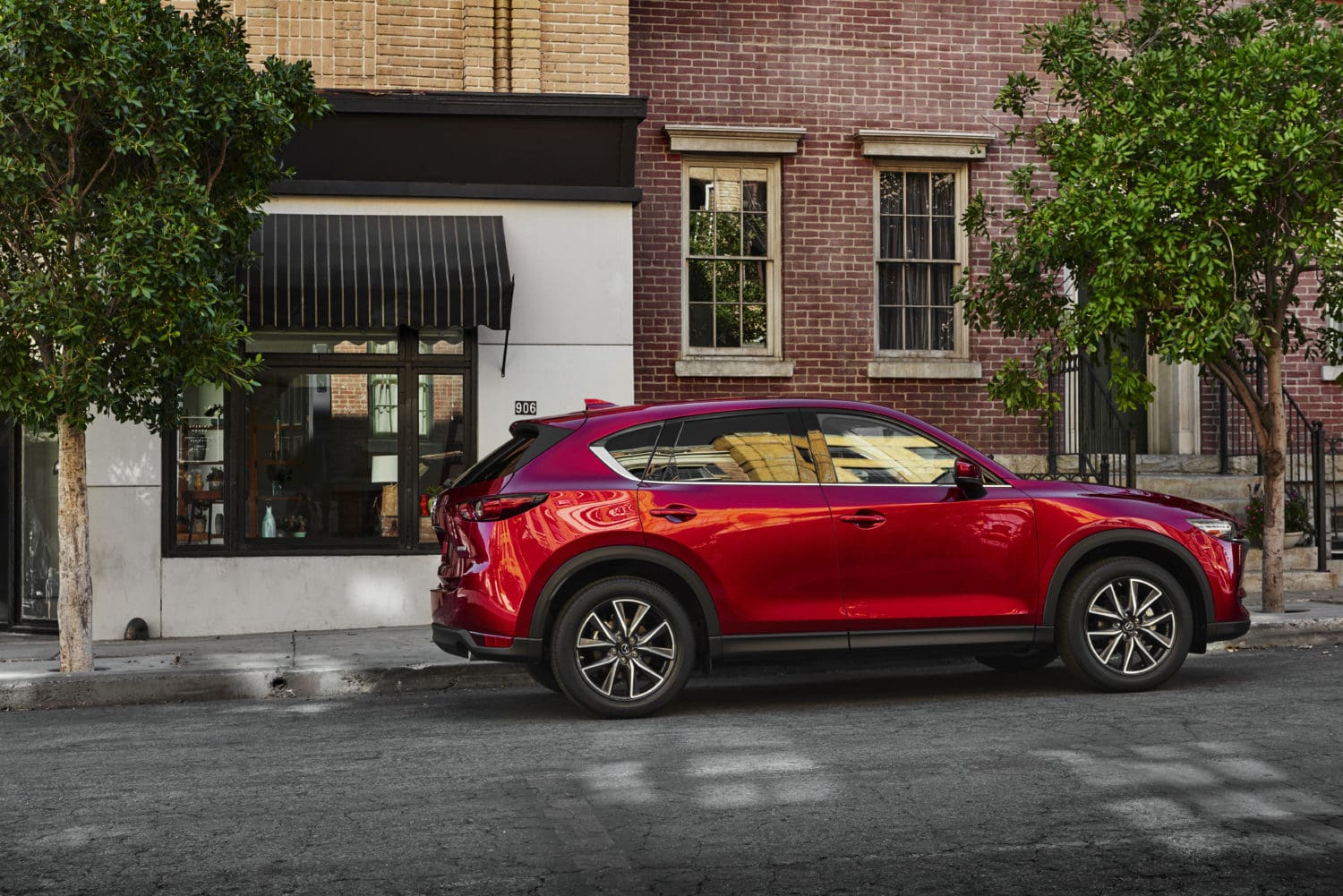 In today's "need to be connected" world, one thing my family found extremely important was the inclusion of two front and two rear USB ports – after all doesn't everyone need to have their devices plugged in constantly!
I am remiss in not always thinking about Mazda as a possible candidate to permanently add to our driveway. But every time I drive one, I am reminded that Mazda provides many fantastic features and is always a value in it's class. This is something I am reminded of every year in my judging for vehicles of the year for both the Consumers Digest Best Buys and the AutoJudge Vehicles of the year as well as in TAWA and MAMA testing events.
Besides having a quite striking design, the 2018 Mazda CX-5 is quite economical in terms of fuel economy with a rating of 25 city and 31 highway for the front wheel drive model with only a slight decrease (24/30) on the all-wheel drive model. Its really neat how Mazda  introduces new cylinder-deactivation technology that further improves on fuel-efficiency by shutting down the two outside cylinders at cruising speeds between 25 and 50 mph. And, Mazda is the only automaker to offer this technology on a four-cylinder engine in North America.
What may be best of all is the MSRP of this well-equipped CUV – $24,150! So, when you're out shopping for a new vehicle, remember Mazda. (Driving Matters)