I still remember the first time I saw the taillight treatments of the past generation of the Dodge Durango. It was at a holiday Dodge event in Detroit. Walking behind the vehicle I remarked to a fellow journalist "I might just buy this vehicle due to it's sexy butt!" It was the way the lights were situated and how smoothly the treatment flowed from one side of the vehicle to the other.
This was the first thing I remembered when I was recently delivered a new 2017 Dodge Durango to test drive. I didn't open the driver's door to get in. I didn't pay a great deal of attention to the front facia nor the side view. Instead, I headed to the rear of the vehicle to see if the rear had been degraded into some cookie-cutter appearance as is apparent in so many other SUVs today.
Eureka! The lighting configuration had not substantially changed since I first saw it. My love of the vehicle started to return. I knew I had to get in and take it for a spin immediately. My lofty expectations were confirmed:I found that this was not a lumbering-sluggish-oversized people and cargo mover but a vehicle that was ready to launch onto the roadway with vigor.
The 360 horses were stabled in a 5.7 liter V8 Hemi mated with an eight speed automatic transmission. 390 lb.ft. of torque insured this Durango was more than ready to delight my right foot when it hit the gas pedel. Some vehicles with fuel saver technologies feel jerky when one's speed changes and a couple of cylinders shut down. I felt no shudder when half the cylinders would shut down to save fuel when full power was not needed. In fact, I never really knew when I was driving with four or eight cylinders. The power was always there when I needed it – and it was there instantly, I might add. The fuel economy rating on my test vehicle was 22 highway and 14 city with a 17 overall. I enjoyed the drive so much it escaped me to check on my actual figures at week's end.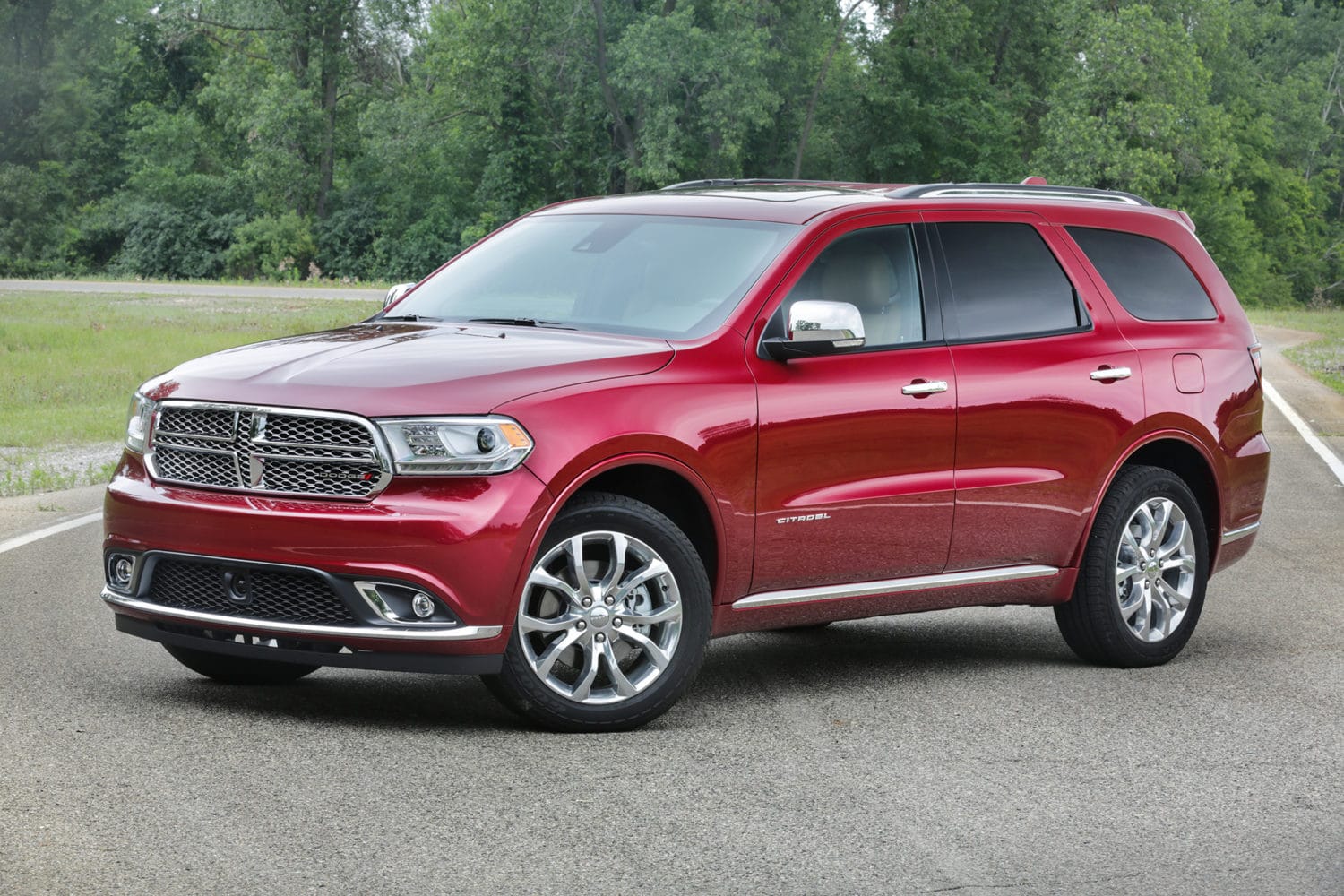 Luxury and utility continue throughout the interior. The Durango features a pass-through area between the available second row captain's chairs which makes it really easy to move from row two to row three when needed for any reason. And believe me, there always seems to be a reason!
Here in Texas with the temperatures dropping to below a hundred degrees seldom in late July, the heated front seats were not something I was interested in testing, although I am sure I would be really happy to have them come January. The three-zone air conditioning is very important when you have precious cargo in the rear because they are always a bit to warm. Driving the Durango, this never presented a problem. The rear entertainment system with dual Blu-Ray screen videos makes any trip with someone in the rear an enjoyable experience with no "are we there yet" comments flooding the vehicle every 1.2 minutes!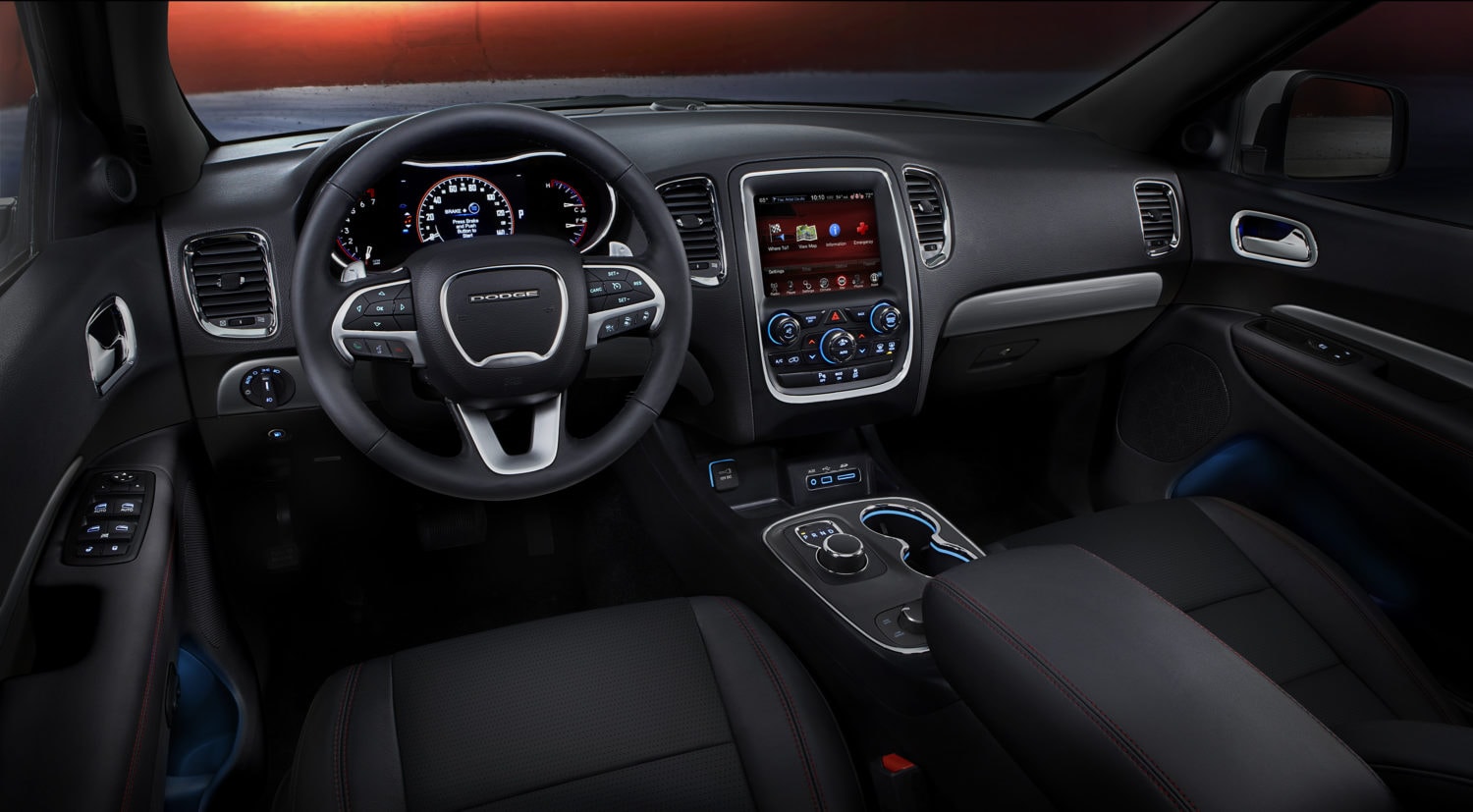 In terms of safety, I love the blind spot detection system and the cross traffic detection is a a must as well as the lane departure warning system. Collision warning features also are a fantastic system to have, although, thankfully, I didn't get to test the functionality of it. Other systems on-board include advanced brake assist, and adaptive cruise control (which I LOVE on any long trip).
In this era when it seems that one has to lay out the price of a home for a quality SUV, the base MSRP of the Durango is unexpectedly reasonable – only $42,095. Special features added to my test model included the technology group ($2,295) and the aforementioned rear DVD entertainment group ($1,995). Both of which I would consider responsible additions, especially when that makes the total price of the Durango still under $50,000!