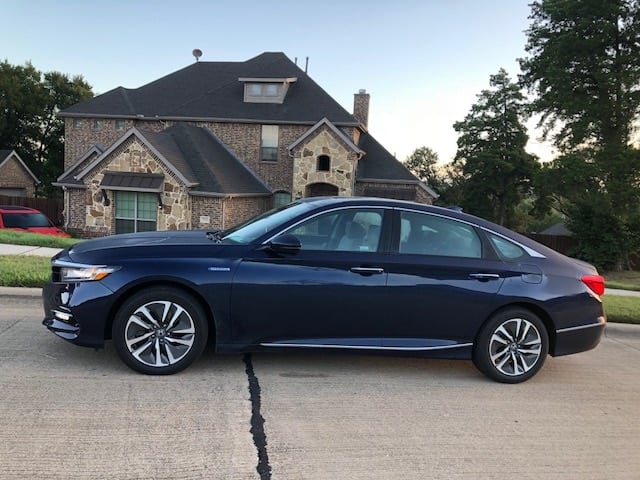 2018 Honda Accord Hybrid Offers Smooth Efficiency
I hate stopping to fuel up, so the new 2018 Honda Accord Hybrid is as close to a perfect answer to my prayers as one can get. This vehicle is rated by the EPA to hit 47 miles per gallon during both city and highway driving. It's one of the first times I didn't even move much past the half tank mark during a full week-long test drive.
The four cylinder engine boasts two liters and is propelled by an electric continuously variable transmission – not one of my favorite gearing situations. I found this one to be a bit noise prone and at times was unable to hear the chatter of the children in the back seat. Is that a bad thing?
The interior had more of a luxury feel than I have found in many vehicles, with leather trims seats, steering wheel and door panel appointments. The sound system sported ten speakers (to help drown out the whine of the CVT?) and was excellent.
I love the heads-up display on my windshield and the multi-view rear camera system. Another thing that was particularly convenient and adds to the safety of the vehicle is the lane-change camera which shows you what is in your blind spot when changing lanes. I often wonder why more vehicles have not used this technology, which I consider to be absolutely brilliant – it's almost one reason to buy a Honda product.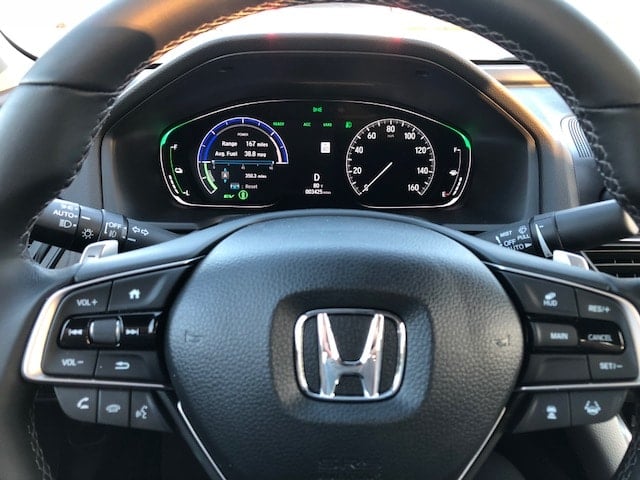 There are times when I wonder if I could live without adaptive cruise control. I live in fear of driving some day, having the vehicle on cruise, and anticipating that it will automatically slow down as I approach slower moving traffic ahead in my lane and the vehicle does not automatically compensate and slow down. Thankfully, the Honda Sensing system has a low-speed follow feature, collision mitigation braking, lane keeping assist and road departure mitigation. In other words, it does everything possible to minimize driver inattention and error.
Five Star everything? That regards safety ratings. The Honda Accord Hybrid TRG is rated Five Stars in terms of Frontal Crashes, Side Crashes and in Rollover situations. Not many vehicles have such stellar ratings in all facets of saving drivers who still have an accident regardless of all the technological safety features built in.
The model I tested had an MSRP of $34,710 and no options were included. All in all, those in the market for a safe and comfortable hybrid who don't have stock in Exxon/Mobil should consider a test drive to see if the Accord Hybrid answers their needs.