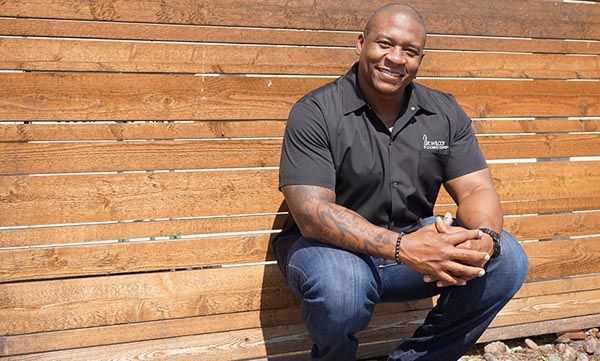 Tre Wilcox is a triple threat in the culinary world. He's nice, he's handsome and he cooks really well. He also makes really good choices about what he cooks. If you don't believe me just check out some of the restaurants this former Duncanville resident has had his name associated with in the close knit world of culinary Dallas (think Abacus, Loft, Marquee Grill).
Of course there's also the fact that he was nominated as the James Beard Foundation's "Rising Star Chef" for two consecutive years, was a finalist on Bravo's "Top Chef" and he also appeared on season 8's "Top Chef All Stars," as well as "Iron Chef" and "The Talk." He cut his culinary chops with renowned Dallas Chef Kent Rathbun at Rathbun's cool Abacus in Uptown and he has done a stint as a private chef working for some impressive names too.
These days Wilcox is the Culinary Director for a tasty southern- kitchen style restaurant called Julia Pearl Southern Cuisine and he just opened his own concept called Tre Wilcox Cooking Concepts. Tre Wilcox Cooking Concepts offers cooking classes in a 3,200 square-foot event space in Plano primed to host not only cooking classes, but also brand tastings and team building cooking competitions. The best part, Wilcox is right there adding his magic touch in this hands-on culinary environment.
Wilcox came up with the idea for the cooking classes because, he says that over the last three years as a private chef/catering chef he had a lot of people asking him if he would host their group in a venue instead of a home.
"I began doing many team building events in other venues, but my clients then wished that they didn't have to pay the extra venue expense," Wilcox explains. "Couple that with my love for teaching and Tre Wilcox Cooking Concepts was created. I felt that it would give people the unique memory of cooking with me and then alleviate the need for any other venue. Tre Wilcox Cooking Concepts provides everyone the opportunity to develop culinary skills and host events that are catered by me in my own space."
Wilcox admits that he got into the entire world of cooking because he wanted to make money.
"There was a Boston Market down the street from the school I went to so I started there and four years later, when I was working at Eatzie's, I realized the passion I had for cooking and wanted to learn everything I could about the industry."
He says that besides Boston Market, he feels that Eatzie's was his first real job.
"It was a place that I felt challenged and really wanted to move up in the company" he explains. "Brinker owned it along with Phil Romano and they truly put the time and energy into making me a better chef."
He lives by his motto to be disciplined about things that he does in the kitchen and he says "It's given me a few bad habits, but none that I regret."
His discipline certainly seems to have paid off because he is now, in addition to being the culinary director, co-owner of Julia Pearl, which is a concept that he says is the one that is dearest to his heart.
"I initially got involved [with Julia Pearl] as a consultant, but the relationship I had with the partners grew into something bigger and better," he says. "I developed the menu and brought on my long time friend and right-hand man in the kitchen, Jermaine Brown, who serves as the Executive Chef. He and I worked together on finalizing the menu and staffing the kitchen. It's a southern menu so comfort food in a relaxed environment."
The menu also fits well with Wilcox's taste buds since while he says his favorite type of food to prepare is risotto or to grill any type of meat over charcoal and applewood, his guilty pleasure is really fried chicken. He also loves raw fish and grilled steak regularly too.
As for his time when he isn't in the kitchen, Wilcox spends it with his 14-year old daughter, Alexis, he lift weights and works out daily and he likes to travel with his girlfriend.
His secret when it comes to food is that "I'm a wimp when it comes to spicy food and don't like it. It may also come as a surprise to you that I did NOT go to culinary school."
Non-food related secrets he adds "I may be buff, but I didn't play football growing up, I played soccer for 11 years. Go FC Dallas."
Overall, Wilcox says his reason for cooking and sharing this part of himself with folks who love to eat and cook is "to give guests a truly unique experience and one that a restaurant cannot offer. I would like to leave behind a legacy of people that have learned cooking techniques from my classes and then pass those skills onto their family members."
He also plans to continue to grow his brand, add cookbooks and host his own television show down the road as well and open more Tre Wilcox Cooking Concepts throughout the world.
"This has been an extremely exciting time in my culinary career," Wilcox concludes. "It represents more than two decades of hard work, and it embodies my love for food and cooking, as well as my desire to share those passions with others."
Tre Wilcox Cooking Concepts is located at 8200 Preston Road, Suite 135 in Plano, TX.