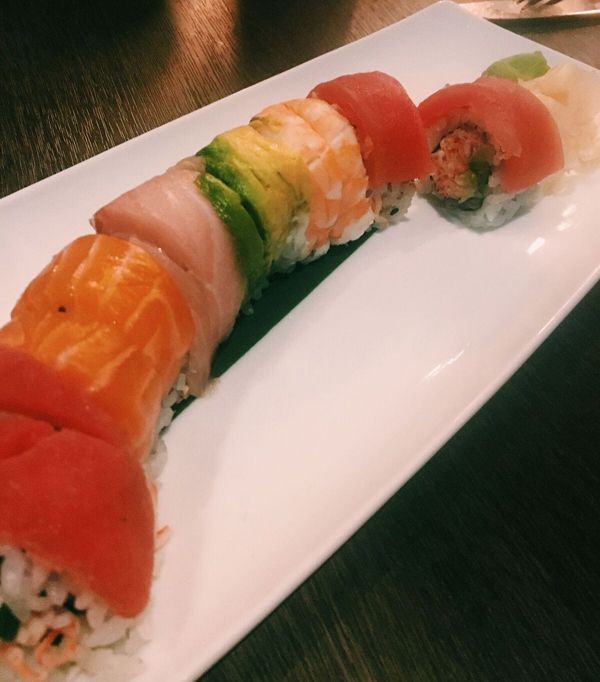 Some of the best sushi and seafood in Dallas is now being served at one of the city's newest restaurants. Black Ship/Little Katana is my new favorite place to dine. The food, prepared by Chef Richard Morotto and sushi chef Koh is not only delicious, but healthy.
The restautant's located in downtown Dallas in the Omni Hotel complex, and features sushi, Japanese and traditional Korean dishes. There's also a unique and creative new look at American dishes.
The newest project of LK Concepts and businessman Odes Kim, Black Ship is a sibling of Little Katana on Travis Street. The company also runs a sushi bar in the Galleria in far North Dallas, but this location is more convenient for Southwest Dallas residents like us.
Black Ship's owner Mr. Kim says, "I love sharing my Korean roots, along with other Asian fare coupled with American favorites, to both visitors and residents of this wonderful city I have called home for over 20 years."
Black Ship is named for an 1852 excursion by Matthew Perry, father of the USA Steam Navy. Assigned a diplomatic mission by President Millard Fillmore to open Japanese ports to the West trade, he sailed from Norfolk, VA, to Japan. Admiral Perry's four ships sustained salt water stains that turned them black. Dubbed "Black Ships" by the Japanese, who had never seen this before. Perry was successful in opening Asia to trade with the United States.
A friend and I recently attended a special tasting of some of the restaurant's most popular dishes. The tasting, hosted by Publicist Martha Tiller, included a mouth-watering sample of expensive but excessively tender Wagyu steak (prices range from $10-$58).
A less expensive but equally delectable dish was the Hot Stone Bowl. Composed of rice, vegetables, organic sunny-side-up egg with Korean red chili sauce and shrimp (beef or chicken were also meat choices) the dish stays amazingly hot in the aptly named hot stone bowl. Be warned: Do not touch the bowl!
My dining companion enjoyed Hoisin Lime Chicken, another chef's favorite, for an entrée that was proclaimed "great." But my favorite dish was the colorful Rainbow Roll pictured in the above photo (taken by Francisco Chairez). This California roll is topped with tuna, salmon, yellowtail shrimp and avocado.
We're told other favorites with local folks and convention center visitors, are the Mama and Papa Rolls, the Ahi Tower, Miso Glazed Sea Bass, and Orange Ginger Salmon.
Black Ship's beverage list is quite comprehensive. There are some interesting hand crafted cocktails like the Commodore Perry Cocktail featuring 12 year old Elijah Craig bourbon, Ginger liqueur, roasted Japanese tea syrup, lime juice and a dash of bitters. The Saratoga Milk Punch includes Real McCoy's Rum, Thai Chili peppercorn syrup, coconut milk and vanilla.
There are also a variety of Asian, European and domestic wines and beers. Cocktails range in price from $10 to $25 with sake, beer and wines costing from $8 to $110. The Ty-Ku Sake is a house specialty.
General Manager Francis Curtin, who previously worked at popular Dallas restaurants like Trece, Villa O, Sfuzzis and Primo's, is the General Manager for Black Ship. The restaurant, located at 665 S. Lamar, is one of four new restaurants in the Downtown Dallas Omni Hotel Complex. Complimentary parking is available in the garage directly under the restaurant.
Black Ship's hours are Lunch Mon. – Sat. 11 am-2 pm; dinner Mon.-Thurs. 5-10 pm; Fri.-Sat. 5-11 pm; Sun. 5-10 pm. For more information or reservations 214-707-3848 orwww.lkblackship.com.