My husband, like many Texas men of my acquaintance, is a meat and potatoes guy. So I had no trouble getting him to join me for dinner at Texas de Brazil last week. The restaurant is renowned for their non-stop parade of grilled and smoked meats of every variety.
It's a true carnivore's dream! Imagine being able to sample roasted and seasoned cuts of beef, pork, lamb, chicken and Brazilian sausage–for as long as you like. The succulent meats are cooked over an open flame grill, a technique which comes from southern Brazil.
Texas de Brazil: Largest Churrasco Chain In World
The largest authentic churrasco or Brazilian steakhouse chain in the world, Texas de Brazil combines southern Brazil cuisines with Texan style meats. So it's only to be expected that it started right here in Texas, in the Addison flagship store.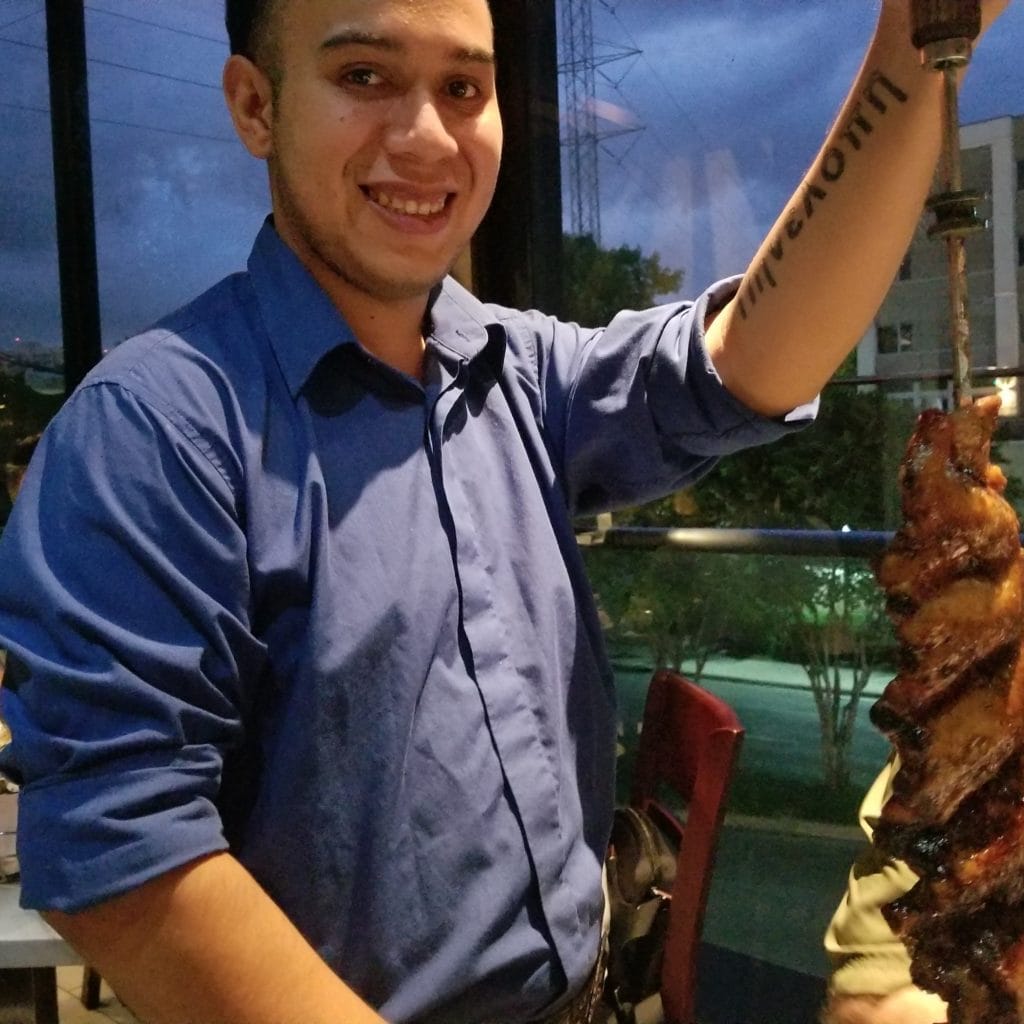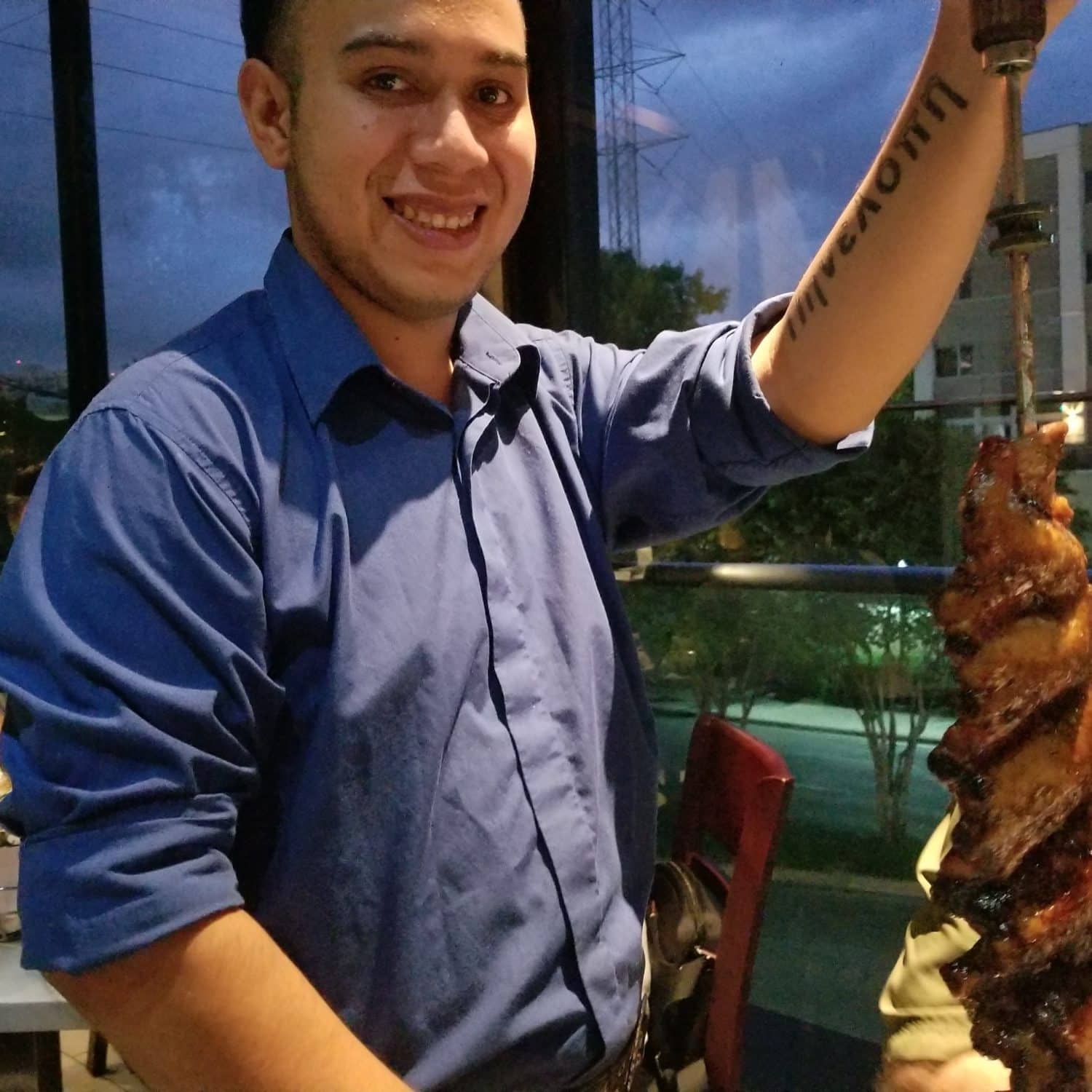 Texas de Brazil diners are given a coin, red on one side and green on the other. It's used to signal when they want the parade of meat to stop or simply pause for a time. If you forget to turn up the red side, be prepared to change your mind when you see what they are offering.
We dined at the Cedar Springs location, where friendly waiters bring skewers of meat to your table until you beg them to stop. Since I often prefer salads and veggie plates to meat, my husband said he was surprised to see me match him almost bite for bite. But the steak, beef ribs, Parmesan chicken, and pork loin I tried were so tasty it was really difficult to turn anything away. This was after a bowl of creamy Lobster Bisque, plus salad with veggies from the amazingly extensive salad bar.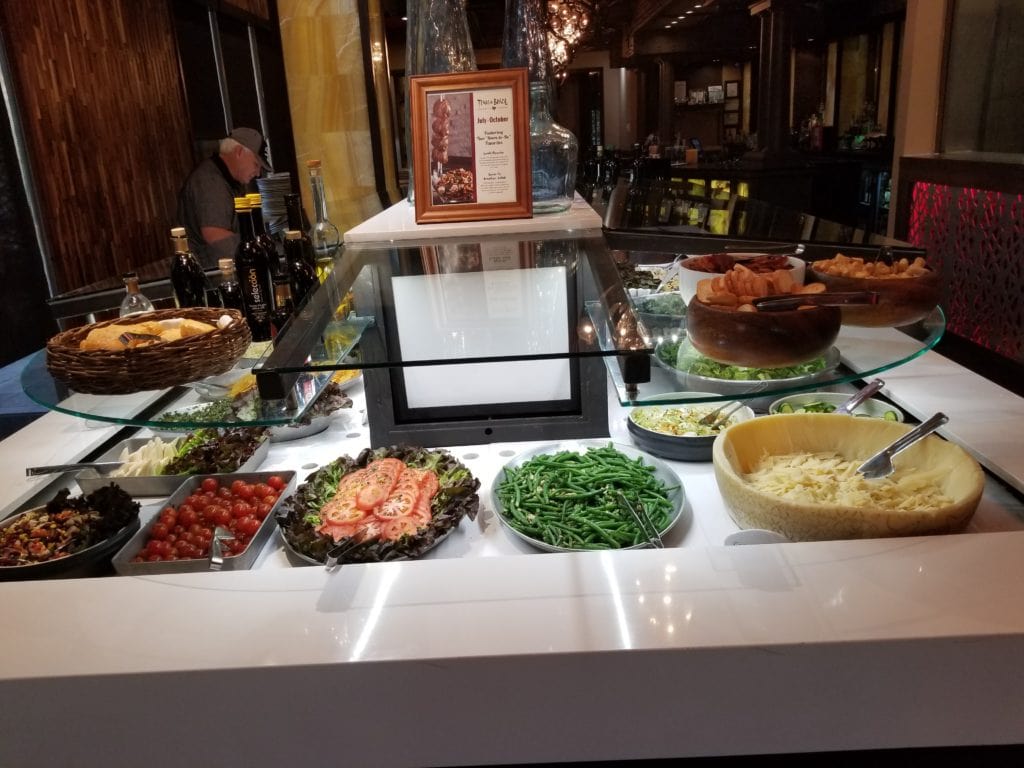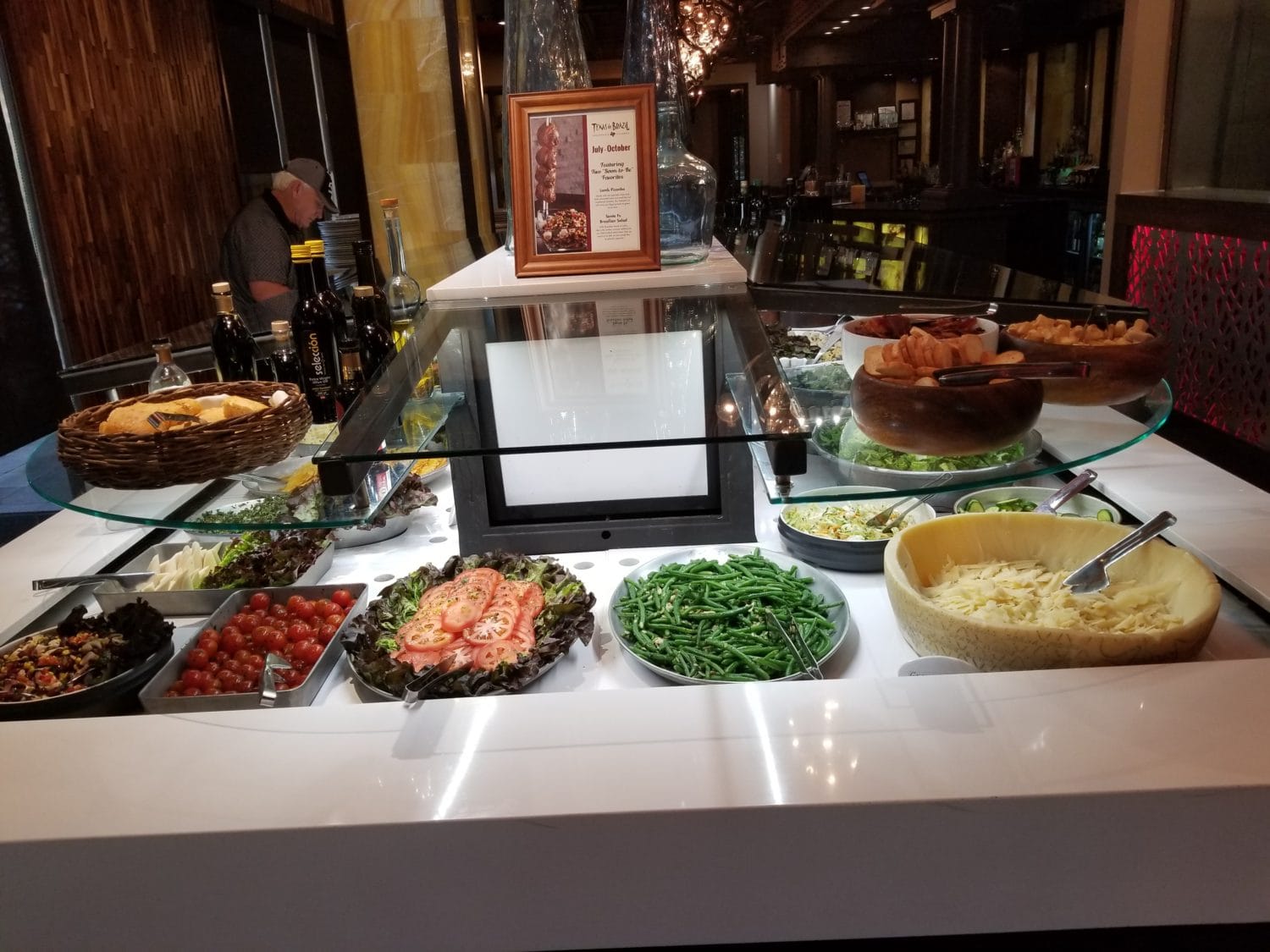 It is possible to dine at Texas de Brazil and only visit the salad bar. It has shrimp, sushi, and sliced salmon along with a variety of cheeses and cold cuts. This should be more than enough food for most, and the price is right. It's half as much as the $45.99 fee for full service dinners.
I did have to pass on dessert, but my husband's crème brulee was every bit as yummy as it looked when I stole a bite.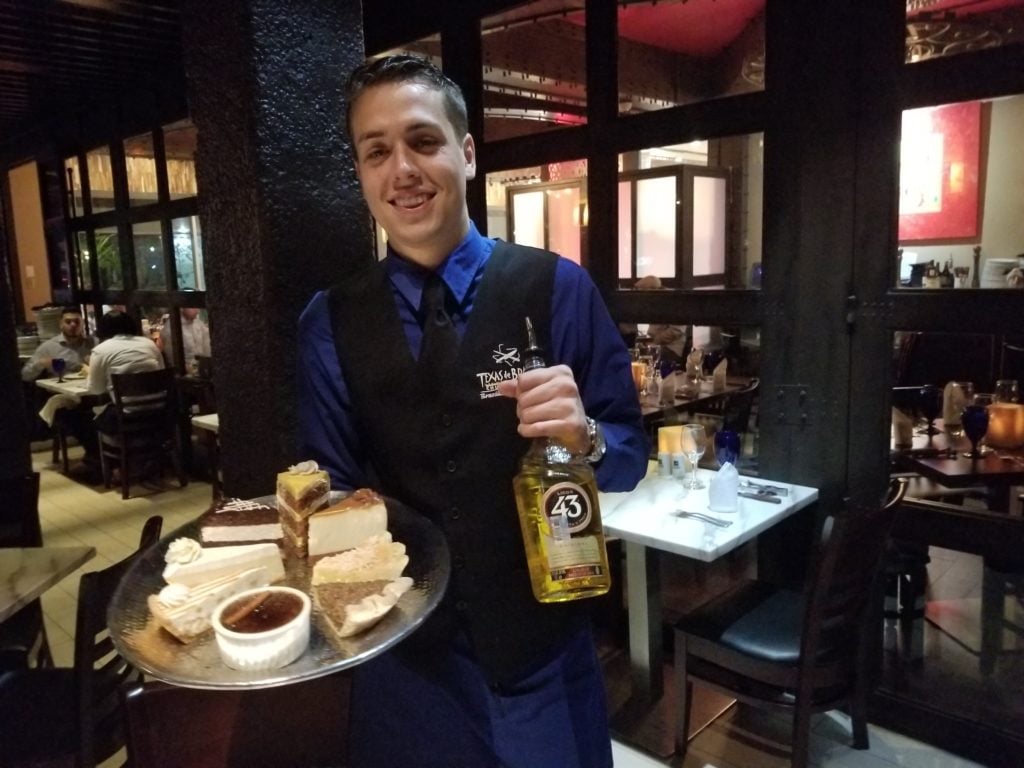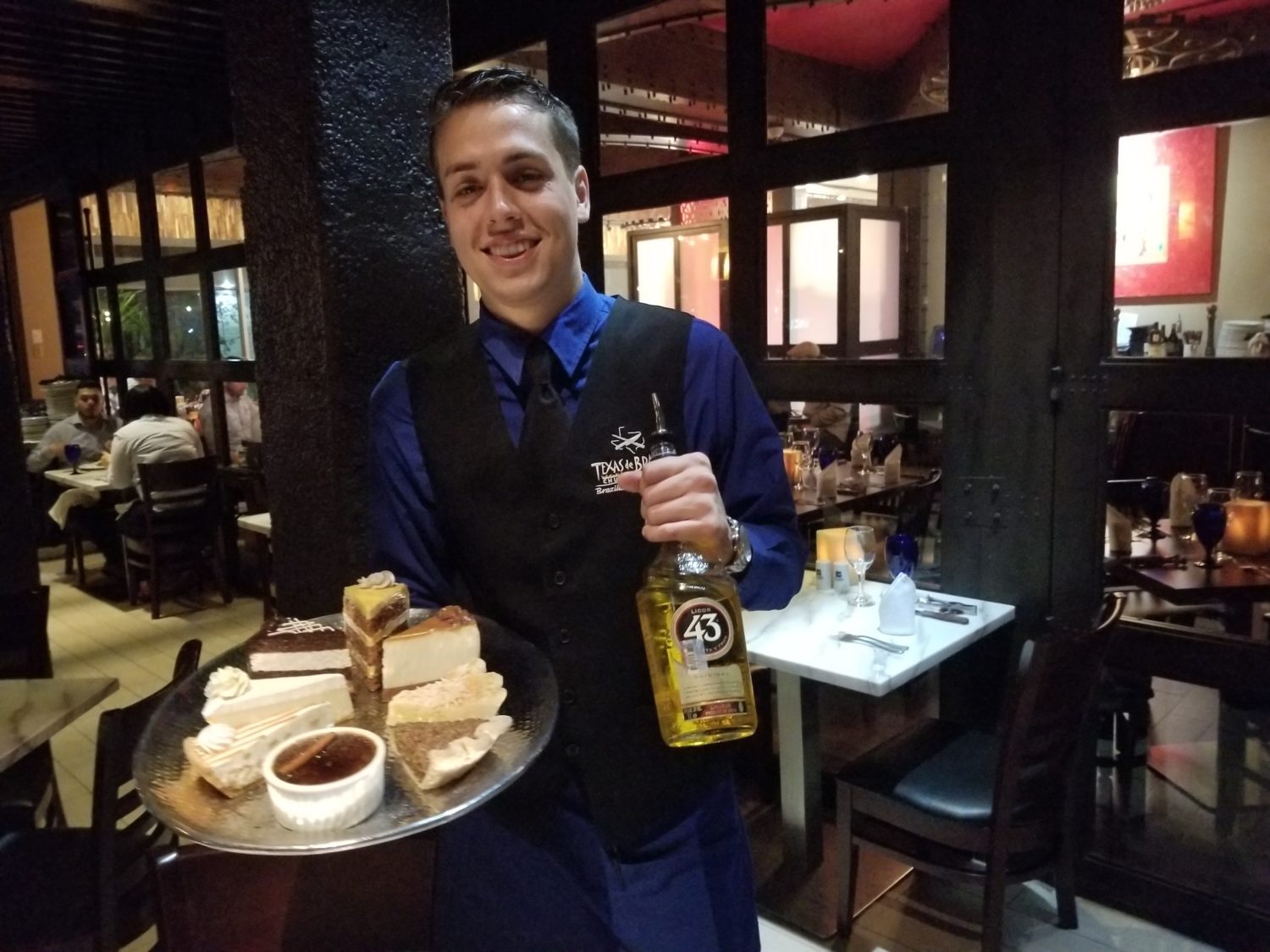 20th Anniversary Specials Lead Up To October 13 Anniversary
Texas de Brazil's flagship restaurant in Addison is preparing to celebrate their 20th anniversary October 13. They have generously planned several events that will be available at all U.S. locations the week leading up to the lucky 13th.
October 8 and 9 Texas de Brazil restaurant patrons across the country, including locations in Dallas, Addison and Fort Worth, can enjoy original pricing of the full, rodizio-style menu. Dinners will be just $28.50 for adults (1998 prices), and children 6-12 years old will be priced at $14.25. Children 3-5 years old dine for $5, while children under 3 dine for free. Anniversary prices are available during dinner hours only (4-10 p.m.) on those dates.
Also in honor of the 20th anniversary, Texas de Brazil has released a new varietal from their private label wine collection. The 20th Anniversary Celebration Series Wine is bottled by Chilean winemaker Santiago Margozzini. The limited edition XX Celebration Series MontGras offers superb red blend of Cabernet, Syrah, and Carmenere. It promises to provide an ideal pairing for the succulent churrasco grilled meats. The wine will be available beginning October 13th for $69 a bottle as long as supplies last.
Texas de Brazil is a thriving family-owned business, and boasts locations in many U.S. states as well as such exotic locales as Aruba, Mexico, Trinidad, Tobago, Puerto Rico, Saudi Arabia, South Korea and the United Arab Emirates.