2019 Mitsubishi Eclipse Cross Review
I admit, Mitsubishi has been my least favorite auto manufacturer for years. I admit dismay when I heard I would be delivered one for a week-long test drive. It was not something I was looking forward to. I believe the last review I wrote for a Mitsubishi was for a sad little car called a Mirage. I had written that it was so poorly put together I actually considered it dangerous.
I have no idea if, or how much, the Mirage has improved from that time, but I can say I found the 2019 Mitsubishi Eclipse Cross SEL not only safe, but also laden with a lot of features I did not expect. The list is long: dual air controls, rear cargo light, 8-way adjustable drivers seat and even a 4-way adjustable passenger seat, leather throughout, rear seat slide and recline features which enchanted the kids, adaptive cruise control, lane departure warning, heated seats – front and rear, forward collision mitigaton, lots of USB and power ports, rear heat and air ducts, illuminated cup holders, a myriad of steering wheel controls, bluetooth, siriusXM, heads-up display, a floor console box complete with sunglass holder and about 25-30 other features.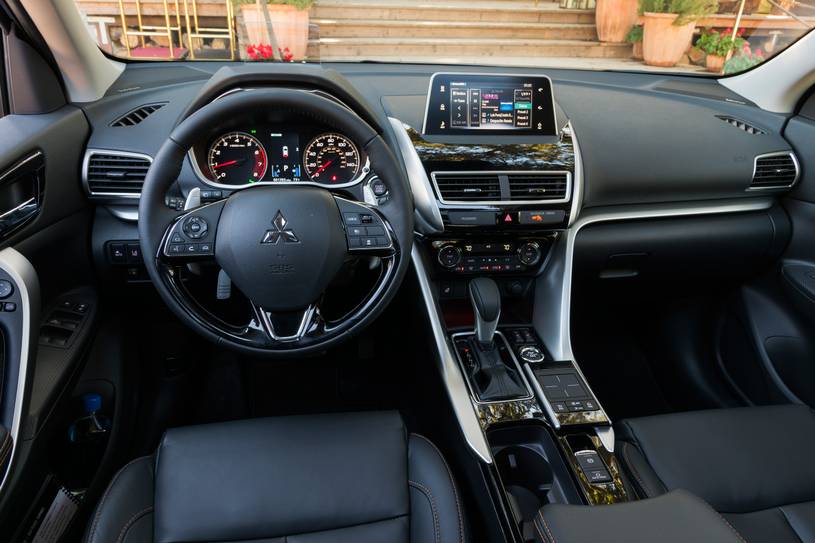 Another new interior feature I found a great value on the Eclipse Cross is a full-color Heads-Up Display (HUD) that provides the driver with real-time vehicle information. The system consists of a full color LCD display that is mounted just beyond the steering wheel and close to the driver's line of sight, allowing easier driving by minimizing the change of eye focus length. HUD provides driving information and critical safety messages to the driver, such as: speed, cruise control setting, Forward Collision Mitigation warnings, Lane Departure Warnings and paddle shift gear position. The HUD system is standard on SEL models. The display includes an up/down switch that allows the driver to lower the display into the dash if desired and brightness and height adjustment switches.
What is the MSRP one might ask … surely so many features are in the $60-70,000 range like so many mainline manufacturers. Wrong! Complete with all options, this full size crossover came in at $32,015 including destination costs. Without any options at all, (and most of the items listed above are standard) the price was only $28,195. Needless to say, I would vote for going full steam ahead in this Mitsubishi Eclipse Cross with everything (sorry, no kitchen sink though) since it carries such great value pricing.
Has Mitsubishi started building a better product now since Nissan purchased them, it seems possible. There is most certainly a giant difference in this vehicle versus those I have driven in the past!