Comic Book Lovers Alert! If you like stories about super heroes, The Night Owl Society is a new twist on those caped or masked guys who may or may not fly. Its set right here in Dallas, but the teenage heroes are a little younger than usual. They also make a few more mistakes in their fight against evil forces but, they have great intentions. Readers will have a lot of fun following their misadventures.
Issue #1 of the new comic book by Fort Worth playwright James Venhaus was published by IDW Publishing in April. The second edition came out this month, and the third and final edition will be released June 10. Dallas readers of the comic will note the local landmarks, ranging from Campisi's Restaurant on Mockingbird to Reunion Tower.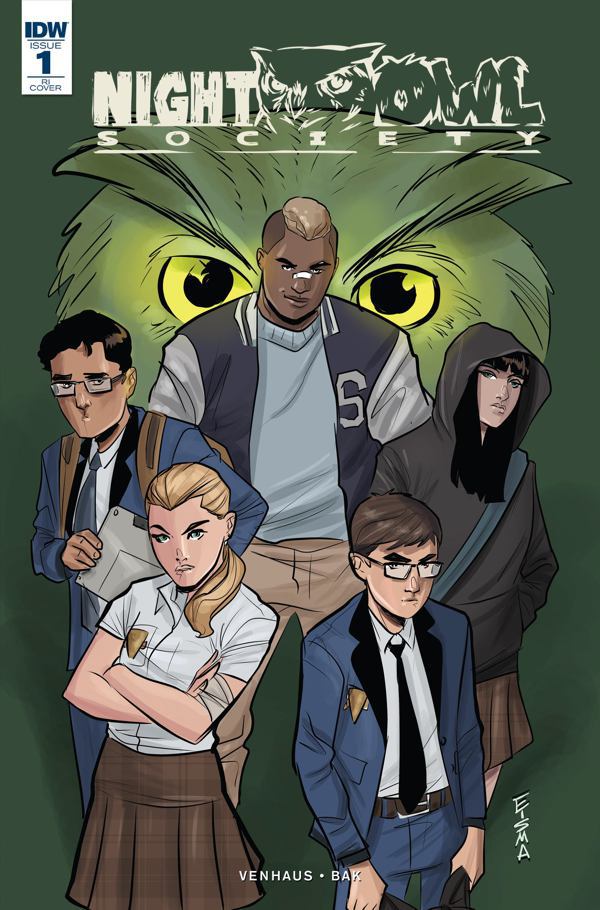 Venhaus, whose plays have been produced locally by Junior Players and Ground Zero Theatre Company, teaches at All Saints' Episcopal School in Fort Worth. Venhaus said, "I started thinking about how my students were the perfect subject for a story about crime fighters. They are smarter than the average teenager, have copious amounts of both free time and disposable income, and an overdeveloped sense of right and wrong. They see everything in black and white and aren't afraid to take action when they feel that there is an injustice in their community."
Search for Artist Led to Lithuania
The author said he searched the web for an artist whose style fit his story. His search led to Pius Bak, an artist living in Lithuania. "Pius has been great to work with. Although we've never met in person, his style matched the tone I knew I wanted for this book," Venhaus said.
The artist had never been to the U.S., which presented a challenge. Venhaus said, "Pius' English is very good, which is a blessing considering my Lithuanian is very bad. So, communication was never a problem. But, there are some cultural differences that needed explaining. For example, Pius had never seen a high school letter-man's jacket or high school lockers, so I sent quite a few reference photos of my school and my students. Consequently, several of the people and places in the comic bear a striking resemblance to people and places at my school."
The plot of The Night Owl Society revolves around a high school loner, David Foxworth, whose best friend is killed by a mob boss. Since the police refuse to do anything about it, David gathers a group of fellow misfits to remedy this. At night they seek to disrupt the mob's business, while by day they maintain perfect GPAs. Press information informs us that "one of them is hiding a secret that could destroy the team. Will they survive without getting killed or grounded?"
After reading Issue #1, I'm eager to read the next two editions and find out how the story ends. A surprise twist at the end of the first book packed a "gotcha" sized shock.
To find your copy of the new comic at a store near you, visit http://www.comicshoplocator.