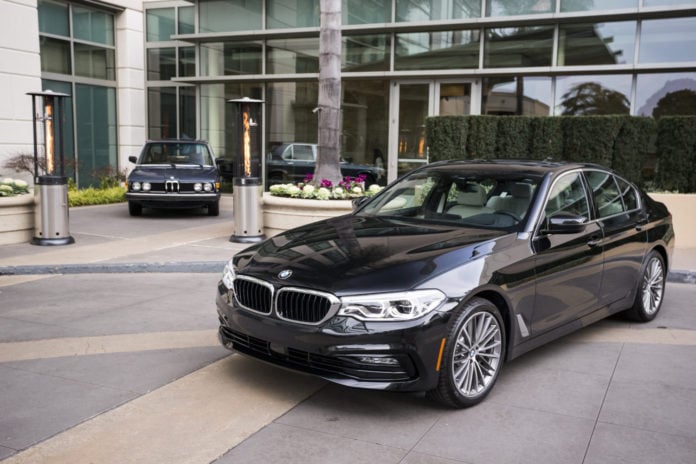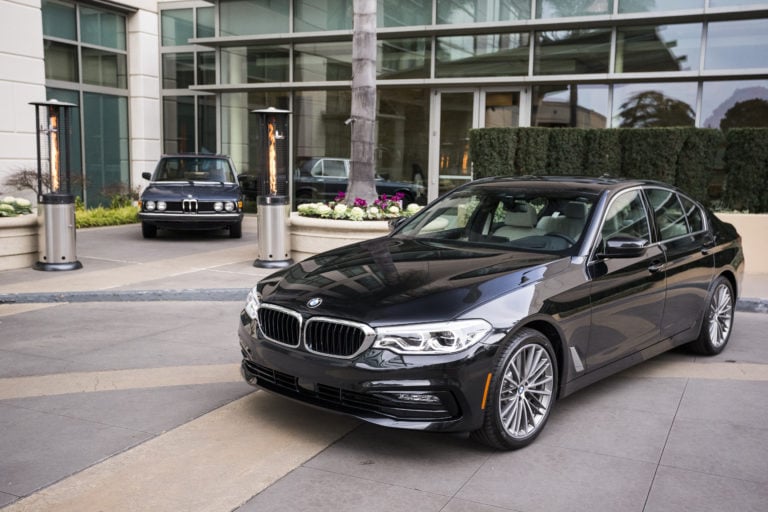 2017 BMW 530i Review
The passage of time often makes one forget about the things that made you remember why you fell in love with your Ex. After all, you did "trade her in" for a new model. Perhaps, with age, her luster seemed to fade. The excitement of a new shiny, sleek and beautifully updated chassis caused you to decide it was time to move on with your life. Then, WHAM! Something vaults your memory back to why you had fallen in love with her to begin with. Yes, there are things you miss, regardless of how much you are enjoying the ride your new love takes you on every day.
That's exactly what happened to me when the fleet management people brought me a bright and beautiful new Ultimate Driving Machine – the 2017 BMW 530i sedan. A few years ago, I owned the flagship in the Ultimate Stable of Driving Machines – a BMW 760Li. I still recall fond memories of those twelve exciting cylinders that took me from zero to Ultimate Exhilaration in milliseconds.
My, how things have changed in the realm of German Super cars. This new 530i boasts only a third of the cylinders of that "ancient" super-car. I would have never known it were it not for the sticker, which plainly stated this is a 2.0 liter TwinPower Turbo inline four. I don't have even a hint of an engineering background to understand why it works. but BMW tells me that even the exhaust acts to create more power in the 530i.
There are two exhaust streams that remain completely separate. They flow through the turbocharger to the turbine wheel creating pressure which creates even more energy to rotate the turbine blades. All I can say is – it damn sure works!
This new 16-value engine also sports Double-VANOS and Valvetronic (16-valves with high-precision direct injection) along with an 8-speed Sport automatic tranny (manual shift option included of course). This is yet another reason for the quick response of my special date.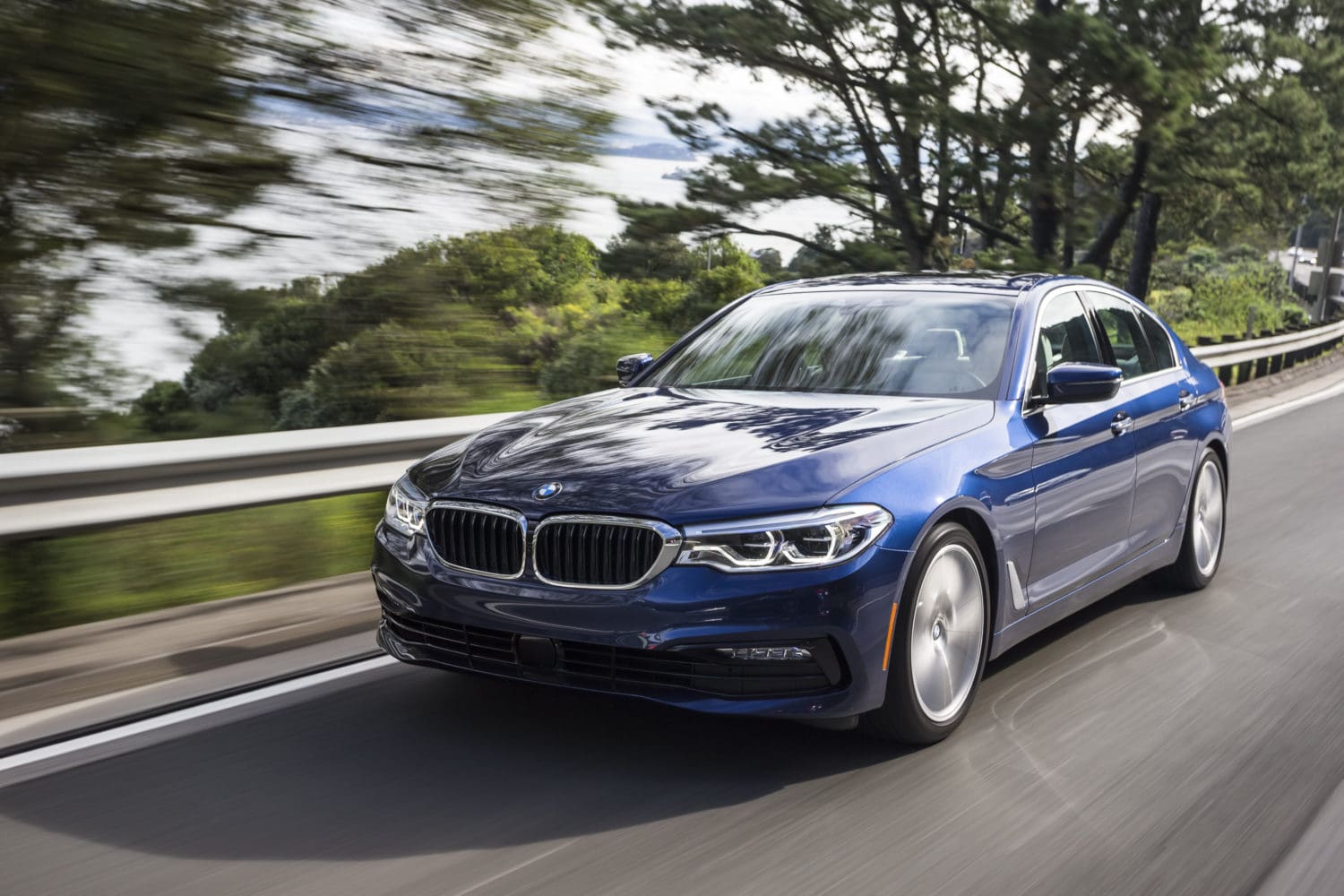 My hot new babe hugs the road as if the tire tread is part of the pavement, due to Dynamic Stability Control, Brake Fade Compensation/Drying and Standby features. Yes, this is truly an ultimate driving machine on the road, but it goes much further in its treatment of the driver. She is much nicer than the ex in so many ways.
And she is safe to drive and to ride in. The Insurance Institute for Highway Safety has named the entire 5-Series a "Top Safety Pick+". Wow. The performance of the BMW 5 had excellent performance in five different tests administered by IIHS. Tests passed are the small overlap front, moderate overlap front, side, roof strength and head restraints. The series, including, of course, the 2017 BMW 530i, received the Institutes highest rating for an optional front crash prevention system with a "Superior" rating.
The Teuton creators endowed this sleek new honey with a number of features it seems only existed on the drawing boards when my original 2006 model was born. Gesture control, Voice control, a touch screen and the fabulous iDrive which I grew to love on my Ex.
Gesture control did not exist on my 760Li. In fact, it was only premiered last year on the 7, but is not available on the 5 as an option. Nav, telephone, entertainment and other vehicle functions can be seen on the large 10.25 inch screen. Of course they can be controlled with the iDrive, but you can also direct them with gestures, your voice and by touching the screen.
You will have to visit your dealer for details, but simply put: you move your hand or fingers and the on-board sensor will know what you want. For instance, if you want to accept a phone call point at the screen with your index finger. If it's your Ex and you reject the call, swing your finger back and forth and the system rejects the call. Want to raise or lower the volume on the radio? Make a circle with your finger. Want to zoom in or out on your navigation map? Move your thumb and finger closer or further away from the map. Can I say more than WOW!?!
Or simply tell "the car" what you want using voice commands. You can ask it where the nearest gas station, Tom Thumb store or restaurant is. This car is definitely smarter than me!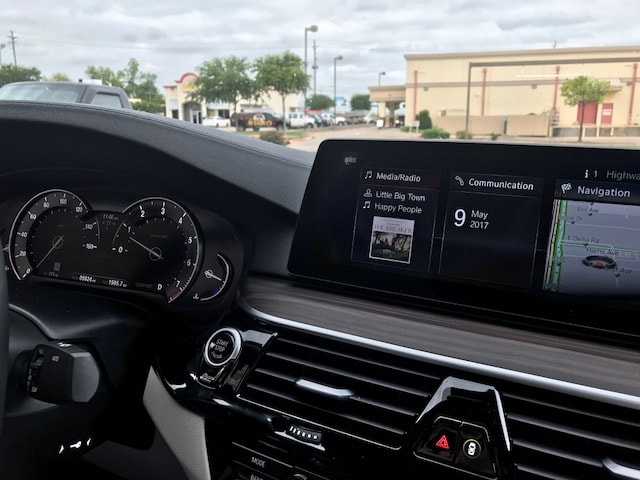 Have I mentioned hugging yet? Ah, yes. This new BMW 535i hugs more than the road. The seats are adjustable 16 ways with side bolsters that hug you as you corner and as you drive anytime, anywhere. There are eight different massage functions and each of them can be adjusted depending on the desire for light, medium or very intense massaging.
You can even set the temperature of the seats as they work to relieve strain and relax the muscles of your back. There are 20 air chambers in the seat backrests and cushion which inflate and deflate automatically. Just think of the money you can save going to a therapist by owning your own 5-series BMW!!