Andy Fancher Presents American Heroes
Those of us who are senior citizens sometimes voice concern about our country's future. We wonder if our children will work as hard as our generations did to protect the freedoms and values of these United States of America.
Meeting Andy Fancher, an 18-year-old Duncanville resident who has devoted half his life to honoring WWII combat veterans, is reassuring. So far, this young patriot has interviewed and documented the stories of 80 veterans on his "Andy Fancher Presents" Youtube channel. And he's only just begun!
Fancher says, "I first became interested in interviewing WWII veterans when I was around nine years old. I felt inspired to meet these heroes after discovering an old Army photograph of my late great-grandfather, Gene T. Fancher. Once I learned that no portion of Gene's war experience was documented prior to his death, I felt an obligation to meet the remaining heroes of WWII."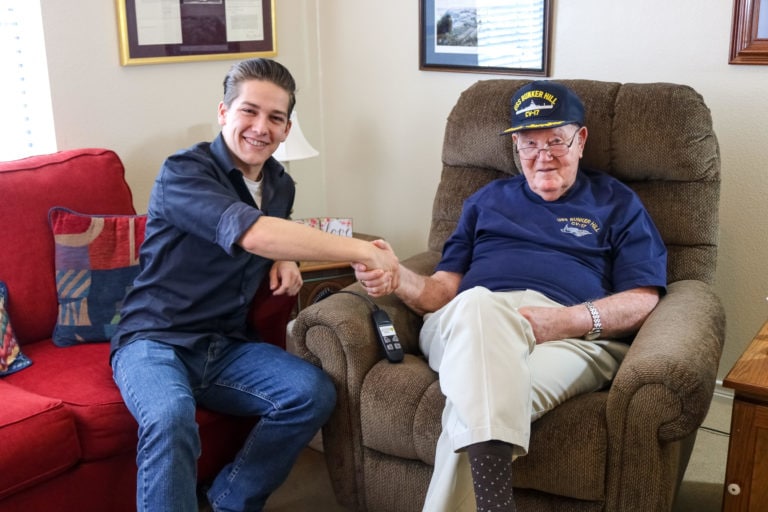 "Considering I had no prior reputation or experience, it was extremely difficult to locate the first WWII veteran to participate. With help from my grandfather, a retired police officer, I was introduced to a then 92-year-old named James Crouch. I met with James in his Terrell home, where my first interview was officially conducted in August of 2016. I was very nervous going in, but overall considered the interview a success. I could not have asked for a better veteran to start Andy Fancher Presents with, as Mr. Crouch was patient and understanding of my learning curves."
Fancher lives with his parents, Robert and Kellie Fancher, in Duncanville. After being home schooled, he's now enrolled at Mountain View College. After obtaining an associate degree he hopes to attend the University of North Texas at Denton, majoring in broadcast journalism.
When Fancher first started interviewing veterans, his equipment was not very sophisticated. "I started out recording on two different Canon camera models, as well as a shotgun microphone (attached to the primary camera) for audio. I didn't own any studio lights, and relied solely on desk lamps/natural light provided at the interview locations. Today, I own a 4K Sony camera, two wireless lavalier microphones, and an array of different studio lights," Fancher said.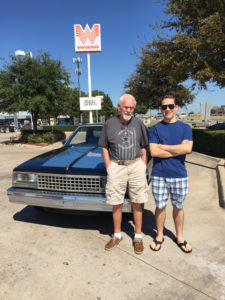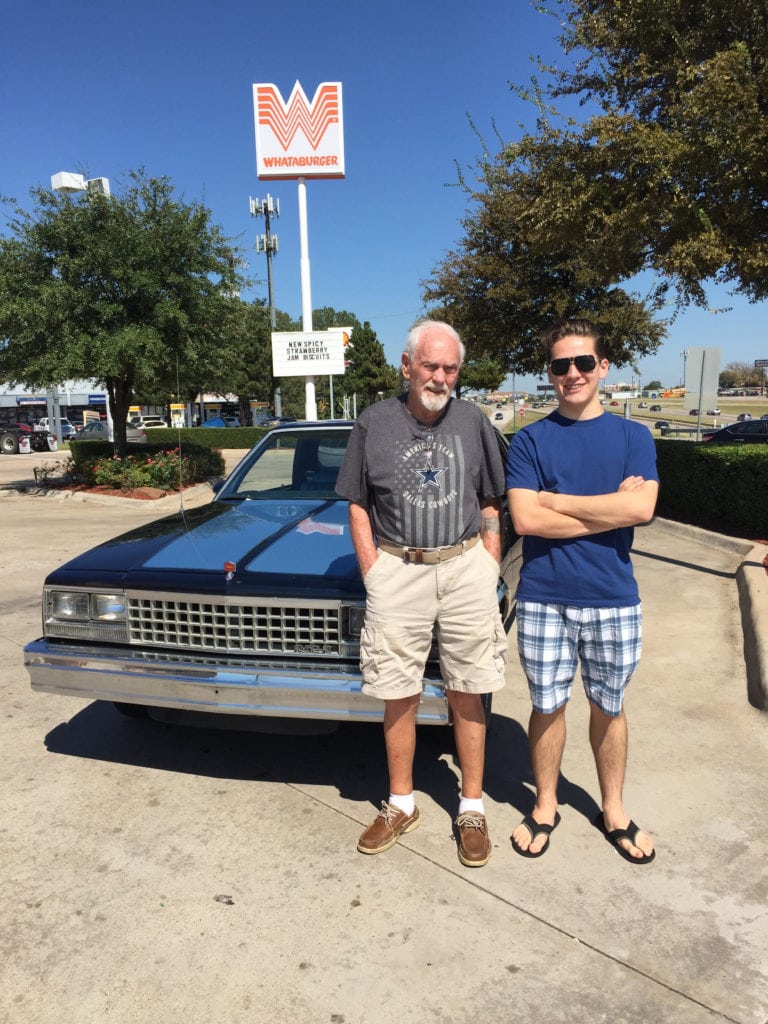 While Fancher says his parents and grandparents encouraged his interviews, "I forked the bill when it came to buying necessary equipment. Starting out, I worked several summers building fences with my father, and saved every penny earned. By late age 15, I purchased the primary Canon, a handful of tripods, and a laptop for editing. My mother always drove me to the interviews until I got my license. Luckily for her, all the interviews were in the DFW area."
Fancher says, "I have become friends with a few of my interviewees. One specifically I'd love to mention in detail is Carl W. Matthews. At age sixteen, Carl volunteered for the U.S Marine Corps. As proudly stated by Carl during the interview; 'I had been on two overseas pacific tours of duty, two invasions, had a purple heart, and I was back home in Hubbard, Texas–still too young to buy beer.' At the time of our interview, Carl was 91, with dreams of reaching age 110. Over the next eight months, Carl and I kept in close contact. We met regularly as friends and often discussed WWII. I was even referred to as his 'adopted grandson.'"
"Carl introduced me to several other WWII Veterans who I later interviewed, (including his brother-in-law Buddy McGown). I accompanied him to several book signings at the VA, taking nonstop video along the way. At his 92nd birthday party (which also acted as my 17th birthday party), Carl gifted me a signed copy of his novel, 'The Feather Merchant.' Inside, he hand wrote 'To Filmmaker Andy Fancher. With Thanks & Appreciation. Happy Birthday.' Sadly, in the months following his birthday party, Carl progressively lost his physical strength. On January 6, 2017, one day into hospice, I visited Carl at the VA Hospital. He remained cheerful and happy, lighting up the room with his humorous ways. In saying our goodbyes, he looked at me, and concluded with 'take care, buddy.' He passed away the following morning, January 7, age 92. He was cremated and buried at his family plot in Hubbard. Carl was not only a war hero, but he was my friend. I valued every moment spent with him, and constantly think back on the time we had. He said 'I'm a happy old man. I've had a great life.'"
"It is extremely difficult to hear when one of my interviewees has passed away. It's a bittersweet honor to know that I was able to speak with them while the opportunity remained, as well as preserve their final legacy for future generations."
Fancher said he has attended several funerals, often filming the service, and includes highlights in the veteran's final video.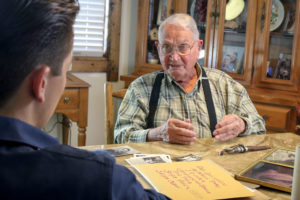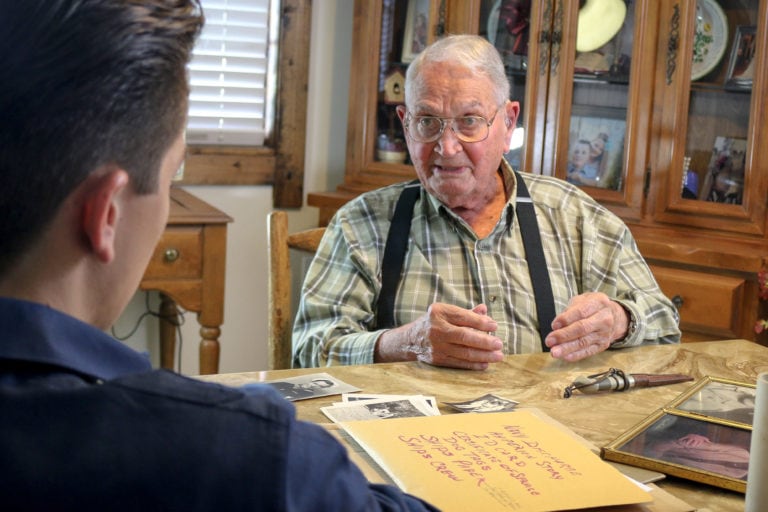 Last year Fancher was invited by the Gary Sinise Foundation's 'Soaring Valor' program, that provides WWII veterans all-expense paid trips to the National WWII Museum in New Orleans, to accompany a veteramn and former interviewee Gene Odom on his trip. Along with Odom's wife and daughter, Fancher said their group arrived in the Bayou City on Halloween eve. The next morning they toured the museum, where the old Naval artifacts took Odom back to his days of service. They even found a model of his ship, the USS Hyperion.
Fancher also attended Sky Ball XV, a gala fundraiser that raises money for military veterans and families. He was invited by the American Airlines pilot who flew them to New Orleans.
Fancher made a presentation to the Sons of the American Revolution (SAR) about his work. The SAR presented him with their Outstanding Citizenship Award, a lapel pin and miniature Liberty Bell. He has also presented programs for the Oak Cliff Lions Club, Lockheed Martin Association of Retirees, and the Commemorative Air Force.
Fancher said, "I hope to continue these interviews, as our nation's veterans deserve to be known. However, the future of Andy Fancher Presents depends entirely on donations. This is a hobby of passion, but money is needed to continue. Needless to say, I would love to continue this into college and after-college years. So far,my entire project had been funded out-of-pocket through several part-time jobs."
"This necessary work with our veterans takes a tremendous amount of my time and money to accomplish," Fancher said. "I would like to ask Focus Daily News readers to consider donating to my GoFundMe or Patreon, through a one time or reoccurring donation. Every little bit helps reach another service member. Information is on my website, andyfancherpresents.com or email me at andy@andyfancherpresents.com. For now, I will continue to do the best I can, with everything I've got, to preserve the fading stories of our greatest generation."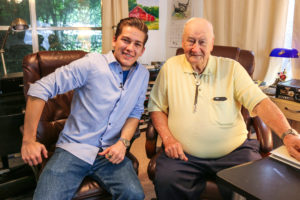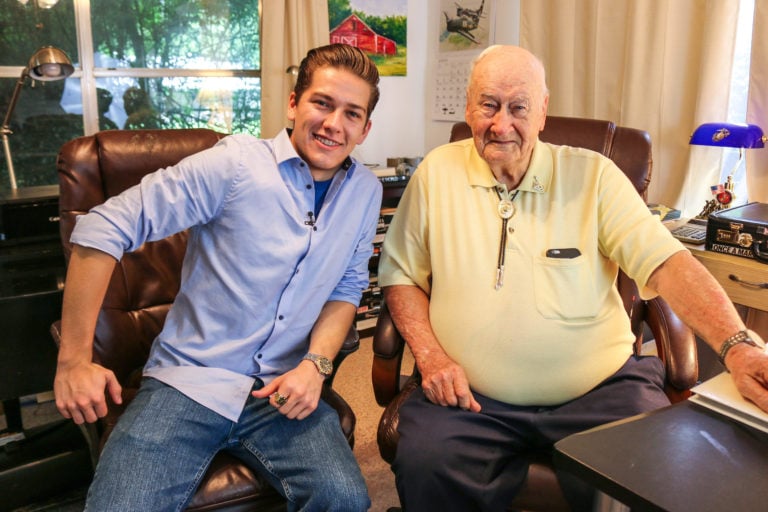 Fancher said he has not been able to interview any veterans who were only involved in the Korean conflict, although he has interviewed WWII veterans who later served in Korea. He is also interested in interviewing female veterans, but has not been able to find one who's willing to share her story on camera. He has interviewed three Vietnam veterans, including Kenny Woodall who served in the 26th Marine Regiment in 1968-69.
Fancher said his biggest role model is Andrew Carnegie, whose work ethic, drive, business success and especially his philanthropy he finds inspirational.
Andy Fancher has been invited by Friends of the Duncanville Library to present a program July 10. He will show a video interview with one of the WWII veterans he's interviewed at the event. The program is free to attend, and starts at 7 p.m. in the Duncanville Library Program Room, 201 James Collins Blvd.