Time For The 2017 Big Tex Awards
Concessionaires for the State Fair of Texas are ready to debut their latest edible innovations to eager fried food fans. The 13th Annual Big Tex® Choice Awards, presented by Visit Dallas, adds a third category this year. Winners will receive awards in these three categories: "Best Taste – Sweet," "Best Taste – Savory," and "Most Creative."
Mark your calendars for Sunday, August 27 at 2 p.m. in the Tower Building at Fair Park. Tickets will be available online at BigTex.com for $100, with a limited amount of seats available. All proceeds from the Big Tex Choice Awards ceremony will be donated to the State Fair of Texas Youth Scholarship Program. Come cheer on your favorite tasty treat and sample the rest, as the ten finalists go up against a panel of celebrity judges in hopes of snagging one of most coveted titles in Fair food.
Semi-finalists for the 2017 Big Tex Choice Awards are: Beer Battered Beef Jerky, Fried Redneck Wedding Cake Balls, Cajun Fried Deviled Eggs, Fried Sloppy Joe Flautas with 'Not Cho' Fries,
Crawfish Lollipop, Fried Texas Dirt, Deep Fried Bacon Wrapped Mozzarella with Jalapeno Ranch, Fried Texas Sheet Cake, Deep Fried Breakfast Cupcake, Funnel Cake Bacon Queso Burger, Deep Fried Chicken Noodle Soup on a Stick, Gulf Coast Fish Bowl, Deep Fried Fruit Loops, Oreo Beer, Deep Fried Reuben, Pinot Noir Popcorn, Deep Fried Root Beer Float with Dragon's Breath, Ramen Grasshopper Cookie, Dreamy Drunken Sopapilla Cheesecake Bar, Southern Fried Chicken Monte Cristo, Fat Smooth, Surfin-Turfin-Tator Boat, Fried Arroz Con Pollo, Texas Fajita Fries,
Fried Cheesecake Stuffed Apple Sundae, Texas Fried Cowboy Fritters, Fried El Paso, The Tamale Donut, Fried Mango Loco, and Tipsy Topsy Catfish on a Stick.
The contest kicked off in mid-July with 47 entries. Competitors had to have at least one year of experience as a concessionaire at the fair to enter the contest. With food as such a popular State Fair attraction, these contenders proved to be authentic representations of the dedication and passion brought each year to the Big Tex Choice Awards.
The selection process is headed by a panel of internal judges and requires "blind judging" from start to finish, meaning the panel does not know which concessionaire is behind each recipe. This allows for the scoring to be totally based on the food entry itself, with no room for bias toward or against concessionaires. Contestants put their concessionaire creativity to the test by coming up with an enticing name and description for their original concoctions – then comes the first round of preliminary judging. Faced with a solid list of tempting treats, judges base their choices solely on which food name and description sounds the most appealing to their personal palette, like a fair-goer might do. After tallying the scores, the above 30 snacks were pronounced semi-finalists.
Fierce Competition In The 2nd Round
Over the next few weeks, the second round begins. These edible creations have to prove to the judges they are as delicious as they sound. The tasting round consists of judging each semi-finalist on, at minimum, four main ingredients of a finalist-worthy concoction: uniqueness, presentation, creativity and taste. The judges defend their rankings against the crucial question – how likely is a fairgoer to actually buy the item? By mid-August, anticipation will be high when the Fair-food finalists are announced. The top ten entries will compete in the final round.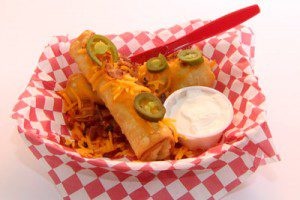 Even if your favorite falls short, concessionaires can still introduce their food as a new food during this year's State Fair. For more information about the State Fair of Texas, scheduled for September 29-October 22, 2017, visit bigtex.com.