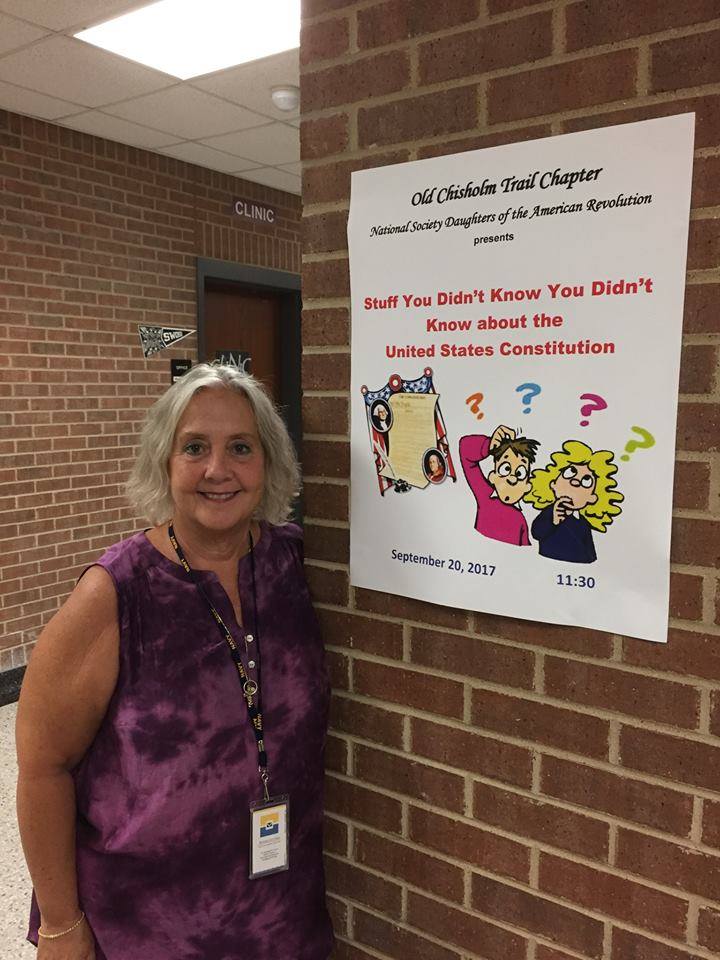 Dr. Stephanie K. Garrett, Mansfield Timberview High School teacher, was honored as Outstanding Teacher of American History for 2017 by Old Chisholm Trail NSDAR. The award was presented to Dr. Garrett at the Old Chisholm Trail's Dec. 2 meeting at the International Museum of Cultures in Duncanville.
An excerpt from the nomination, by Constitution Week Chairwoman Patricia Thibodeau, said, "Dr. Stephanie Garrett is the kind of teacher who makes learning fun. On two separate occasions she has coordinated combining history, social studies, and a/v classes at Timberview High School to attend the Old Chisholm Trail chapter's Constitution Week programs. She introduces the presentation and then answers audience questions afterwards. She dresses in period specific costumes to enhance the students' learning experience."
"Dr. Garrett shares her knowledge of the past and shows how history is applicable to our world today – such as telling how "pockets" in clothing came into being. She also makes sure all her students have a personal copy of the Constitution," the nomination letter read.
This year's play in the Performing Arts Center at Mansfield Timberview High School was attended by three combined classes of government and history. Audio/visual department students taped the program as their term project. Dr. Garrett participated in the program about women's rights through different eras of American history. A short play was written and directed by Thibodeau with other chapter members as cast and crew.
A lifelong resident of the Dallas area, Dr. Garrett graduated from Justin F. Kimball High School in Oak Cliff. She attended Mountain View College, graduating from Dallas Baptist University with Masters of Art in Teaching, following by a Doctor of Education degree in Education Administration from Texas A&M University-Commerce. She received a Distinguished Alumni Award in the field of education from DBU.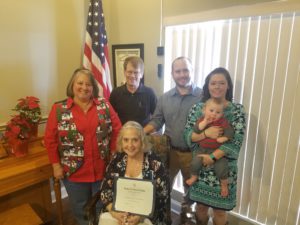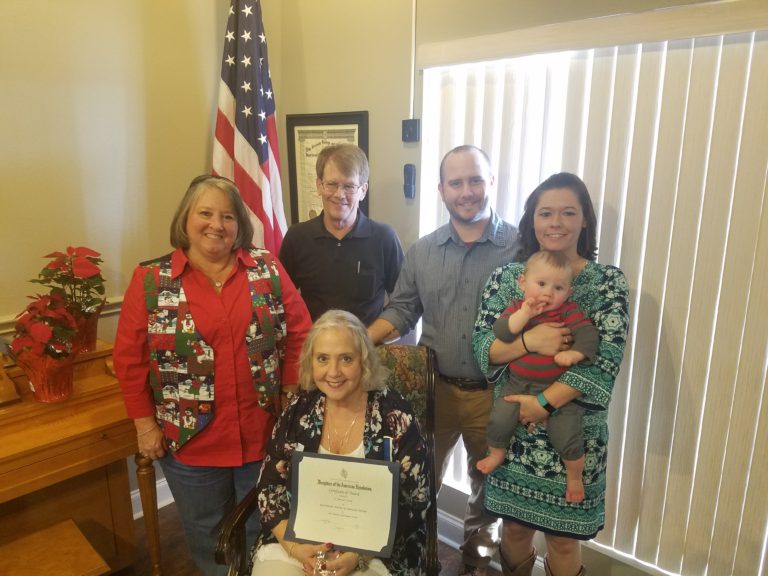 After teaching Social Studies at Cedar Hill High School, Dr. Garrett now teaches U.S. History and Advanced Placement U. S. History classes at Mansfield Timberview High School. She also serves as Social Studies Department Leader, U.S. Team lead, Academic Decathlon coach, and a district curriculum writer for Social Studies topics.
Dr. Garrett helped write the curriculum for the Women in U.S. History class that began in 2016. She has chaired the Faculty Advisory Committee, and served as a mentor in the K.E.E.P.S. mentor program, the U.I.L. Academic Coordinator and Social Studies coach, and one of the campus coordinators for the online grade book program. She is also an adjunct professor at Mountain View College teaching Developmental Writing and Developmental Integrated Reading and Writing two nights a week.
Timberview High School History Museum Grows From Dr. Garrett's Personal Collections
Dr. Garrett created and maintains a history museum on Timberview High School campus. She said, "Many times students lose interest in history because it is seen as just so many dates and events. When I can put an actual item in a student's hands, then history has the ability to become more real. Students love being able to take a field trip on a moment's notice since it is just across the school building from my classroom. There is no admission charge, no buses to schedule, and no time out of other just as important classes."
The museum's collection has grown into an exhibit of items from early Americana to more recent artifacts. About half of the items on display are actual artifacts from a particular time period. These include a piece of Aztec temple stone, a 1700s spinning wheel, a 1880s sewing machine, and a piece of the Berlin Wall. There are also replica items from places like Colonial Williamsburg, James Madison's Montpelier, and several Civil War battlefields, such as Colonial games and household items, Civil War currency, and pioneer headwear.
Dr. Garrett said, "I believe that for true learning to occur, the student must take ownership of the process. To help my students do this, I incorporate an interactive journal I call an investigative diary. With this journal we take notes, evaluate information, and synthesize what we have learned to be able to apply that knowledge to new situations. While the basic information stays the same, the students manipulate what they have learned to not only better remember the information, but also use it in their everyday life."
"Classroom simulations, interactive games, field trips, and discussion boards are other techniques I use in my classroom," Dr. Garrett said. "One of the simulations we have done is the King of M&Ms game where the students take the roles of colonists, parliament members, tax collectors, or the king. As they are taxed out of their M&Ms, the students get a better idea of why the colonists were so upset over the British taxes. An interactive game is the Farming Game. Each student begins with a certain amount of land and money with which to plant crops and buy livestock. As the weather conditions of the late 1880s are presented, the students begin to understand the uncertain life of the plains homesteader. While some do quite well, others end the game with just enough money to buy a train ticket back East. At the end of each year, I take my students to either the JFK Museum or the George W. Bush Presidential Library to experience history in the making. Being able to stand on the Grassy Knoll, see the sniper corner, or sit behind the president's desk is a wonderful hands on experience for my students."
Dr. Garrett currently serves as recording secretary and community classroom chair for Old Chisholm Trail National Society Daughters of the American Revolution. Current Regent is Jo Ann Holt-Caussey. Chapter activities include participation in the Junior American Citizen contests, flag presentations, ROTC awards, patriotism medals, and DAR Good Citizen awards. Decorating Millermore Mansion at Dallas Heritage Village is an annual Christmas project. Members serve their communities as volunteers in a variety of other areas, with emphasis oh historic preservation, patriotism and education. The chapter meets the first Saturday of each month at the International Museum of Cultures in Duncanville.