Duncanville High School graduate Jaelyn Banks received the $500 Mattie Ray Fouts scholarship from Old Chisholm Trail National Society Daughters of the American Revolution (OCTNSDAR). Jaelyn will enroll in the University of Texas at Austin as an education major this fall.
Jaelyn said, "Duncanville High School was filled with great memories with great friends, and I'm excited to see what the future has for all of us."
The scholarship certificate was presented June 7th in a ceremony at the Duncanville Library. The presentation was next to the Old Chisholm Trail chapter charter on permanent display at the library. Jaelyn's parents, Bryan Baskin and Beth Banks-Baskin, and her siblings attended the presentation.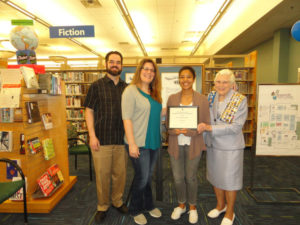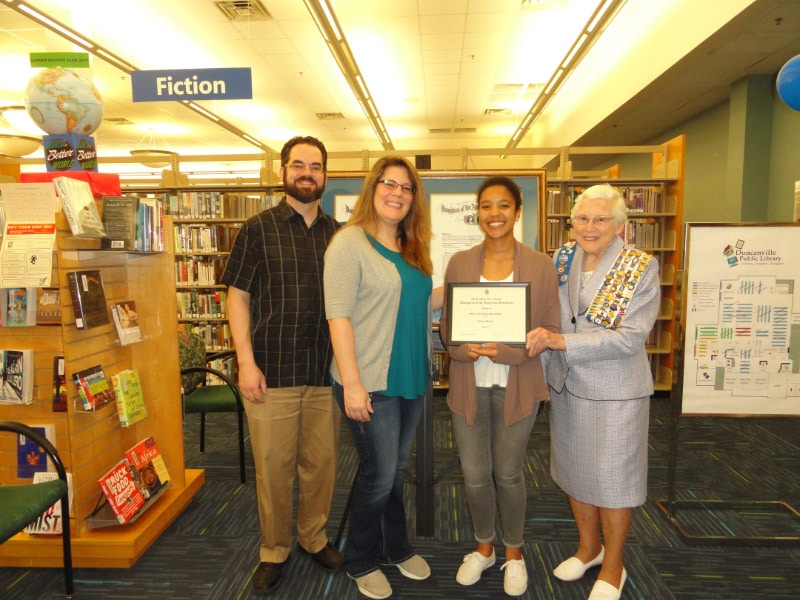 Old Chisholm Trail Scholarship Chair Lucille Bennett Ames, Regent Jo Ann Holt-Caussey, and Honorary Regent Bobby Cutler Hill presented the scholarship. Named the Mattie Ray Morris Fouts Excellence of History Scholarship in 1985, it was presented to an outstanding history student at Duncanville High School annually.
Organizing Regent of Old Chisholm Trail in 1977 was Twila Bell, with Fouts as first vice Regent. Fouts was the first elected Regent in 1979-1981. The $500 award to Jaelyn Banks closed out the Mattie Ray Fouts scholarship fund. However, OCT continues to present a memorial scholarship each year to a deserving descendant of a chapter member.
Jaelyn was recommended by Duncanville High School U. S. History teacher Christopher Paul Dugdale, M.Ed, M.A. She took his Dual Credit United States History course.
Dugdale said, "I have had the privilege to see (Jaelyn) grow personally and intellectually during this period. She was a leader in the classroom helping students gain understanding on tasks as well as giving interesting information on the topics being discussed. She was active in the National Honors Society as a Parliamentary member, the Spanish Honors Society, and the President of the Interact Club for two years. Jaelyn also served in the Duncanville Band for four years and one year as a squad leader."
Amy Melissa Kile, Duncanville High School secretary, also recommended Jaelyn for the scholarship. Kile said, "I sincerely cannot think of anyone more deserving and I wholeheartedly support her application."
Old Chisholm Trail National Society Daughters of the American Revolution
Old Chisholm Trail NSDAR members perpetuate the memory of the men and women who achieved independence for America by emphasizing patriotism and respect for the flag of the United States of America. They also encourage responsible citizenship, and document family history through lineage research. Revolutionary ancestors of chapter members are honored at an annual luncheon.
Chapter activities include meeting the first Saturday of the month August-May at the International Museum of Cultures in Duncanville. They participate in Constitution Week activities, DAR Good Citizen Awards, flag presentations, Junior American Citizen contests, ROTC awards, Patriotism medals, and Veterans Memorial events. Chapter members decorate Millermore Mansion at Dallas Heritage Village at Old City Park as an annual Christmas project. They also participate in the Duncanville Lions Club's Independence Day Parade each July 4th.