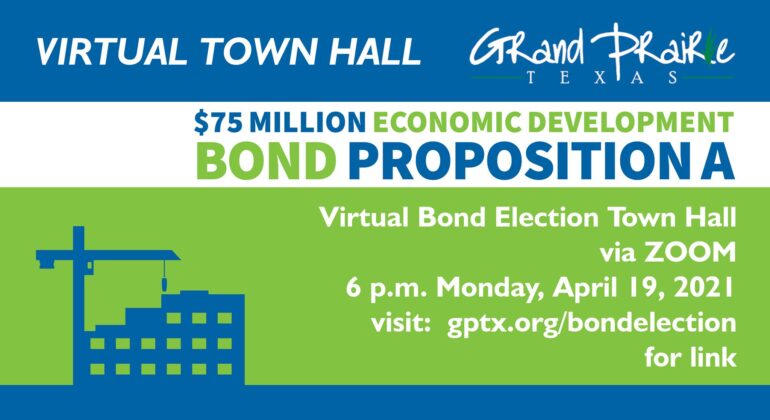 Grand Prairie Residents Top Vote On $75 Million Economic Development Bond
GRAND PRAIRIE – When voters head to the polls May 1 residents of Grand Prairie will see a Proposition on the ballot for a $75 Million Economic Development Bond.
"If approved by the voters, these economic development bonds would be used for a couple of projects you've heard me talk about in the past." Mayor Ron Jensen said. "One is a conference hotel and restaurant sites in Epic Central. This would be around 275 hotel rooms with a large conference center and breakout rooms, as well as an in-hotel restaurant. Then, restaurants along the Epic Central boardwalk."
Jensen added, the City would also use the bond money to buy land or buildings in downtown in order to partner with developers for restaurant, retail or housing in downtown.
"Our City Council will look at each project individually and decide if it is the right fit for the City, with a preference for projects that have a revenue stream back to the City, like rent payments," Jensen added.
Will property taxes be increased?
Of course voters will be wondering if this bond will increase property tax rates.
The Grand Prairie city website explains, "The bond issue is not expected to affect the property tax rate, based on the current economy and forecasts. If your property valuation increases, you will see a corresponding increase in taxes due, even though the rate stays the same. However, should the economy decline, bond debt would still be due; therefore, the city would look at cutting services, reducing its existing capital project program or considering a property tax rate increase to cover debt payments. If the bond election fails, bond projects would not happen unless other ways to finance them could be found."
It was also noted the City has not increased property tax in 29 years. The last increase was in 1992. The property tax rate was reduced in 1997 and 2000 that even with the increase in valuations in additional property tax owed over the years.
As for the bonds, those are repaid through a portion of the city's property tax revenues. Bonds are generally issued based on a 20-year amortization schedule and are only issued as expenses are incurred to fund approved bond projects.
The Economic Development Department has continued to attract businesses
Over the years the city's Economic Development Department has attracted businesses to Grand Prairie and they also retain and expand businesses already located in the city. Grand Prairie does not have dedicated funding for economic development; however, voters have approved a 1 cent sales tax for parks, streets and community policing.
"Other venues developing independently in Epic Central are Chicken N Pickle, which is already under construction," said Grand Prairie City Manager Tom Hart adding to the list Mayor Jensen explained regarding where the money from the bond election would be spent if the proposition passes.
"This restaurant and indoor/outdoor pickle ball entertainment center plans to be open early 2022," Hart continued. "Bolder Adventure should break ground summer 2021 building its air-dome facility offering rock climbing, zip lines, via ferrata, ropes courses, tubing slides, synthetic ice skating, adventure nets and more. And, the city just issued a request for proposal to add a creative placemaking attraction in Epic Central, which would be a recurring event, like a water, light, video projection or aerial show."
Early voting begins April 19 to April 27. Election Day is May 1, 2021.
For more information attend Monday night's Virtual Zoom Town Hall Meeting to learn more about Proposition A. The issuance of $75 million general obligation bonds for promoting economic development within the city and the imposition of a tax sufficient to pay the principal of and interest on the bonds. And on Thursday, April 22, there's an in person Town Hall Meeting at 3113 S Carrier Pkwy, Grand Prairie, TX 75052-6050, United States
;Thursday, April 22, 2021 at 6 PM CDT – 7:30 PM CDT