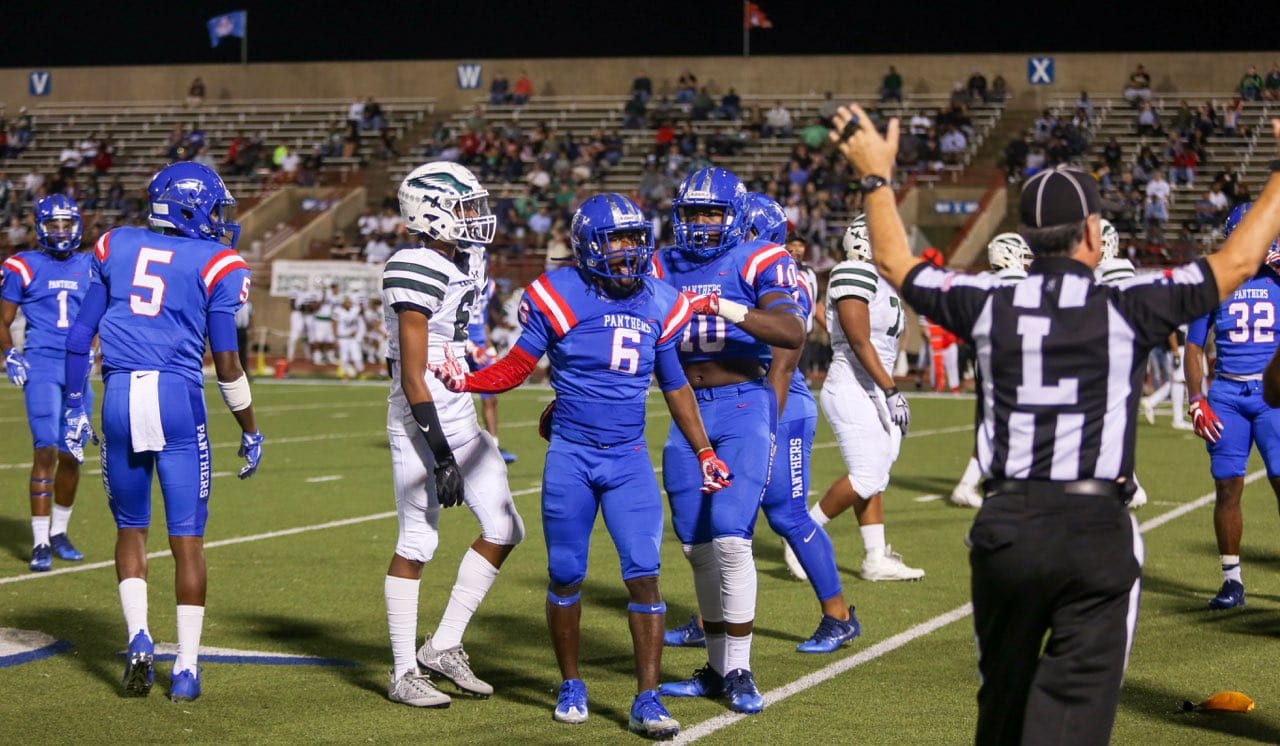 Duncanville Wins Another At Panther Stadium
If there was a way to score, Duncanville found it Friday night against Killeen at home in Panther Stadium. In the 24 minutes of the first half, Duncanville scored 42 points. That is an average of a point every 1.75 minutes.
On the opening drive Killeen possessed the ball for five plays. On the sixth they punted. Panther Karlen Howard returned the punt 69 yards for a touchdown. Just over two minutes was off the clock and Duncanville led 7-0.
Killeen had the ball for three plays before having to punt. Duncanville started at its own 15 yard line. Eight plays later Keilon Elder scored on an 8 yard dash off tackle. Josh Delgado made the PAT as he had the previous attempt. In fact, Delgado never missed a PAT the entire game. 4:41 remained in the first quarter; 14-0 Duncanville.
Killeen possessed the ball for four downs, punting on the fourth. They had lost yardage on the three previous downs. Duncanville took over on their 33. Six plays later, Ja'Quinden Jackson strolled in for an 8-yard TD. PAT was good. Duncanville led 21-0 at the end of the quarter.
Duncanville scored its fourth TD on a 7-yard run by Jackson with 7:16 remaining in the half. 28-0 Duncanville.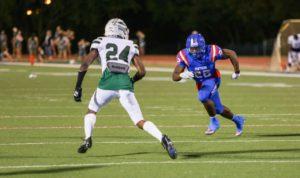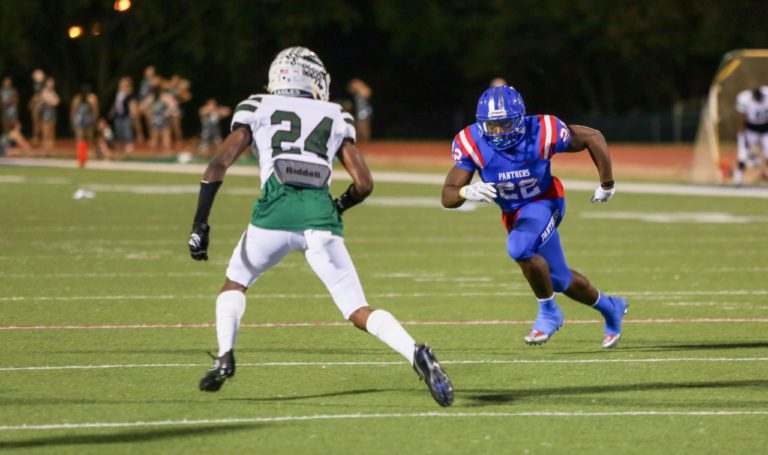 Duncanville would dominate the entire game both offensively and defensively. The interior linemen closed all the gaps, while the defensive backs charged the ball carrier. The defensive ends turned everything inside, as the deep back cover for both the short and long pass. Killeen's quarterback never had time to set for a pass because he was too busy running for his life. Time and time again running backs were tackled back of the line of scrimmage.
Killeen had only 4 first downs, Duncanville had 25. They threw 23 times completing 6 but had 4 interceptions for a total of 44-yards. Duncanville had 585 total offensive yards. Two long runs by Elder and Trazon Connley set Duncanville up for their fifth score. With just over four minutes left in the half Elder plunged into the end zone for a score following the blocking of Jordan Phillips and Ray Maldonado. PAT was good. Duncanville led 35-0.
By now Duncanville Coach Reginald Samples was substituting liberally offensively. With Killeen's running game at a standstill, Eagle quarterback Jung Colton tried a quick pass over the middle, which was intercepted by defensive back Tyowan Carruthers for a 9-yard return for a TD. PAT was good. Duncanville finished the half leading 42-0. Kicker Josh Delgado started the third period scoring with a 21-yard field goal, and would end the game with a 35-yard field goal.
In between the field goals was a 63-yard run for a score by Trazon Connley, which closed out the third period with Duncanville leading 52-0.
During the fourth period sophomore running back Trysten Smith had a 25-yard romp. The Delgado field goal and the Smith score added 10 more points. Duncanville won 62-0.
In all my years of covering high school football games, I never witnessed such an awesome defense as the Duncanville Panthers. Their defense swarms and if you are anywhere near the ball you are hit and hit hard.
Ja'Quinden Jackson had 14 carries for 132 yards. He did not play the second half. Trazon Connley had 6 carries for 103 yards and Keilon Elder had 12 carries for 100 yards.
Before the game Coach Samples was asked what his goals were, responding, "I want to just improve every game." He would not speculate on the outcome for this game. But he did smile and say, "We will be ready next week."
Duncanville plays Euless Trinity at noon Saturday in the 6A Division 1 Area-round at Texas Stadium. Be there!