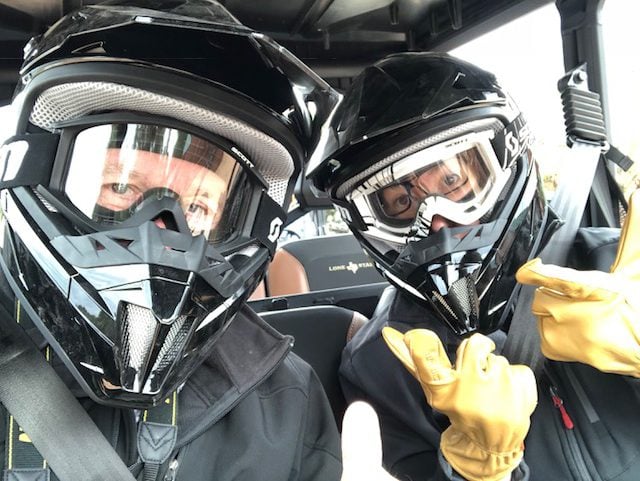 Rugged Adventures In the Can-Am Defender Lone Star Edition
I have spent a great deal of time riding off-road in pick-up trucks and SUVs, but very little in any type of ATV. Thanks to our friends at Can-Am, that all changed when I was invited with my best friend to the Ox Ranch in Uvalde, Texas. Kristin Barclay and I spent an entire day cruising in the Can-AM Defender through some of the most rugged terrain in the state. Throughout the ranch we were treated to interactions with some of the most fantastic wildlife we ever could have imagined.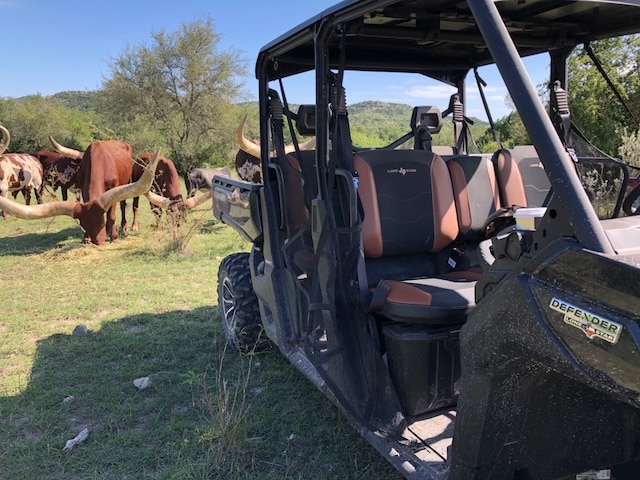 Kristin got to dance with a kangaroo, take a selfie with a giraffe, romance a herd of real long-horned Watusi, as well as drive through streams, up craggy bluffs, down steep canyons and break into fields straightaway at over 65 miles per hour, even though there was no pavement or level land in sight.
A Stable Ride, Ready For Any Terrain
How and why were we both able to drive with such total abandon? We mounted a Can-Am Defender Max Lone Star HD10 with completely unmatched versatility and (obviously) stability much greater than either of us would have been capable of under the power of our legs alone.
We were able to scale the steep inclines and race up to 65 mph off-road because the Lone Star Defender is equipped with a heavy-duty 72 hp HD10 V-Twin Rotax engine boasting 61 lb.-ft. or torque making it perfect for the exercises we enjoyed putting it through.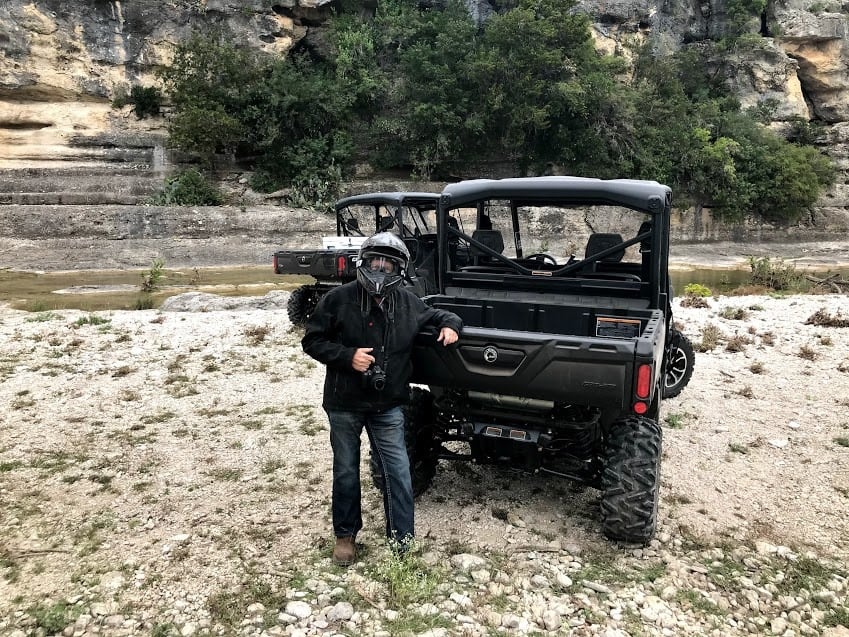 The transmission offered us both high and extra-low speed gear choices as well as reverse. The ground clearance was sufficient to allow us to drive through normal depth streams without taking a bath or causing any engine shutdowns. The acceleration was smooth and the torque provided was excellent for "get-up-and-go" capabilities. Making it fun and easy to "gun it" on the straightaways.
Incredible Comfort In An UTV
One factor that both Kristin and I really enjoyed was the comfort of the special Lone Star seats. As we "bounced" through the rugged foothills and over rocks and through valleys we never experienced back fatigue (it was something we both worried about before the ride). At the end of the day, we slept like babies with no pain or soreness.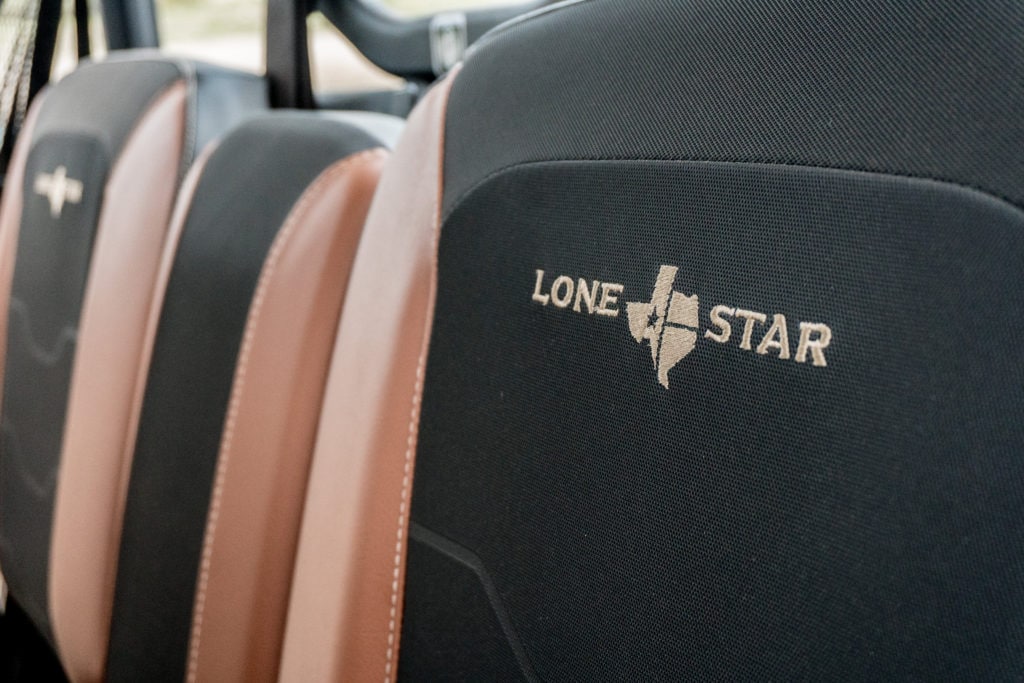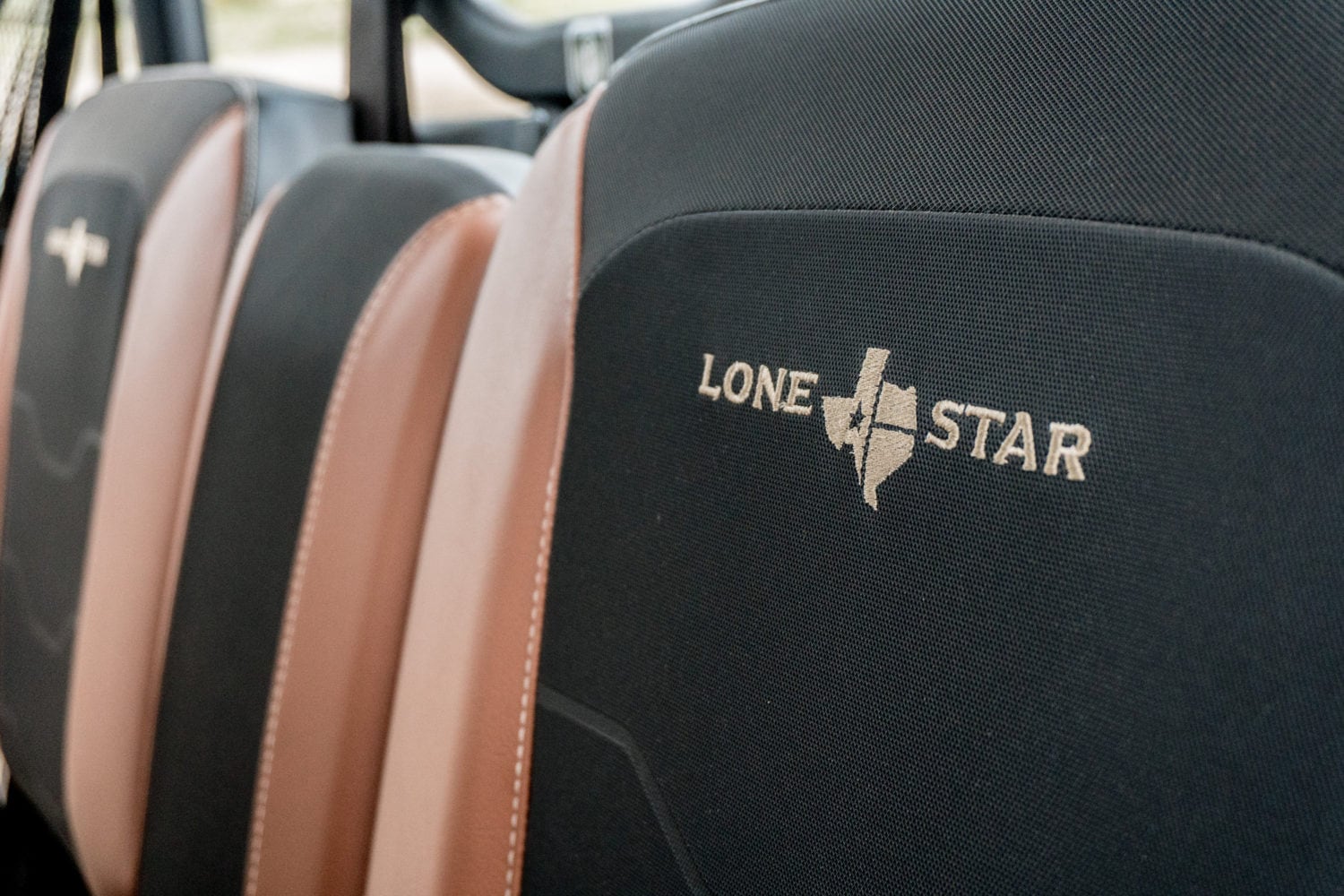 Buyers of the Can-Am Defender MAX Lone Star edition will be pleased their new machine requires no break-in period. Plus, maintenance is not required until 1,865 miles or 200 hours.
I can firmly guarantee my response will be YES, if and when, Can-Am extends another invitation to drive any of their off-road vehicles. This adventure was fantastic in every sense of the word.
CAN-AM DEFENDER MAX LONE STAR HD10 SPECIALTY FEATURES
Unique Lone Star trim and badging
Reinforced, two-tone Dual VERSA-PRO bench seats with Lone Star trim and coloration
28-in. (71.1 cm) Maxxis Bighorn 2.0 tires on 14-in. (35.6 cm) aluminum wheels
Front and rear arched A-arms
Front bumper
Full hard roof
Painted Deep Metallic Black finish