Duncanville pounded Hebron 52-7 in Class 6A Division I area playoffs at Pennington Field Friday night.
Duncanville scored in every quarter, massing 505 yards rushing. The Panthers averaged over 11.5 yards per carry, going 8-17-2 for 108 yards in the air.
Hebron scored its only touchdown in the fleeting moments of the fourth quarter as Duncanville had substituted liberally.
The only blight on what was a perfect offensive evening was two pass interceptions by Hebron as Duncanville drove for additional points.
Duncanville (10-2) started the game by scoring on their first two possessions. Keilon Elder scored on a 1-yard plunge and Josh Delgado kicked a 39-yard field goal. Elder had a total 148 total offensive yards rushing for the game, while Delgado was a perfect 7 for 7 for PATs.
Duncanville led 10-0 at the conclusion of the first quarter.
Tre Siggers scored for Duncanville in the second quarter, while gaining 114 rushing yards for the game. A 47-yard pass interception by Treshone Devones added to the Duncanville lead, which was 24-0 by halftime.
Hebron only had 41 yards rushing for the first half.
The second half didn't improve much for Hebron. Having lost their starting quarterback Clayton Tune last week against Plano East, the Hebron offense never seemed to materialize.
In the third quarter Duncanville scored quickly on a Siggers 7-yard run followed by Elder's scamper of 27-yards for another. The quarter ended 38-0 Duncanville.
Jalan McLin took over the quarterback chores in the third period from Trezon Connley. McLin would have a productive quarter and a half, with 5 carry times for 111-yards.
Gyasi Smith scored the first touchdown about midway in the fourth quarter on a 47-yard gallop for Duncanville. McLin ran another TD for distance on a 55-yard pickup.
Final score Duncanville 52 Hebron 7.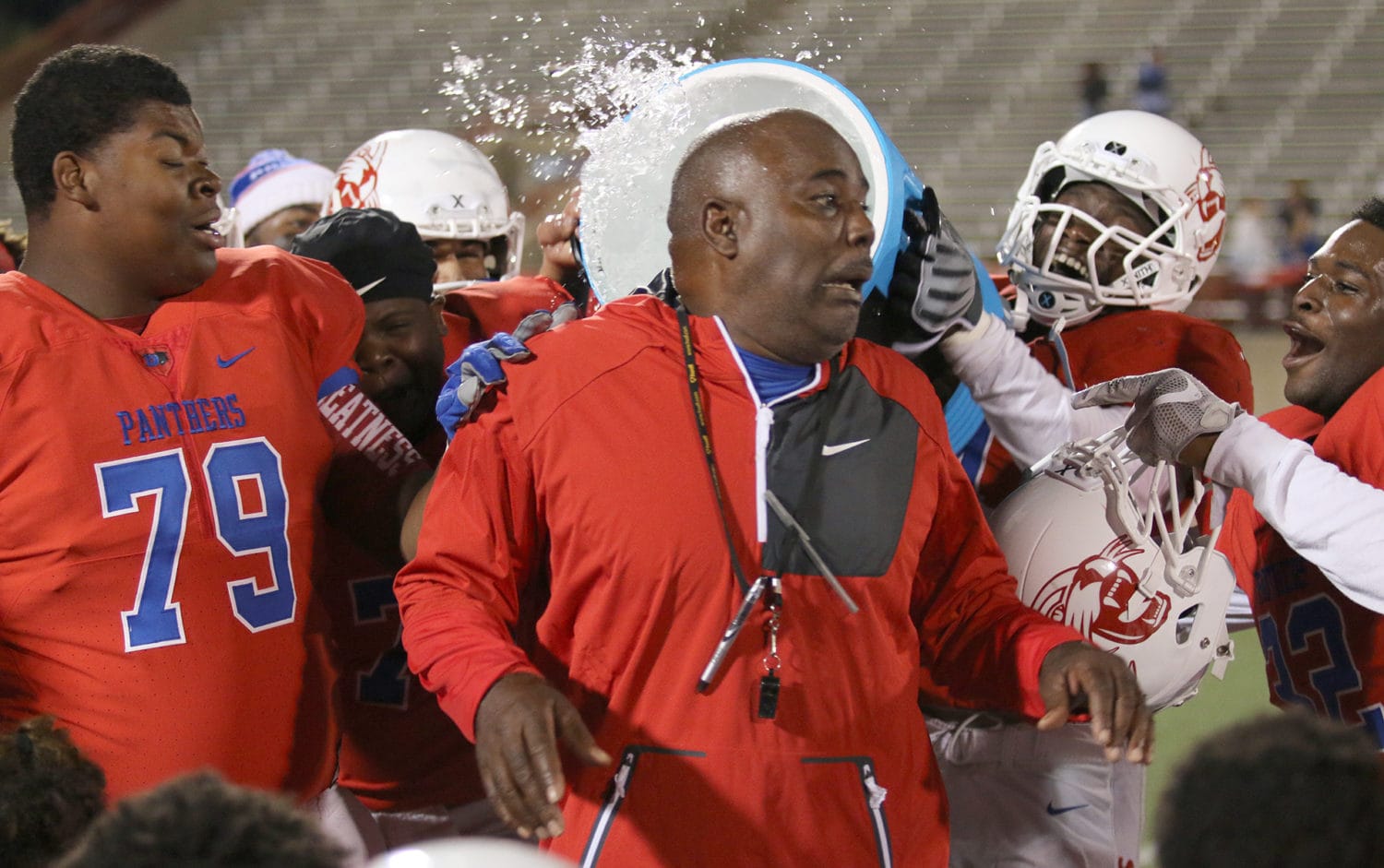 Duncanville Advances To Playoffs Round 4
Before the game Duncanville Head Coach Reginald Samples said, "Everyone, and I mean everyone is going to have to step up if we are going to win this game. We are going to need more than just a couple heroes to advance in the playoffs."
After the game, when asked about his playoff opponents next week, he said, "Arlington Bowie is a strong, well balanced team. Their quarterback is quick and has a strong arm, and their big backs are fast. Their defensive backs are smart and aggressive. We are going to have to play hard and do our best if we are to win. This is a well-coached team!"
Duncanville plays Arlington Bowie at Mansfield's Newson Stadium Saturday at 1:30 pm.