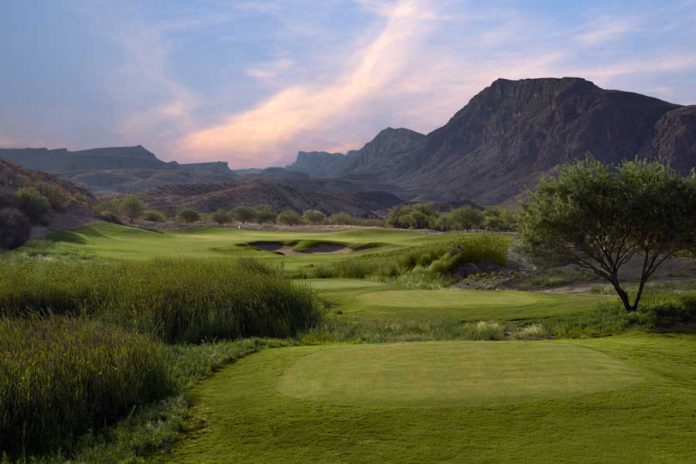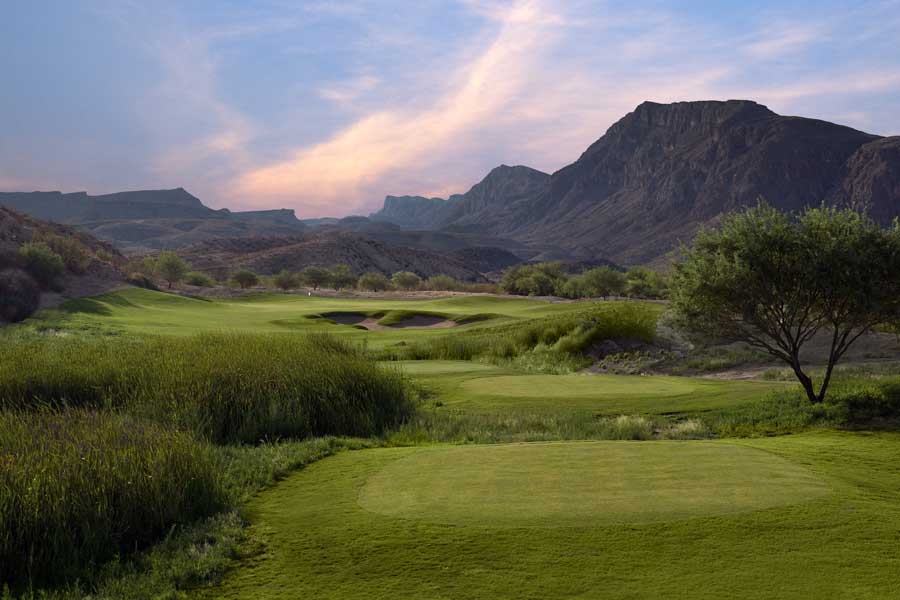 Terlingua Chili Cook-Off Brings Out All Kinds Of Characters & Chili
For years now I've heard tales about wild, "return to the old West" adventures enjoyed by friends (mostly men) attending Terlingua's annual chili cook-off. Held in the legendary Terlingua Ghost Town in remote southwest Texas, the annual event was reported to be an "anything goes" kind of happening. Colorful, even off-color characters–the more outrageous the better–were welcome.
There were also rumors about chili concoctions that used such exotic ingredients as armadillo or rattlesnake meat. As long as there were no beans in the resulting bowls of red, and lots of hot peppers, they were competitive.
I was finally able to attend the chili cook-off when my husband was invited to be a judge. The first thing I learned at the Terlingua Chili Cook Off is there are actually two competitions. CASI's Terlingua International Championship Chili Cook Off is held on the grounds of the Rancho CASI de los Chisos. Besides chili, contestants could enter salsa, buffalo hot wings or beans competitions.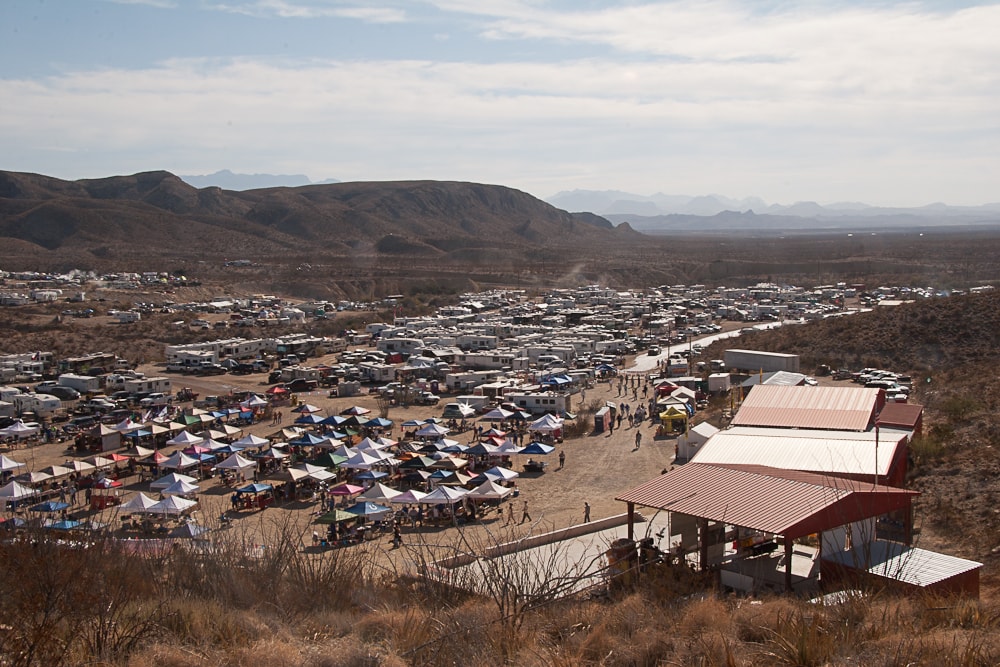 The other "Original Terlingua International Championship Chili Cook-Off"—the one started by Frank X. Tolbert and Wick Fowler—is held just down the road in the old Town of Terlingua. The two cook-offs were each celebrating a 50th anniversary in 2016.
Participants in both cook-offs bristle at any mention of the "other" event, with each claiming to be the "real" one. People flocked to both events from all walks of life. Some came in their deluxe RVs, while others camped out in tents. For one $40 gate fee they could stay for just a day, or all week.
Mingling With the Chili Heads
While my husband was judging the CASI (Chili Appreciation Society of America) Cook Off, I was free to roam. My goal was to meet as many of the eccentric but friendly chili heads as possible.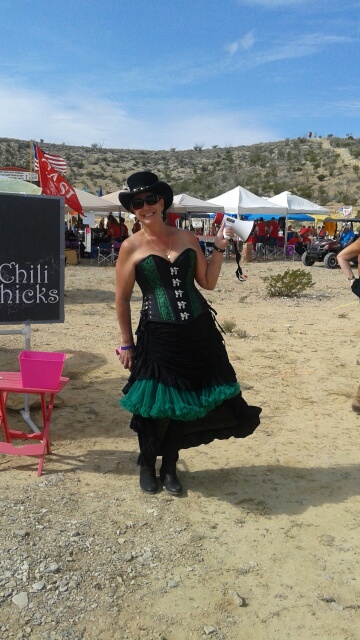 A diverse array of contestants, their team members, family and friends, came from all over. So did others who just wanted to hang out, drink adult beverages, and hear the music. Country music headliners like Casey Pilgreen, Larry Joe Taylor, and Prophets and Outlaws were featured on the main stage. Blue Kountry Band performed Thursday-Saturday nights at the after-party at Krazy Flats.
The most festive part of the CASI chili competition came shortly before the judging on Saturday. The showmanship competition provided a lively carnival atmosphere where different groups performed skits or songs, read fortunes, or played games for prizes.
The lively crowds turn this remote area of southwest Texas into a three-ring circus every fall. Some of the most photogenic participants this year were the Dixie Chili Chicks, the Pink Pig lady, the Gator guy and the Swamp Critters. I can't vouch for their chili but they were my favorites for showmanship awards.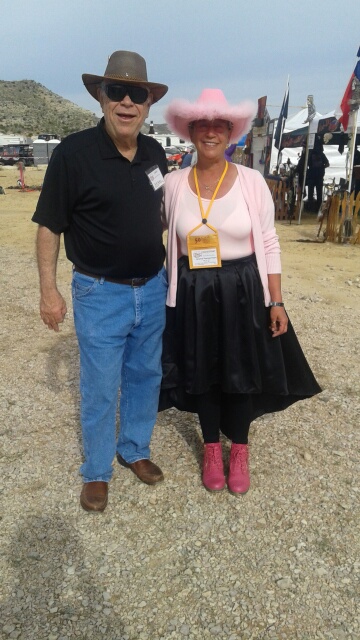 After my husband helped judge the semi-finals, he said it was difficult to pick finalists. By the time they reached him, they were all tasty. He also scoffed at rumors about strange ingredients, saying that was probably a story perpetuated by the losers.
More Brewster County and Big Bend Activities
While the Terlingua Chili Cook-off is a great reason to head southwest, it's certainly not the only one. We want to go back when we have more time to experience the Big Bend State Park, Big Bend National Park, and other Brewster County attractions.
Terlingua is about 30 miles from Big Bend National Park, with the Rio Grande River serving as a boundary between Texas and Mexico. It's not easy to get there from here in North Texas. Or from most anyplace else, unless you're wealthy or influential enough to have a private airplane.
Thanks to the owners of the deluxe Lajitas Golf Resort, there is an airport at nearby Lajitas. We spent three days at that resort, which features spacious Western-themed rooms, great food, and a famous golf course overlooking the Rio Grande. They also have an Equestrian center and other activities that celebrate Cowboy culture.
The Mayor of Lajitas is a goat named Clay Henry. On our way out of town, we tried to bribe him with some peanut butter crackers. Hopefully that will enable us to return again.
An Amtrak train stops in Alpine, about 100 miles to the north. The Lajitas Golf Resort also has charter planes and buses that bring people to their resort from various Texas cities. Or you can drive, like we did, about 10 ½ hours (almost non-stop) from Dallas in a 2017 Ford F-150 limited. The closest commercial airports are in El Paso or San Antonio, where you can pick up a rental to drive either 4 ½ hours or 6 ½ hours to Terlingua.
Rio Grande River Winds Along Scenic River Road Drive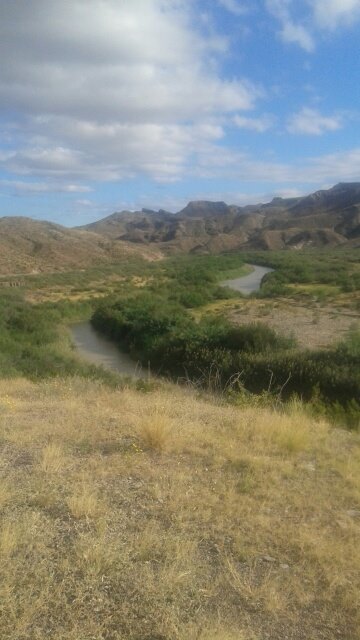 We also saw a lot of motorcycles parked at the plush Lajitas Golf Resort. One of the bikers told us the winding river road that follows the Rio Grande along 170 from Lajitas to Presidio is one of the most scenic rides in the country.
After following the river road about 20 miles, we had to turn back for an appointment. We agreed the bikers had found the best way to enjoy the rugged beauty of this remote area. We also decided that our next visit needs to be longer; three days was just long enough to whet our appetites for more.
With such activities as hiking, riding horses or bikes (motorized or 10-speed), bird-watching, or just enjoying the view and the solitude, Brewster County has so much more to offer than a festival. A week would be better, and far more restful for the driver.