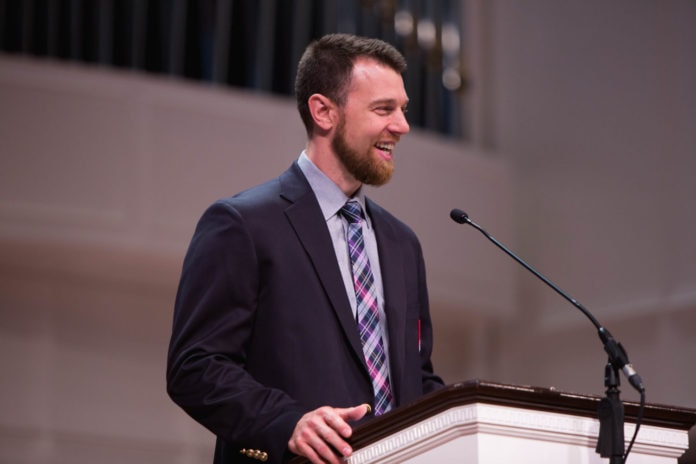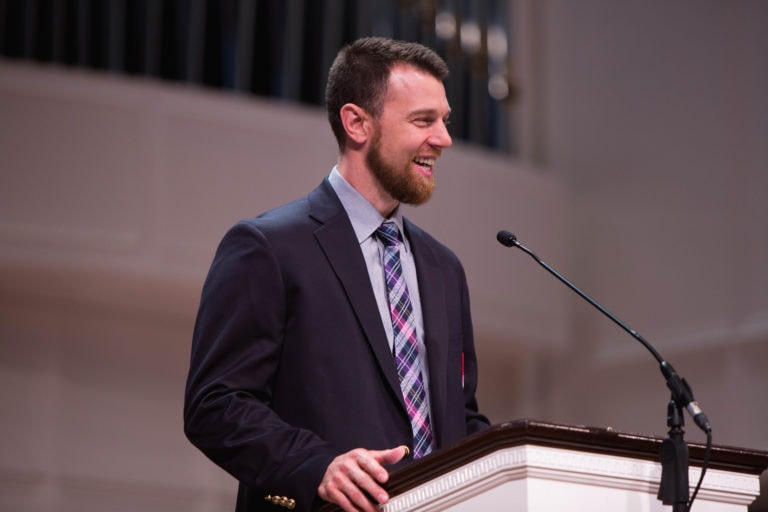 DBU Alumnus Ben Zobrist Shared World Series Memories At DBU Patriot Baseball Banquet
DALLAS—With more than 1,000 gathered, DBU alumnus Ben Zobrist recalled his historic moment during the 2016 World Series. MVP Zobrist, who served as a veteran influence for the Chicago Cubs, had an outstanding impact on the series, culminating in a go-ahead RBI double that sealed the Cubs victory in extra innings in Game 7.
Zobrist's reflections came as a part of the 25th annual DBU Patriot Baseball Banquet. Held the week before the beginning of the season, the banquet is a chance for the program to introduce the team, honor the achievements of the previous year's team, and recognize an outstanding baseball supporter. In addition, former Patriot players have the opportunity to be inducted into the DBU Sports Circle of Honor.
During the dinner held prior to the special service with Ben Zobrist, more than 400 individuals gathered in the Hillcrest Great Hall to pay honor to Jarel Meadows, a long-time Patriot baseball supporter who recently passed away, and his wife, Maria, with the 2017 Patriot Legends Award. Maria was present to accept the honor and appreciation from the University.
Following the dinner, the banquet attendees went to Pilgrim Chapel to join some 600 who had gathered to hear from the World Series MVP in a special program that was emceed by WFAA's Chief Meteorologist, Pete Delkus, who also serves on the DBU Board of Trustees.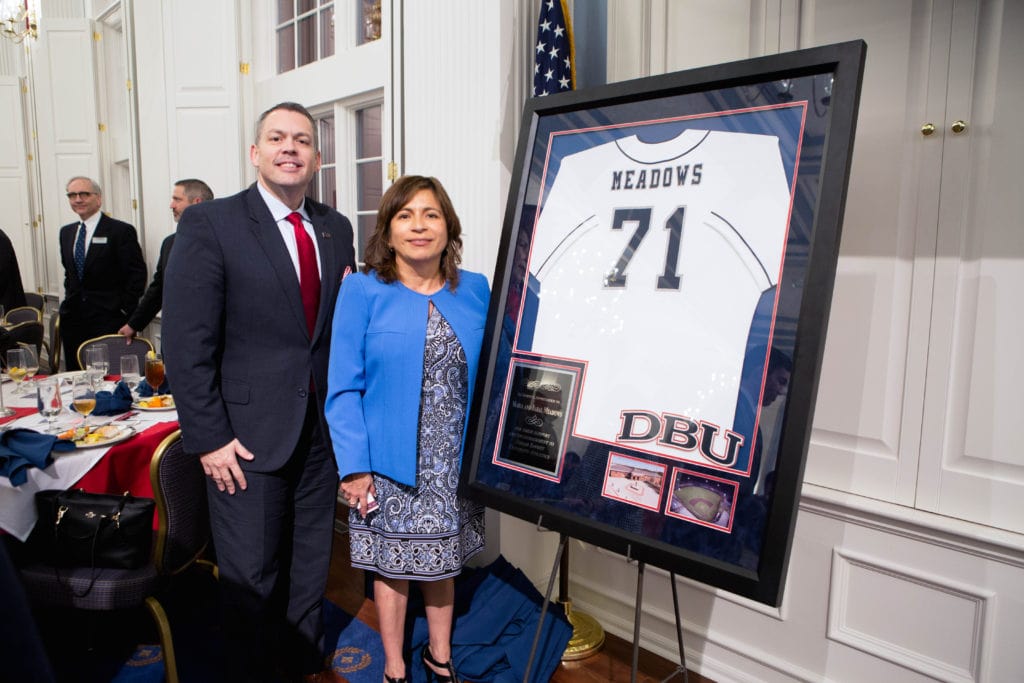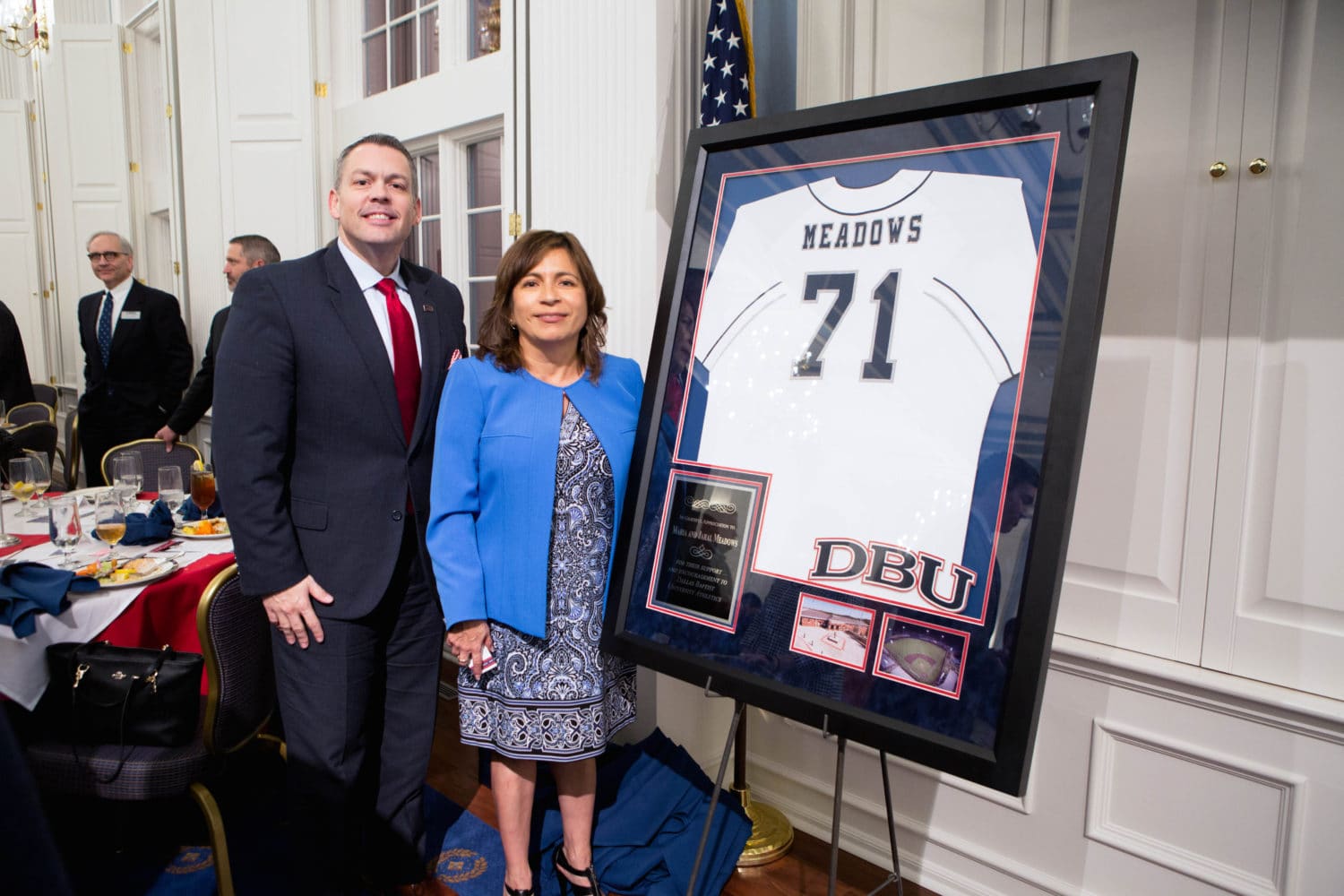 Honoring A DBU Baseball Legend
Opening the evening, Dr. Adam C. Wright, DBU President, welcomed the crowd and shared about Ben's career and influence. "What is even more important than his incredible athletic performance," said Dr. Wright, "is how Ben gives God all the glory and fame. I am so thankful for the platform he has been given."
The program continued with words from Connor Smith, Director of Athletics, and Jonathan Teat, Vice President for Administrative Affairs, followed by Patriot Baseball Head Coach Dan Heefner. Heefner first shared about some of the highlights from the 2016 season and what the team is looking forward to for the 2017 season.
"Our program is focused on development," Heefner explained. "We are concerned with growing our players academically, athletically, and spiritually, and these three things are deeply connected. We seek to be champions for Christ in all we do because Christ is the one true champion."
Heefner concluded with his own words of introduction for Zobrist, both as the World Series MVP and on a more personal note, as Heefner's brother-in-law.
"I am so proud of him," stated Heefner, "not only for his many accomplishments on the field, but for the way he stays true to his faith and strives to glorify God in all he does. His character is consistent whether it is on national television or in his living room, as a husband and a father."
Jonathan Teat and Connor Smith then returned to the stage to present Zobrist with a special sports coat recognizing him as a member of the DBU Sports Circle of Honor.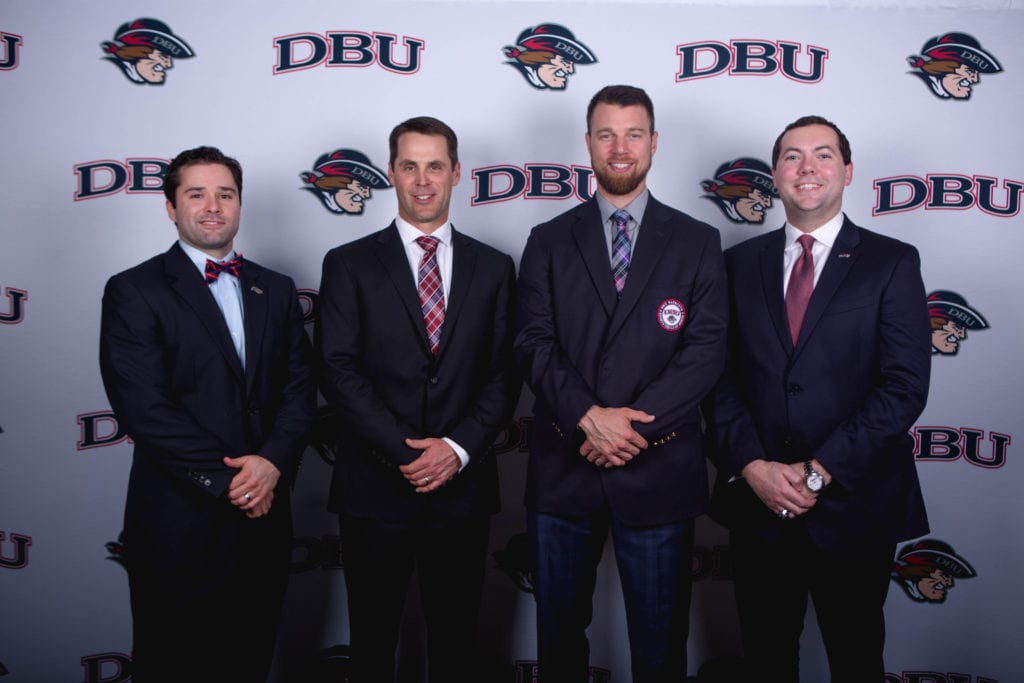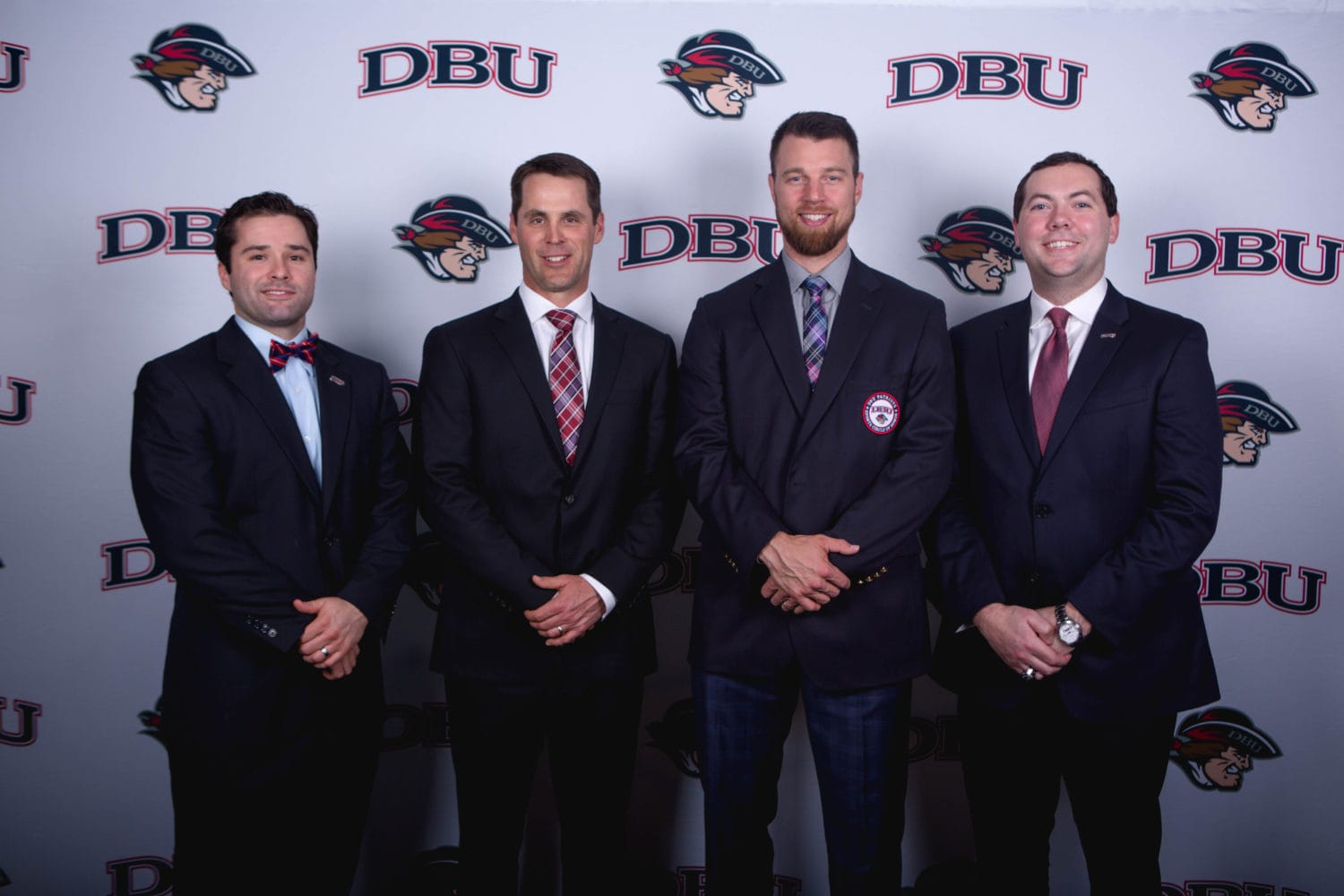 Zobrist Career Highlights
After some words of appreciation, Pete Delkus joined Zobrist on stage for an interview about life on and off the field, and especially about the role that he had played in not one, but two World Series victories.
Drafted in 2004 to the Houston Astros, Zobrist came up with the Tampa Bay Rays as a shortstop and second baseman before transitioning to a role as a super utility player, taking on any spot the manager needed him to play. In 2008, the Rays made it to the World Series, and the following year, Zobrist was named to his first of three All-Star Teams.
After being traded to the Oakland A's in 2015, Zobrist headed to the Kansas City Royals later in the year and helped to solidify their postseason run and break a 30-year championship drought by winning the World Series that fall.
This past off-season, Zobrist became a free-agent and decided to play for his hometown state's Chicago Cubs and see if he could be a part of the breaking of a second streak.
"I could never have put together the incredible story that God has put together for my life," he shared, "but I know that this glory will soon fade. His glory is forever, so I want to give each of these moments over to Him."
Zobrist closed with a word of advice for all those in attendance, but shared specifically with the 2017 Patriot Baseball team.
"Be better than you were yesterday, in your academics, in your skills, and in your walk with the Lord," Zobrist shared, in reference to a Patriot Baseball team motto of getting 1% better each day. "Strive for 1% daily, and trust the Lord with the rest."