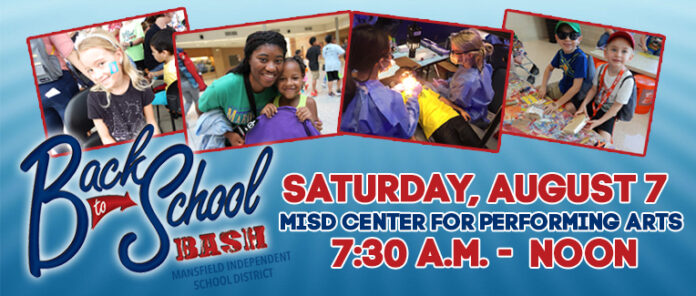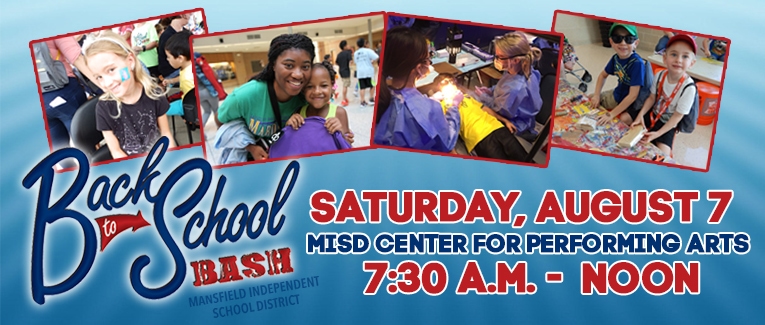 Back To School Events Kick Off 2021-2022 School Year
A common phrase this time of year is "Where did the summer go?"
True, the summer will soon be behind us and classrooms will once again be full as the start of school is right around the corner. For several area school districts, that means it's time for their annual back-to-school celebration event.
After the COVID-19 pandemic put a damper on how these events were held a year ago, they are returning mostly in full force this year. Of course, it is still highly advisable that anyone attending – especially those not yet vaccinated – be safe.
Here are highlights from events some area districts will be holding in the coming days:
MANSFIELD ISD Back To School Bash August 7
The Mansfield ISD will be kicking off the school year with its annual event that is fun for the entire family.
The district's Back-to-School Bash will be held on Saturday, Aug. 7 from 7:30 a.m. to noon at the MISD Center for the Performing Arts, 1110 W. Debbie Lane.
In addition to a wide variety of activities and games, there will be school supplies, student health services, shoes and more — provided completely free of charge to Mansfield ISD students.
Supplies and services will be given to MISD families on a first come, first serve basis. No registration is required, but families will be required to check in. Parents/students should be ready to provide the student's ID number on the day of the event for verification.
For more information about the event, including how to become a vendor or sponsor, visit the Back-to-School Bash webpage.
The event, meant to bring the community together for a day of family fun, will officially kick off the start of the 2021-22 school year. Highlights include:
1) Stuff the bus campaign – Through various sponsorships and donations, the district is able to provide backpacks filled with school supplies. The fundraiser raises the money necessary to buy the school supplies that will be distributed at the bash.
If you are interested in helping the district reach its goal of giving away more than 4,000 backpacks, consider making an online donation or becoming an event sponsor.
MAKE AN ONLINE DONATION
BECOME A SPONSOR
VOLUNTEER
2) Free services – At the bash, school supplies, shoes and health services will be provided free of charge to MISD students. Backpacks and shoes will be given to Mansfield ISD families on a first come, first serve basis. Backpacks will be distributed at the Ben Barber Innovation Academy (across the parking lot from the MISD Center for the Performing Arts).
Services include sports physicals, immunizations, eye exams and other health resources. Please bring your child's shot records to take part in the free immunizations.
No registration is required, but families will be required to check in for the school supplies and health services provided. Parents/students should be ready to provide the student's ID number on the day of the event for verification.
3) Vendor booths – Community groups and businesses that wish to provide relevant services, products and information to attendees have the opportunity to occupy a booth at the bash. Booth space is limited and will be filled on a first come, first serve basis. Reserve your space here.
If you have questions about an existing booth request, please contact Elizabeth Carmody at 817- 299-6369 or ElizabethCarmody@misdmail.org.
4) Campus activities – Each campus will be in attendance with fun activities like bounce houses, obstacle courses and more to interact with our MISD families. In addition, a variety of student performances will be held in the Performing Arts Center. This will be an opportunity for parents/guardians and students to meet with the campuses they will attend and see some of the many programs Mansfield ISD has to offer.
"We're so excited to be able to host the MISD Back-to-School Bash that our community has grown to know and love. It's all about providing a fun atmosphere for our families to kick off the new school year in a celebratory manner," said Donald Williams, Associate Superintendent of Communications and Marketing for the MISD. "One of our values here at Mansfield ISD is 'students first,' and that's the heart of all the staff, community members and volunteers who come together to make this day special with our free games, school supplies, health services and more. It's truly a community effort."
CEDAR HILL Back to School Rally August 7


Cedar Hill Independent School District will host its annual Back to School Rally on Saturday, Aug. 7. The event will take place from 10 a.m. to 1 p.m. at Valley Ridge Park, 2850 Park Ridge Drive in Cedar Hill.
This is the first time the event will be held at an off-campus site.
CHISD Family and Community Engagement Director Alicia Davis, who is coordinating the event, said she's grateful for the district's partnership with the City of Cedar Hill, for the use of the large park.
This year's event will also be the first time there will not be registration for backpacks. It will be first come, first serve, so attendees are encouraged to arrive early.
The Back to School Rally will feature free food and water, entertainment, bounce houses, games,  free vision exams and a chance to register for CHISD, on site.
Misting stations and restrooms will be available, and attendees are encouraged to wear hats/visors and apply sunscreen.
There will be a "Rally Hour" featuring various entertainers.
The United Way has covered the cost of the vendor booths, so none of the vendors has to pay for a booth this year.
For more information about volunteering, being a vendor and more, visit https://www.chisd.net/domain/907.
RED OAK ISD Back to School & Health Fair August 7
Red Oak ISD is sponsoring a Back to School and Health Fair for ROISD students on Saturday, Aug. 7 from 8 a.m. to noon at Red Oak High School.
The event will include haircuts, school immunizations, along with dental and vision checks.
Red Oak ISD transportation department, student nutrition department, and After the Bell representatives will be available on-site.
There will be limited quantities of school supplies and backpacks available.
Shot clinic – All immunizations must be current in order for students to register and pick up school schedules. Passport Health/Staying Healthy Medical Services will be conducting the children's vaccination clinic. The company will charge $10 per shot with no insurance ($40 maximum per child.) If you have insurance that Passport Health accepts, then they will file with the insurance company and there will be no money out of pocket.
Students must be registered for school to receive services. Online registration for returning students and new students enrollment are now available. Onsite registration will be available for returning and new students during the event — must bring proof of residency.
DESOTO Back to School Fair August 14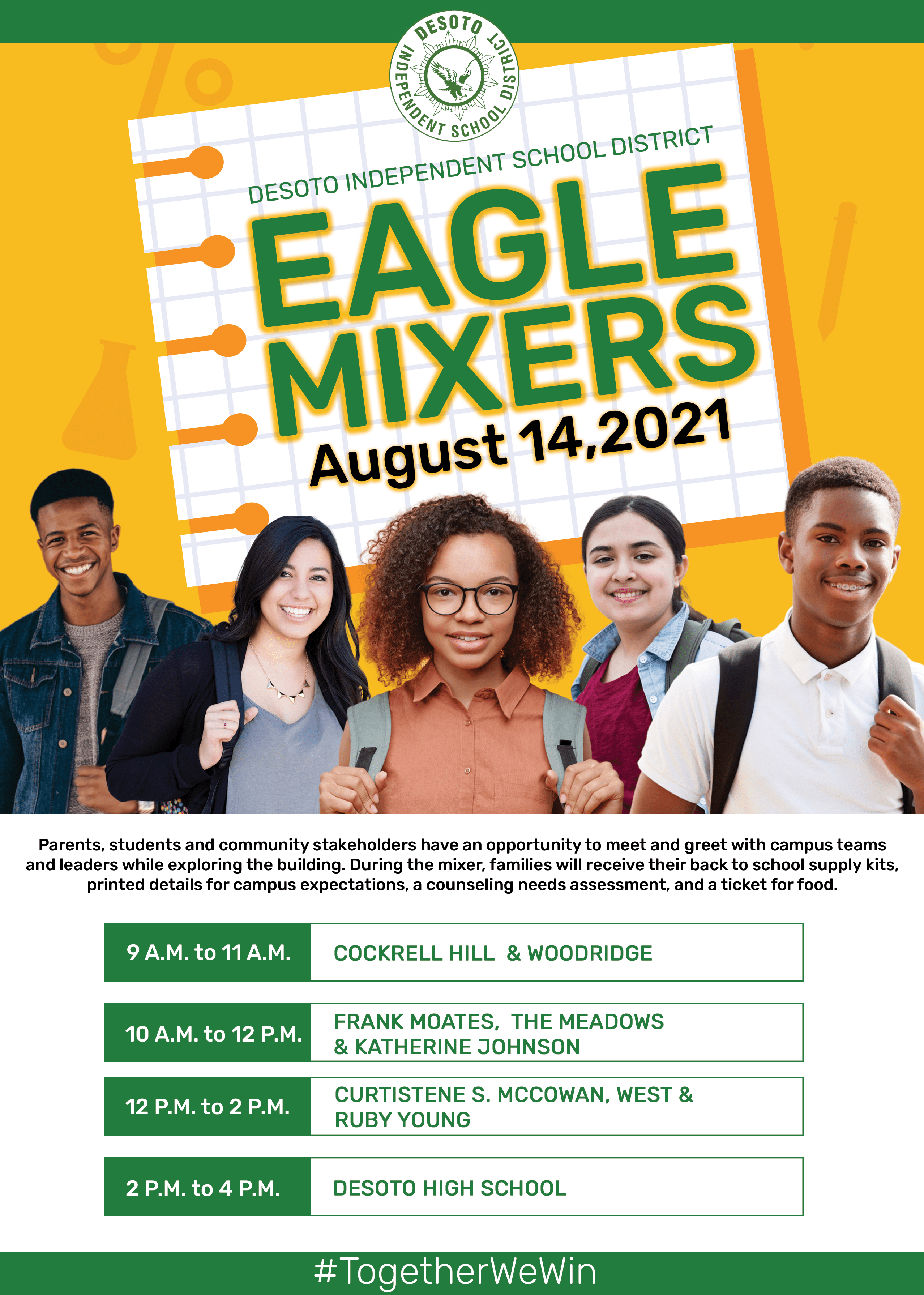 Each year, the DeSoto Independent School District hosts the annual Back-to-School Fair – an opportunity for families to obtain school supplies, meet district staff and learn about district campuses and offerings.
Understanding the impact of COVID-19 on schools and communities, DeSoto ISD is remixing the former Back-to-School Fair to localize events at district campuses, creating greater opportunity for deeper reconnection at the campus level, given the last year of virtual learning and events as a result of the recent global health pandemic.
"We've spent the last year on Zoom and Teams trying to facilitate learning and partnership with our students and families," said DeSoto ISD Director of Guidance and SEL Kareeme Hawkins. "We are so excited to be in a position to welcome our families back to DeSoto ISD schools and have planned some amazing opportunities to welcome them back into our Eagle Family and start this year off right."
With that sentiment in mind, DeSoto ISD is inviting parents, students, and community stakeholders to meet campus leaders and teachers while exploring the building.
During the mixer, families will receive back-to-school supply kits, printed details for campus expectations, and the opportunity to complete a counseling needs assessment in exchange for a free food ticket at the event.
On Saturday, Aug. 14, 2021, the district will host Eagle Mixer events at every campus according to the following schedule:
9 – 11 a.m.: Cockrell Hill Elementary, Woodridge Elementary.
10 – 12 p.m.: Frank Moates, The Meadows, Katherine Johnson TMA.
12 – 2 p.m.: Curtistene S. McCowan Middle School, West Middle School, Ruby Young Personalized STEM Academy.
2 – 4 p.m.: DeSoto High School.
"These events are a welcome back occasion to foster relationships, promote excitement about the new school year, and create positive first impressions between our leaders, teachers, students, and families," Hawkins said.
At the event, the district also plans to offer access for enrollment, free haircuts, and more.
For more information, visit www.DeSotoISD.org or contact Student Support Services at 972.223.6666 ext 8214.
LANCASTER ISD-Block Party

The Lancaster School District is hosting a Block Party/Tailgating event on Friday, Aug. 13 from 4-6:30 p.m. at Beverly D. Humphrey Tiger Stadium.
The event will include a vaccination clinic, free food, music, vendors, activities and more.
For more information, contact Sonja Brown at 972-218-1463.
MIDLOTHIAN-August 14 Mayor's Back to School Bash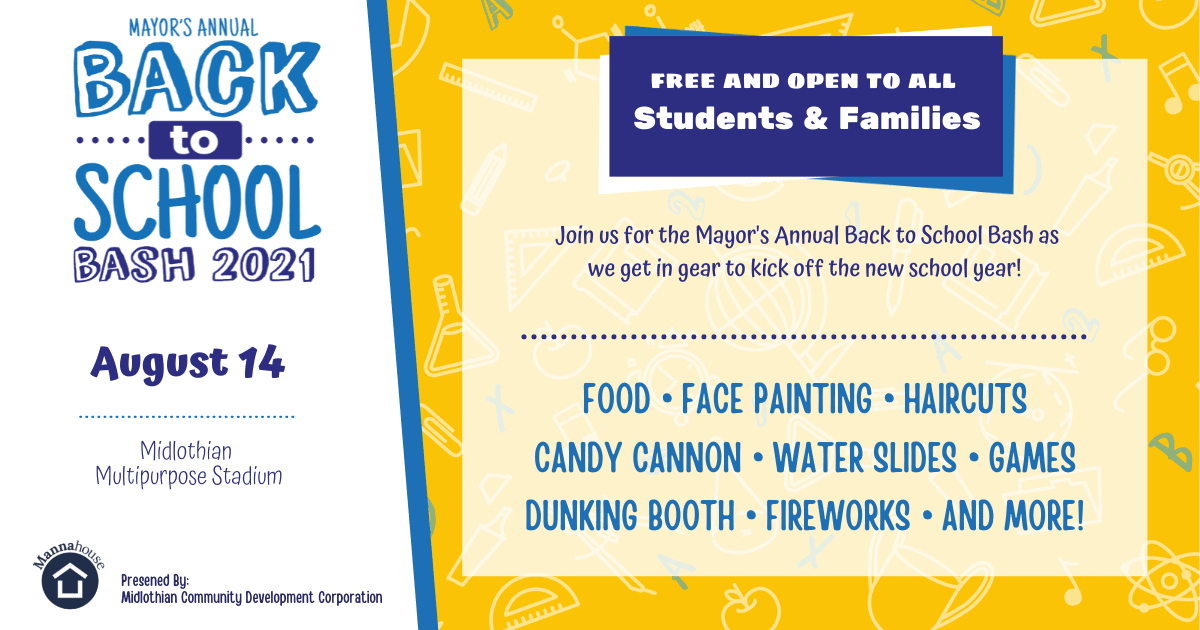 The Mayor's Back to School Bash is set for Aug. 14, starting at 9 a.m. at Midlothian Multi-Purpose Stadium. This free event is open to all MISD students and will include food, face painting, back-to-school haircuts, a candy cannon, water slides, games, and a dunking booth – to name a few attractions.
The event is being held in conjunction with Manna House, a community outreach program serving the needs of Midlothian residents.
Beginning at 3 p.m. there will be free food, live music and the day will end with a fireworks display after dark.
Mayor's Back to School Bash Midlothian will include:
Free snow cones to the first 1000 kids.
Free popcorn.
Free hot dogs.
Face painting by the Midlothian Pantherettes and Belles.
Carnival games.
Water slides and a dunk tank.
A 30-foot-plus climbing rock wall, ziplines and bungee trampolines.
Foot darts and velcro axe throwing.
A pirate ship swing ride.
 Spin art and river rock painting.
The full event schedule includes:
9 a.m. – Gates open.
9:30 am – The Candy Cannon blasts off. Dr. Jo Ann Fey, MISD Superintendent of Schools, will throw the first pitch with Mayor Richard Reno in the dunk tank.
10:30 and 11:30 a.m. – Candy Cannon.
11:30 a.m. – MHS, Dieterich, and elementary school coaches compete in a hot wing eating contest.
12:30 p.m. – Candy Cannon and Gift Card Walk, winner takes all.
1:30 p.m. – Candy Cannon and Dance Contest.
2:30 pm – Candy Cannon and Drone Group picture of all event attendees.
3:30-9:30 p.m. –  Live music performances with Kadie Lynn, Blake Dagley, Daniel Smallwood, Grades of Absolute Truth, Jermaine Art, and Caroline Cooper Music.
9:30 p.m. (approximate) – Fireworks show set to music.
Waxahachie ISD Back To School Bash August 7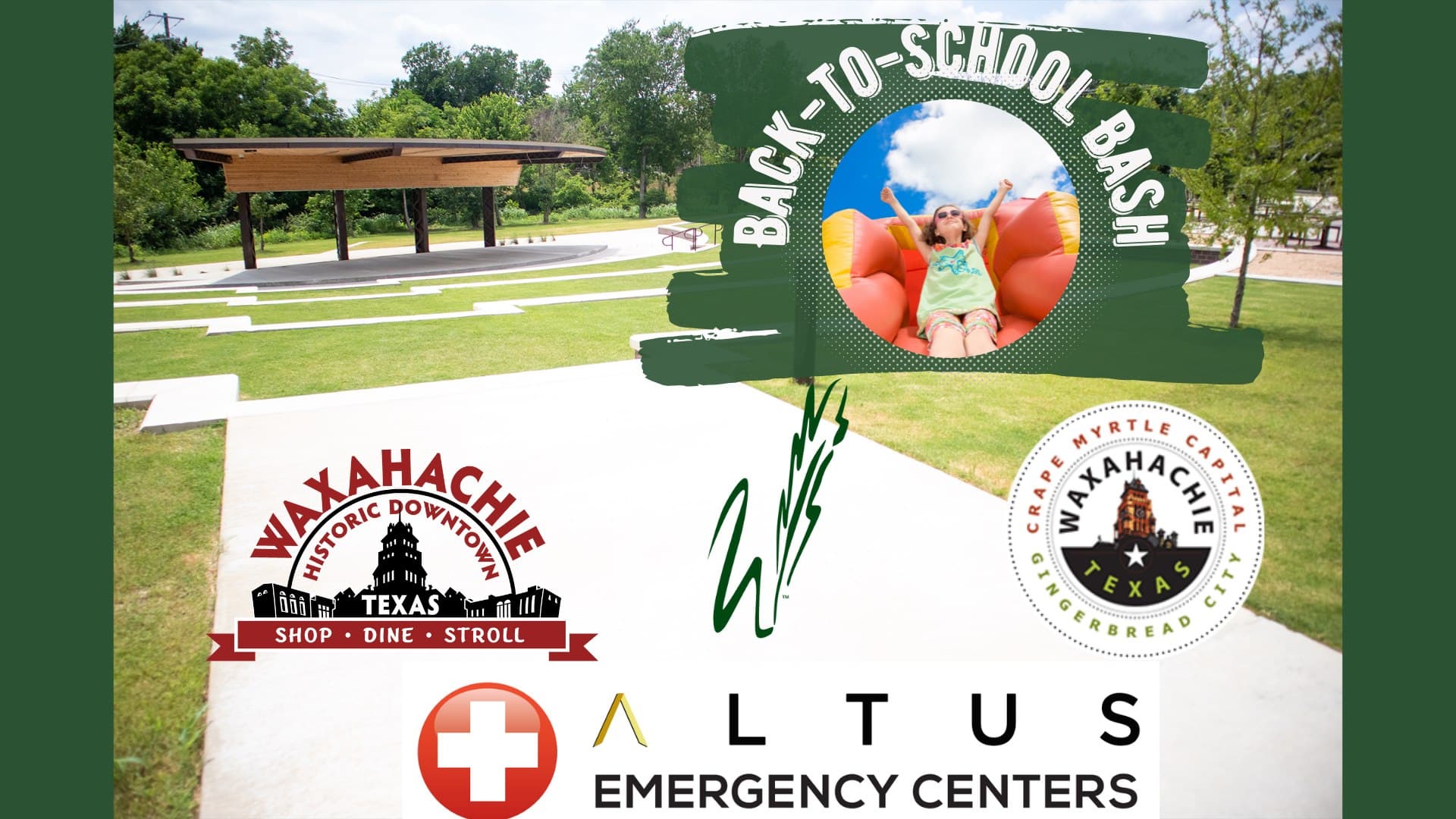 Join Waxahachie ISD as we kick off the 2021-22 school year with some fun! The district will host the Back-to-School Bash on Saturday, Aug. 7, from 11 a.m. to 2 p.m. at Railyard Park, located at 455 S. College St. Cooling units will be working on-site to combat the Texas heat.
Celebrate the 2021-22 school year with:
Interactive booths with your favorite boosters and PTOs
Free snow cones for the first 200 patrons
DJ entertainment
WHS band, Jazz Ensemble, Cherokee Charmers, WHS cheer performances
Football throwing with WHS team
Free hotdogs
Free water provided by HEB
Splash pad & bounce houses
Community mascot race