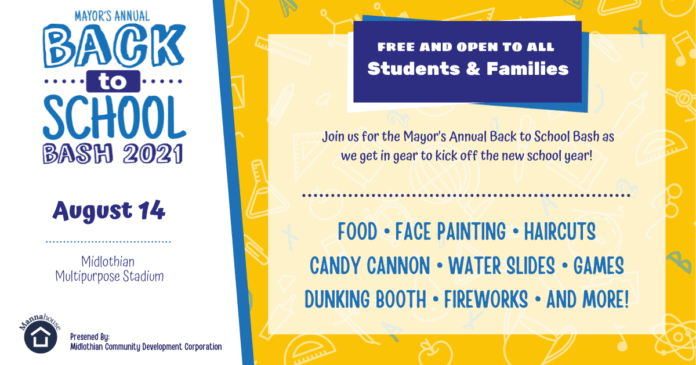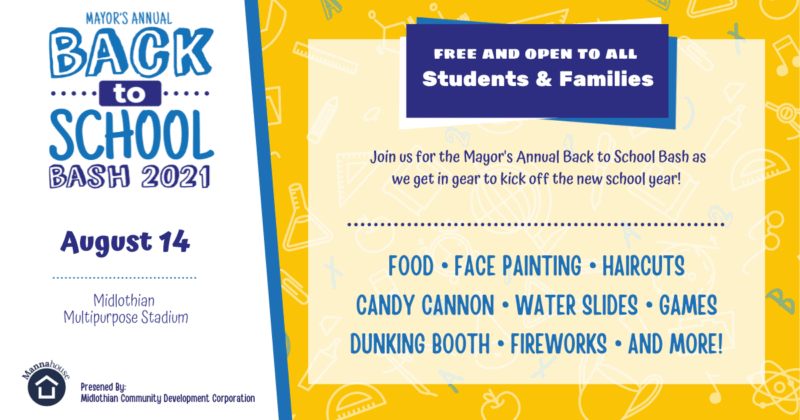 Free & Open To All MISD Students
The Mayor's Back to School Bash is set for Aug. 14, starting at 9 a.m. at Midlothian Multi-Purpose Stadium. This free event is open to all MISD students and will include food, face painting, back-to-school haircuts, a candy cannon, water slides, games, and a dunking booth – to name a few attractions.
The event is being held in conjunction with Manna House, a community outreach program serving the needs of Midlothian residents.
Beginning at 3 p.m. there will be free food, live music and the day will end with a fireworks display after dark.
Mayor's Back to School Bash Midlothian will include:
Free snow cones to the first 1000 kids.
Free popcorn.
Free hot dogs.
Face painting by the Midlothian Pantherettes and Belles.
Carnival games.
Water slides and a dunk tank.
A 30-foot-plus climbing rock wall, ziplines and bungee trampolines.
Foot darts and velcro axe throwing.
A pirate ship swing ride.
Spin art and river rock painting.
The full event schedule includes:
9 a.m. – Gates open.
9:30 am – The Candy Cannon blasts off. Dr. Jo Ann Fey, MISD Superintendent of Schools, will throw the first pitch with Mayor Richard Reno in the dunk tank.
10:30 and 11:30 a.m. – Candy Cannon.
11:30 a.m. – MHS, Dieterich, and elementary school coaches compete in a hot wing eating contest.
12:30 p.m. – Candy Cannon and Gift Card Walk, winner takes all.
1:30 p.m. – Candy Cannon and Dance Contest.
2:30 pm – Candy Cannon and Drone Group picture of all event attendees.
3:30-9:30 p.m. – Live music performances with Kadie Lynn, Blake Dagley, Daniel Smallwood, Grades of Absolute Truth, Jermaine Art, and Caroline Cooper Music.
9:30 p.m. (approximate) – Fireworks show set to music.
For sponsorship or volunteer opportunities contact Manna House.
Manna House Mayor's Back To School Bash Continues To Grow With Help Of Community
"Manna has been doing a 'back-to-school' program for almost 30 years," said Sissy Franklin, director of Manna House. "We made it the Mayor's Back to School Bash about six years ago and the event has gained interest and momentum every year. Two years ago, the MCDC joined us and, this year, they have provided complete packs of supplies for 2,542 kids."
The Midlothian Community Development Corporation has been instrumental in the event's success through its grant to fund prepackaged school supplies for MISD.
"Midlothian's Community Development Corporation is excited to support Manna House with a grant that not only makes school supplies available for those in need but also provides a kickoff to the school year that brings all of our students together," said Alyn Nix, president of the Midlothian Community Development Corporation.
"The City is proud to be part of this event that means so much to our school kids," said Midlothian City Mayor Richard Reno. "It truly is a collaboration of the school district, the city, and many of our local businesses that show the best of what Midlothian is about."
For more information on this event, visit mannahouseoutreach.org/backtoschoolbash.