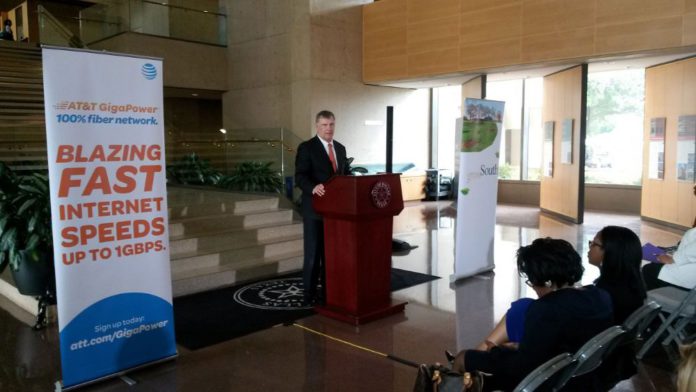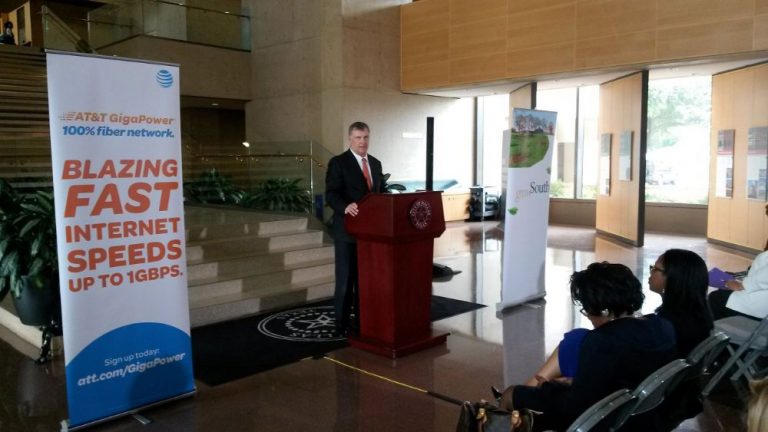 DALLAS—AT&T recently announced plans to make ultra-fast Internet service available to more locations in parts of Southern Dallas by accelerating investment to expand and enhance its 100% fiber AT&T GigaPower network.
Tens of thousands of homes, apartments and small businesses in Southern Dallas2, the area primarily south of the Trinity River and Highway 30, are able to sign-up for Internet speeds up to 1 gigabit per second (Gbps) today.3 We plan to nearly double the availability of AT&T GigaPower in Southern Dallas in the next 12 months. Apartment complexes already connected to the AT&T GigaPower network in Southern Dallas include Alta Yorktown and Alta West Commerce Apartments.
Internet speeds up to 1Gbps over our 100% fiber AT&T GigaPower network are blazing fast and allow you to:
·Instantly access the latest online movies, music and games.
·Connect faster to the cloud, videoconferencing and more.
·Download 25 songs in 1 second, a TV show in 3 seconds or your favorite HD movie in less than 36 seconds.
"The core message of GrowSouth is that Southern Dallas is not a charity case, it is an investment opportunity," said Mayor Mike Rawlings. "Today, AT&T is seizing that opportunity by bringing its best product to Southern Dallas. This will not only benefit home services, it will enhance the way we communicate throughout this region of our city. The demand for speed and connectivity is continuously increasing, and today's announcement reflects our commitment to support the ongoing public and private investment in the area. Thank you to AT&T for investing in technology that will keep us up to speed all over the city."
"The City of Dallas is grateful that AT&T not only recognized the demand for faster internet speeds in Southern Dallas, but also quickly worked to accelerate the availability to more homes, apartments and small businesses," said Tiffinni A. Young, Dallas City Councilwoman, District 7. "Our community looks forward to a future with increased access and incredibly fast internet speeds, while creating new opportunities for economic development, engagement and education."
"We've moved quickly to bring our ultra-fast Internet connection over the AT&T GigaPower network to more locations throughout Southern Dallas to connect more customers to the content that matters most, as only an integrated provider can deliver," said Hardmon Williams III, vice president and general manager, AT&T North Texas. "The fiber-enhanced speeds will open up new possibilities for technology innovators and businesses, as well as consumers who want faster speeds for surfing, shopping, gaming, social networking, and more."
GrowSouth is a comprehensive strategy to build a foundation for sustainable growth in Southern Dallas. The plan started with ten goals that focused on people, investments and locations to drive economic growth. Southern Dallas represents new potential sales tax revenue from business and development that will strengthen the city's tax base and help fund vital basics that are the foundation of the city of Dallas. When it comes to growth potential, Southern Dallas has the land, the workforce, and the will. However, it is missing one major component, investment capital. Each neighborhood and citizen is the backbone to this growth.
Find a way to get involved by visiting www.dallasgrowsouth.com
Ultra-fast Internet speeds up to 1Gbps are available over the AT&T GigaPower network in parts of multiple Dallas-Fort Worth-area cities: Allen, Arlington, Burleson, Cedar Hill, Cleburne, Colleyville, Dallas, DeSoto, Euless, Fairview, Fate, Farmers Branch, Forney, Fort Worth, Frisco, Granbury, Grand Prairie, Highland Park, Irving, Joshua, Keene, Keller, Lakeside, Little Elm, Mansfield, McKinney, Mesquite, North Richland Hills, Plano, Richardson, Rockwall, The Colony, Trophy Club, University Park, Weatherford, Willow Park and surrounding communities.
AT&T GigaPower offers Internet speeds up to 1Gbps for as low as $110 a month.
Customers on the AT&T GigaPower network also have access to any of the high-speed Internet tiers ranging from 6Mbps all the way up to 1Gbps.
AT&T GigaPower customers have access to the latest Wi-Fi technology. They can enjoy our best in-home Wi-Fi experience, faster Wi-Fi speeds, expanded coverage and support for all of their devices.
Customers may be able to choose between our award-winning DIRECTV or U-verse TV services. We have choices to fit each customer's needs.
The AT&T GigaPower network is currently available in over 1.6 million locations across 22 of the nation's largest metro areas. We have plans to expand the availability of ultra-fast Internet speeds up to 1Gbps in parts of 34 more areas – at least 56 metros in total.
Ultimately, we plan to reach more than 14 million residential and commercial locations with fiber.
AT&T has invested more than $2.7 billion in our wireless and wireline networks in Dallas-Fort Worth-Arlington between 2013 through 2015. These investments drive upgrades to enhance reliability, coverage, speed and overall performance for residents and businesses.
Additionally, our AT&T Business Fiber Internet service is already available to small businesses in parts of more than 180 U.S. cities, making it possible to download and upload at speeds up to 300 megabits per second.6 Certain markets, such as Dallas, now have speeds up to 1Gbps available over AT&T Business Fiber. We plan to expand to additional markets this summer. It supports business applications, such as video conferencing, cloud computing and the ability to quickly backup data in the cloud at one or more locations.
For more information on AT&T GigaPower, or to check availability, please visit att.com/gigapower.