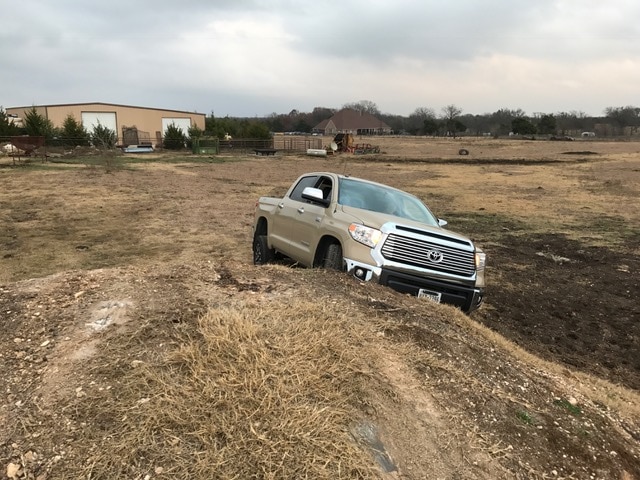 2017 Toyota Tundra TRD Pro Is Large, But Big on Fun
Too Big and Brawny for a ride to the neighborhood grocery store? I held out for about a day and a half before deciding I had to take the new TRD Off-Road Toyota Tundra Limited 4×4 out to tackle as much off-road as I could muster in suburban Dallas. This is a truck built to handle much more than normal highways and byways.
Sailing over moguls was as easy as it was fun. I could only wish I was in the "real tundra" in Alaska or on a rugged mountain like I enjoyed during a Toyota Tacoma launch event last year.
I understand that not everyone loves bouncing over rocks, through streams and dodging trees and wildlife and so does Toyota. They build Tundras for every possible drivers desires.
There are three cab styles available. The old style regular cab, a four-door double cab and a CrewMax cab which offers the interior space of a large sedan. Add these cab availabilities to six model grades, two V8 engine choices, two-wheel and four-wheel drive, knowing you can tow up to 10,000 pounds and you will find there are over four dozen configurations of the Tundra to choose from.
My test vehicle, 2017 Toyota Tundra TRD Pro was outfitted in my friend Erica Mueller's favorite Quicksand color. It was powered by the largest engine offered in the Tundra, a 5.7L iForce V8 which packs 361 horses with 401 ft lb of torque under the hood. It made my venture off-road a "walk in the park" with its upgraded suspension, large TRD-tuned Bilstein High-Performance shocks with three-stage compression dampening, hydraulic bump stops, and the ability to rise two full inches when conditions dictate more clearance than the norm.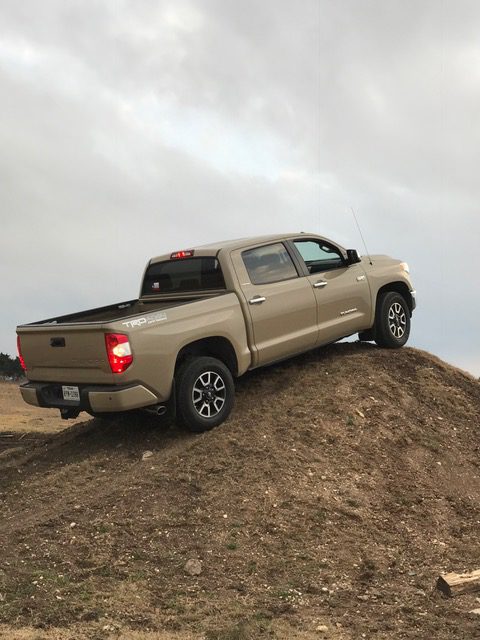 Even though this vehicle is built to go where no man nor beast is meant to go regularly, the interior is built to be as comfortable as Donald Trump's living room. The driver's seat can be power adjusted 12 different ways and can be heated for those cold winter days and cooled for hot Texas summers. All seats on my TRD were soft supple leather making one never want to leave the cab.
The instrumentation is bright, easy to read and offers every piece of information anyone would desire while on the road. Such features as a 12-speaker touch-screen Entune JBL audio system, navigation with an App Suite, blind spot monitoring, rear cross traffic alert, both front and rear parking sonar, auto-dimming rear view mirror, compass, and a power moon-roof leave nothing left to lust for.
Of course, I admit to spending more time on the road than off it. The TRD Pro provides a smooth and comfortable ride to and from the local Home Depot, Safeway or any other city spot. Acceleration on freeway ramps was effortless and provided no fear factor.
The MSRP on my test vehicle was $51,589. The 2017 Toyota Tundra TRD Pro provides a lot of value for the money in these days when even more mundane vehicles seem to cost more than the family farm of decades ago.