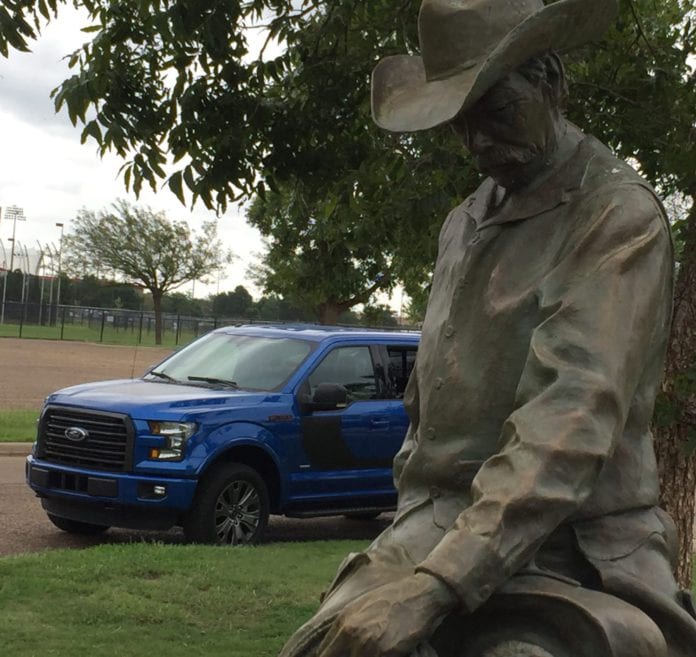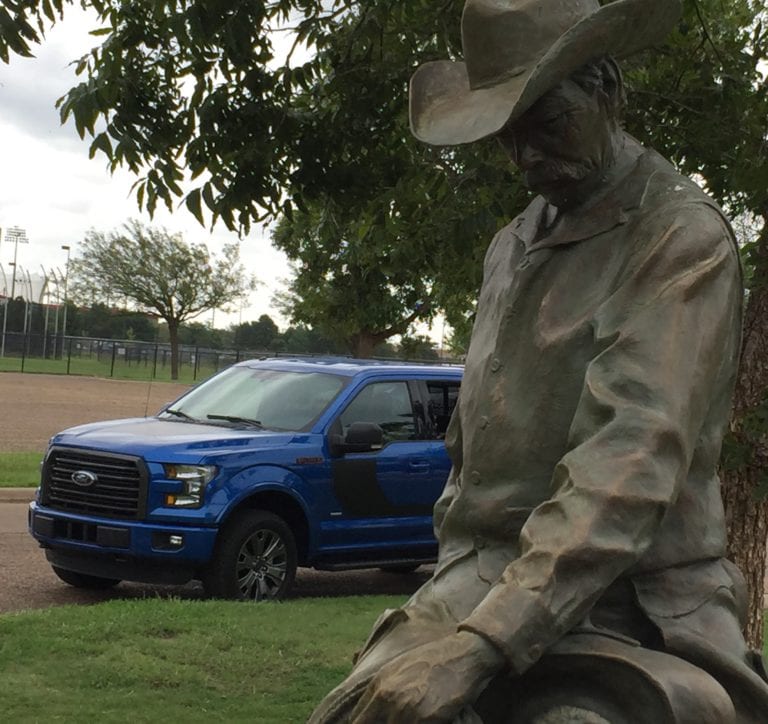 Powerful and sleek. I truly felt like I had the best of both worlds when I took the 400 mile trek to West Texas in a 2016 Ford F-150 XLT Supercrew.
I've got to admit, on first glance I was a bit worried about driving such a big truck five hours on the open road through West Texas. I've had some harrowing experiences with loud behemoths that seem to tell you where to go. Instead of you driving the vehicle, it seems to drive you. You feel it swaying to and fro, despite being made from thousands of pounds of steel. Not the F-150. It tamed the road and dodged the tumbleweeds with ease.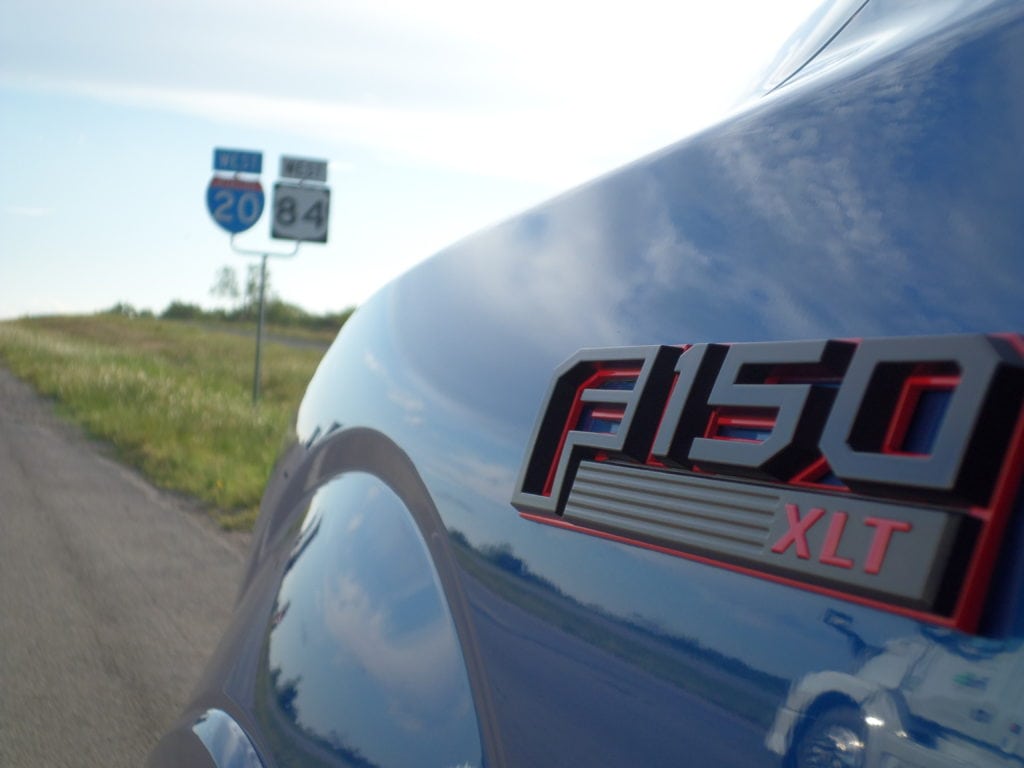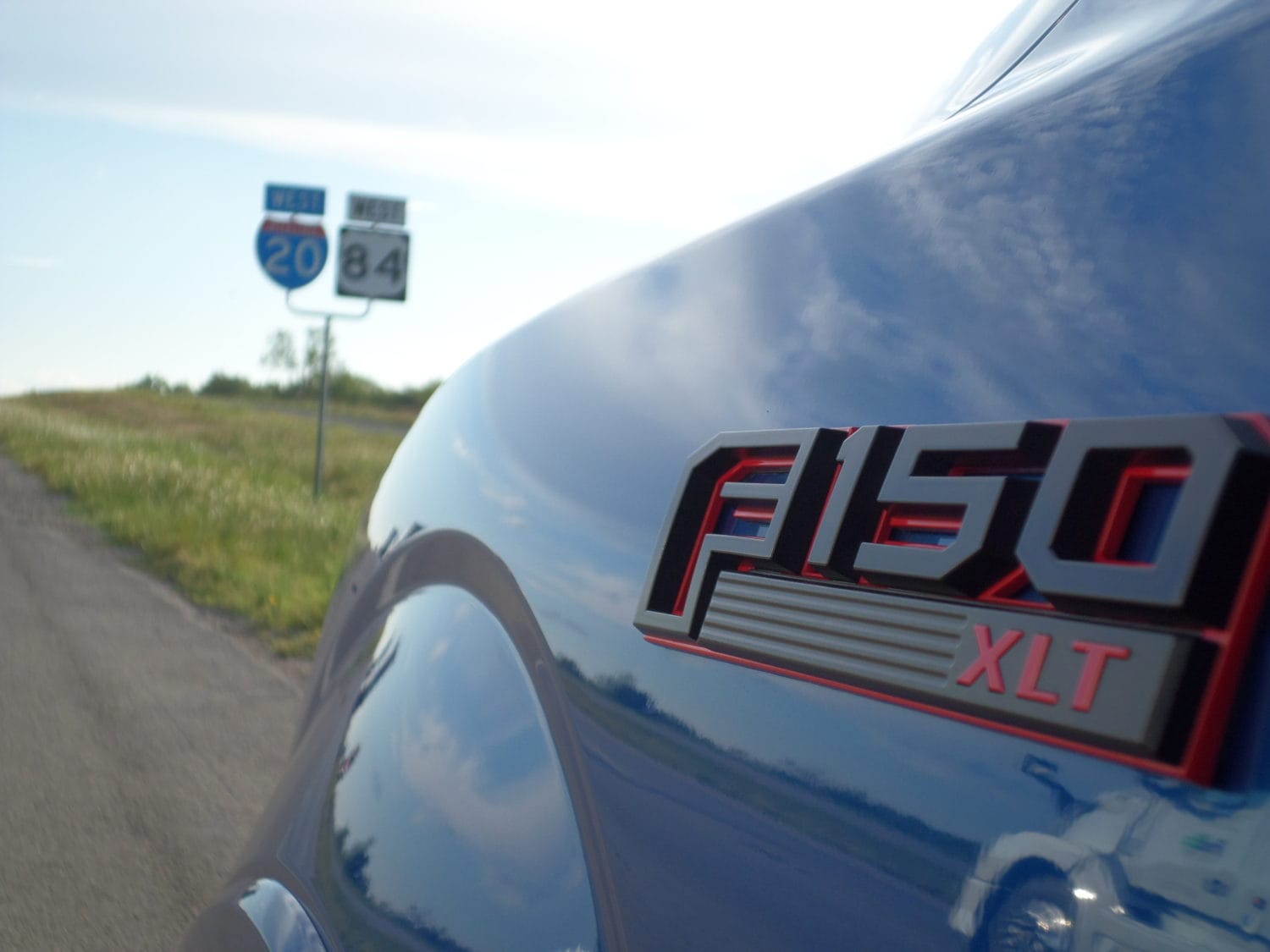 2016 Ford F-150 Fuel Efficiency
I was thoroughly impressed with the gas mileage of this big truck. According to the SYNC interactive dash display, I averaged 18.3 mpg/city and 23 mpg/highway. In these lean economic times, fuel efficiency is a major concern for auto buyers. Comparable to other trucks in the standard size pickup market, the F-150 ranks near the top of its class.
Don't just take my word for it. A study by the U.S. Department of Energy confirmed that fact. (Fueleconomy.gov) The leader in the survey only edged the 2016 Ford F-150 by 3 highway miles per gallon.
I only filled up one time over five days of driving. This fuel efficient vehicle only used half a tank of gas to make the 360 mile journey to Lubbock. Color me even more surprised when I didn't have to refuel until Friday of last week. The 36 gallon fuel tank had an estimated range of 624 miles.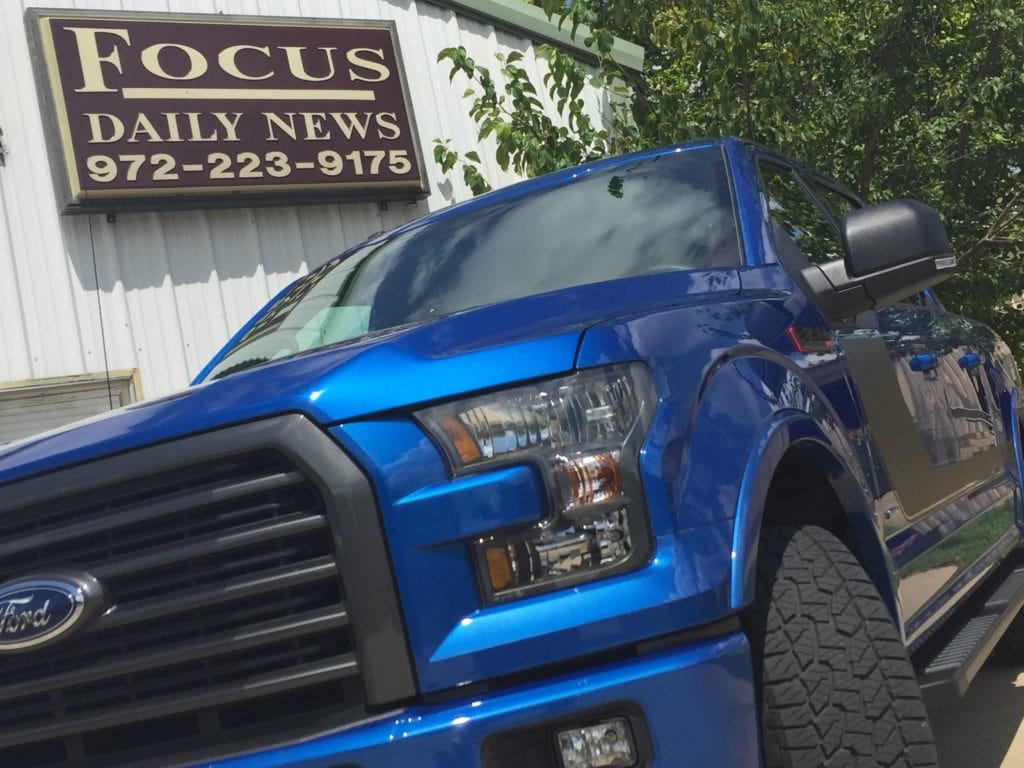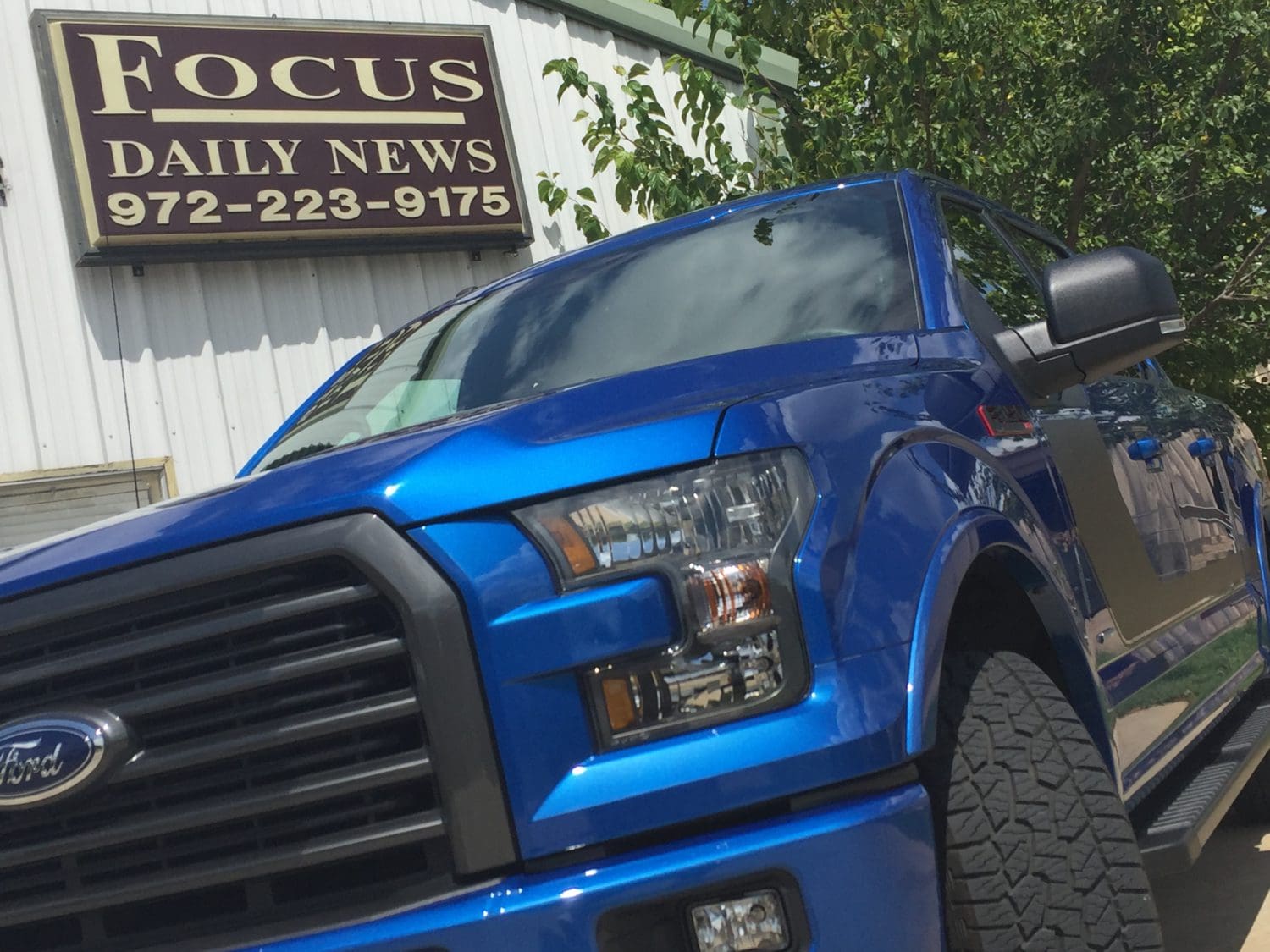 Gas Saving Auto Start-Stop Technology
If you're like me, practicality is a major turn on. My first experience with gas saving Auto Start-Stop technology scared me to my bones. I was already late departing to meet my group in Lubbock. I got to the end of the street where Focus Daily News offices are located, paused at the stop sign, and it happened. With no music on, I heard the already quiet engine shut off.
I panicked. Then I got mad.
"Now why would Ford give me a defective truck?" I thought.
Yes that's right, I blamed the entire corporation. Not my local Media Manager, Becky. Of course, she's a sweetheart. But the rest of them were going to get an earful from me — once I pushed this shiny paperweight back to the office.
Then I breathed and turned the key into the off position, said a little prayer and turned it back forward.
Eureka! It cranked back up.
Technology Saves The Day
Then I decided to do what I always do when faced with a conundrum.
"Siri, 2016 Ford F-150 Engine Idle Shut Off Problems?!"
"Hmm let me get on that Joshua," my British accented assistant answered. Then big as day. the second statement was a description of gas saving engine cut off technology. It's not yet on every vehicle, but was on mine. Ford relates it is soon  making this technology available on the entire lineup of EcoBoost®-equipped 2017 F-150 pickups.
I released a heavy sigh. Raised my size 18 foot off the brake pedal and the truck cranked right back up.
"With every EcoBoost-equipped F-150 mildly electrified with standard Auto Start-Stop technology, customers' fuel efficiency is expected to improve as well," said Doug Scott, Ford truck group marketing manager.
Specially tuned for truck customers, Auto Start-Stop shuts off the engine when the vehicle is at a stop – except when towing or in four-wheel-drive mode .This gives drivers power on demand when they need it most. When the brake is released, the engine restarts.
Depending on driving patterns. F-Series owners could see fuel mileage jump from 624 miles to 792 miles per full tank of gas. This vaults the F-150 past the top ranked truck by more than 160 miles per fill up.
F-150 Popularity Soars
Reports say that industry wide truck sales are down for the year. Even if overall numbers lag, interest does not. The Blue Flame exterior of this truck with 20" tarnished black racing stripe was definitely a head turner.
It didn't hurt my self confidence either. If you listen to some of my exes they'd tell you I am hardly lacking in that area. It doesn't hurt to get a lingering look from a pretty lady or a head nod from a guy as you speed past.
Driving around Lubbock, I noticed the 2016 F-150 was already a popular choice among truck drivers. They didn't need my help to sway them.
During my stay at the Overton Hotel, there were three other 2015 and 2016 F-150 trucks parked in the reserved lot. They were nice. I was proud that mine was even nicer with it's special edition red accented interior.
The total MSRP is $50,580. The vehicle comes with a 3 year/36,000 mile bumper to bumper warranty. If you are in the Dallas/Fort Worth Metroplex visit my good friend Bobby Malatia at their newly redesigned Ford facility at the  Waxahachie Autoplex.