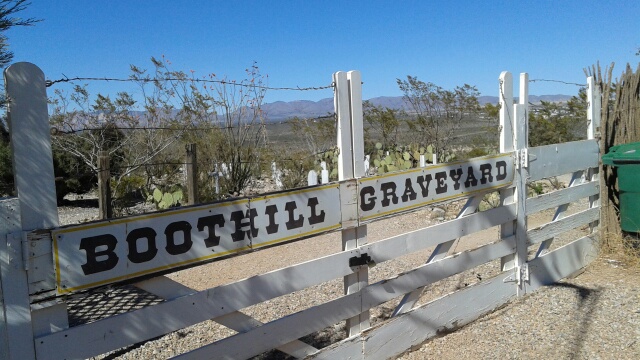 Tombstone "A Town Too Tough To Die"
They fought during life, now they rest peacefully beside each other for eternity. There was a Boot Hill in nearly every town in the west! But there was none more famous than Tombstone, which averaged several killings a week.
People came from all the world came to dig for gold and silver near Tombstone. Silver was discovered in 1877 by a prospector named Ed Schieffelen. He called his mine "Tombstone" because when he first started searching for silver and gold in the desert, his fellow soldiers warned that "the only rocks you'll find are your own tombstone."
Over the next few years he would be the owner or part owner of 19 silver mines, and 40-85 million dollars in silver would be taken from the mines around Tombstone.
By 1880, 15,000-20,000 people called Tombstone (named for Schieffelen's original mine) home. Tombstone became the fastest growing city between St. Louis and the Barbary Coast. The town had more than 100 saloons, a Red Light District, and scores of stores and eateries. Even a bowling alley and swimming pool had residence there. The swimming pool still thrives today.
What Is Written On Your Tombstone?
Tombstone's Boot Hill started receiving the dead in 1878 and did so until 1884. After 1884, Tombstone buried her dead in "the new cemetery." For decades Boot Hill was given back to the desert with only cactus, coyotes, lizards and tumble weeds to provide company for 250 plus tombstones. Numerous graves had multiple bodies in the same graves. Inscriptions like "Some Mexicans," or "Dead Chinese" are common.
Inscriptions are mostly short with a name and year of death. Words and phrases liked: hanged, killed by Indians, shot dead, rapid consumption, diphtheria and unknown were common death descriptions. A few stated natural death, but only a few. Occasionally there was poetry. "Here lies Lester Moore four slugs from a 44. No less no more."
Sometimes the epitaph told who did the deadly deed. Margarita, stabbed by Gold Dollar. James Hickey, shot by Wm. Clayborne 1881. William Clayborn shot by Frank Leslie 1882. Killeen shot by Frank Leslie 1880. Rook shot by Chinaman, Geo Johnson-hanged by accident. Some victims had interesting names: Red River Tom, Stinging Lizard, Kansas Kid, 3-Finger Jack Dunlap, Dutch Annie, Cowboy Bill Kiney, Happy Jack and Six Shooter Jim to name a few.
Tombstone's Boot Hill A Cemetery With History
One of the most famous tombstones rests about the communal grave of Billy Clanton, and Tom and Frank McLaury. These men died at the OK Corral battling the Earp brothers and Doc Holliday. Three men died and three were wounded. Near these graves is old man Clanton's grave, he was ambushed on a cattle drive.
For many years Boot Hill languished and was embraced back into the desert. But a man named Emmet Nunnelley with the help of the town folks spent years restoring Boot Hill. Nunnelley was the last person to be buried there in 1946.
Boot Hill is organized with tombstones laid out in rows. There is no charge to visit the cemetery, but a small donation will get you a helpful tract that tells where inturns are buried and other information about the graves. The information comes from individuals or relatives who had personal knowledge about the deceased person and from records chronicled in the Tombstone Epitaph newspaper.
Tombstone Monument Ranch A Glimpse Of The Old West
During our several days visit, we headquartered at the Tombstone Monument Ranch just outside Tombstone. The ranch takes its name from the 25 foot tall, cone-shaped rock monument just down the gravel road. The monument marks the burial site of Tombstone's founder, Ed Schieffelen.
Schieffelen died at the age of 49. His will stated he wished to buried "in the dress of a prospector, my old pick and canteen with me, on top of the granite hills about three miles westerly from the City of Tombstone, Arizona, and that a monument, such as prospectors build when locating a mining claim, be built over my graveyard."
The ranch is a small replicated western town with lodging places named for different businesses that would occupy the main street of a typical town in the 1880's west. We stayed in Miss Kitty's room that would have probably been located in one of the many saloons of the era. Next door was a saloon and across the street was the newspaper office, a Sheriff's office and jail. The working ladies had to pay 10-cents a night for a similar room to entertain their local cowboy gentlemen.
Don't Mess With Arizona Bill or His Bacon
We started each morning with a cowboy breakfast consisting of eggs, bacon, biscuits, gravy and hot coffee cooked over a campfire. The cook (cowboy-chef) was a fellow named Arizona Bill. He regaled us with stories of the old west and his contemporary prospecting adventures. Slim took quite a shine to my wife Jo Ann. So much so that he nearly ended up in Boothill covered in his own gravy. I can just read his epitaph "Nasty Slim killed with a ladle attempting to mess with someone else's bacon."
After breakfast, it was off for a little horseback ride into town. And it was mostly off for me. A ride along a trail that over 100-years ago was an authentic route into Tombstone.
Finding Adventure In Tombstone
After our morning ride, we went to see the sights in Tombstone. We saw a gunfight at the OK Corral where some of the afore-mentioned folks are resting in Boot Hill. We were surrounded by some dance hall girls and witnessed a couple of gamblers dueling at a nearby theater where they recreated historic fights. All and all a great adventure into town.
At night, after a fine meal of steak and fries, a live cowboy band played some good ole country music; while this old Texas boy and his pretty young wife did some fancy two step dancing.
"Tombstone–a town too tough to die," is a place too much fun to forget.
Durhl Caussey is a syndicated columnist who writes for publications across the country. He can be reached at this newspaper or at dcaussey@sbcglobal.net.