15th Annual Summerfest at Gaylord Texan Resort Is Packed With Summer Fun
North Texas families looking for a fun summer vacation need only look as far as Grapevine. Gaylord Texan Resort is again holding an "everything's bigger in Texas" summer event that offers fun for everyone in the family.
The Gaylord's 15th annual SummerFest features a Smurfs theme. It promises a season filled with activities and entertainment based on the lovable blue creatures. Some Smurf-approved activities include:
Le' Smurfs Art Corner and Sweet Shop, where children's inner artists can come to life while painting Smurf-themed canvases. Breakfast with The Smurfs features a breakfast buffet, Smurfberry punch, and table visits from Papa Smurf, Smurfette, and Grouchy Smurf.
Then there's Papa Smurf's Search Party Scavenger Hunt; plus two Escape Rooms including The Magical Meadow, where visitors are invited to step into a magical village and help Papa Smurf find his magic wand. At the Forbidden Forest, visitors will have to solve riddles and puzzles to escape from Gargamel's capture.
Other activities include sessions at Gargamel's Wizard Academy, featuring an interactive adventure, an enchanted laboratory, and tips and tricks from Gargamel. Most activities are offered daily, while others are only offered Fridays, Saturdays, and Sundays. A Dance Party and Parade is available only on Fridays and Saturdays.
Other summer programs will include ANIMATE!, a spectacular 3D sketch animation mapping show presented by bubly™ (offered Fridays and Saturdays). Plus, Junior Chefs Camp for kids (offered select Saturdays), Build-A-Bear Workshop®, strolling entertainers, whiskey tastings, happy hour specials, spa specials, and live music performances.
Escape the Texas Heat at Paradise Springs
Visitors can enjoy spending time at Paradise Springs, the resort's ten-acre outdoor waterpark. Grownups (over 21) can grab a cocktail and tube down the relaxing 600-foot long lazy river. The waterpark also boasts four winding waterslides, and a 6,000-square-foot family lagoon. A Paradise Springs Splash Party, presented by bubly™, will offer live DJ music, underwater photos, hair braiding, airbrush tattoos, and more. Private cabanas are also available for rent, providing extra shade, soft seating, TVs, and refrigerators.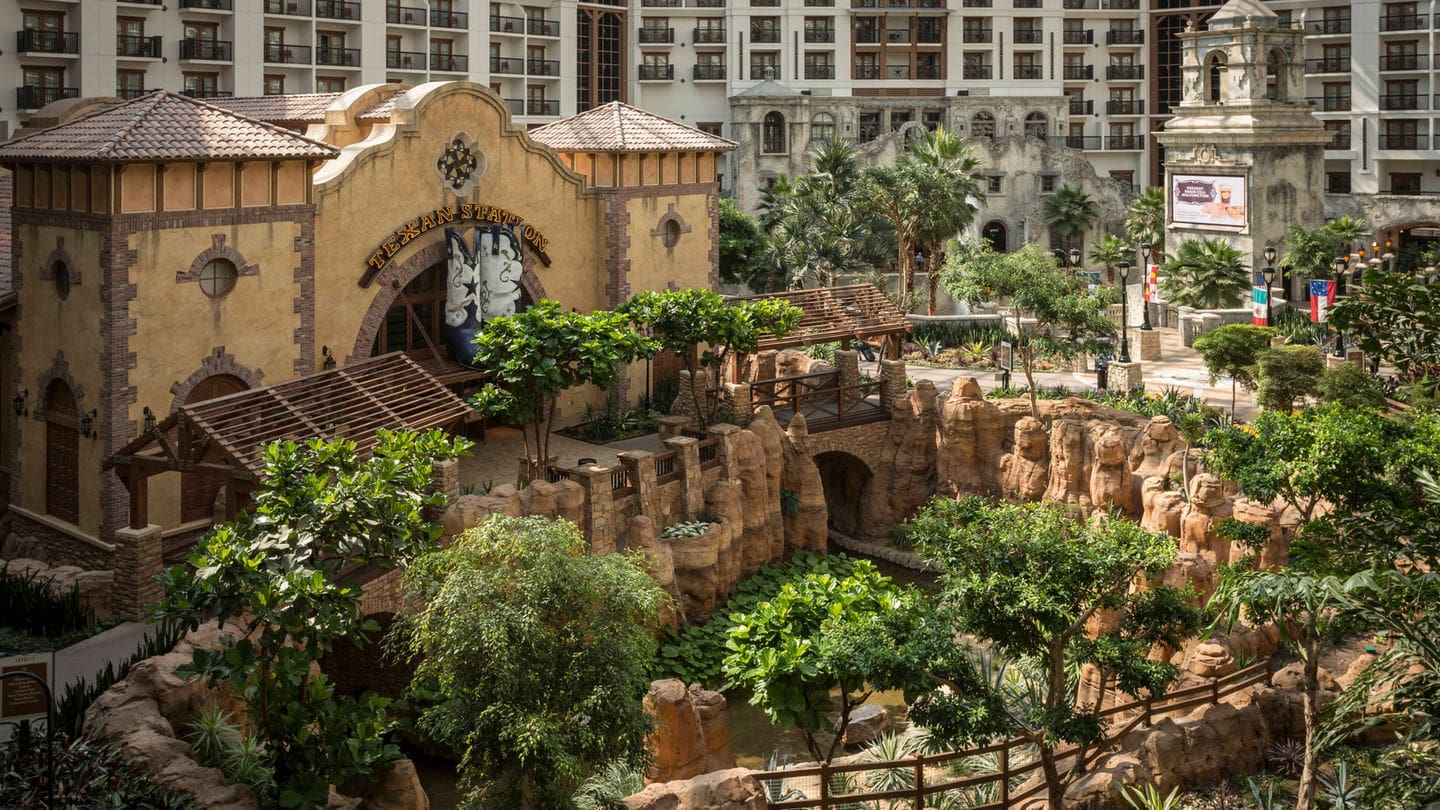 For visitors to the Lone Star State who don't have time to tour the entire state, Gaylord Texan Resort on Lake Grapevine offers a Cliff Notes version of Texas history and geography. A leisurely stroll around the property offers glimpses of such familiar places as the Alamo in San Antonio. The hotel has 1,814 guest rooms and there are four-and-a-half acres of grounds with scattered atriums on the resort.
The property also features a number of restaurants and bars, including the Glass Cactus Nightclub. It's possible to fly into nearby DFW Airport, check into the Gaylord Texan Resort, never leave the premises, and still be able to boast you've been all around Texas.
Gaylord Texan Resort SummerFest starts May 25 and runs through September 3. Information about summer room packages, schedules and pricing available at GaylordTexan.com/SummerFest.