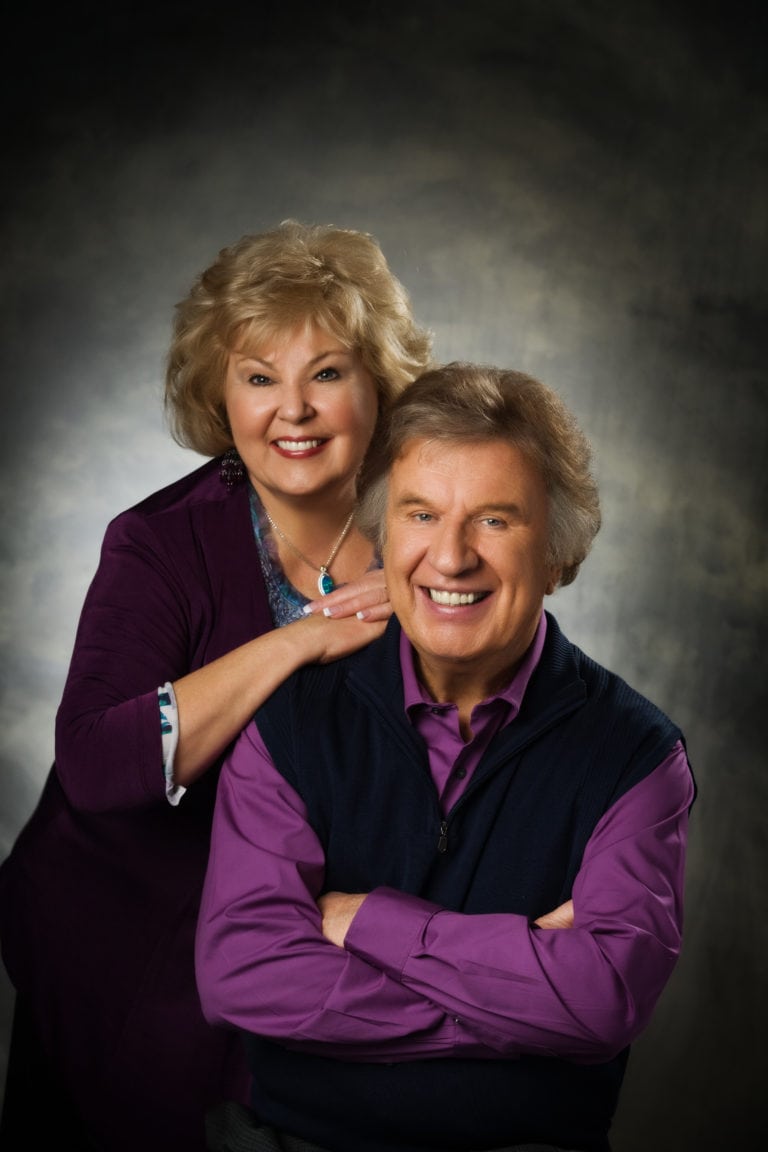 For decades Bill and Gloria Gaither have been bringing Gospel music to the Dallas Metroplex area. The tradition began 65 years ago when a high school junior named Bill Gaither decided he wanted to attend the famed Stamps Baxter School of Music.
He began to save his money and eventually talked his mom and dad into allowing him to travel from his small hometown in rural Indiana to Dallas, TX. "I traveled by train from Anderson to Dallas," the singer recalls.
"I stayed in a cramped boarding house with fourteen boys and no air conditioning in the middle of the summer in Dallas. Night or day, the temperature never dropped below a hundred degrees in that tiny house, but I didn't care. I was in my element, with other boys who loved Gospel music. To me, I was in Jerusalem, and it was just one step away from heaven!"
Since that first trip to Dallas, Gospel music legend Bill Gaither has traveled many miles. In fact, at age 82, he still performs more than 50 concerts each year with his prestigious Gaither Vocal Band, and each night he steps onto a concert stage, he recalls that very first experience in Dallas. "I had such a great time at the school," he remembers, "I stayed there for three weeks and never called home to talk to Mom or Dad. My only disappointment was that I had to leave."
Returning to the Dallas area is always special for Gaither, the eight-time Grammy winner. His excitement is hard to contain as he talks about the 2018 Texas Homecoming event, which takes place May 4 & 5. "There is no place in the country for a Gospel music happening like Texas," Gaither says, "especially Dallas-Ft Worth. It is always one of our favorite stops, and this year's Texas Homecoming Spectacular is going to be the best."
Bill and Gloria Gaither have been hosting the Texas Homecoming for more than two decades. It's always a special weekend for any Gospel music lover who attends, and this year's event promises to be even more special.
The 2018 Texas Homecoming will take place in the city of Grand Prairie at the elaborate Verizon Theatre, one of the most advanced indoor performance facilities in the US. Featuring comfortable, spacious seating and convenient parking, the Verizon Theatre sets a new standard for the concert-goer.
"We take pride in our staff's high standards and friendly service," says Robin Phillips, AEG Vice President of Booking for the Verizon Theatre.
"There's no exception for the upcoming Bill Gaither Homecoming on May 4th and 5th, including convenient parking, easy venue accessibility, great food options that include food trucks for this homecoming. Our amenities are second to none in the industry and we look forward to our opportunity to shine at the Bill Gaither Homecoming."
A Texas Homecoming
Gaither feels the Verizon Theatre will prove to be the perfect setting for all those who attend this year's Texas Homecoming to enjoy many of Gospel music's most popular and talented singers. Joining Bill and Gloria Gaither and the Gaither Vocal Band, which includes Wes Hampton, Adam Crabb, Todd Suttles and Reggie Smith, for the two-day Texas Homecoming will be Mark Lowry, Ernie Haase & Signature Sound, The Martins, Lynda Randle, Goodman Revival, The Nelons, Buddy Greene, Kevin Williams, Angie Primm, Charlotte Ritchie and Gene McDonald.
Friday's event on May 4 will begin at 7:00 pm, while Saturday's matinee on May 5 will begin at 1:00pm.
A complete schedule of artists, as well as additional information, including ticket prices, is available at www.gaither.com. Tickets are also available by calling 1-888-929-7849. Group tickets are available by calling 972-854-5076. Groups of 15 or more will receive 2 complimentary tickets.